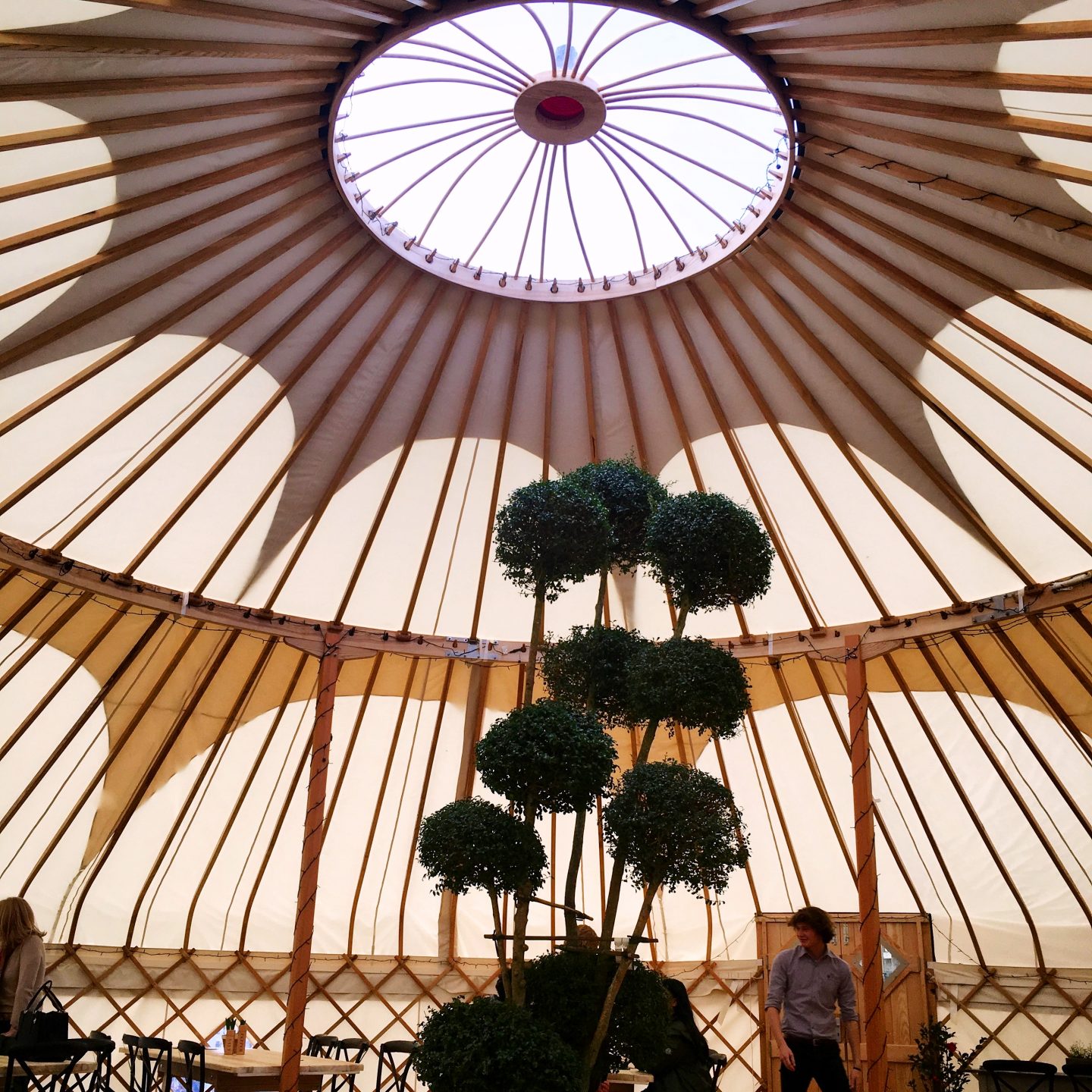 Reading Time:
5
minutes
It has been my mission (and one I have been more than willing to take) to munch my way around Birmingham, finding yummy food spots for dinner, lunch, cocktails or for the best meal of the day: brunch. I seem to have collated a 'Brunch in Birmingham' collection, with my most recent post reviewing the gorgeous Gas Street Social. Birmingham has such a culinary offering that I rarely review past it, with a few exceptions in London like Crumbs and Doilies, or in Oxfordshire with The Milkshed. However, my local green valley has a new surprise to offer.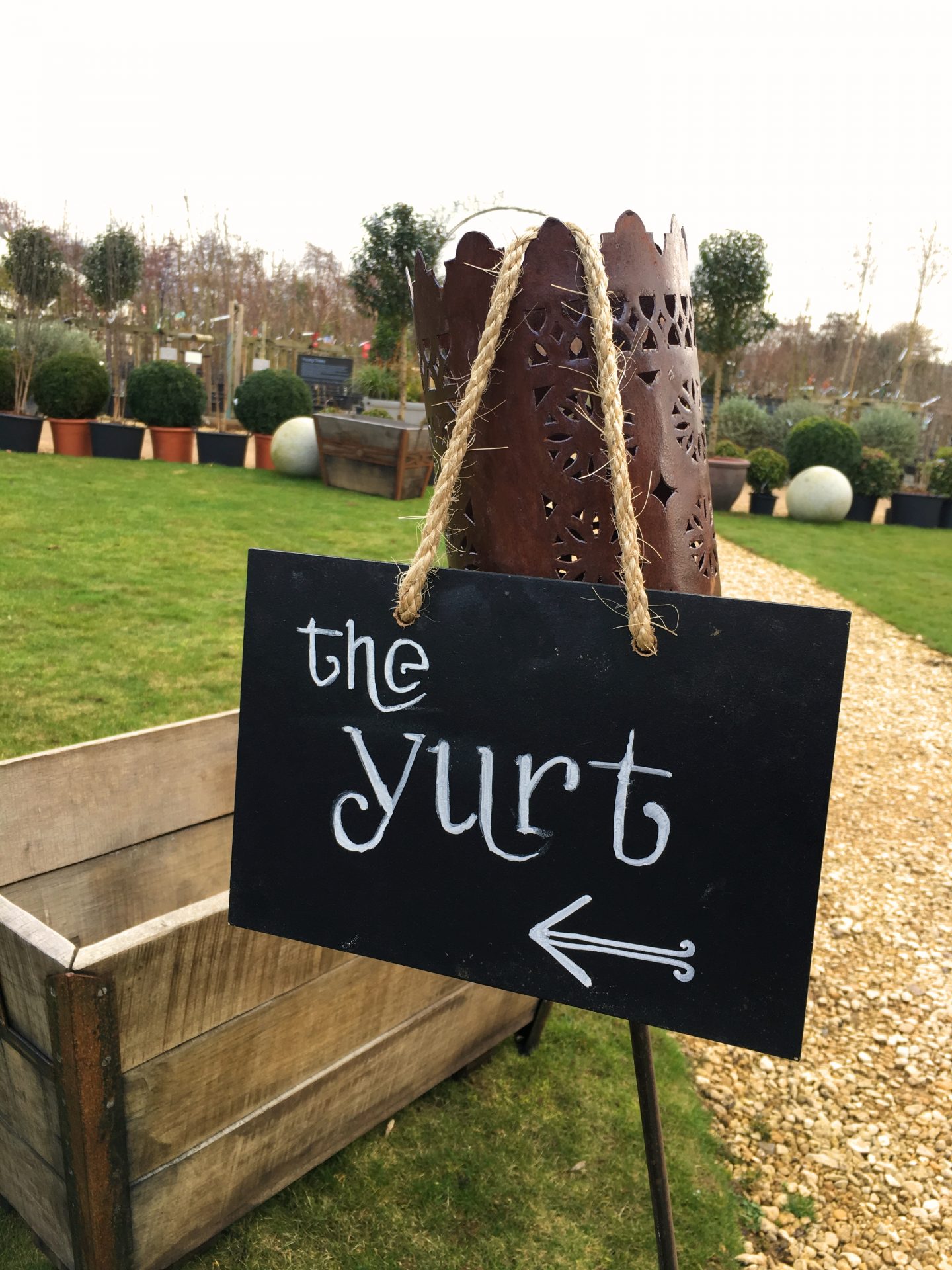 Birmingham may well have a vast range, but it most definitely lacks one thing that sunny Oxfordshire can offer… a Yurt. And no ordinary Yurt: a Yurt that serves deliciously sophisticated food. I feel a yurt-cafe-culture has been brewing. With such an explosive popularity of glamping at the various summer festivals as shown by our lovely Bridget Jones, the next logical step following sleeping in a fancy tent is eating in one, no!? And it has been taking off, there are a small number of canvas-enclosed cafes popping up (literally). I am fortunate to have The Yurt at Nicholsons just five minutes away and I fully intend on making the most of it this summer.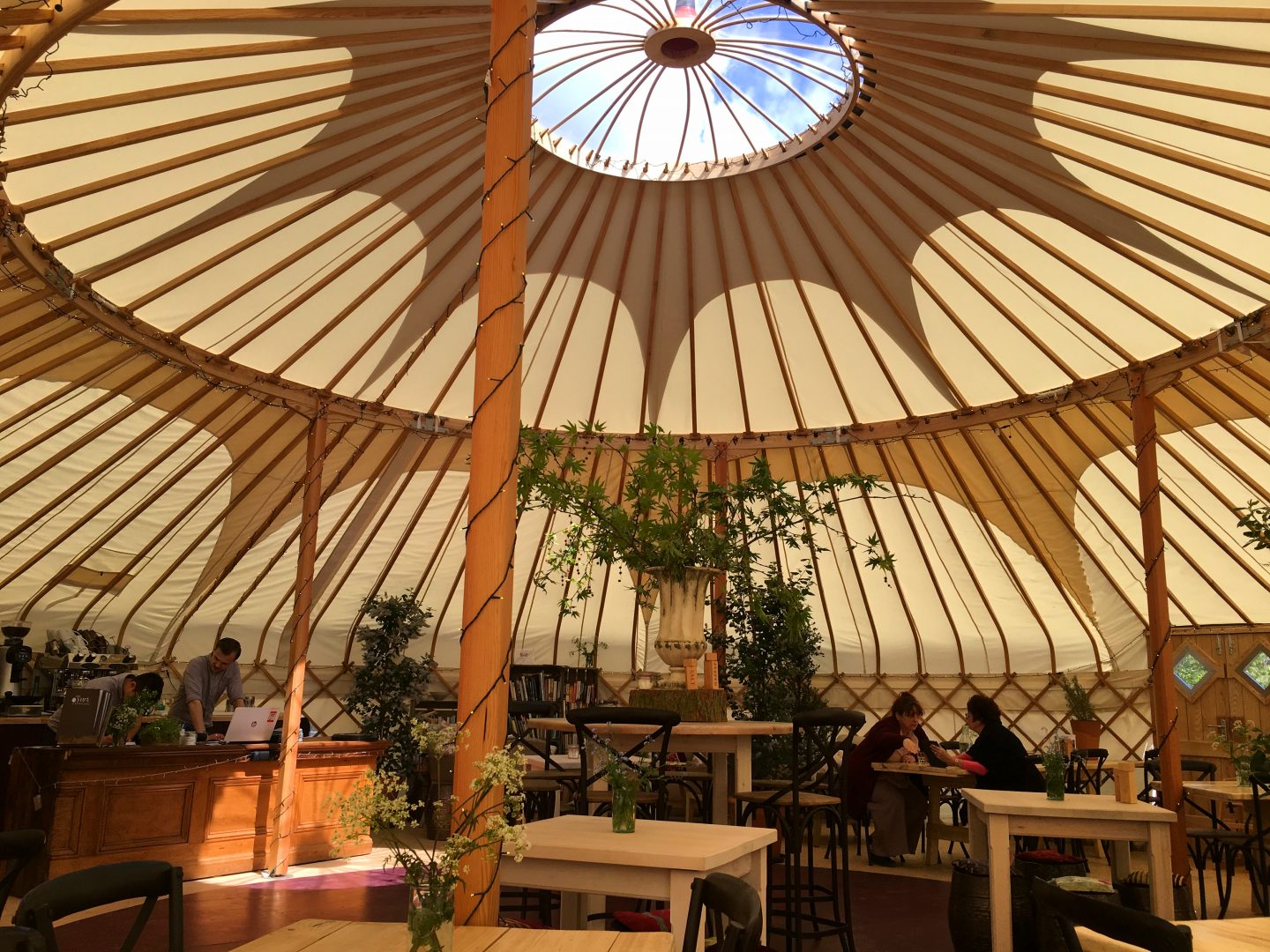 Whilst The Yurt is just as lovely in the Winter, with a tent lining and fairy lights creating a cosiness, it is super beautiful in the summer. Sitting inside is definitely not the claustrophobic, airlessness of camping tents… the sides are removed and the 'skylight' at the top allows for a fresh, almost alfresco eating experience. This is a quality that no ordinary brick-built cafe can offer, and it is one definitely worth enjoying. It actually reminds me of happy memories, scoffing pancakes on the windowsill of Cafe Baraka in Granada. The Yurt can even bring Spanish delights to leafy Oxfordshire!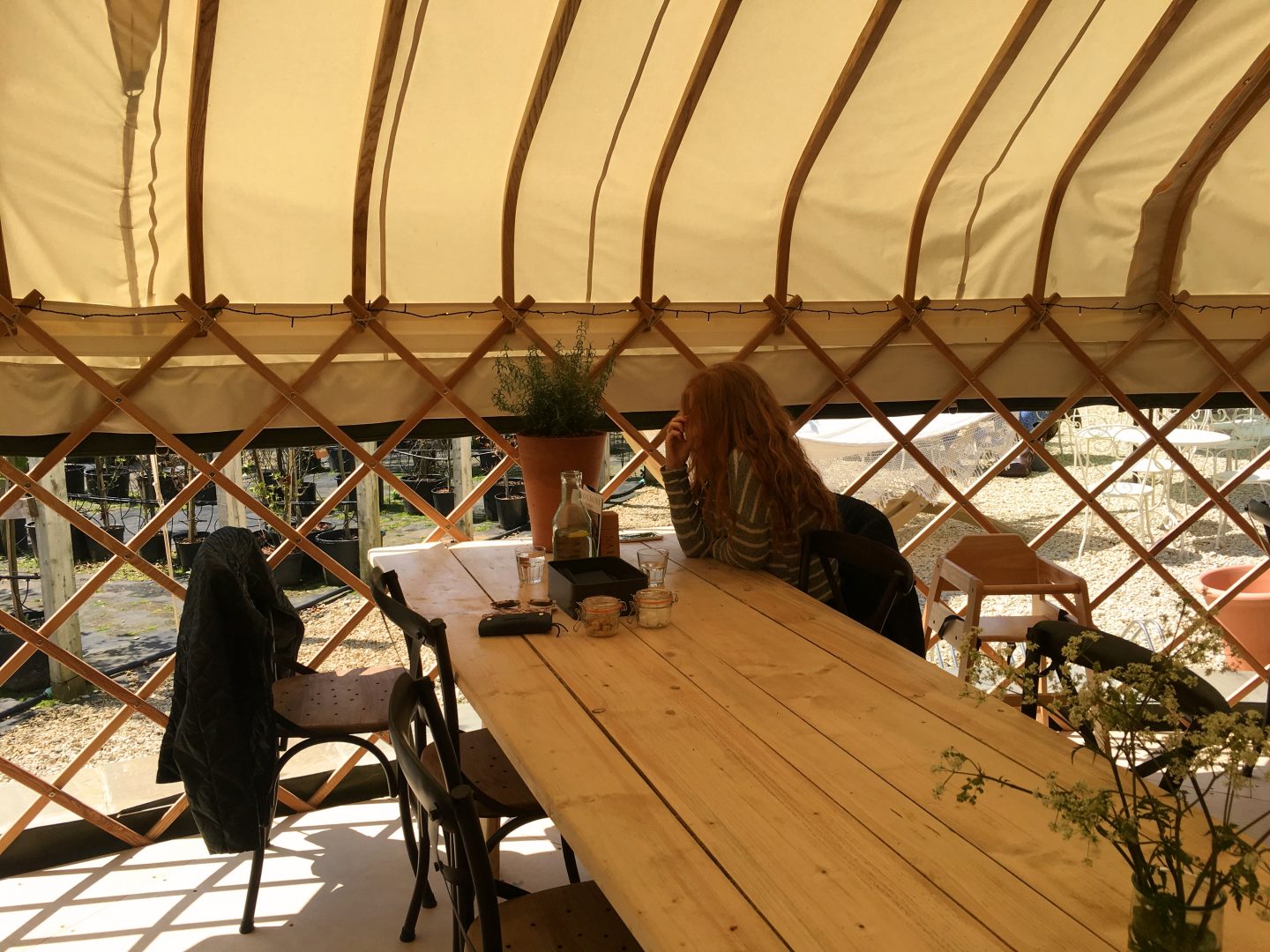 But if the weather really is too beautiful to be under cover, there is always the outdoor seating… or maybe I should say hammock.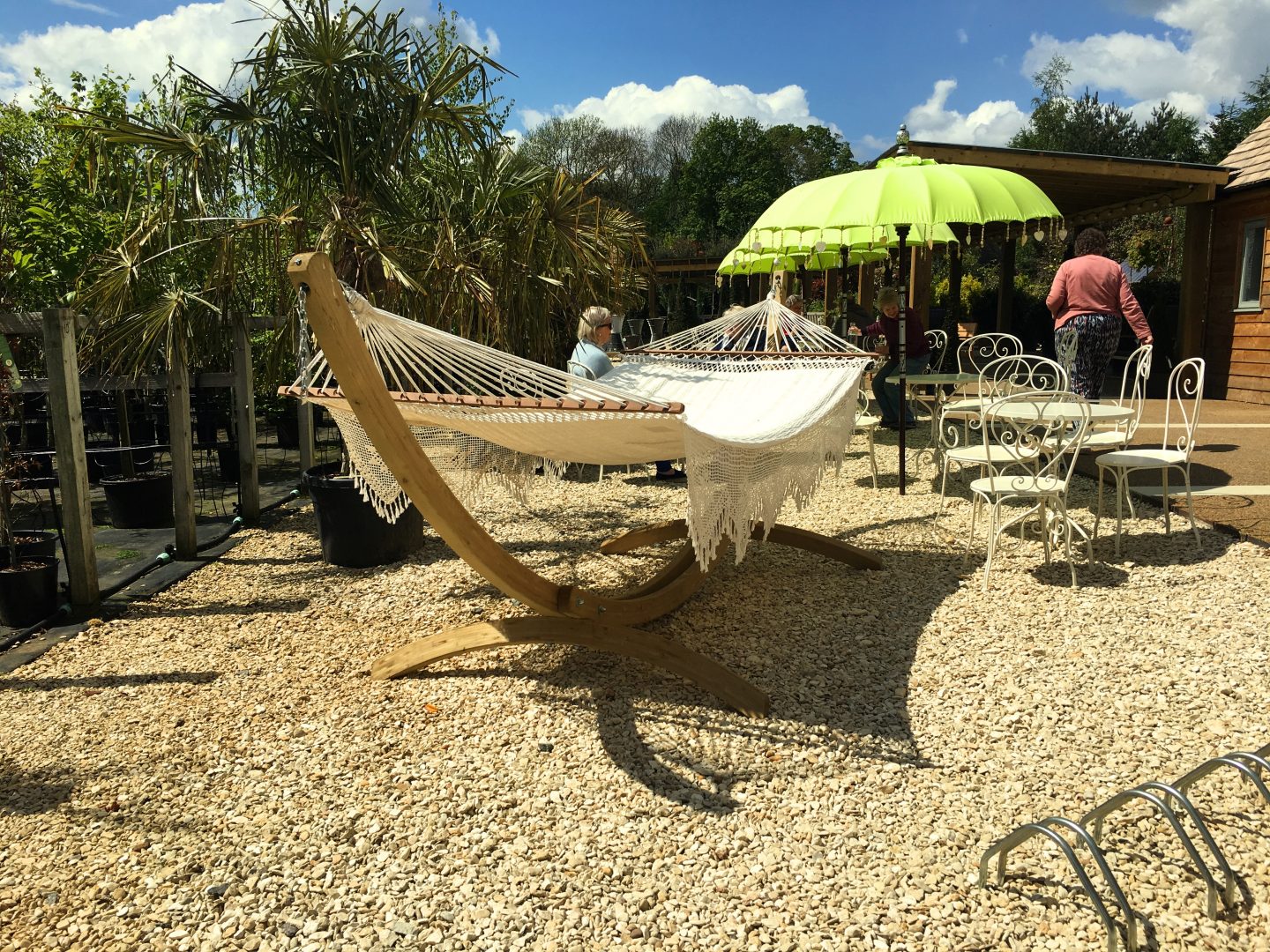 The Yurt is furnished with the Rosara range, working to create a boho, chilled interior. For more information on the Rosara story and products, take a look at their website.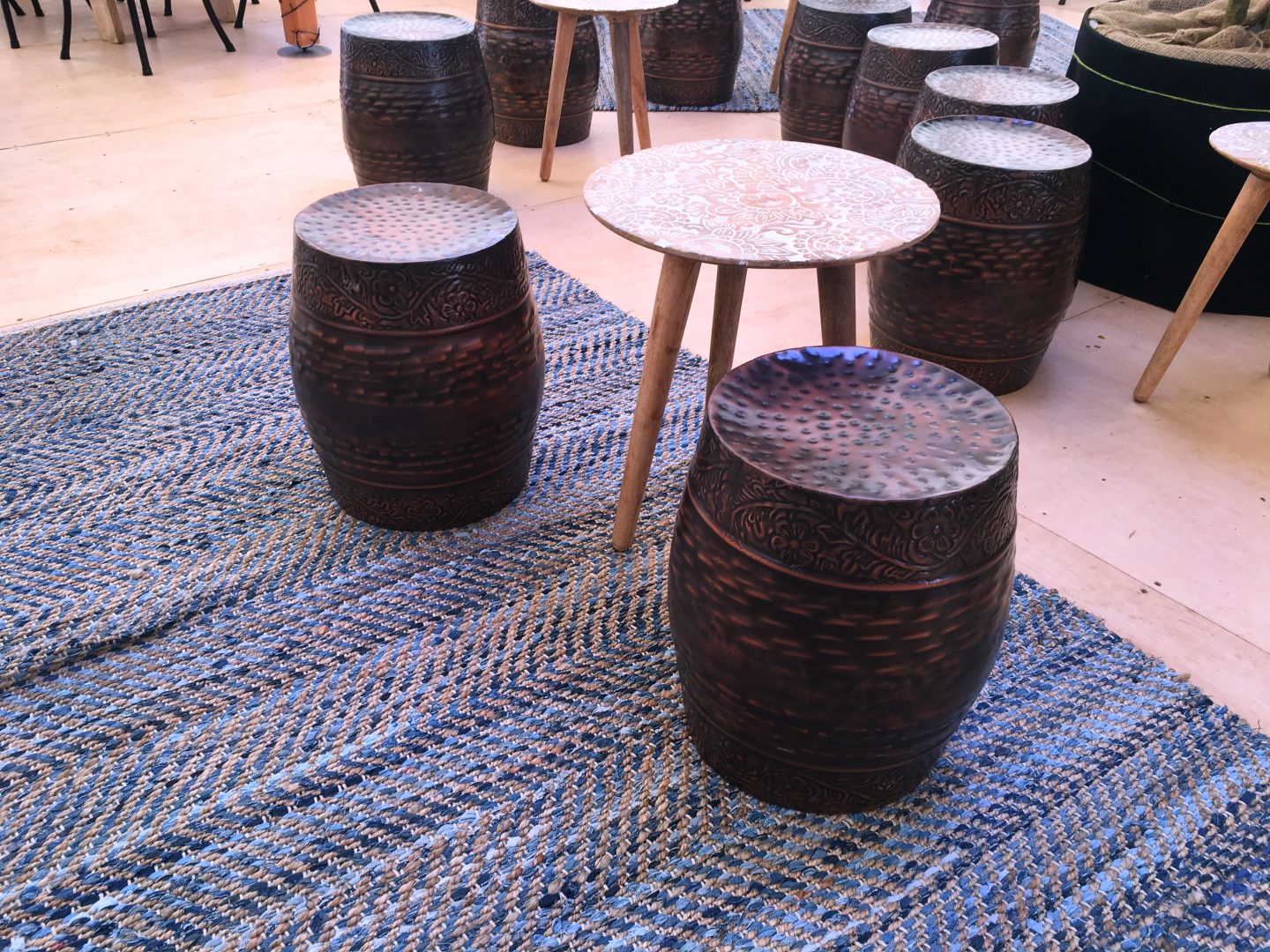 As one might expect at a plant-centre/Nursery cafe, The Yurt is brimming with green life. Such a big space may seem difficult to fill, but it has become an exciting English jungle, decorated by twinkling lights and reaching for the circle of sky that lights up the whole space. A photo will never do the beautifully wacky interior justice.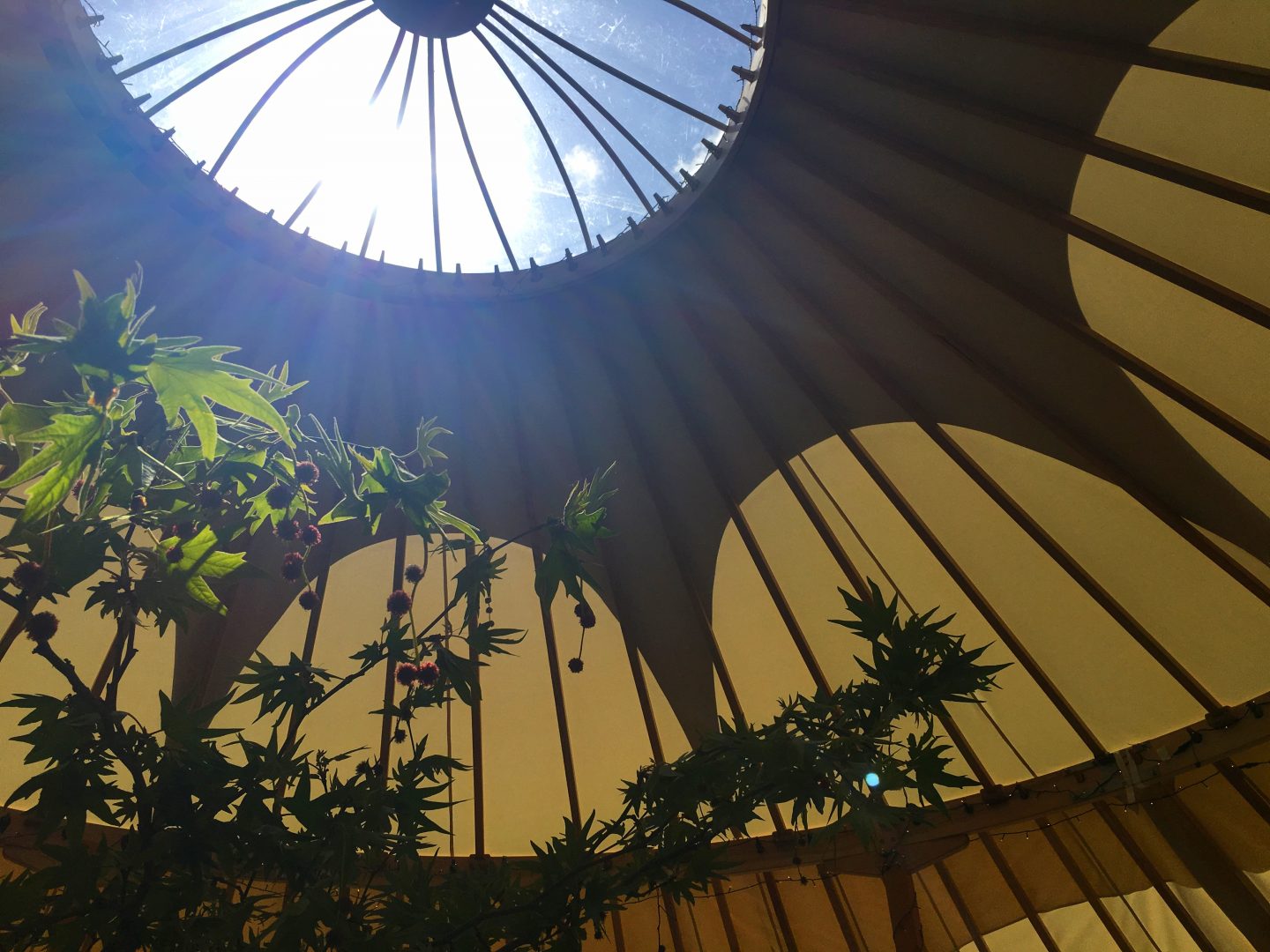 This may just be a weird me-thing, but being surrounded by so many leafy plants somehow helped me feel guilt-free as I demolished a mug of hot chocolate (pure melted chocolate and milk, no powder-malarkey) and a brownie! I can't explain this psychology, but maybe you could let me know if it has the same effect on you.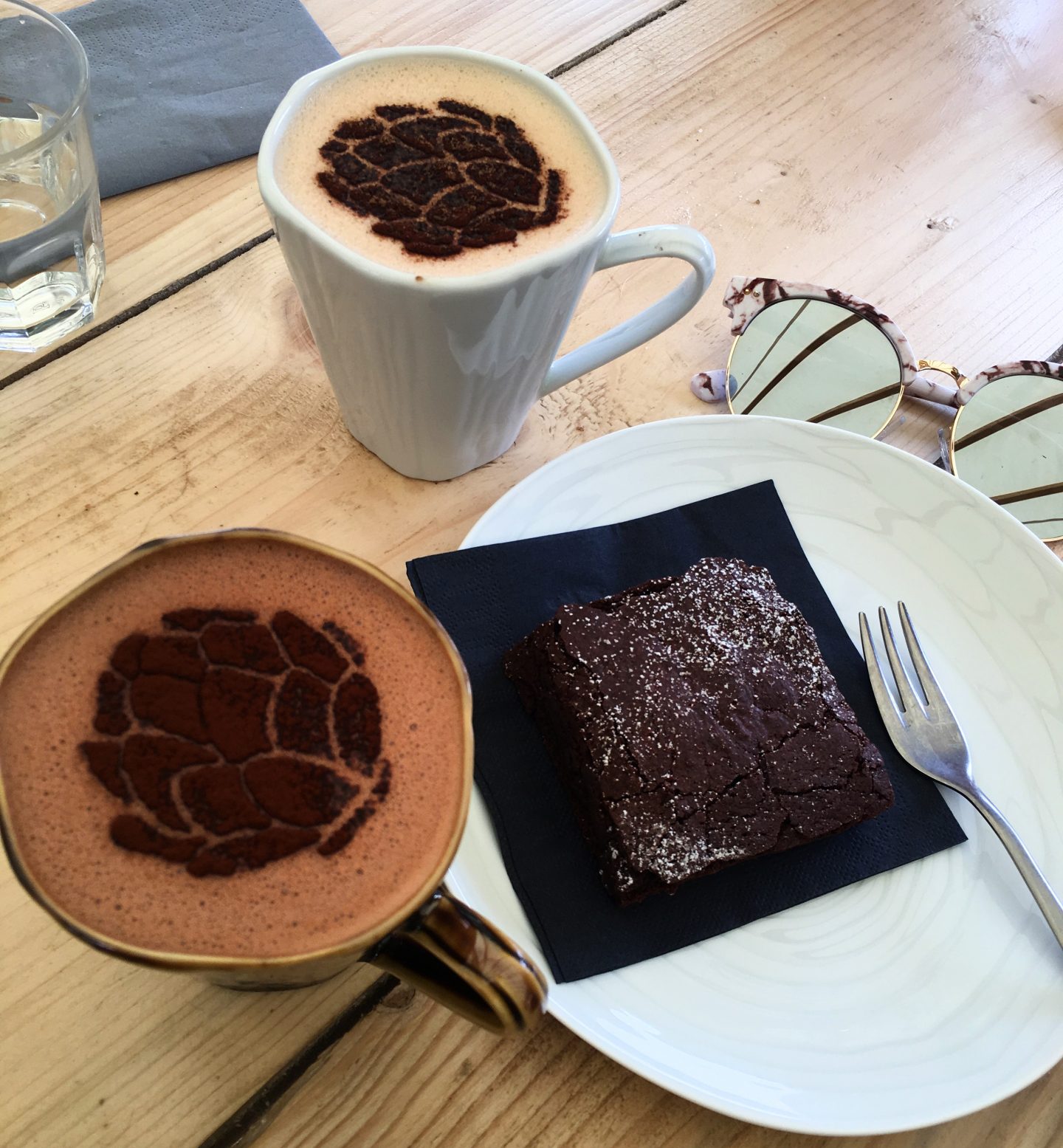 The Yurt at Nicolsons differs from other canvas cafes dotted around Cornwall, Dorset, or Yorkshire. It is unique in its bizarre, yet brilliant contradictions. The interior is decorated in a sort of boho/rustic/simplistic/quirky style… there is even a comfy corner in which you can lounge whilst reading a book (all of which are sold with the proceeds going to the Rafiki Thabo Foundation).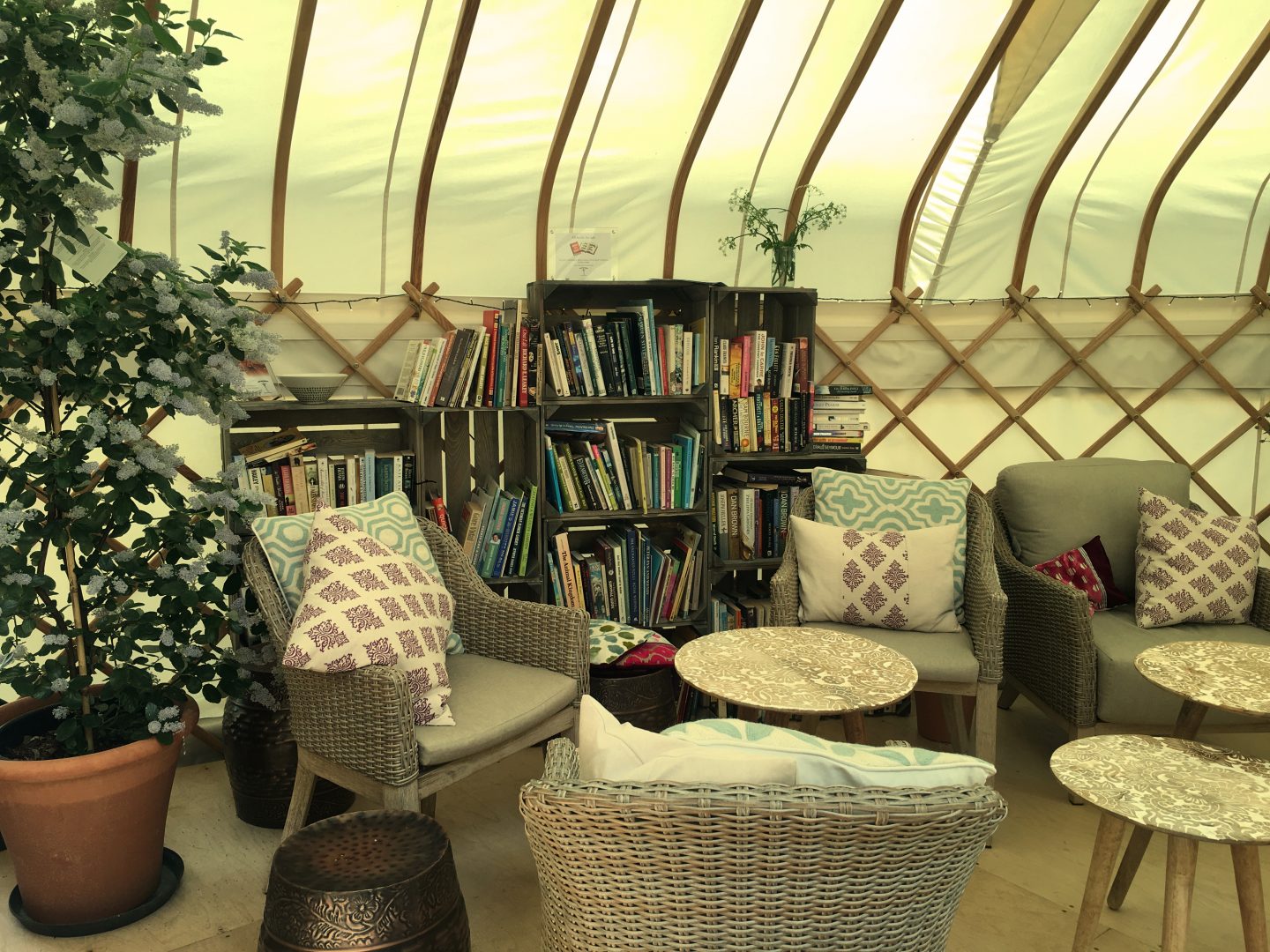 Yet the food seems at a paradox. The plates are decorated with finesse and the food is delicate and fancy. Perhaps it wasn't just the plants making me feel guilt-free as the menu boasts a range of healthy and delicious options. This Yurt is the destination of both relaxed coffee and sophisticated dining in a totally different and novel location.
The Yurt staff are also extremely lovely. I get the sense that Nicholsons, built by a family has become a bigger family of staff across the whole company. Everybody seems to know and care about their collegues, whether in The Yurt, at reception, on the hard-landscaping team or designing the Rosara range. And this familial care shines through in genuinely happy customer-service. Always willing to go out of their way to make a customer happy, The Yurt offers a cafe experience in which you'll feel genuinely appreciated.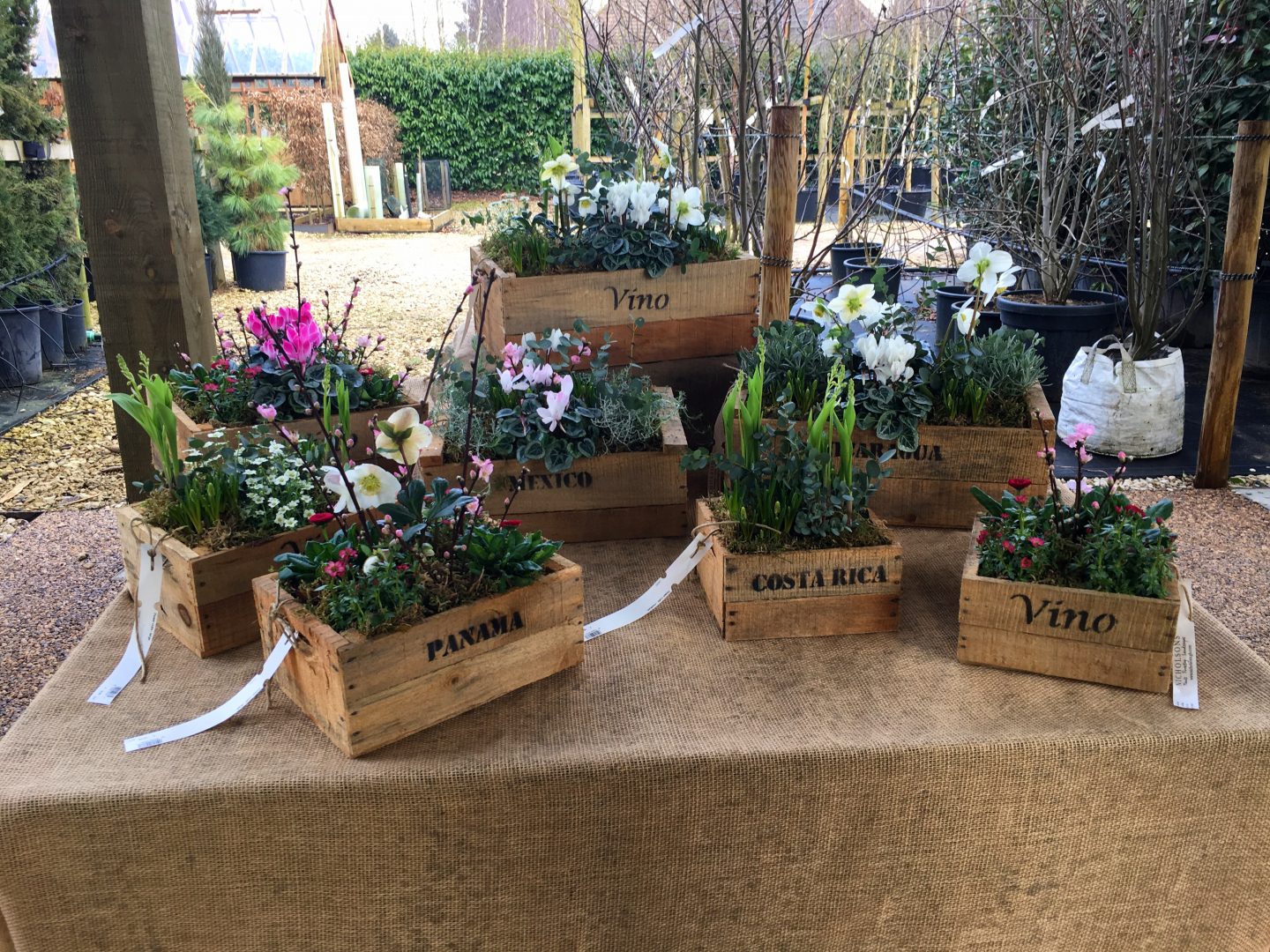 For those that don't live nearby, but fancy an escape to the beautiful Oxfordshire countryside (not just a bias opinion, but genuine truth), then make sure to visit Nicholsons in North Aston. About 20 minutes from Banbury and Bicester, 35 minutes from Oxford. Aside from their Yurt, they also offer a beautiful Garden furniture and accessories range at Rosara, as well as a pristine plant centre. Nicholsons is worth a trip just to explore the beautiful Farrow and Ball buildings, boho exotic, yet traditional products and incredibly smiley staff. If you've visited Daylesford or Soho Farmhouse, then you'll find a similar feel at Nicholsons, but with some added family love.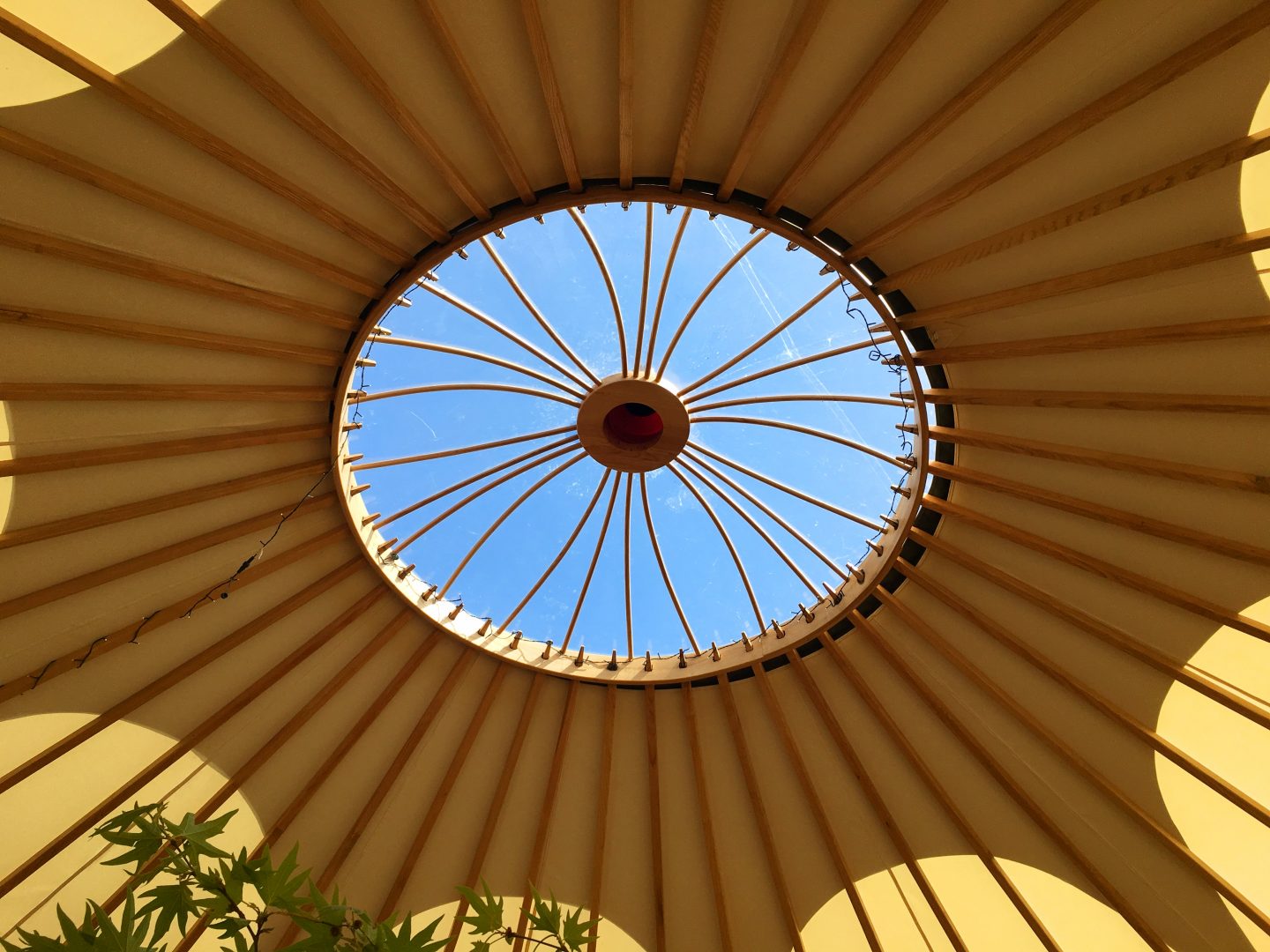 If you really can't justify the adventure, but are intrigued by the idea of a Yurt-cafe-culture (this is a phrase that I've made up so far as I'm aware, but it ought to be a thing), then there are many dotted around the country, including one in London. Just search Yurt cafes online. I cannot, however, promise the same warm welcome, rustically beautiful interior and sophisticated food, until I've been there myself… but if you happen to visit any, please let me know what you think!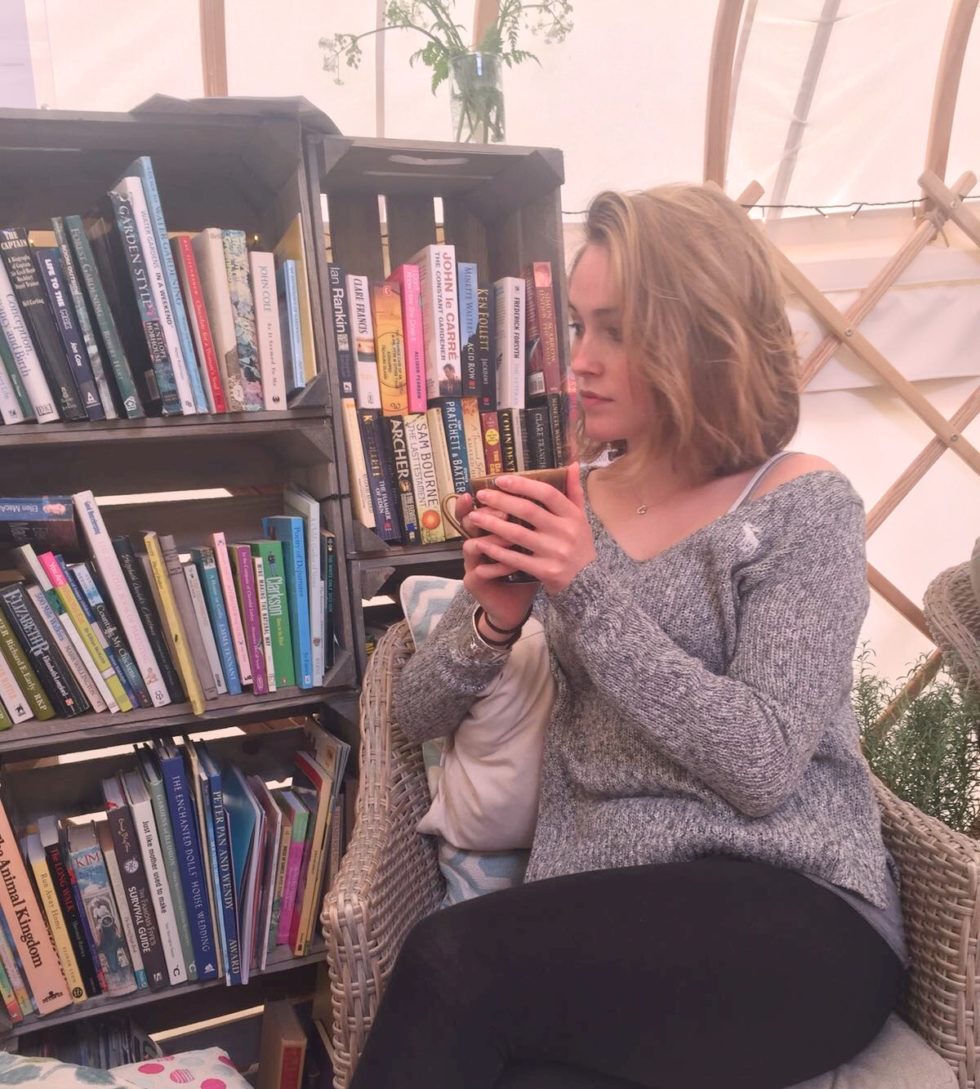 Time for me to get back to revision now. Just two more exams until I can head home and spend lazy mornings in The Yurt.