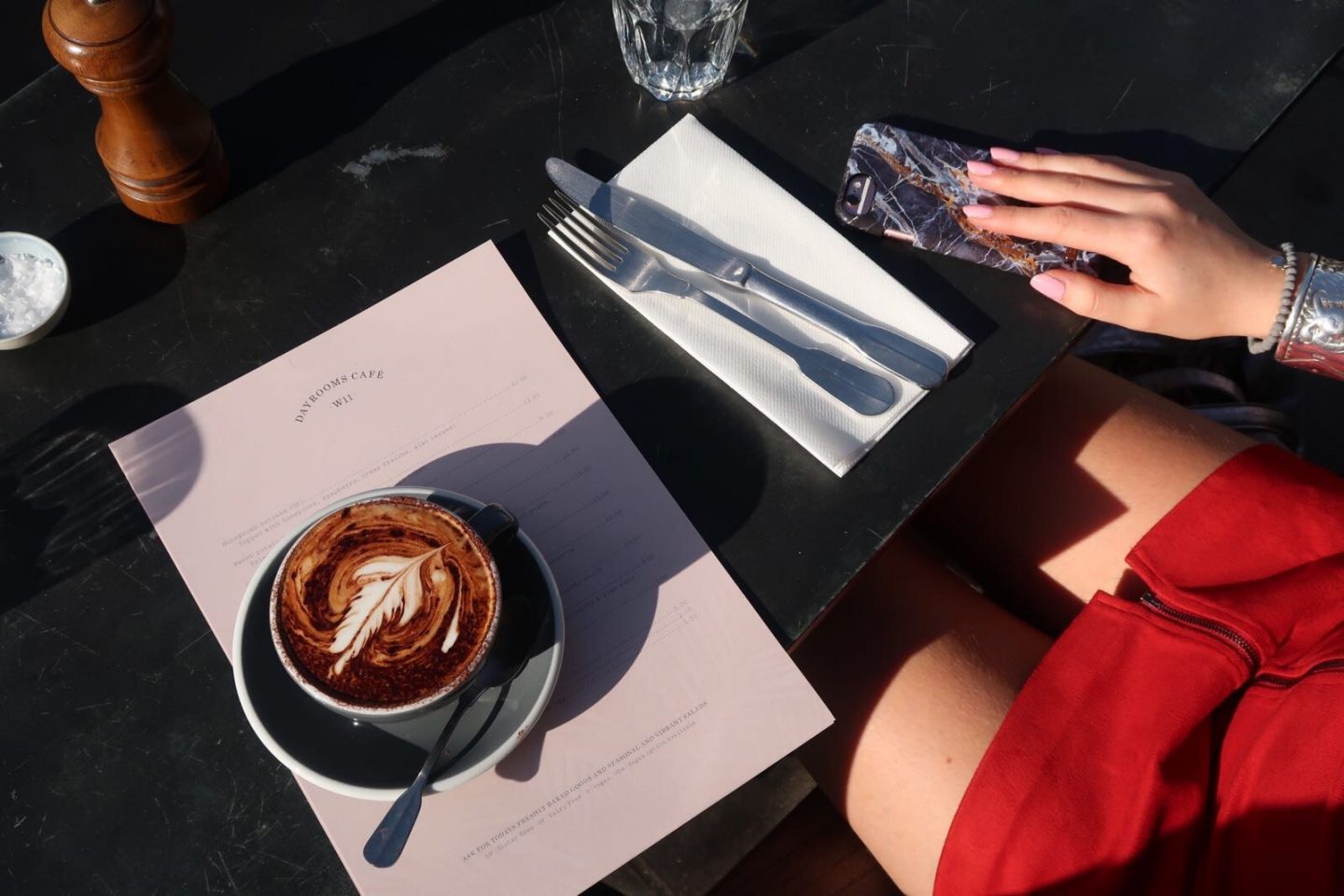 Reading Time:
6
minutes
Some may say that taking an expensive foodie-day trip to London for the sake of gaining blog/Instagram content is a bit extreme. I would argue that its more of an opportunity- as I've said in the past, I will forever be grateful for earlier me who started this blog, because of her I now actively seek inspiring, exciting and delicious experiences that I can share with you, my lovely readers. So whilst a Wednesday spent eating my way around West London with Elise more or less broke my bank account, I can entirely justify it to myself through reminders of how glorious a day it was, and by claiming it as necessary for this blog post. I mean, guys, really it was a "sacrifice" I made for you… or so I like to tell myself. So here it is, my guide to three of the MOST Instagrammable, quaint, delicious cafes in West London- I challenge you to resist licking you lips throughout. (In fact, where's fun in that… salivate away, I most certainly am!) (Also, for those still in the dark over this new adjective, "Instagrammable", click here for a little context.)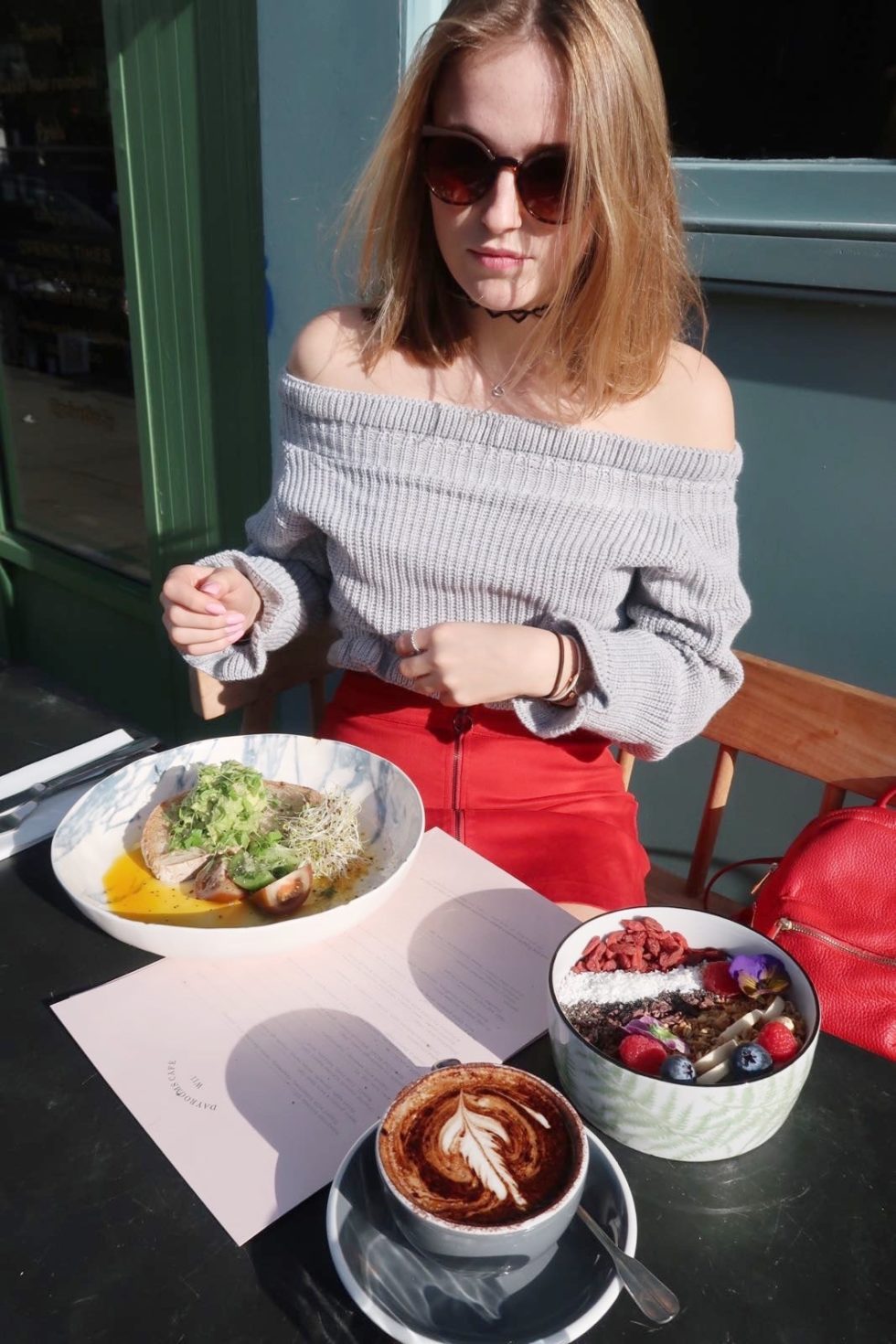 Naturally, we started the day with brunch. In fact it may well be a good time to point out that I am super organised when it comes to food- I will never visit a new place without scouting out its edible facilities first. So all of the cafes I talk about here have been on my Instagram saves page for months. Brunch was taken in the beautiful Notting Hill. I have previously reviewed the fabulous Farm Girl, but The Dayroom's Café provides a much quieter (slightly more out of the way) alternative. Their menu is short, sweet and pink… and naturally remained on the table throughout as an accessory to our food photoshoot.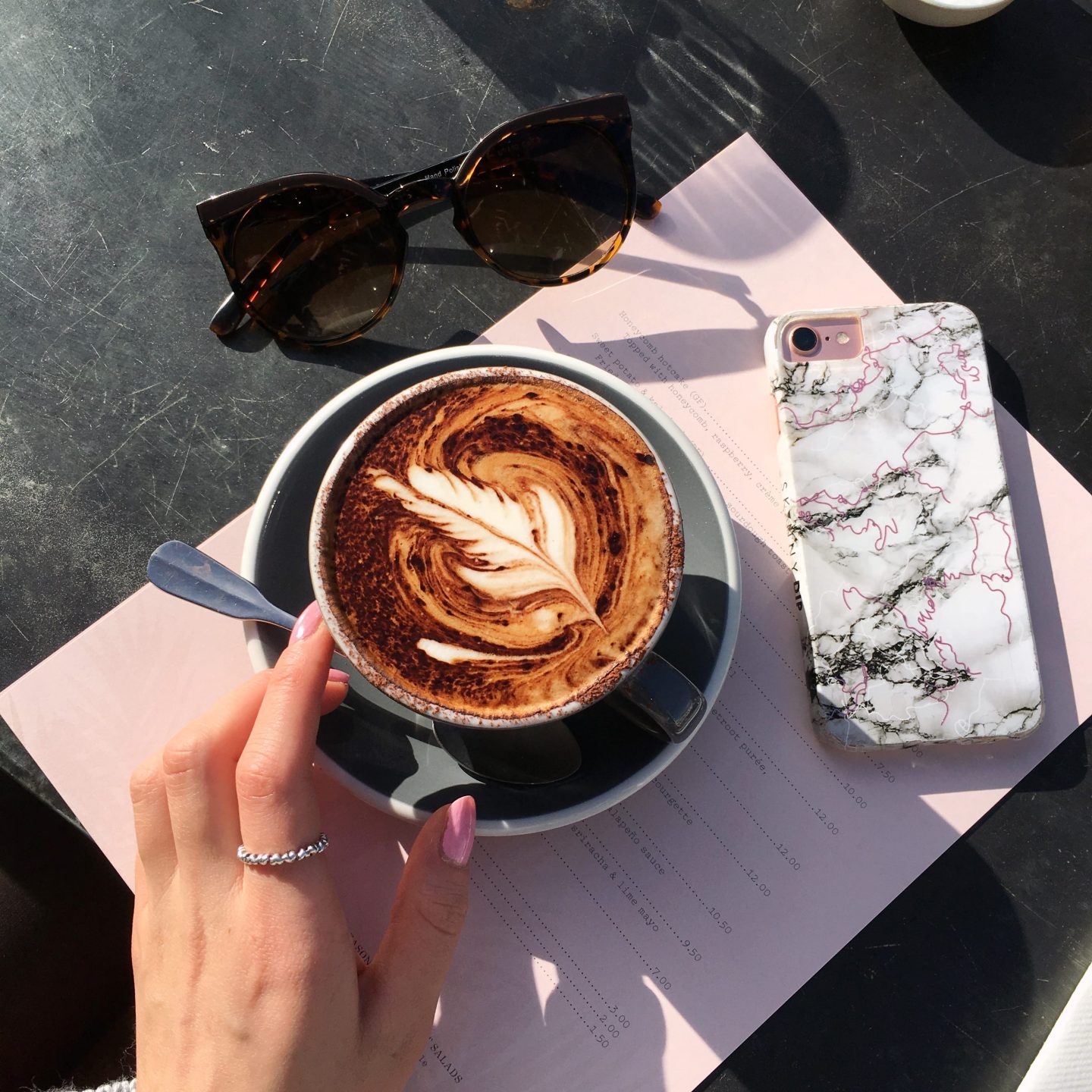 When Elise's cappuccino arrived jealousy began to swell inside- it was quite honestly the most beautiful coffee I had ever seen- and made with soya milk too!! Unheard of! (Still, hold that thought- my envy subsided later in the day.)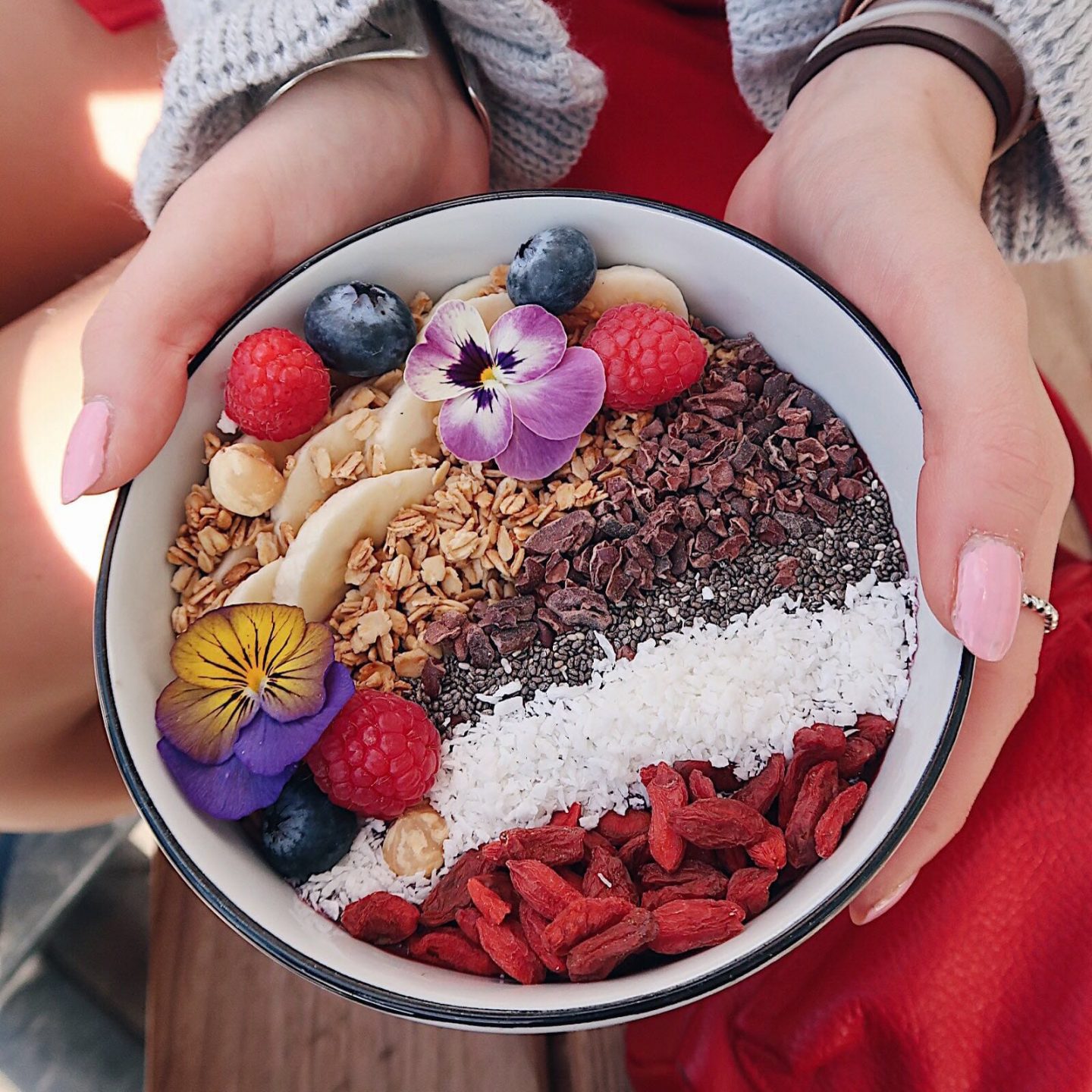 I ordered avocado toast, naturally. This usually comes with a goats cheese curd, which sounds utterly sophisticated, but alas I am simply not a goaty person. I opted for the vegan version which swam in golden chilli oil… utterly delicious. Elise ordered a beautiful, Australian style (actually v. authentic- every single staff member seemed to be Australian!) açaí bowl, complete with cacao nibs, granola and edible flowers.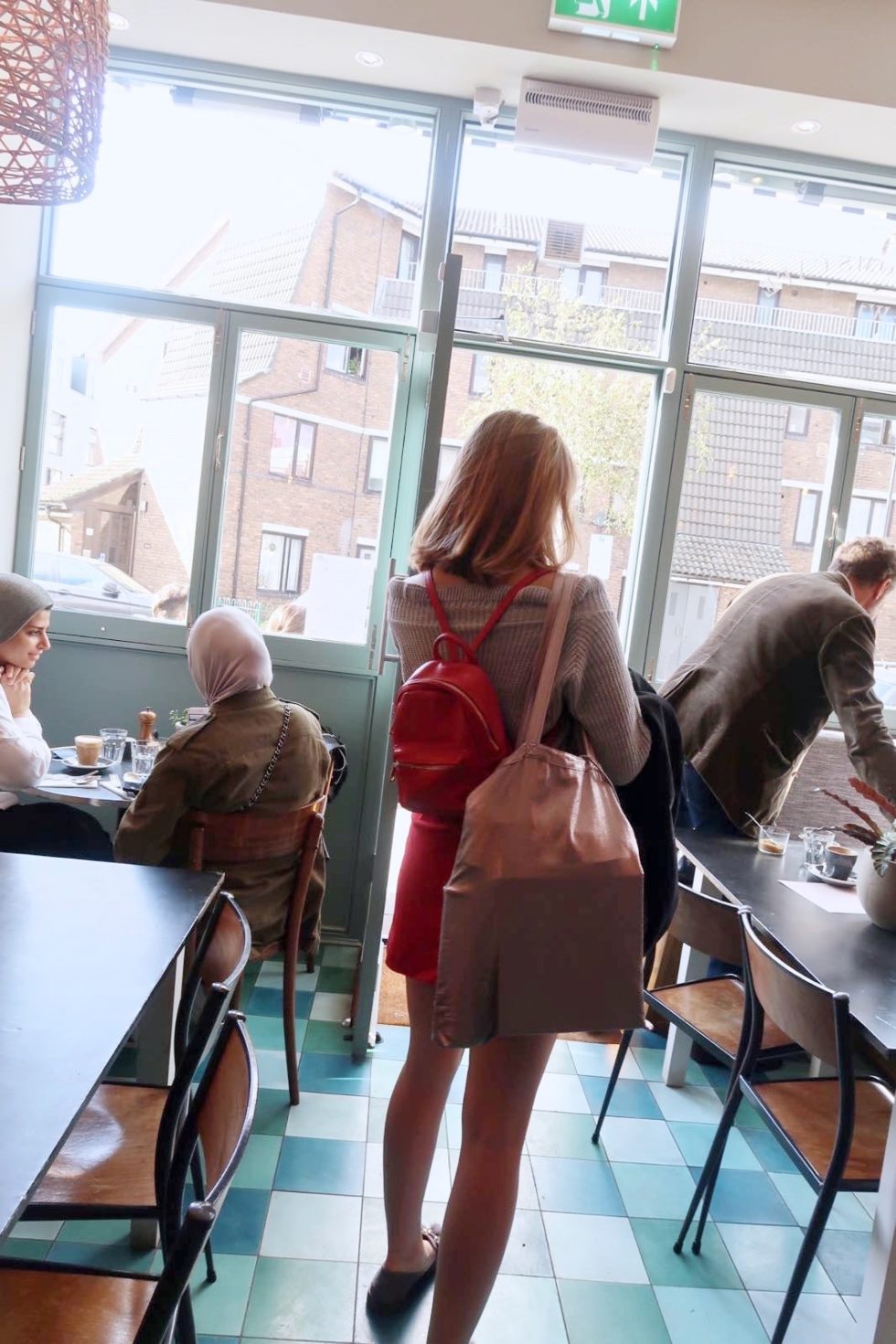 The aesthetic didn't end at the menu, or the coffee, or even the food- the café interior was super stylish too. I'm talking whites, coppers, succulents and editorial designs. We sat in beautiful Autumn sunshine on a bench just outside, watching the London world go by. The only thing that could make this better would be a view of those pretty pastel houses, but I suppose something must be sacrificed for finding a café that is as of yet relatively undiscovered. They have also opened a second cafe in Holborn which I would imagine to be just as charming.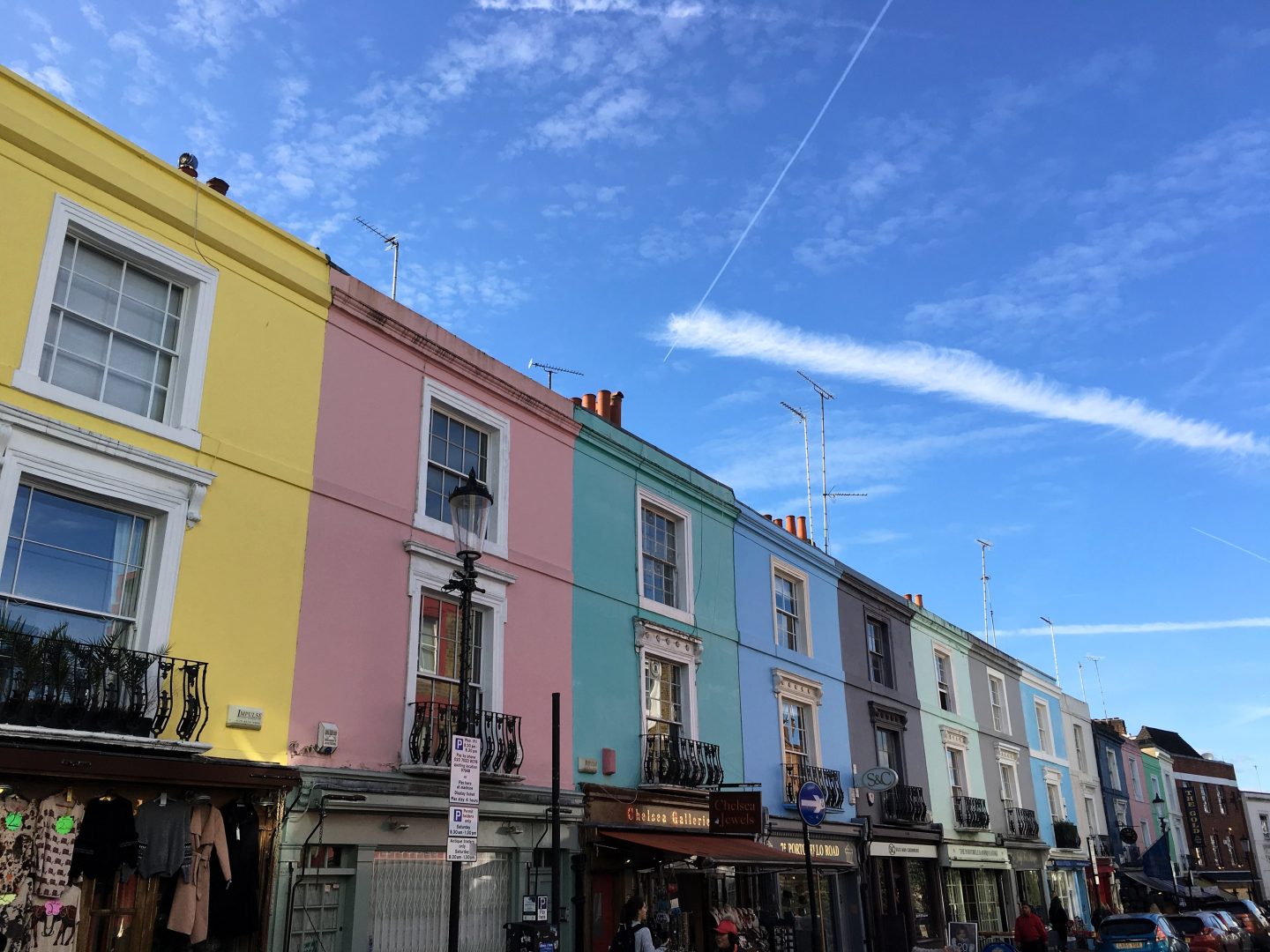 After a little 'exercise', by which I mean walking through Portobello market (so perhaps you may call that strenuous- photo shooting, vlogging, window shopping, crowds, streetfood-resisting… you know), we felt lunch to be well deserved. Hopping on the tube we headed to my next Instagram dream world: Élan Café, Mayfair.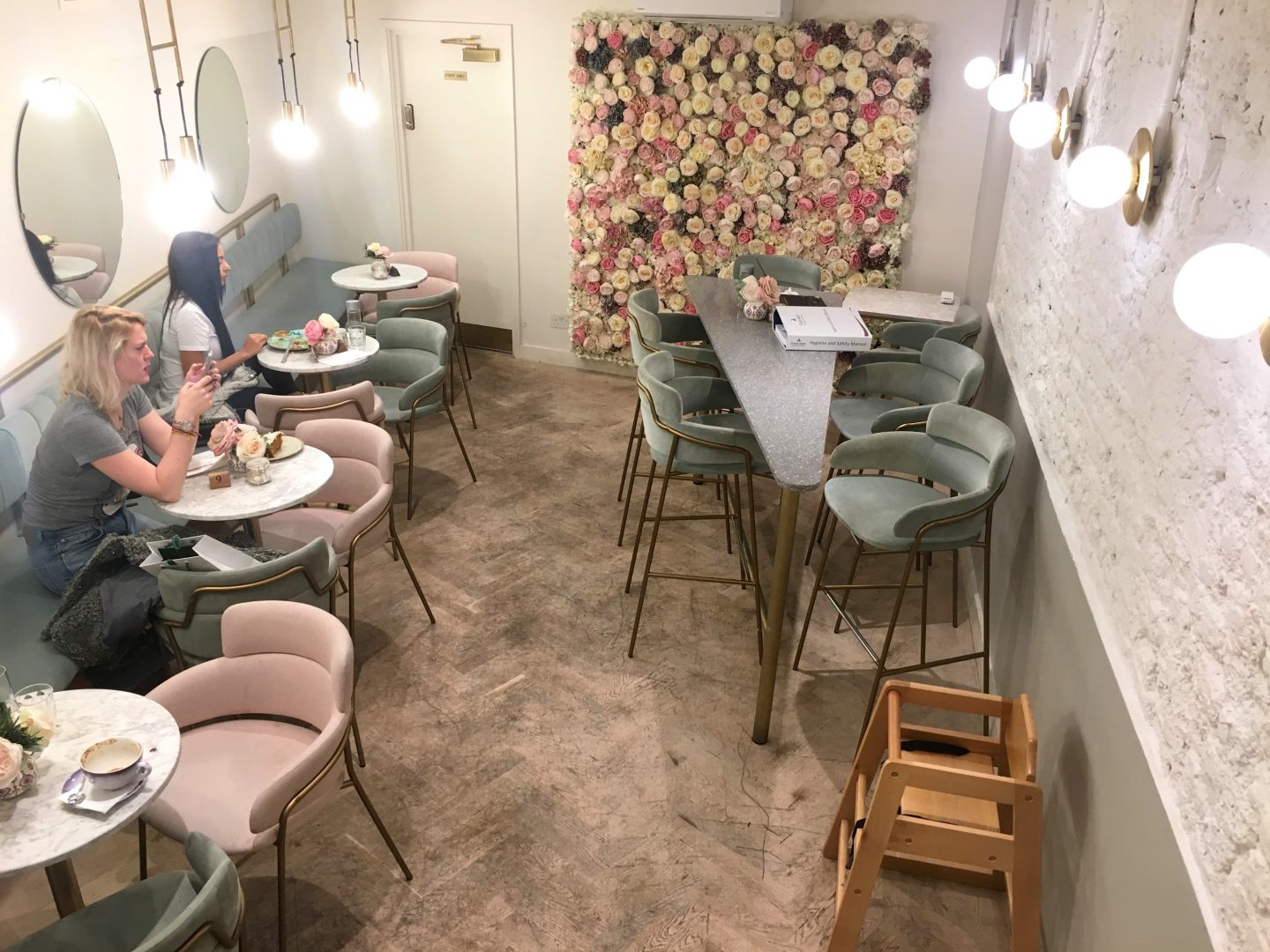 Élan Café really is a little gem, nestled amongst the grandeur of vast, expensive buildings, it is actually fairly easy to miss if not for its characteristic pinkness. In fact, its pink hue only strengthens once you enter the front door to a welcome of friendly smiles, floral walls and cake, cake, galore. Now, I've never actually been to the famous Sketch and I am desperate to go, but its title of 'most instagrammable café ever' seems undeserved in relation to Élan. There are flowers everywhere, copper details abound, the cutest retro-style coffee machine, velvet plush seating and marble tables just asking for a flat lay. The service was unbelievably friendly, and a buffet of sweet treats, colourful salads and explosive sandwhiches challenged my will-power to the extreme.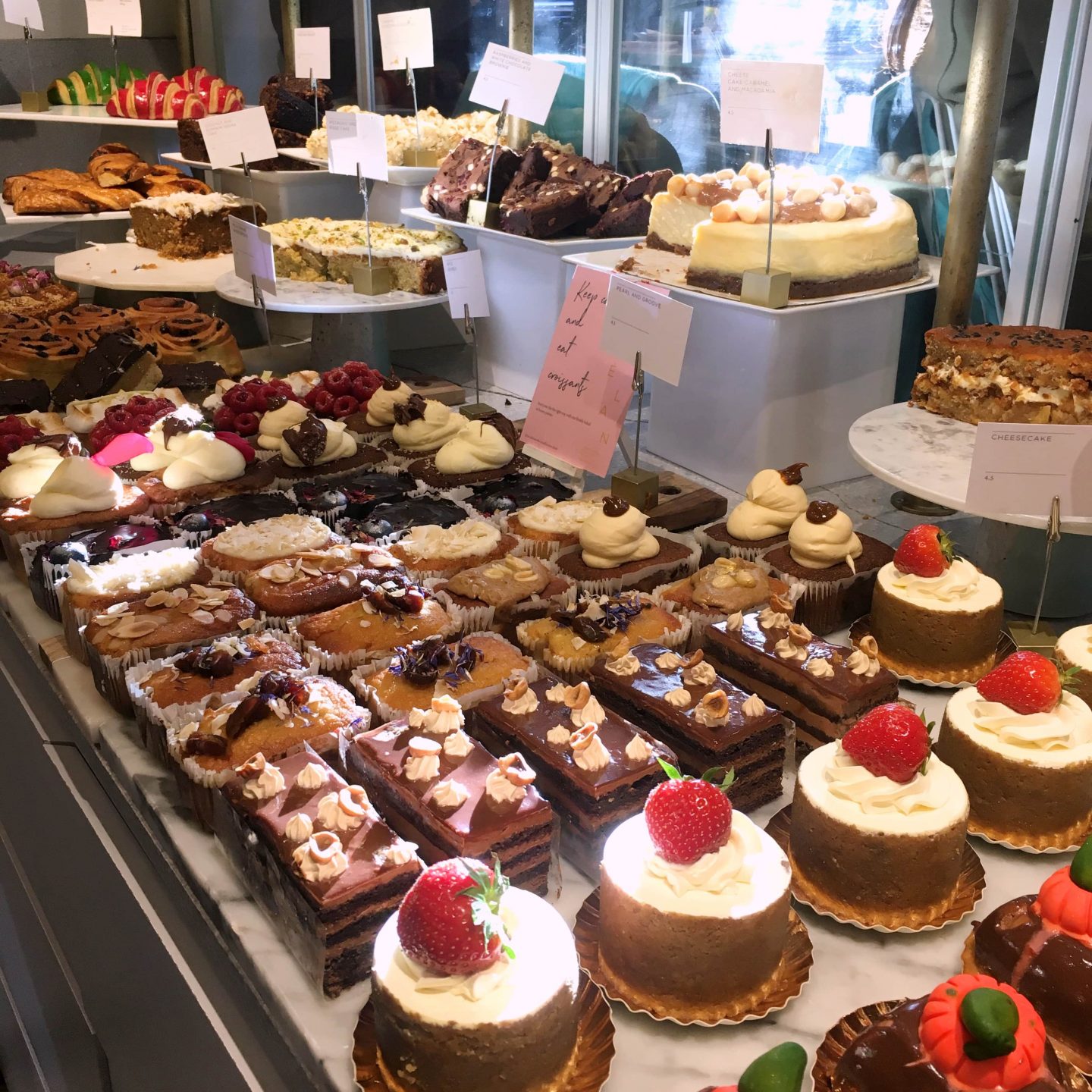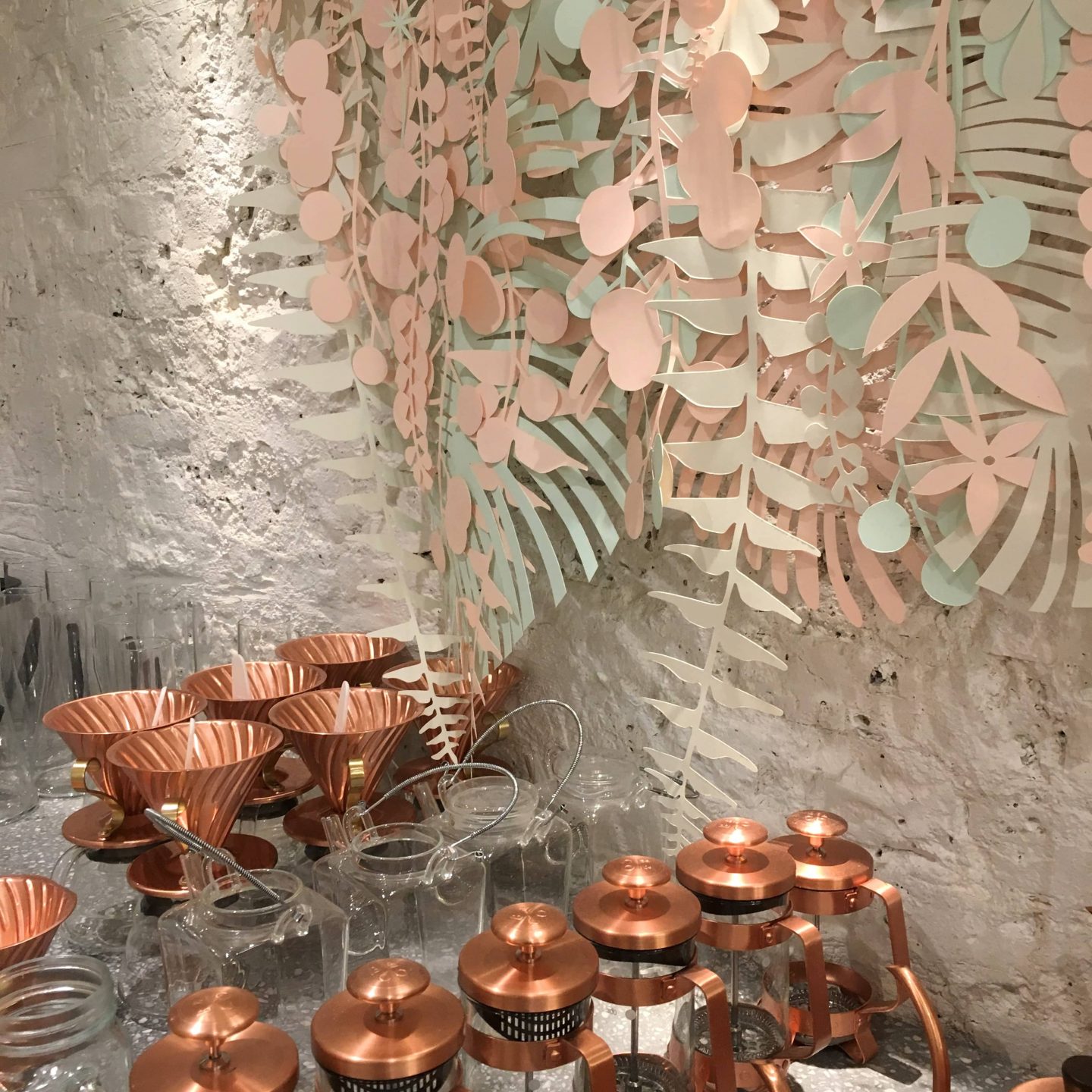 Heading downstairs and out of temptations way, I looked at the indulgent menu a little more rationally. It was at this point that my coffee-envy subsided as I was served the most adorable cappuccino ever, artistically crafted into the face of a beautiful bear. Top tip for coffee ordering- apparently oatmilk is far easier to be creative with than soya milk. Coffee is Élan's thing- they believe that coffee is no longer just something we consume and forget, but is, and should be, an experience. They compare this experience to that of drinking a fine wine and it has to be said, they truly have a coffee knack.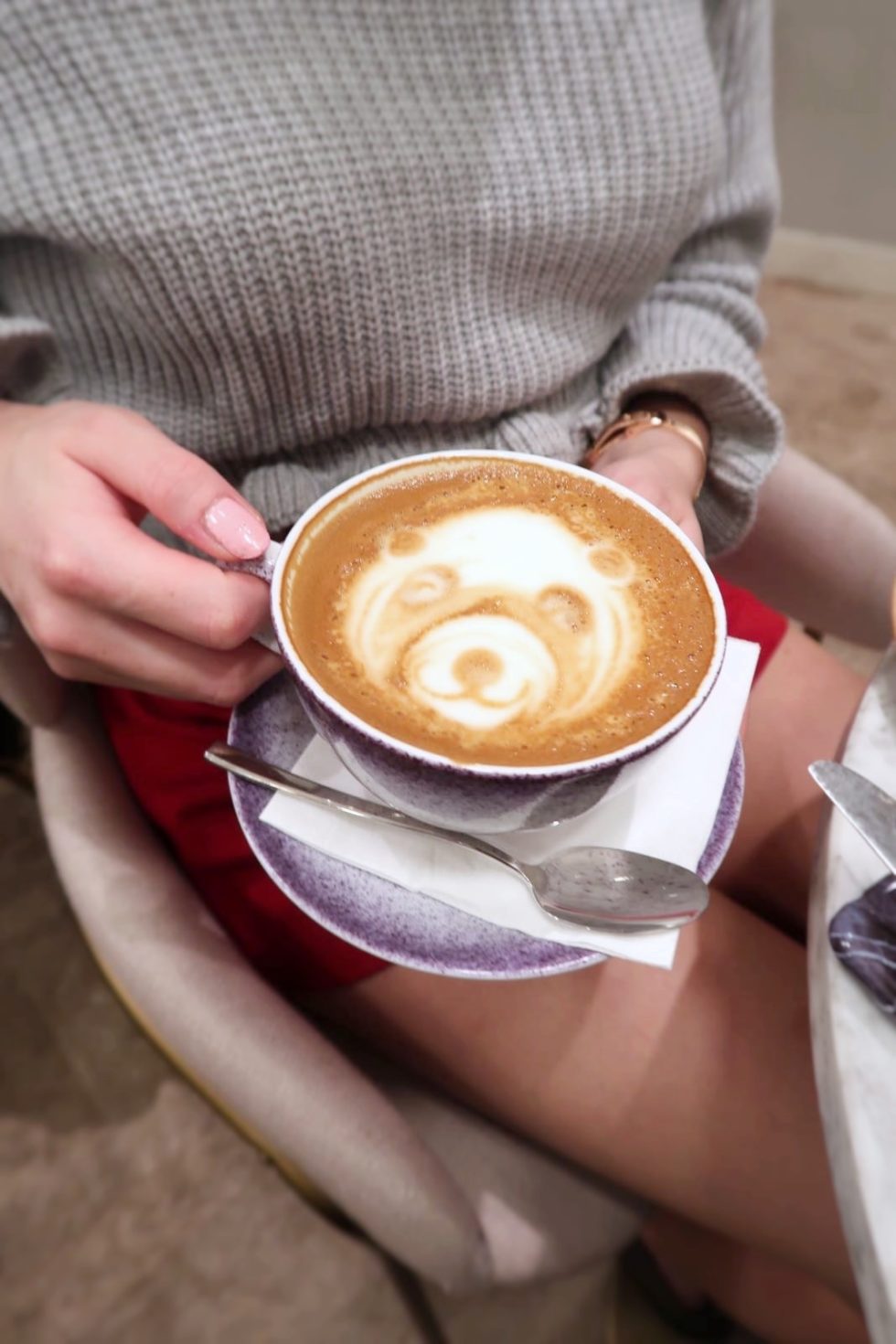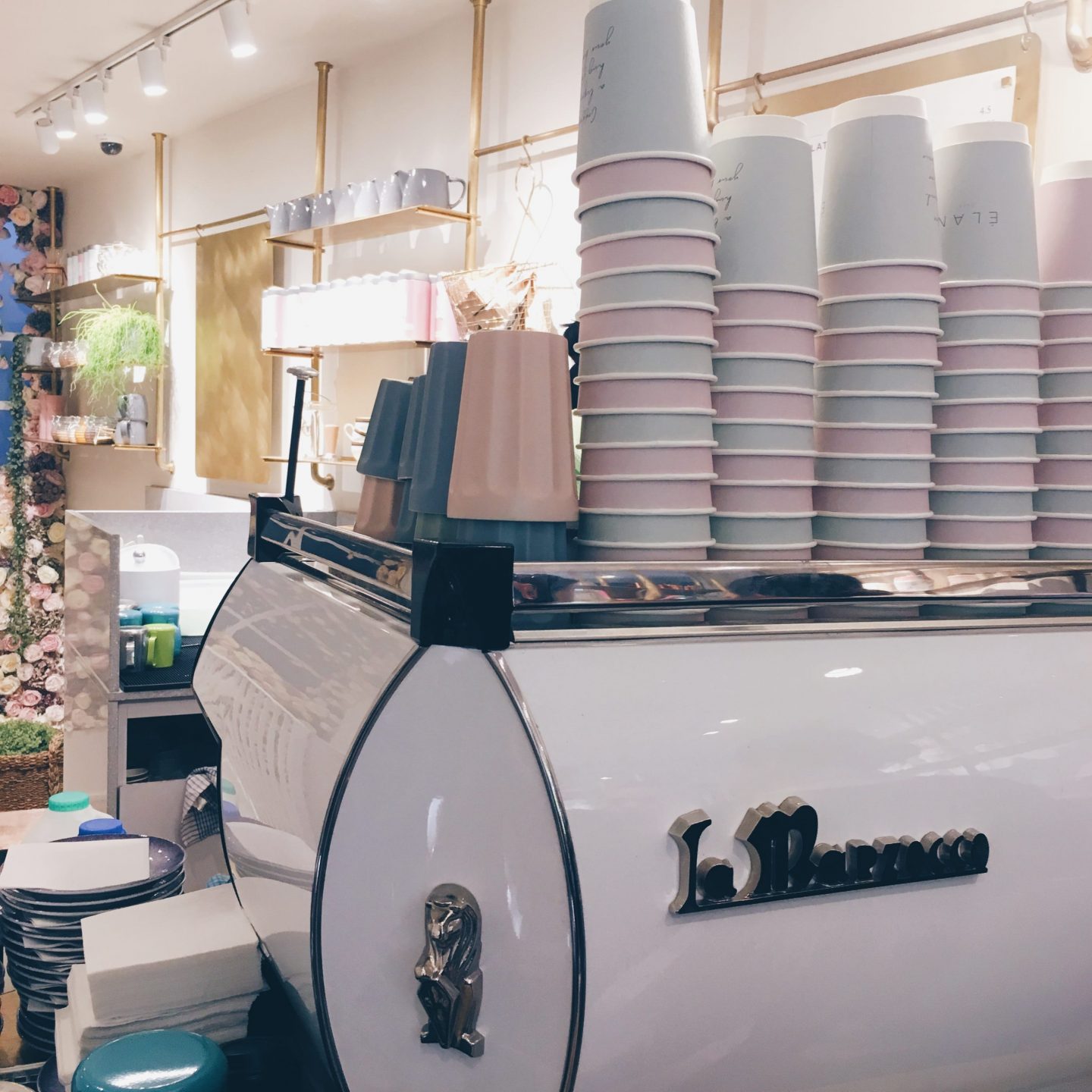 Suddenly I was faced with the hugest, most elaborate sandwich ever. I'm talking crusty sourdough stuffed to brimming with roasted peppers, hummus, pesto and grilled halloumi- if I wasn't really hungry beforehand, I was fully Violet Baudeguard afterwards. But I was determined for my day of feasting to continue, so we headed of for a walk through a beautifully golden, leafy Hyde Park over to Victoria.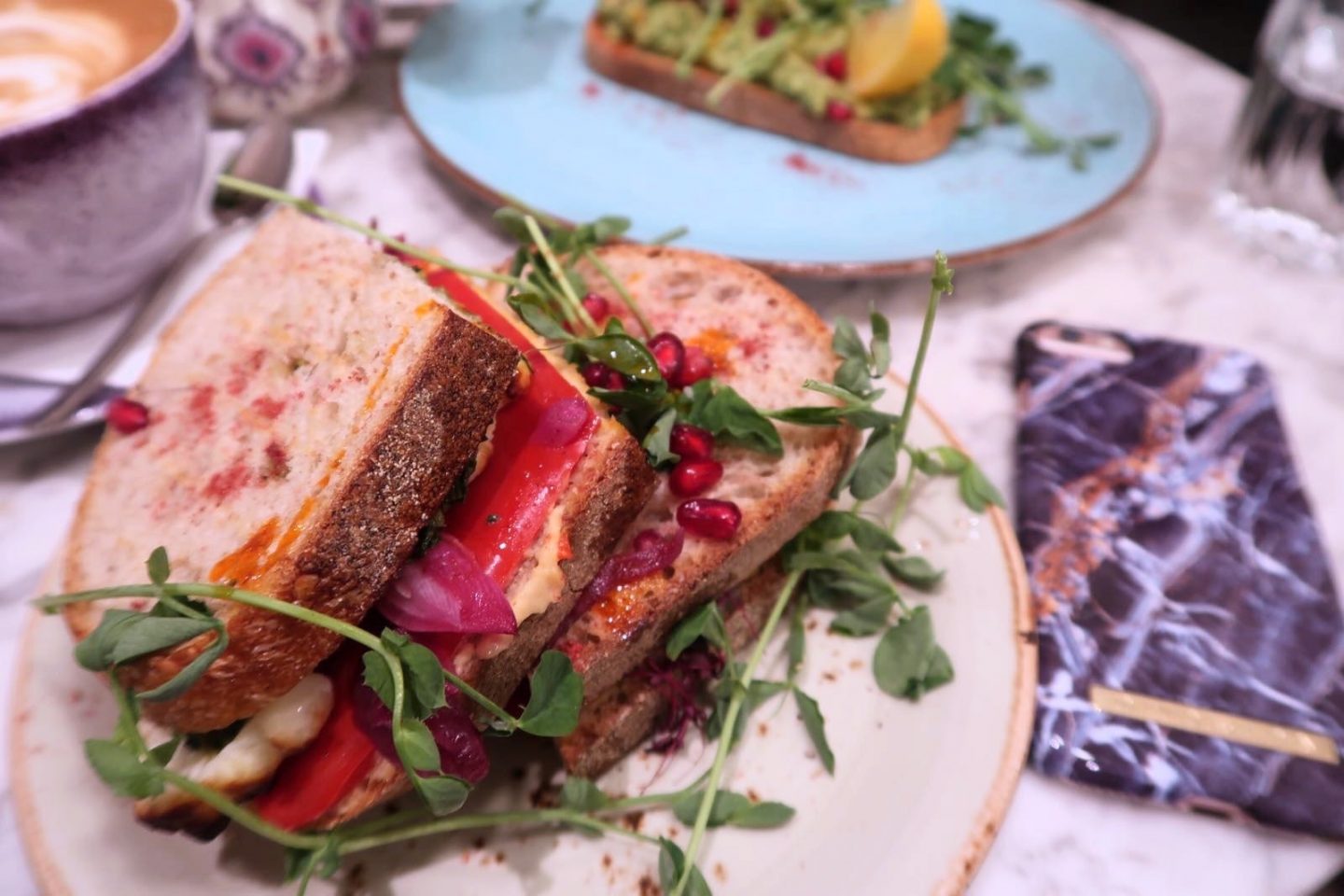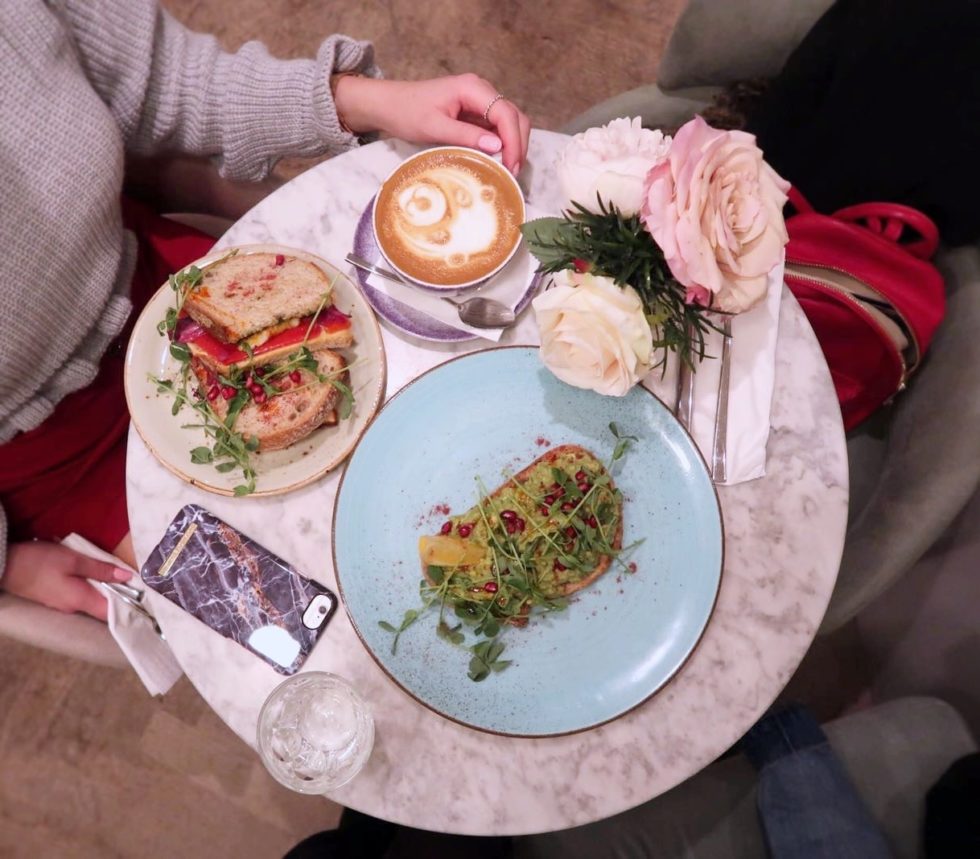 Warning- this is not a short walk, we hadn't quite comprehended the trek we were undertaking… though it proved welcome after the morning's indulgences and in the warming sunshine.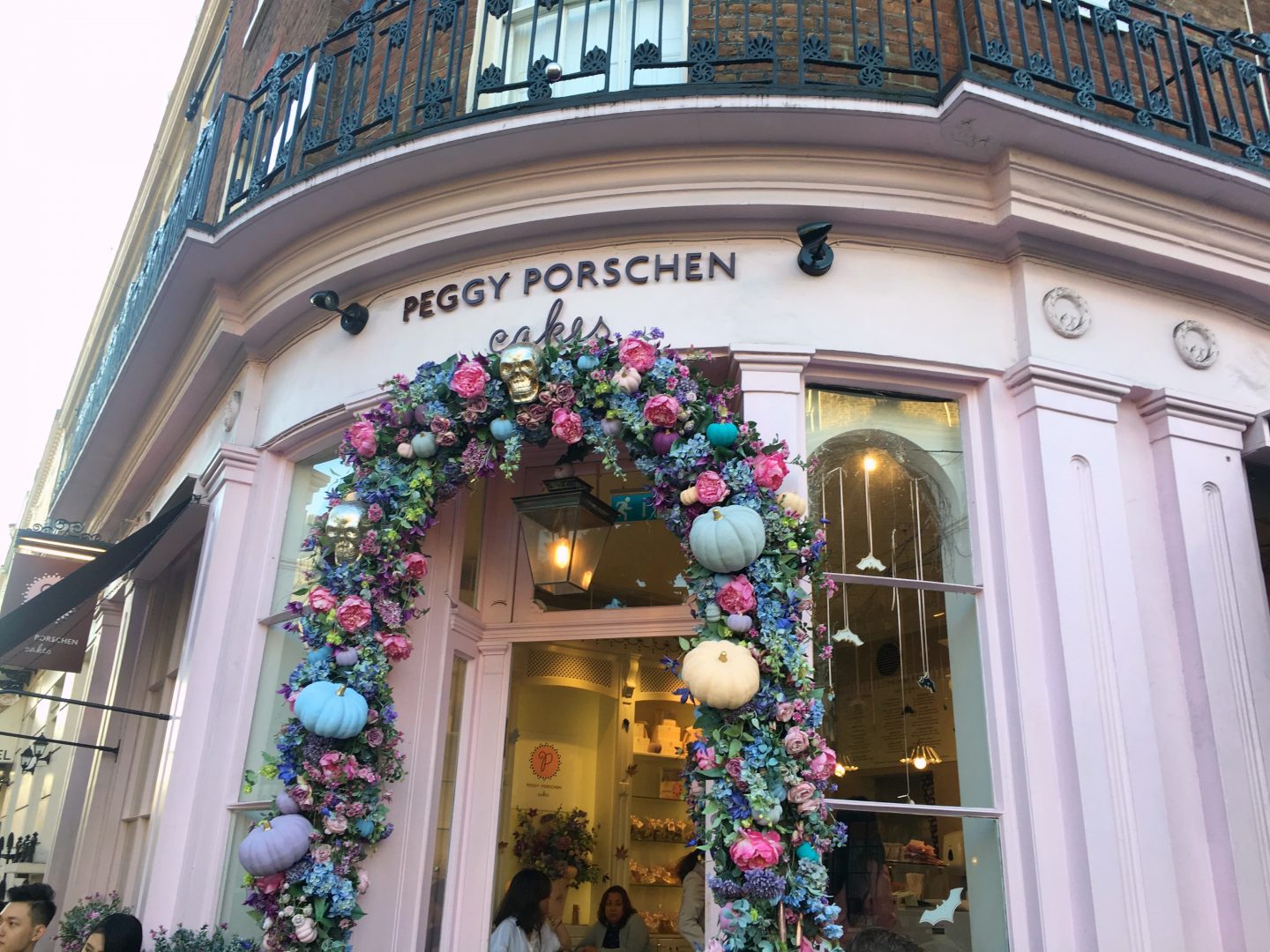 Victoria is home to Peggy Porschen– the destination of our next chapter: afternoon tea. This actually proved kind of difficult for a vegan: there was, heartbreakingly, no cake option for Elise- thus I obviously ordered two cakes to complete the balance of our photogenic table. Before taking our prime perch just outside the entrance, we queued. Peggy Porschen has blown up on Instagram and it's floral, seasonal doorway has become something of a photogenic pilgrimage destination. Admittedly, our waiting time was largely a result of my determination to gain the perfect table, we let numerous other groups be seated ahead of us as I (semi-death) stared the family sat at MY table. I swear they were there for a good half hour AFTER finishing their tea and cake… talk about selfish. (I really hope you're aware that I'm kind of joking here, though I felt a true resentment toward them at the time).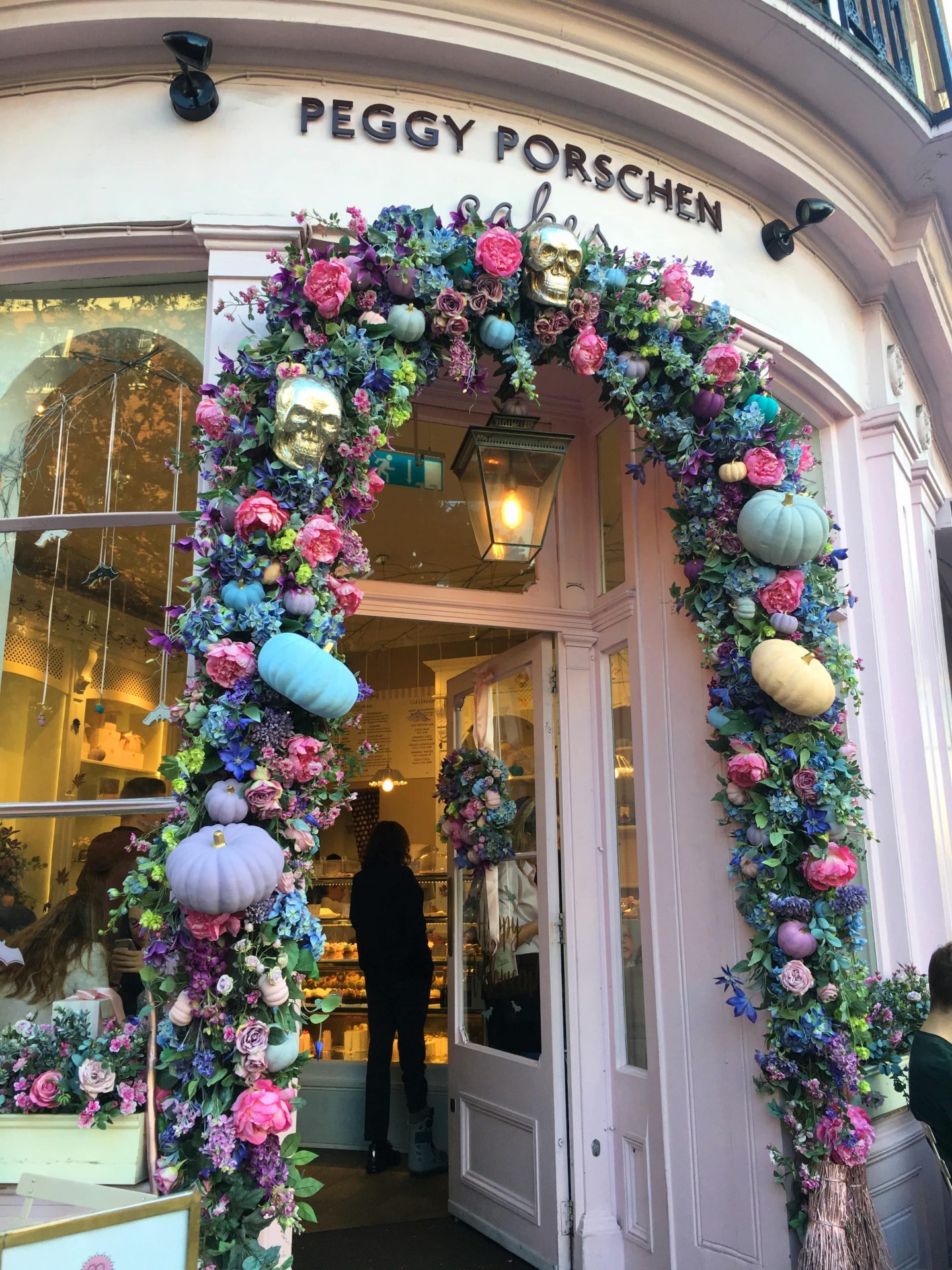 When we were finally seated I hurried within to gawp at the array of perfectly iced, uniform layered cakes and cupcakes. Childish fascination and excitement at Christmas is the best analogy for how Elise found me on returning. We ordered another soya cappuccino, a "sugar plum" tea (in a peculiarly blue tint), a strawberry champagne cupcake and a lemon, rose and raspberry triple layer sponge. I have never felt happier, and neither have I ever felt more like a princess… I feel perhaps these two correlate.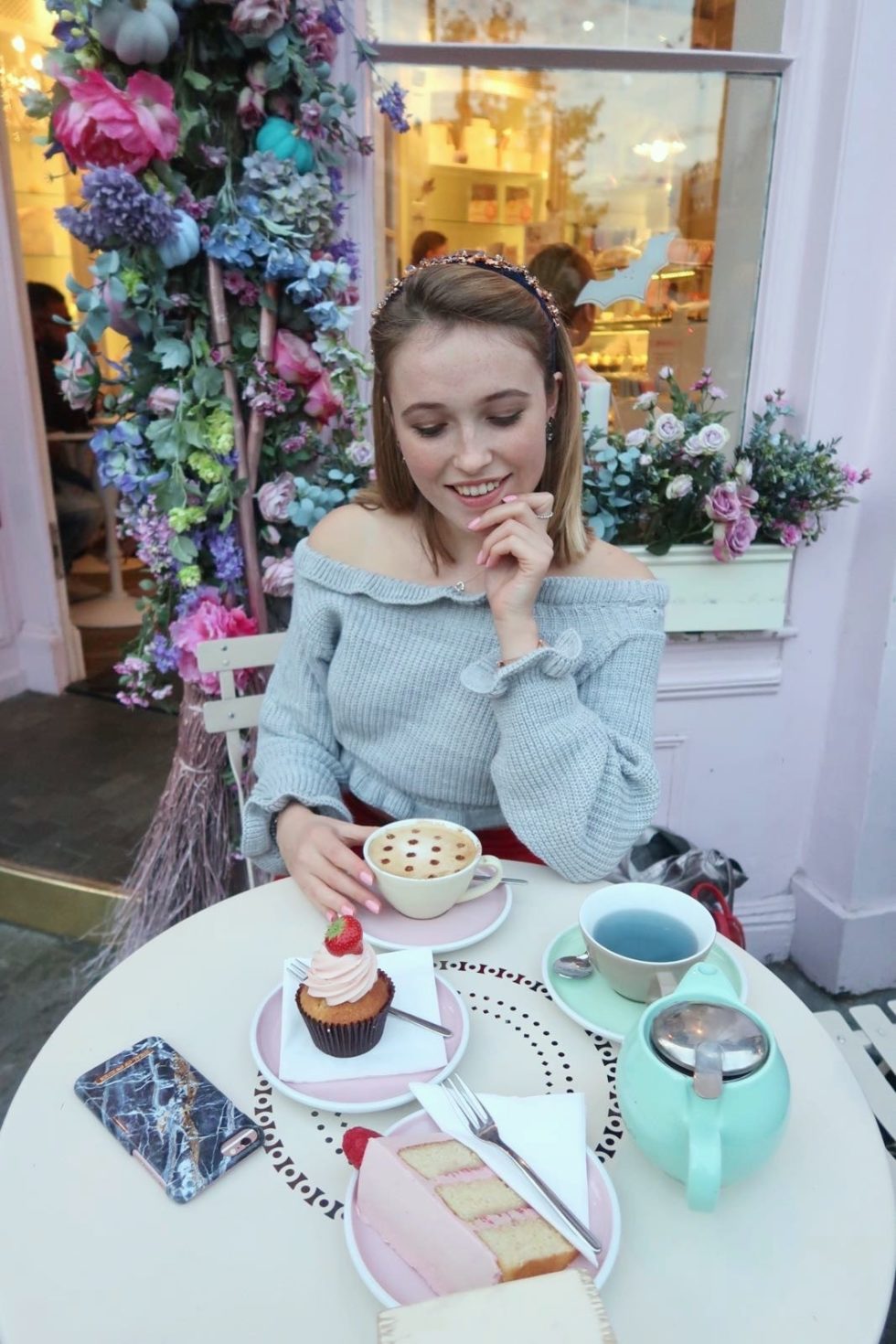 Finally, it was time to return to Birmingham, to dwell on the magical delights of the day and assemble these descriptions of fancy delectability for you lovely lot. Next time you're in West London and in need of a brunchy, lunchy, caffeine or sugary pick-me-up, hopefully you'll now have an idea of where to aim.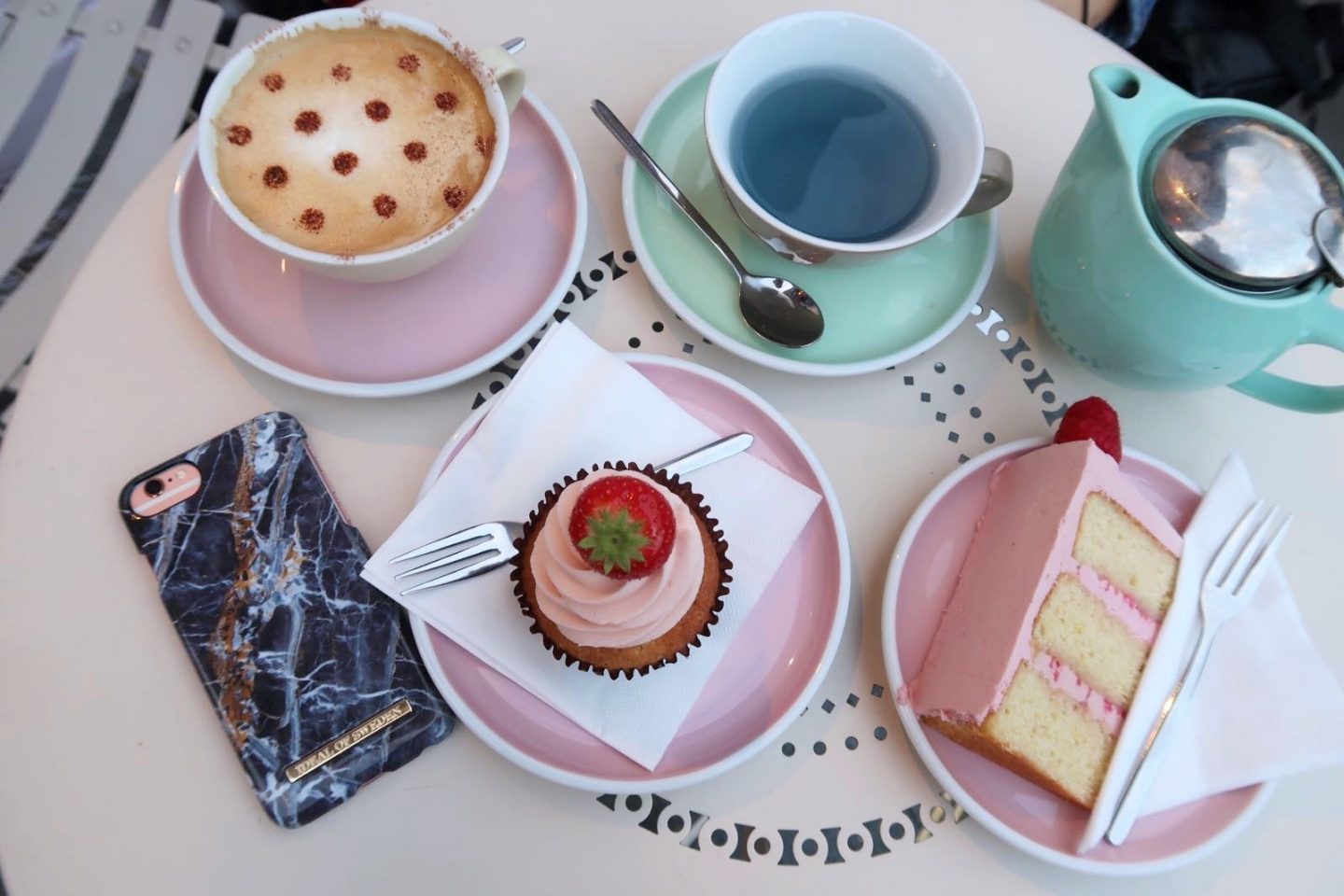 Let me know if you go/have been and what you think! Also, any other café suggestions are ALWAYS welcome- send me a message on Instagram! X