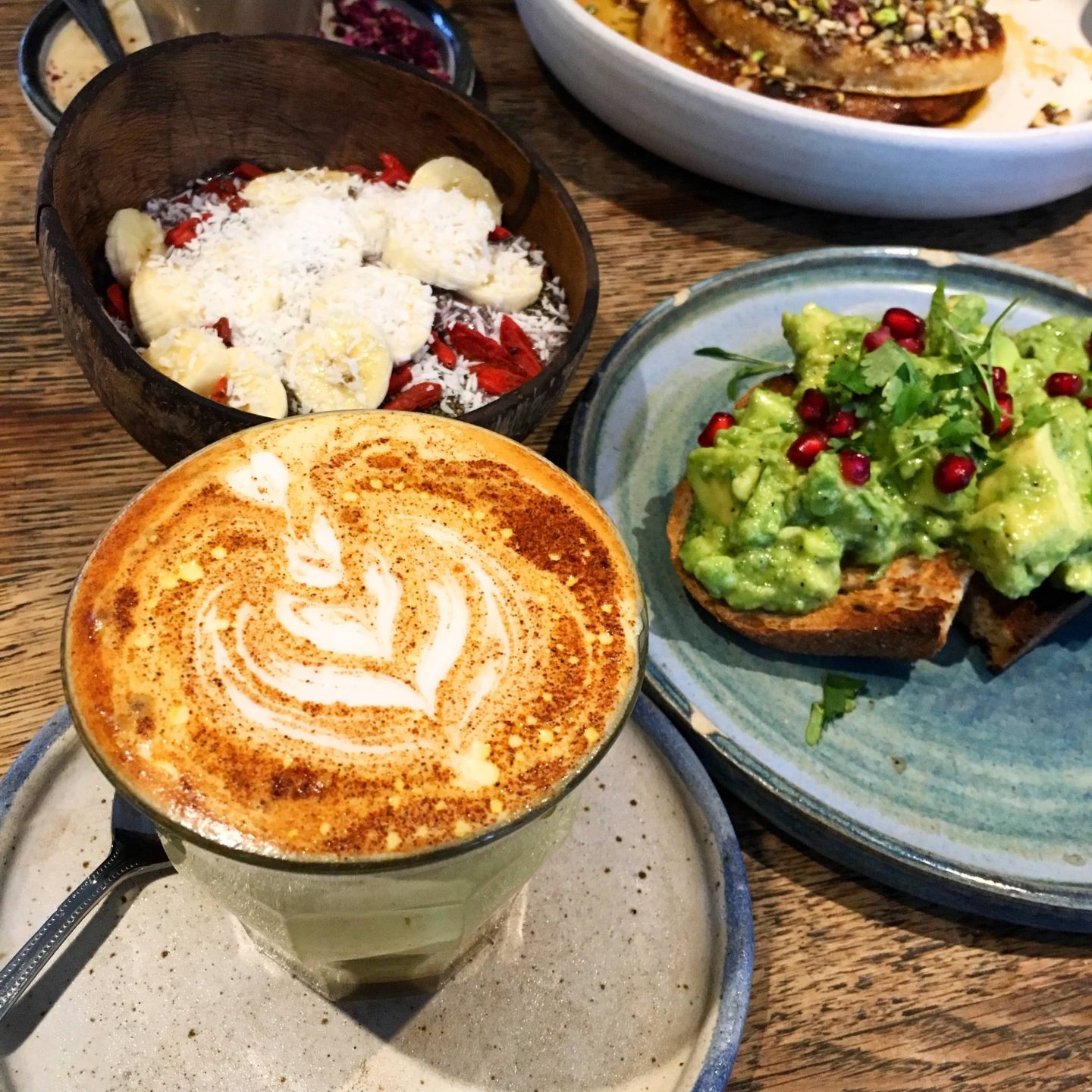 Reading Time:
5
minutes
I mentioned my trip to Notting Hill in my tennis skirt post a while back. So my review of Farm Girl, which I visited on that particular adventure, has been in the queue for a very long time and to be honest, I think it's because I'd hoped to return to Farm Girl for some more photos before posting it… but alas, I haven't had the chance, and that's a great shame because its amazing!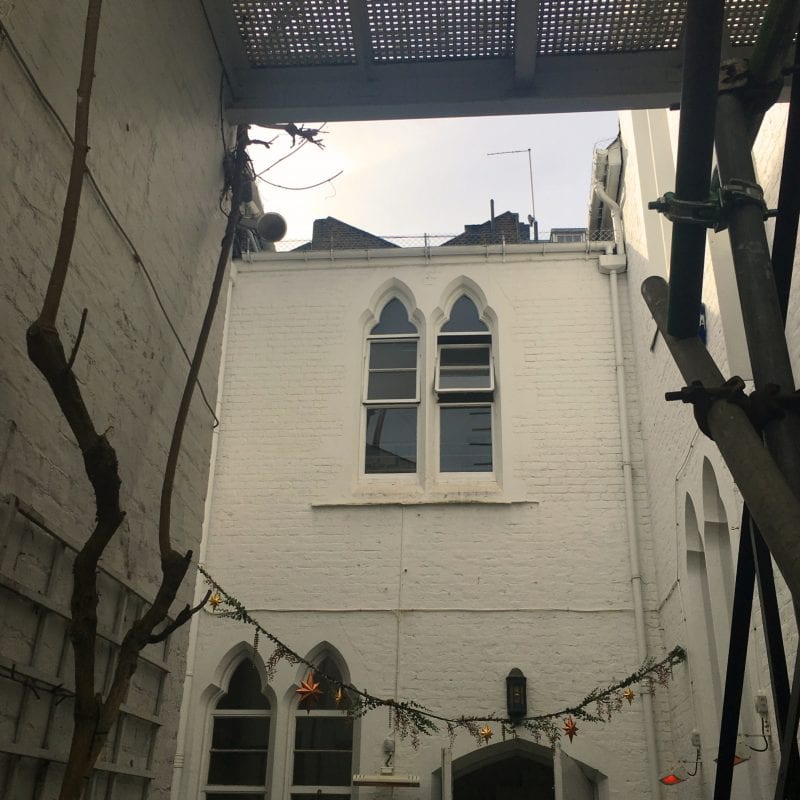 So let me explain why its so amazing. I think its clear that brunch is my favourite meal- it can allow multiple courses and the 'rules' of what you can or can't eat at various times are blurred to exciting openness. So when I see bloggers posting eye catching brunch spots in places I genuinely might visit- my radar lights up. This is what happened with Crumbs and Doilies way back when, and then again with Farm Girl as Rosie Thomas (on her blog The Londoner) promised she'd have me looking out for it in future… she most certainly did.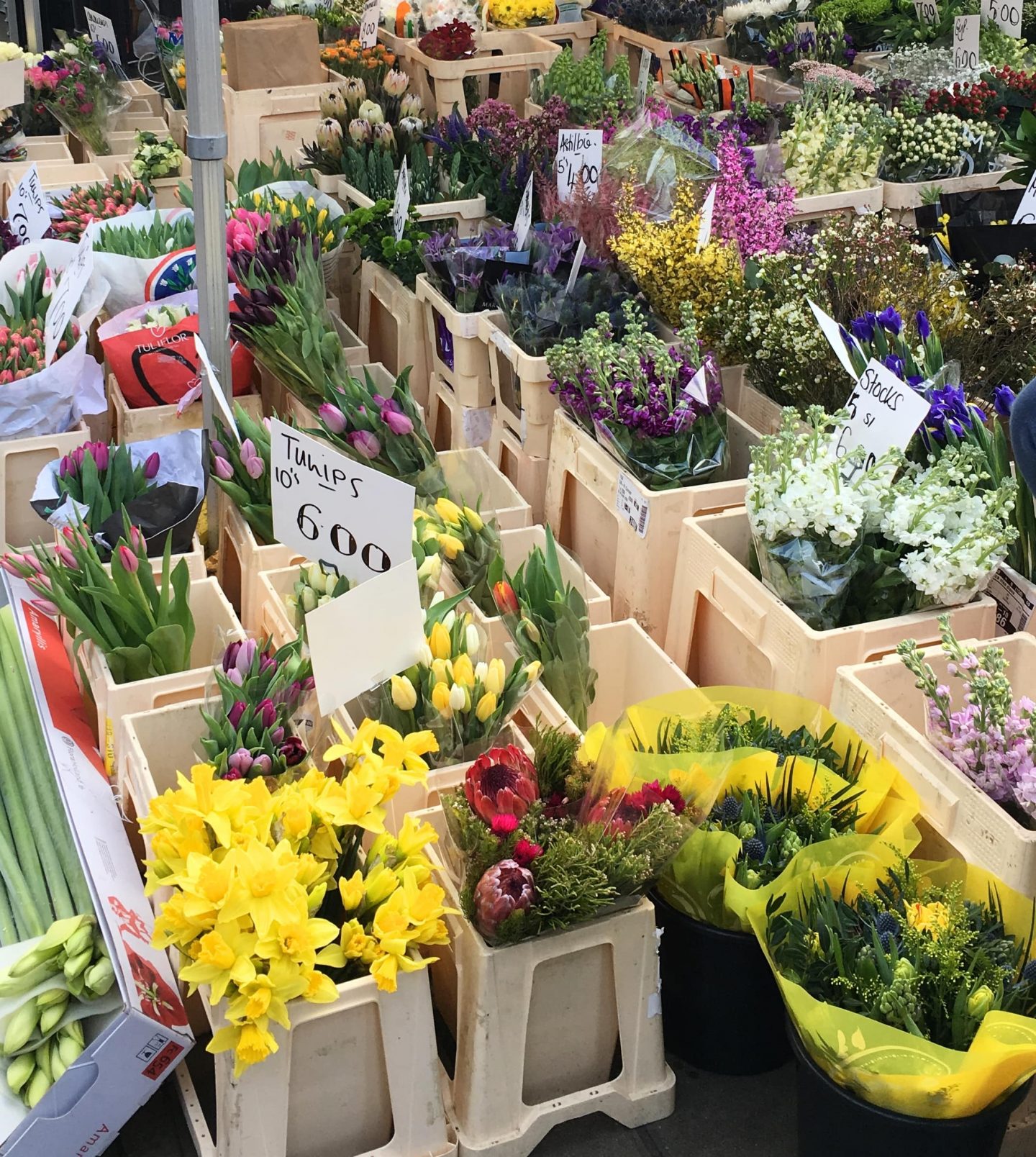 Notting Hill is famously an Instagrammer's/blogger's heaven- with its beautiful pastel houses and bustling antique, flower and food markets down Portobello Road; there's nothing not to love and aspire towards. I was desperate to visit, and now that I have, I'm desperate to live there one day.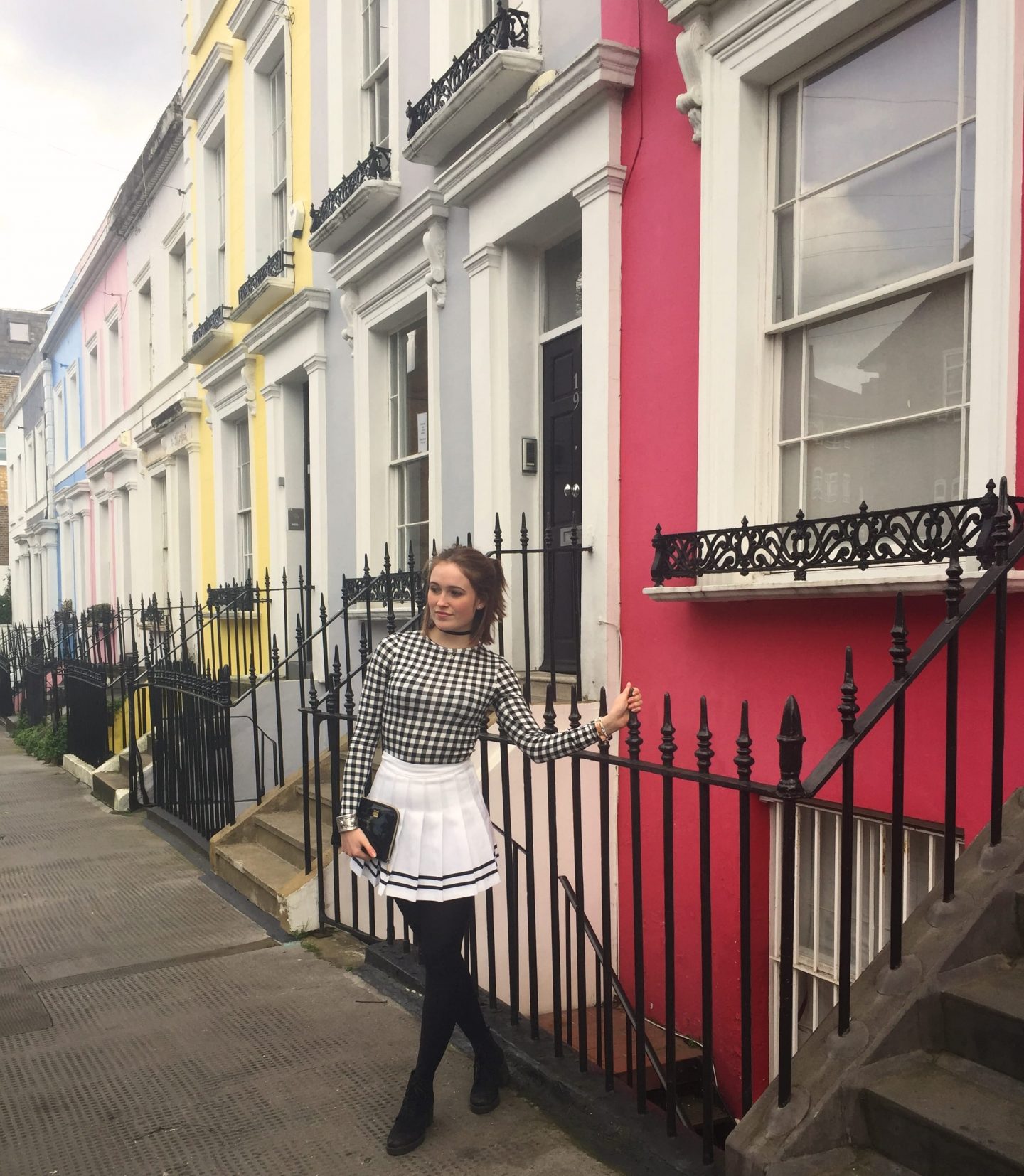 But Farm Girl, also like Crmbs and Doilies, is an inconspicuous treasure. Or it was, probably- before the queue onto the street became somewhat of a signpost. I imagine on a quiet weekday, when the weather isn't quite so beautiful as it was on our little exploration, Farm Girl is tucked away from the awareness of passing visitors. It would be incredibly easy to miss its modest entrance when your gaze is distracted by the explosion of colour around you.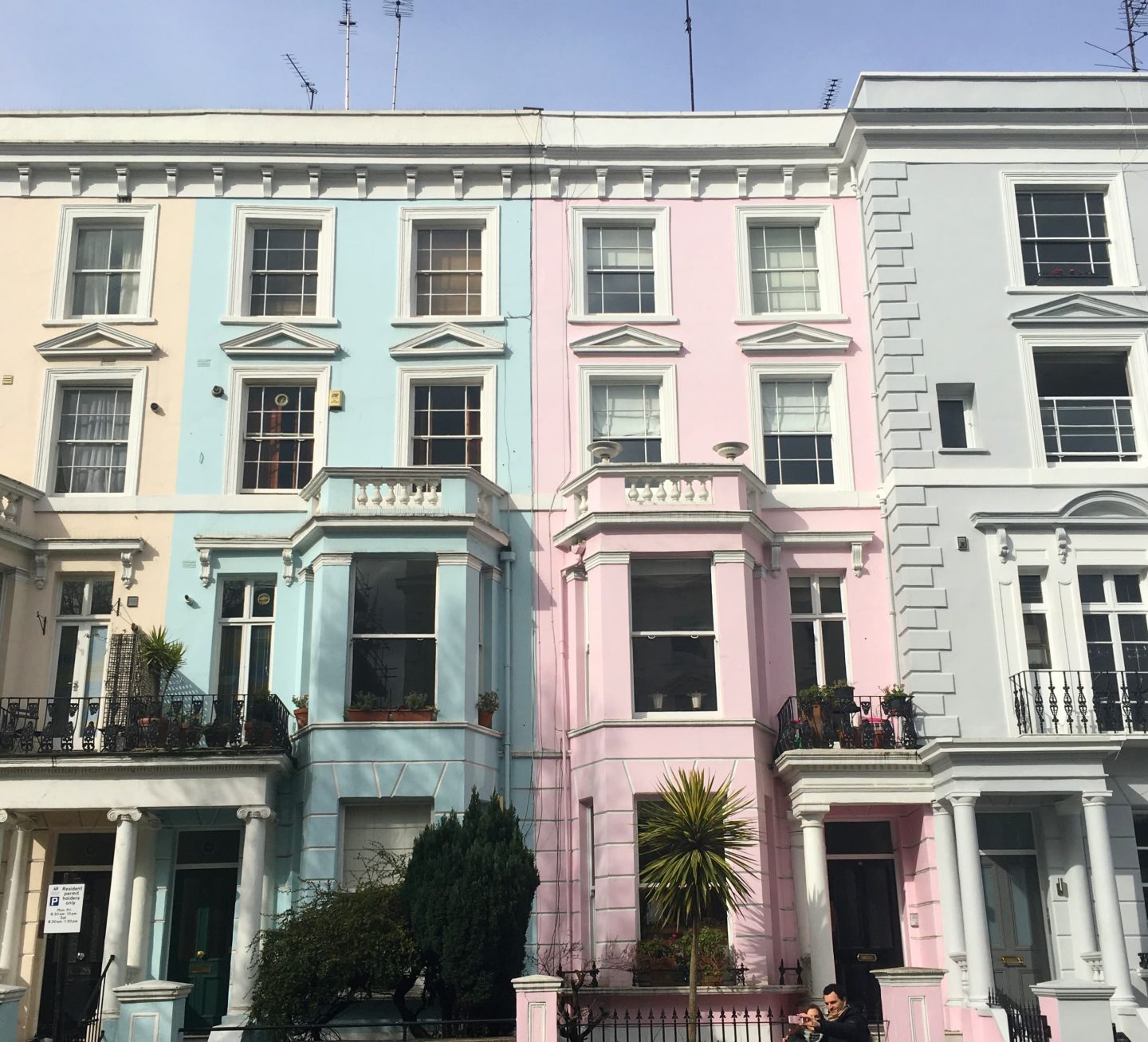 But let me advise you to look out for it- because its queues are only a testament to its rightful popularity. And waiting in them was absolutely no hardship when surrounded by a charming courtyard, and when reassured frequently that the wait won't be too much longer by extremely friendly and smiley staff. A gloriously full menu of deliciousness also helps to pass the time somewhat- in fact, I might even say that the time is needed just to work out how to narrow down your brunching selection.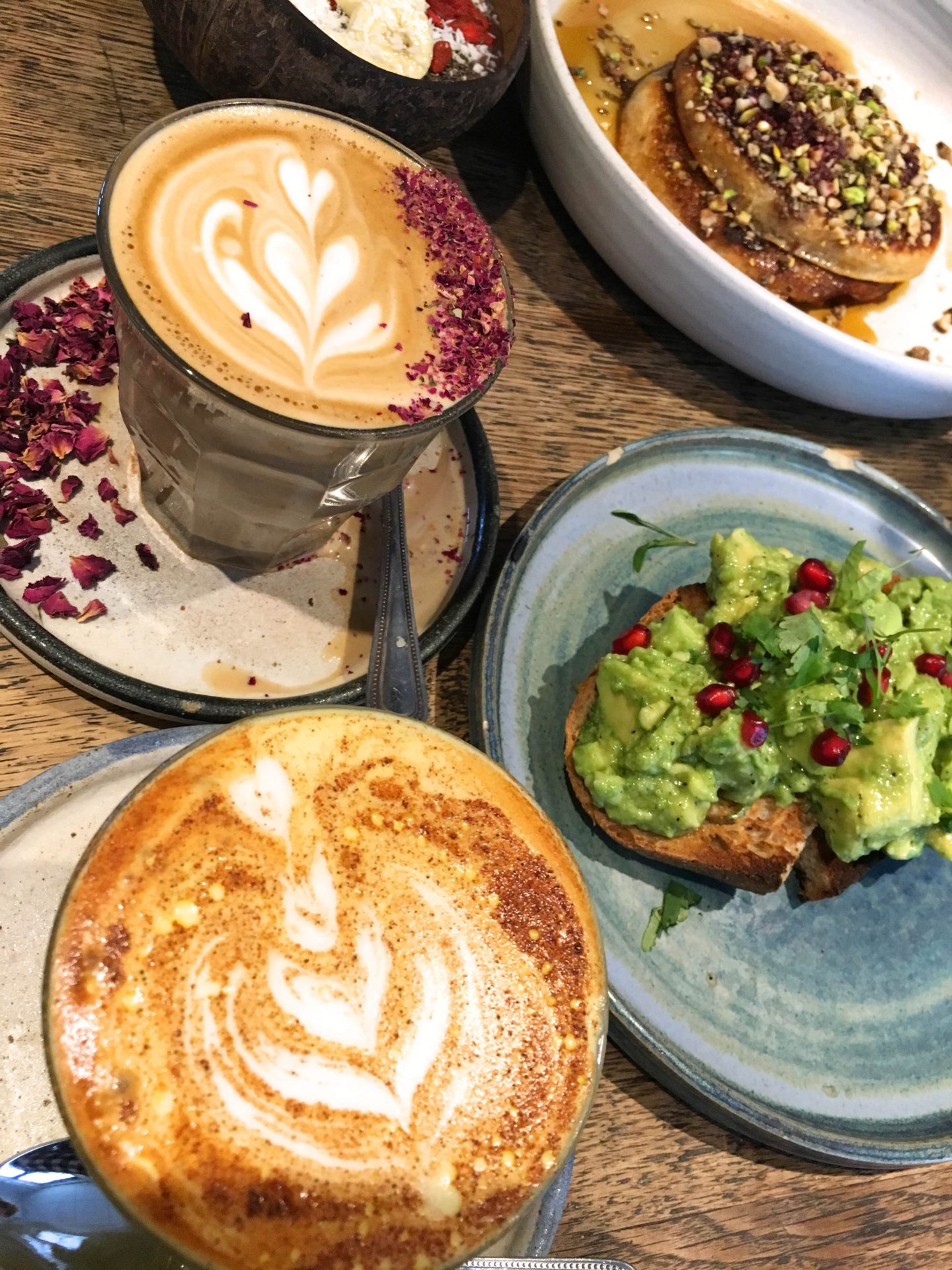 Not to mention choosing which fancy coffee you're going to try (warning: to choose a normal latte is boring and not okay at this establishment… in my eyes… I can't speak for if/how the staff might judge you). I tried my first turmeric latte which was dusted in shimmering gold and fit for the princess I often still wish I could be. I'd heard of the superfood health benefits of golden milk and turmeric goodness so I figured by opting for it would justify the food indulgences I figured were inevitable. My fellow brunch-lover chose a rose infused latte which was equally as beautiful and just hinted at the delicacy of a rose flavour which didn't overwhelm but sweetened the natural bitterness of coffee.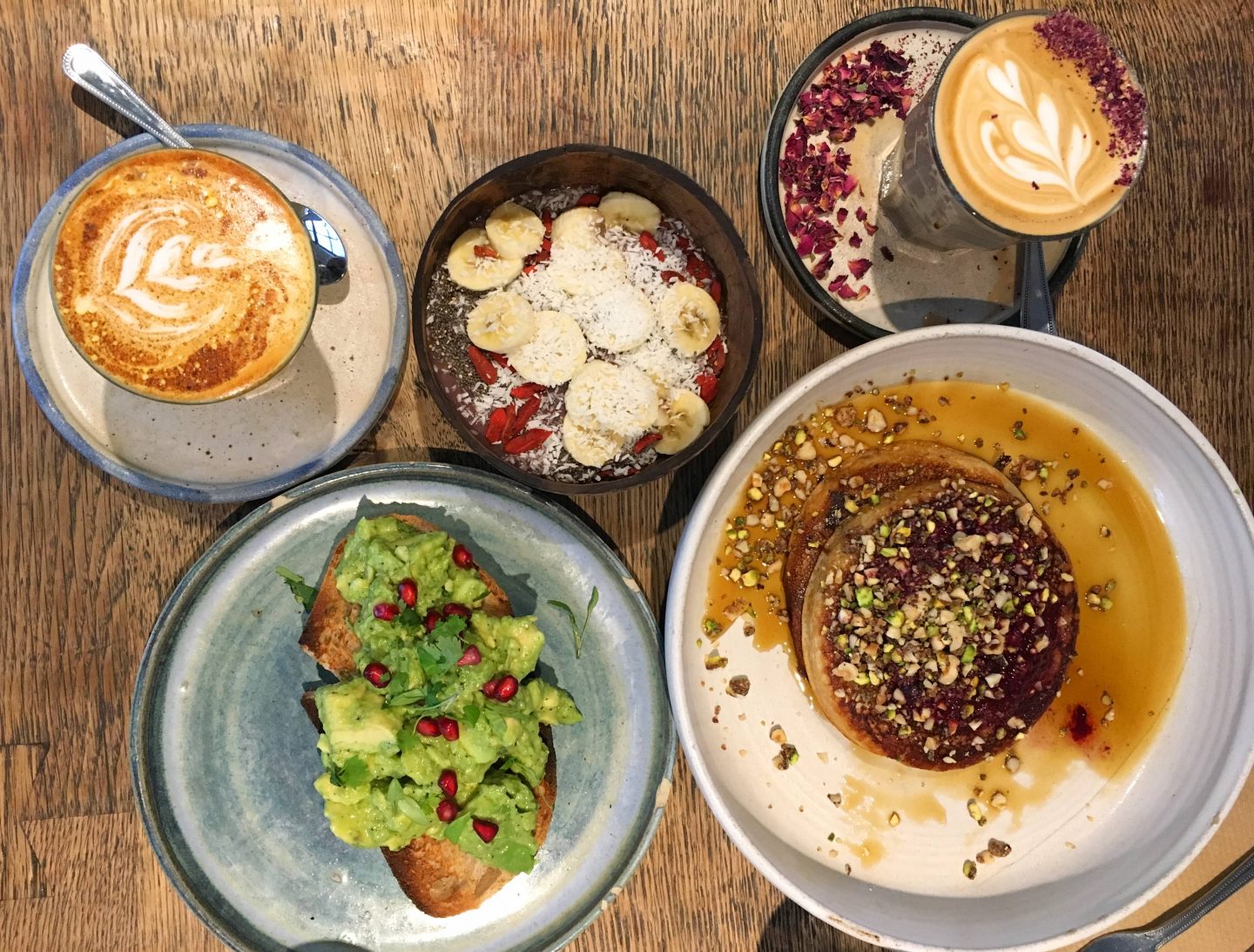 The food, however, was not nearly as naughty as I was expecting- but actually felt relatively healthy, so eating considerably more than we needed was entirely justified (or so we told ourselves)! We shared a table-full of delectable savouries and sweets.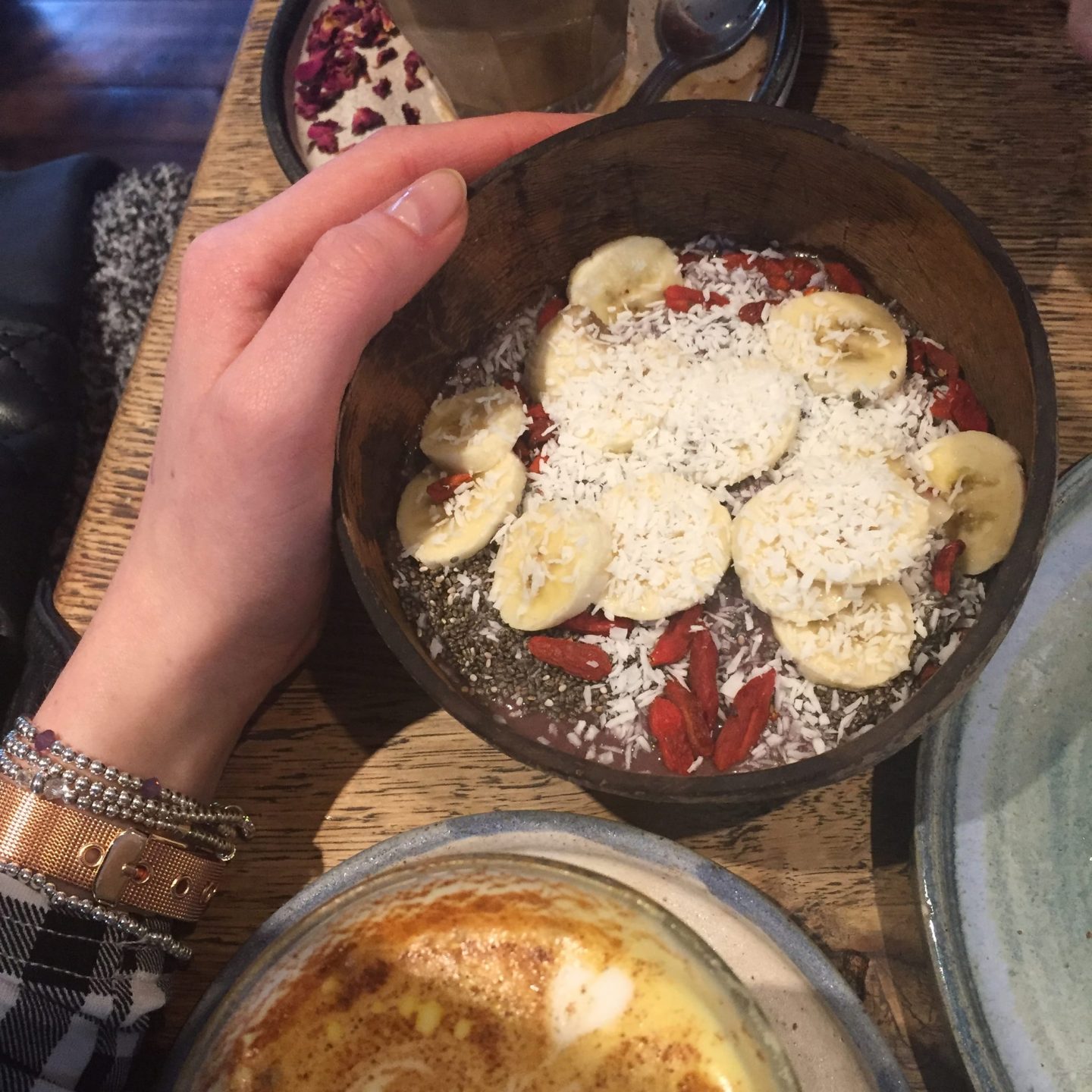 We started first with the inevitable smashed avo on toast which was dotted with the sparkly tanginess of pomegranate seeds and flavoured slightly with lemon. I feel like pomegranate seeds and avocado is becoming more of a thing now, but this was the first place I tried it and instantly fell in love with the combination. We also demolished two berry, buckwheat pancakes and finished it all of with an açai coconut bowl.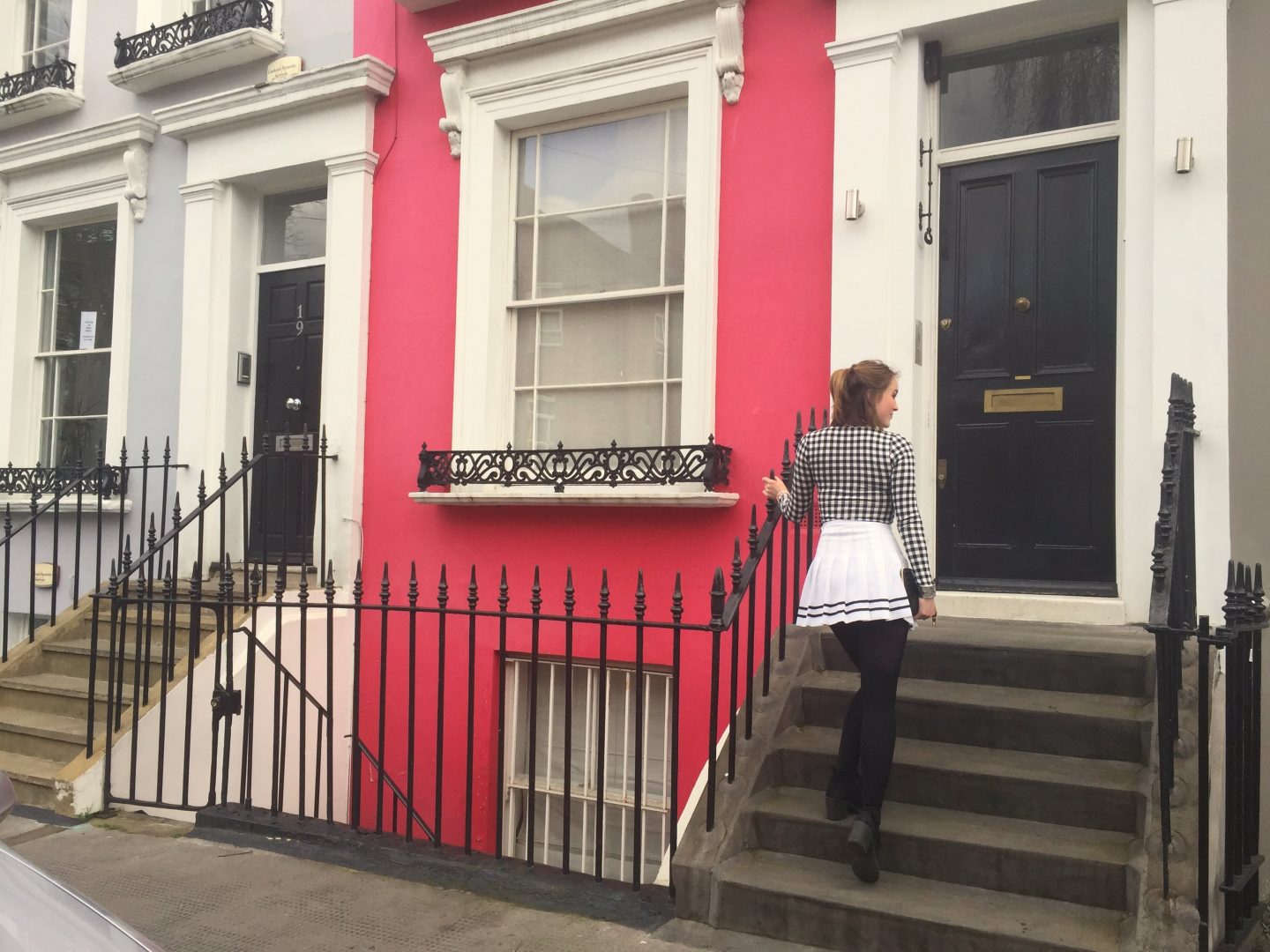 So all in all it definitely was one of my more healthy brunches. This is not to say, however, that it was any less delicious than a creamy eggs florentine- but it was a different kind of yumminess; a less guilty treat perhaps. And one which we somehow took to mean that continuing on to Chelsea for afternoon tea was entirely warranted- I mean, it definitely wasn't. But that's in the past and I have absolutely no dietary regrets following that day.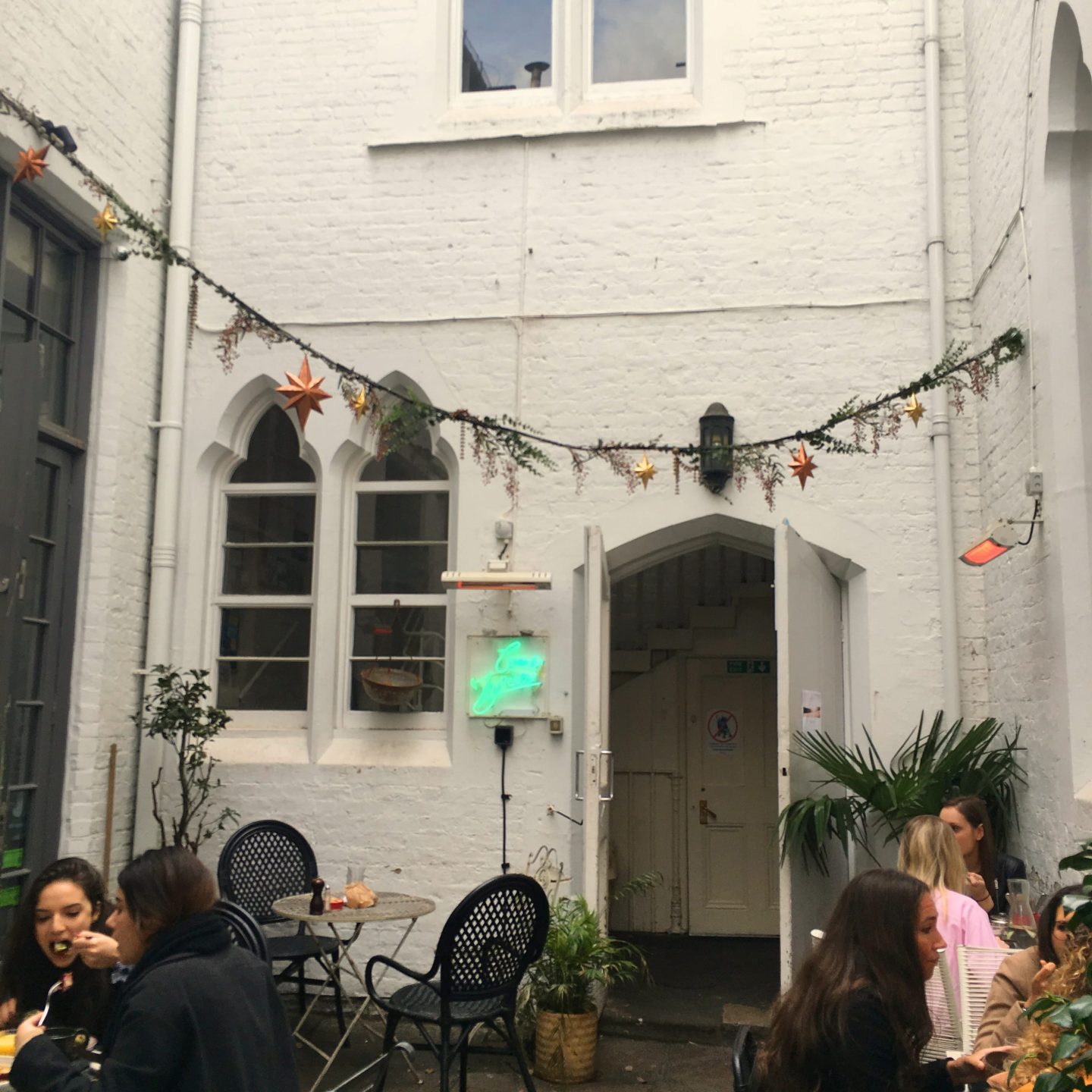 I'll admit that our brunch was a slight dint to the student bank balance- but we'd gone into London fully expecting that to be the case anywhere; and sharing 3 dishes between the two of us actually makes it relatively reasonable. Besides, its a gorgeous little, independent cafe in the big city- and it deserves to thrive; the interior is lovely and the staff are, as I reiterate, incredibly friendly and helpful.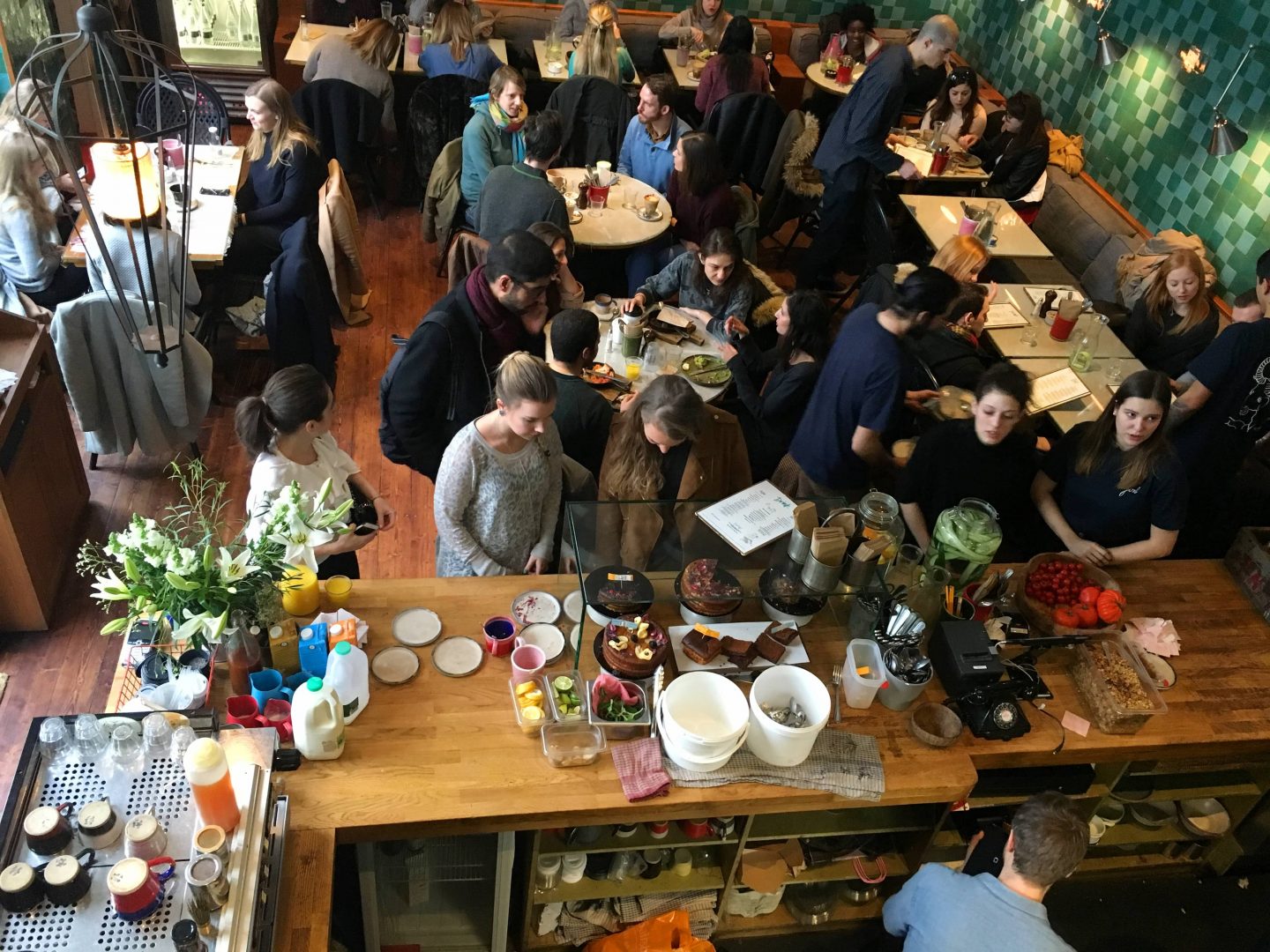 The story behind Farm Girl is a romantic one- in their 'About' page they explain that its founder, Rose Mann, grew up on an Australian farm and brought the Australian brunch culture- one which I literally cannot wait to dive headfirst into when i eventually get there- over to London. Her head chef Benoit Marmoiton aims to deliver 'healthy dishes without compromising on taste.' And I would say he completely achieves this; whilst also making them look as beautiful as they might in Australia! So one final word of warning- be prepared to witness people standing on chairs to get the perfect shot of their gorgeous food; and be prepared to bare no judgement (or shame if you happen to be the type), because Farm Girl love it.