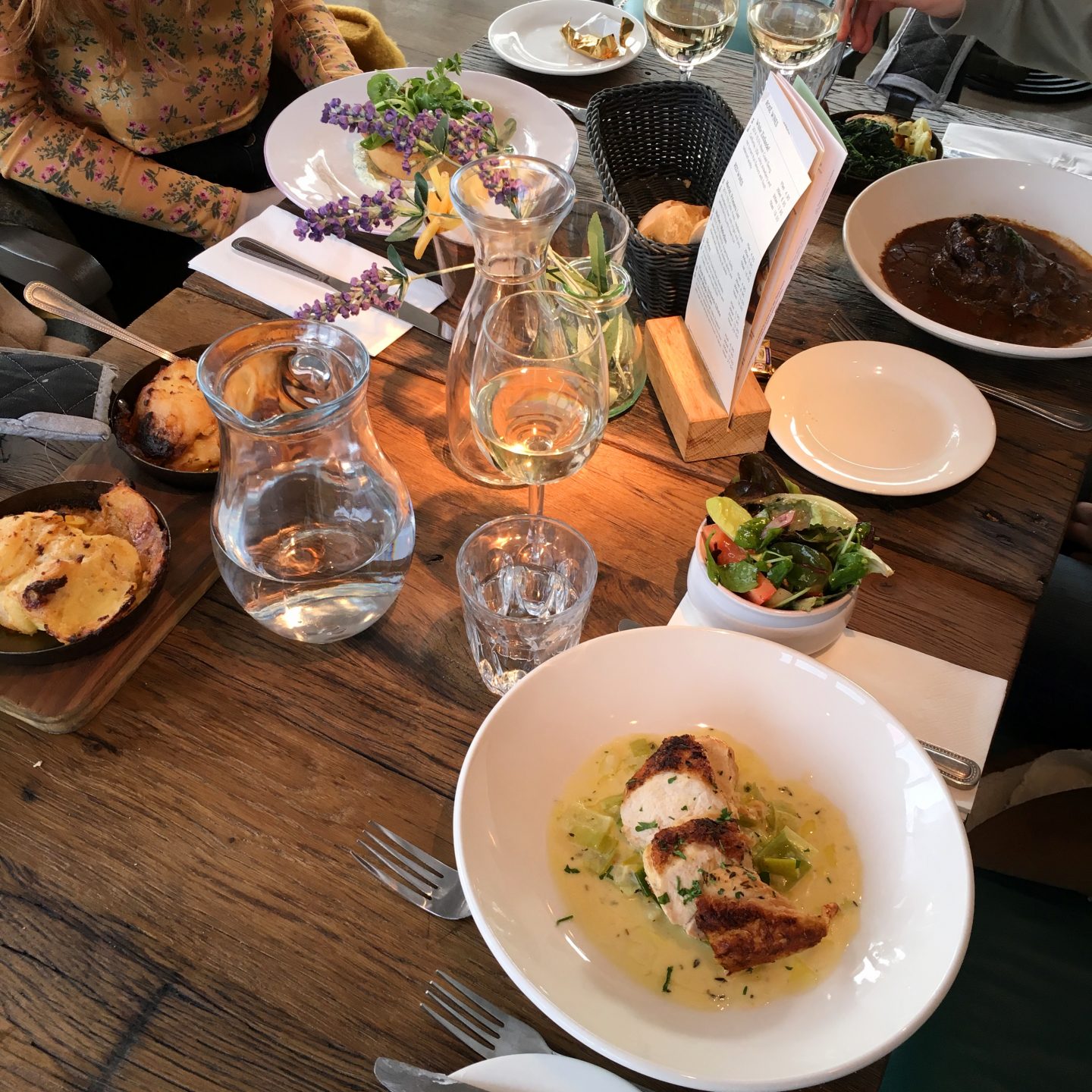 Reading Time:
5
minutes
Tomorrow is Valentine's day and if you're yet to plan something, perhaps my last post could be of use, or even one from last year? By now, it may be too late to organise for tomorrow, but in many ways that's a blessing… arranging something special (romantic or just with friends) will definitely be cheaper on any other day than tomorrow! Anyway, in my last post we took a brief look at what Birmingham's The Mailbox had on offer and I promised a review of Bistrot Pierre, a quaint French restaurant on the canal. Here it is!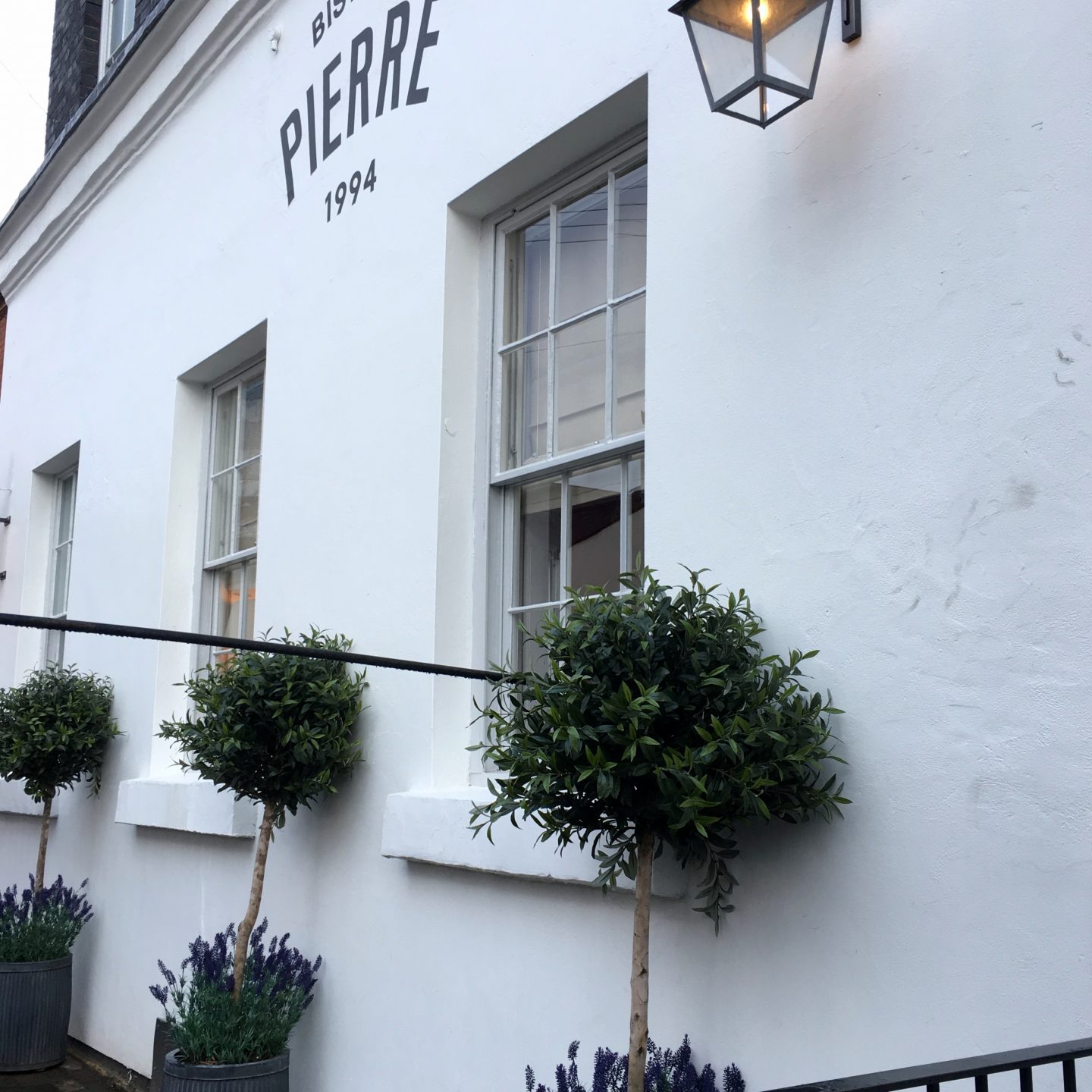 A friend of mine introduced me to this absolute wonder of a restaurant. Recognising my love of sophisticated dining, but my limited student budget, she proposed Bistrot Pierre as my perfect go-to. Indeed on a brief internet search I discovered a 'three-courses for £12.95' lunch menu… this was most exciting but also slightly unnerving, surely anything that cheap would reflect its price in quality. (Not being snobby, just realistic.) However, the website looked good and I already knew The Mailbox and surrounding canal was pretty stylish, so I gave it a shot. For photographs of the canal looking even more beautiful in the sun, see my Freshers post.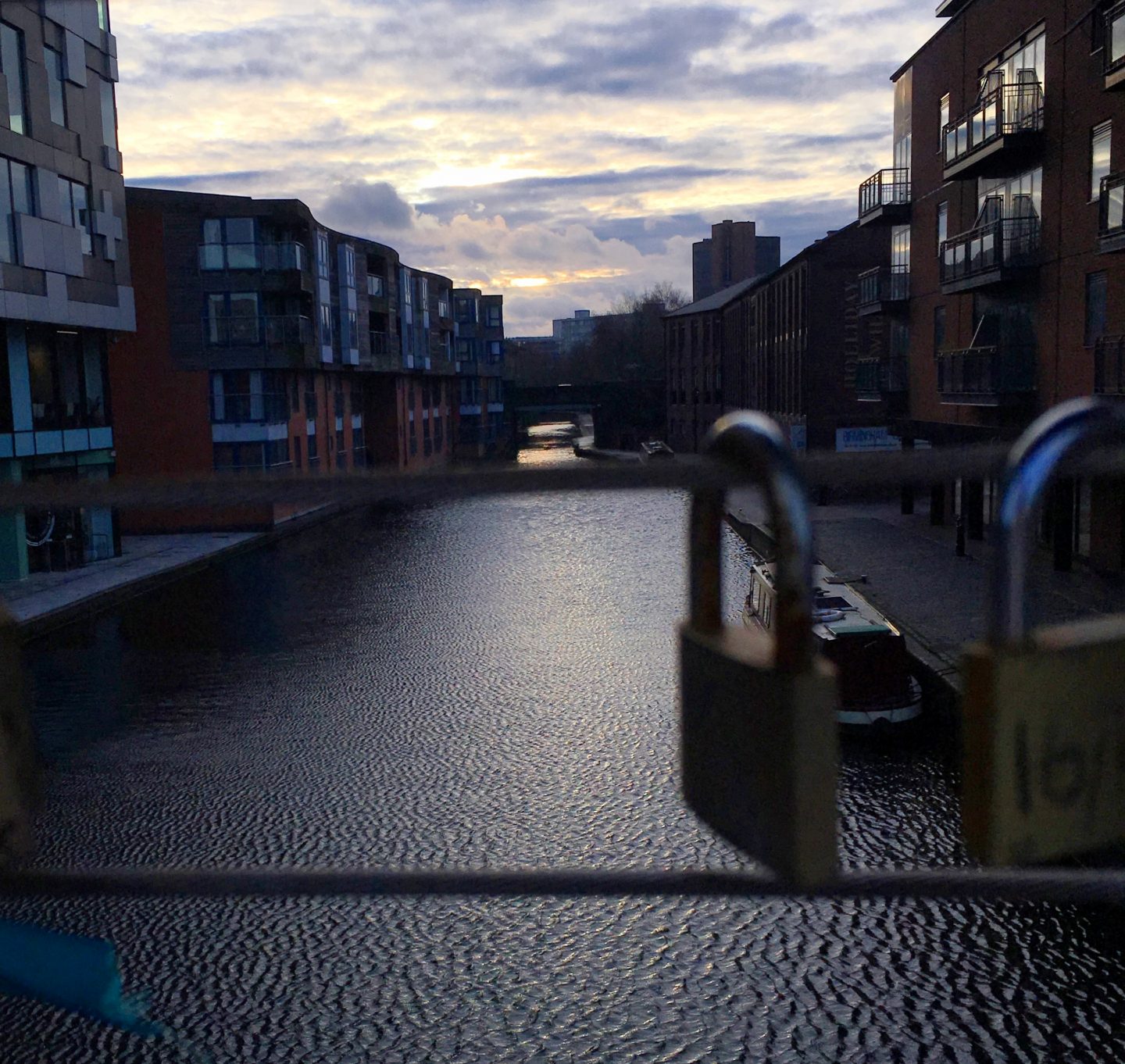 Bistrot Pierre is a chain, but not a huge one… they're located in a few big towns and cities, though surprisingly not in London. Think Bath, Stratford-upon-Avon, Manchester, Cardiff, Harrogate, etc… you can find the rest of the list here.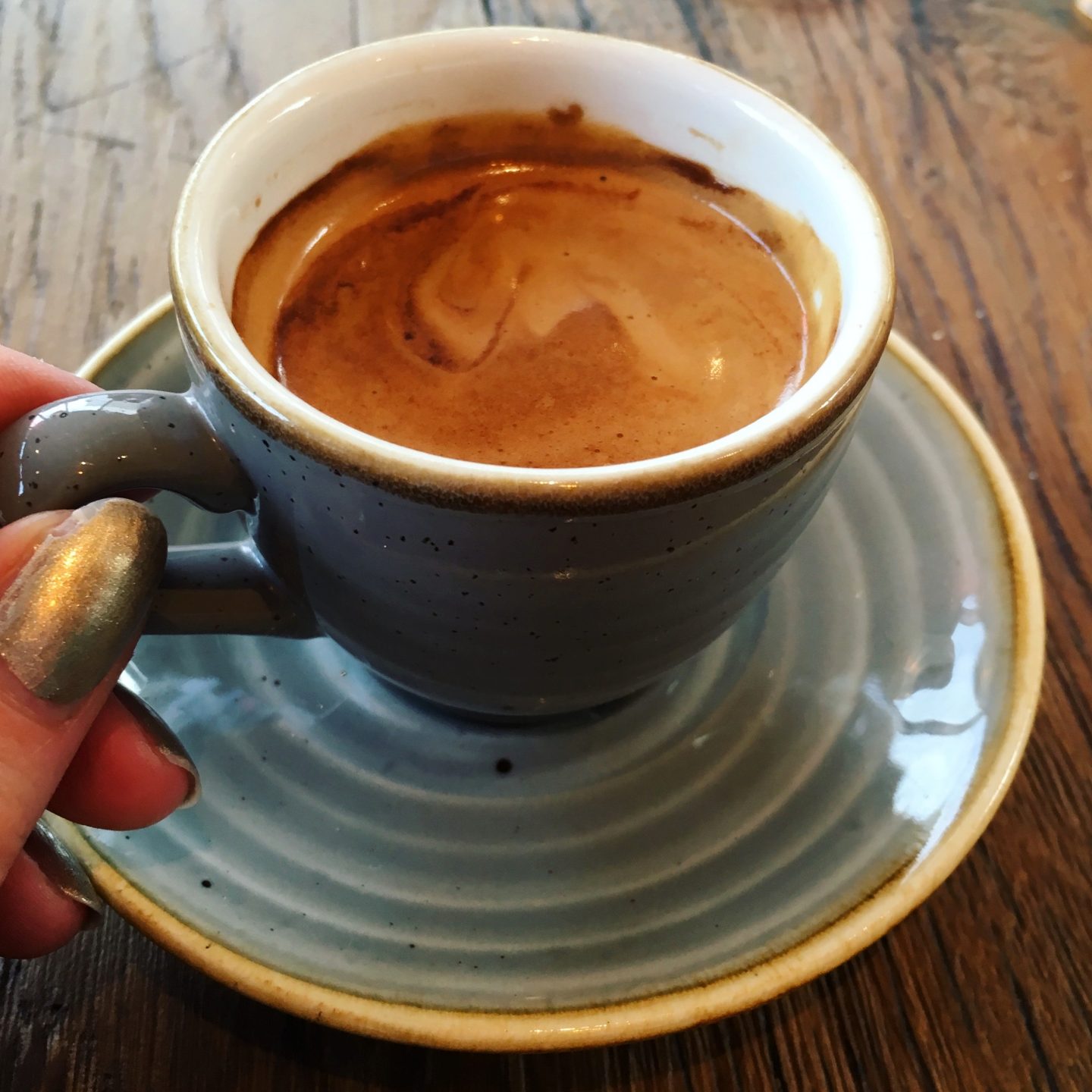 I have now been twice, having loved it so much the first time. We were sat in a beautiful glass room overlooking the canal, with perfect lighting to feed my food-photo problem…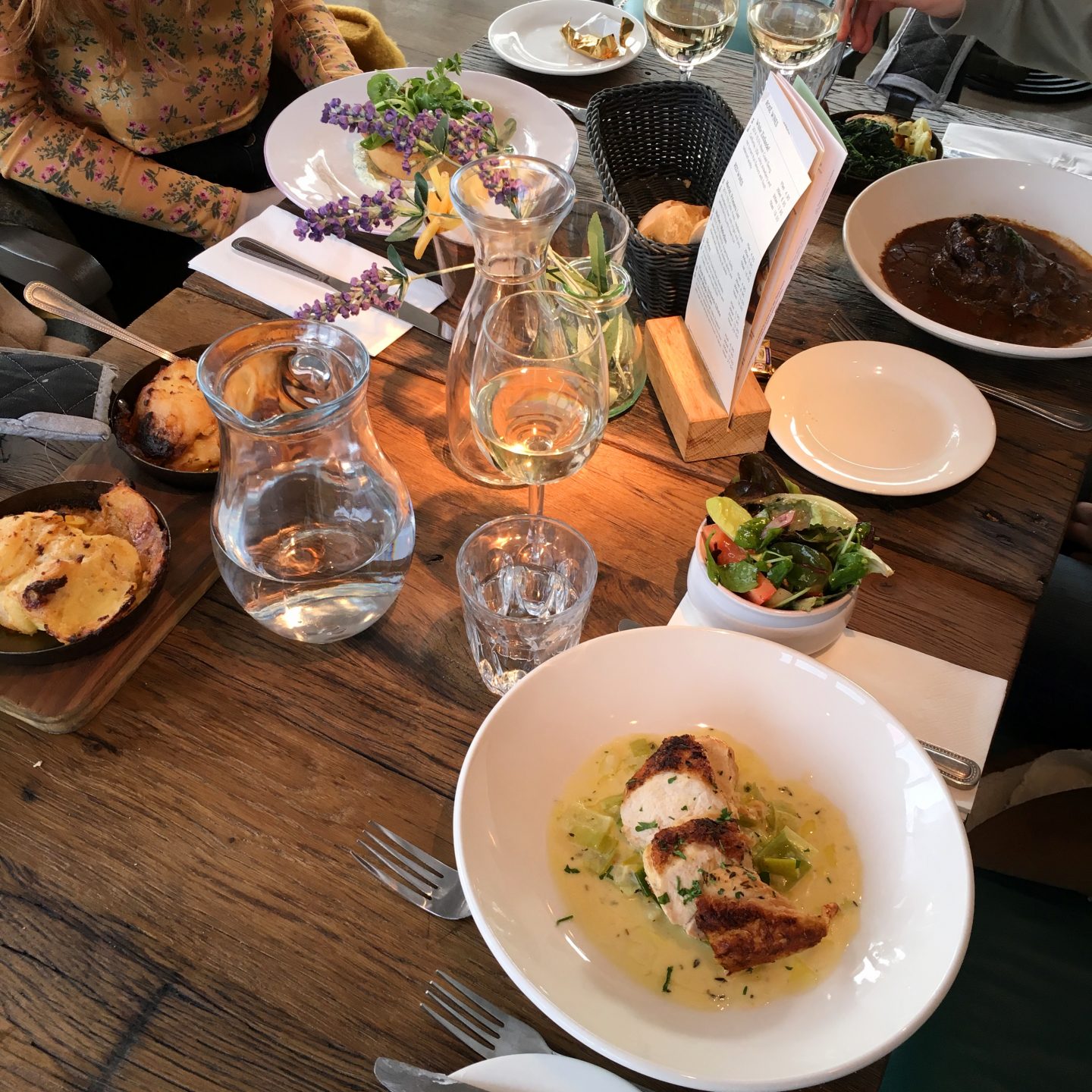 I mentioned returning for a second time, and on this occasion, my housemate and I even took our mums. If you're a student in the city, or near to any Bistrot Pierre locations, it is the perfect place to impress your parents without spending a fortune! On this occasion, we dined in a more enclosed dining room surrounded by sophisticated decor.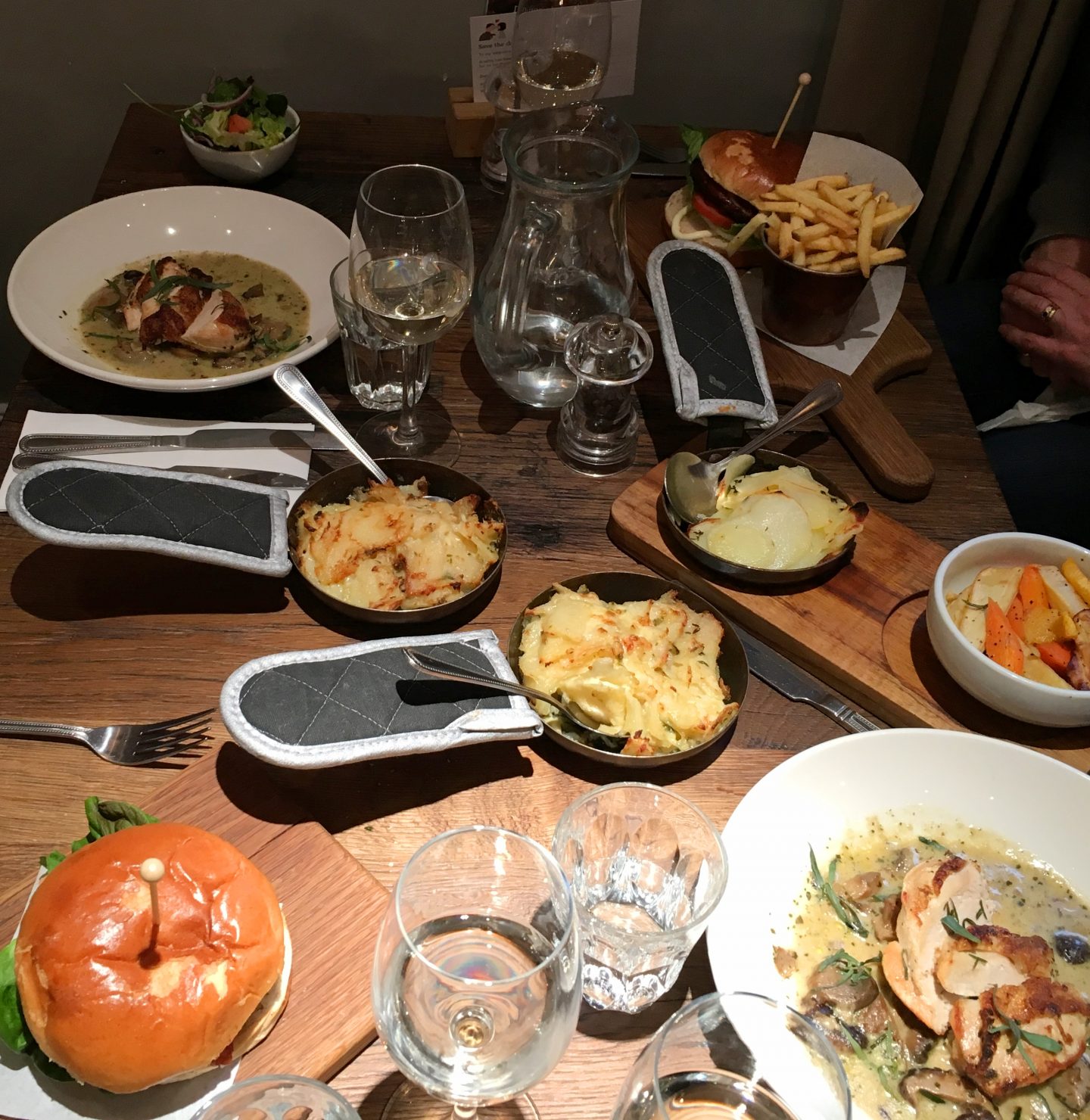 This needn't be saved for parental visits however, if you and a small group fancy a classy meal on a weekend, with wine and delicious food… Bistrot Pierre is the place to go. There is just something about tucking into a three-course meal that makes you feel fancy, so use it as a celebration!
The food is gorgeous, I have opted for a chicken dish twice, though the menu seems to change fairly regularly so there's plenty of choice.
Their starters are very dainty, and small enough to leave room for the following two courses.
The menu is so varied that there genuinely will always be something that you'll fancy. French food is not my number one generally; it's often too fishy or meaty, but Bistrot Pierre's menu offers plenty of vegetarian options as well as others.
The brie was truly delicious!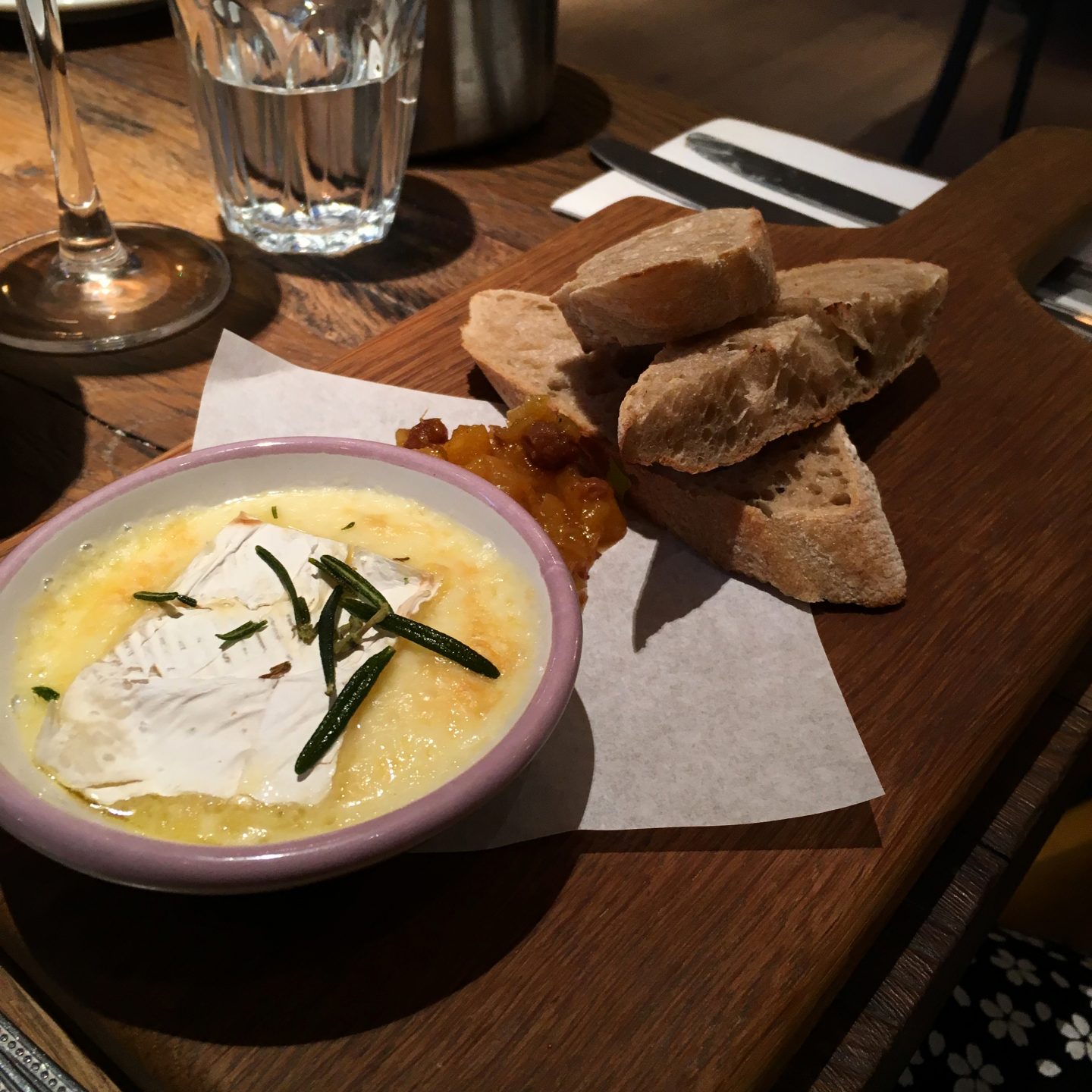 A word of advice: make sure you go feeling hungry! It takes an appetite to devour three courses. But also, have restraint… I know you'll be hungry, but find the will power not to fill yourself up on the complimentary fresh, warm bread they bring before the meal.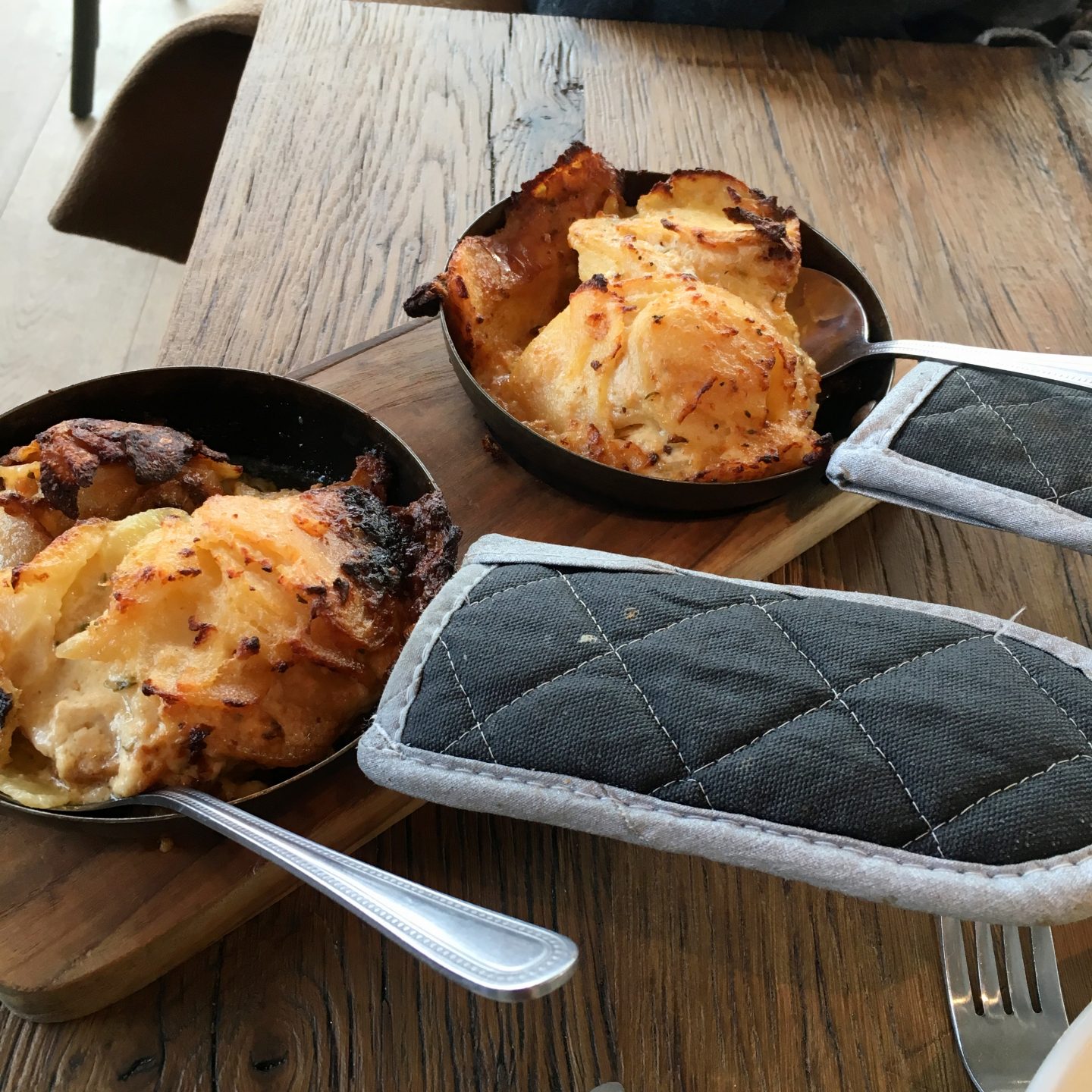 A side of dauphinoise potatoes is necessary. They are honestly divine, but one between two will be more than enough. Seriously though, you cannot turn down the creamy unctuousness, topped with a crispy char… they are something else.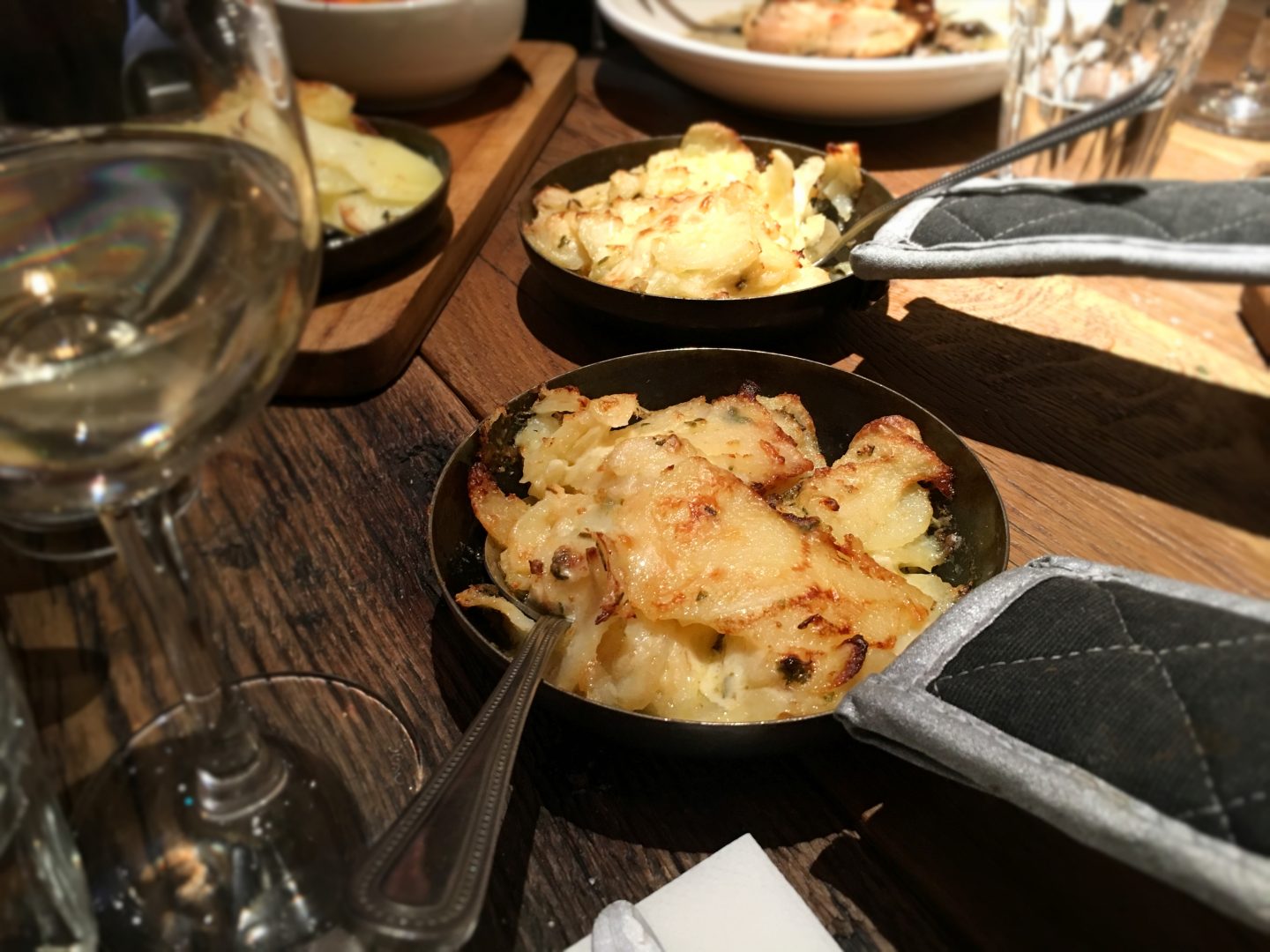 If you have room after all that, its worth the extra couple of pounds to select a pudding too. You may well have overfilled on the bread to start with… but don't say I didn't warn you. The first time I went I hoovered up  an apple crumble. I choose an undainty word on purpose, because it was far too delicious to eat gracefully. On the latest occasion, I chose a chocolate orange moose topped with chantilly cream and meringue. I think I preferred the former… however both were delicious. Both were also huge! This meal is not for the faint hearted or for small appetites.
So if you live nearby any of Bistrot Pierre's locations, make it your next lunch spot! They do also have incredible dinner deals. In fact, I really can't understand how they make their money… but they make me happy! I can't wait to pay them a visit in the summer and take a table in their picturesque courtyard.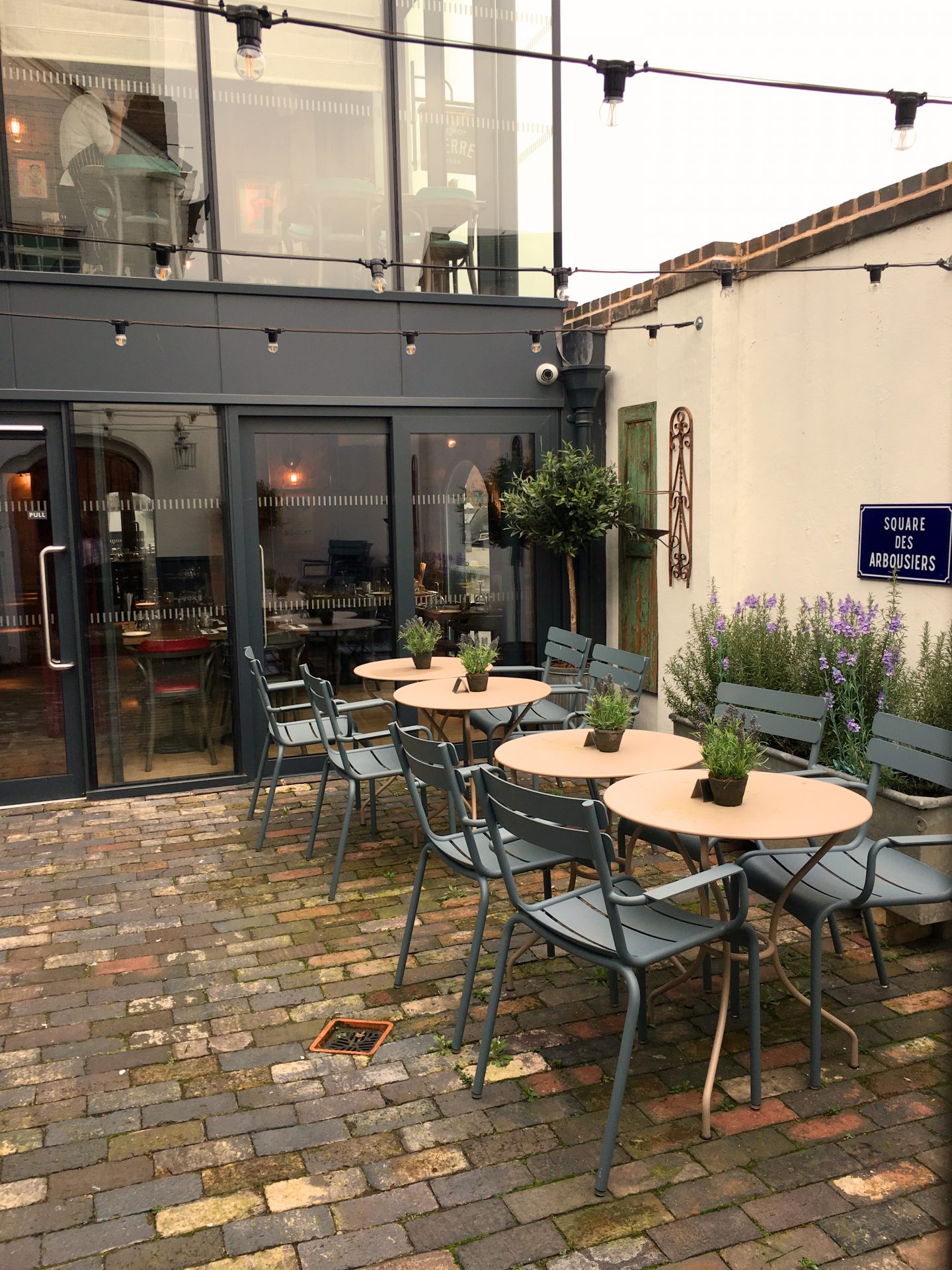 Maybe this could be your Valentine's treat! Though I'd assume they're probably all fully booked for tomorrow by now. Whatever your love-life-situation, enjoy this week and show those around you that you care about them every day… I'm sure they deserve it.