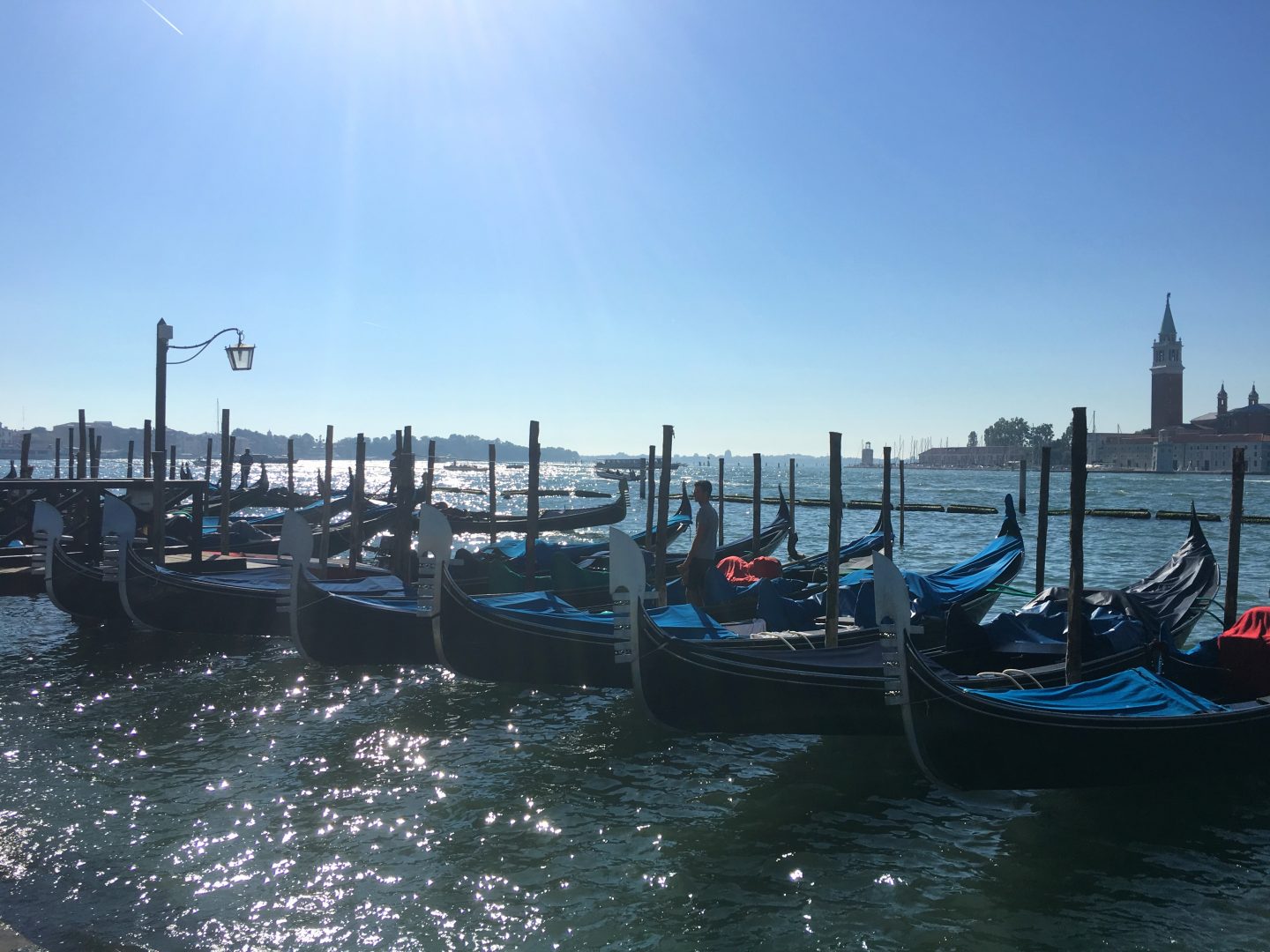 Reading Time:
6
minutes
I'm writing about my Italian venture a little backwards here, as Venice was our last destination. However, I adored it so much that I wanted to share it with you as soon as possible. Again, we only stayed one night in this city, but could easily have stayed an endless number more. It would be safe to say that I fell in love.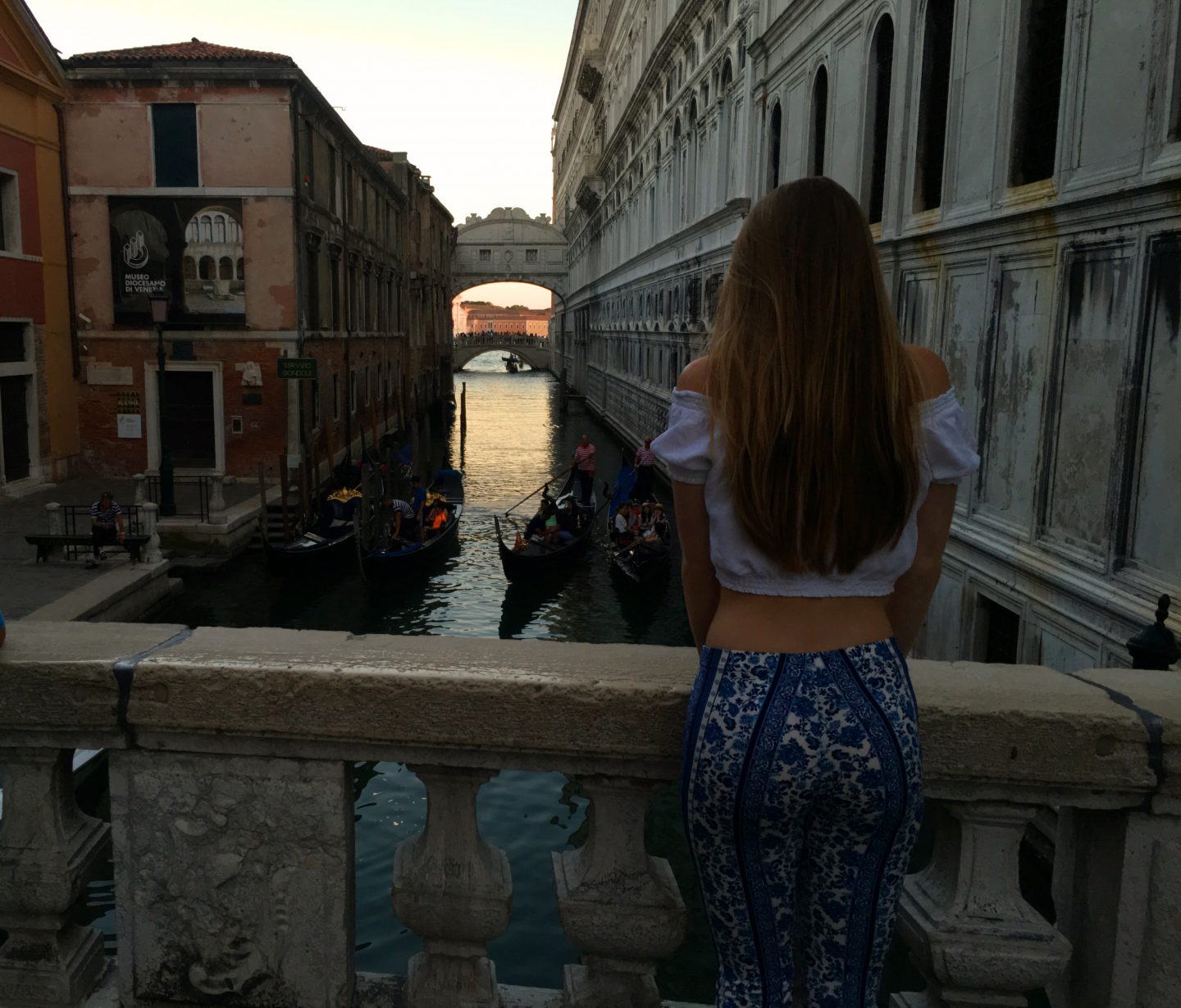 We arrived by water-bus through the Grand Canal, oggling the miraculous floating buildings (I do know they're not floating really, but I enjoy magical idea of it).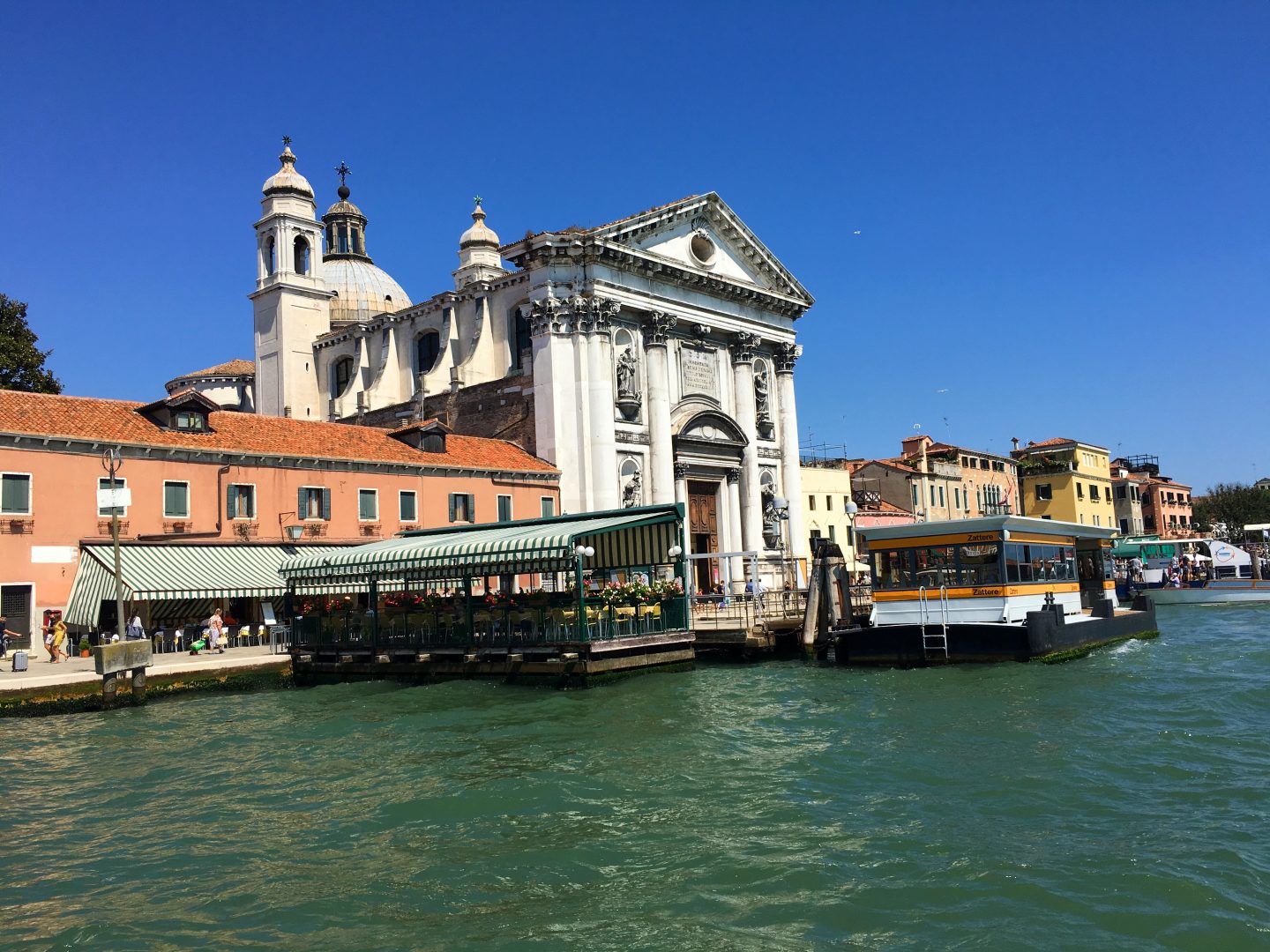 This is a fantastic and affordable way to travel from the mainland, car parks, etc. On our return journey, the bus took the long way around the Grand Canal, so we essentially got the full tour of Venice for the price of a bus ticket… amazing! We even sailed beneath the famous Rialto bridge.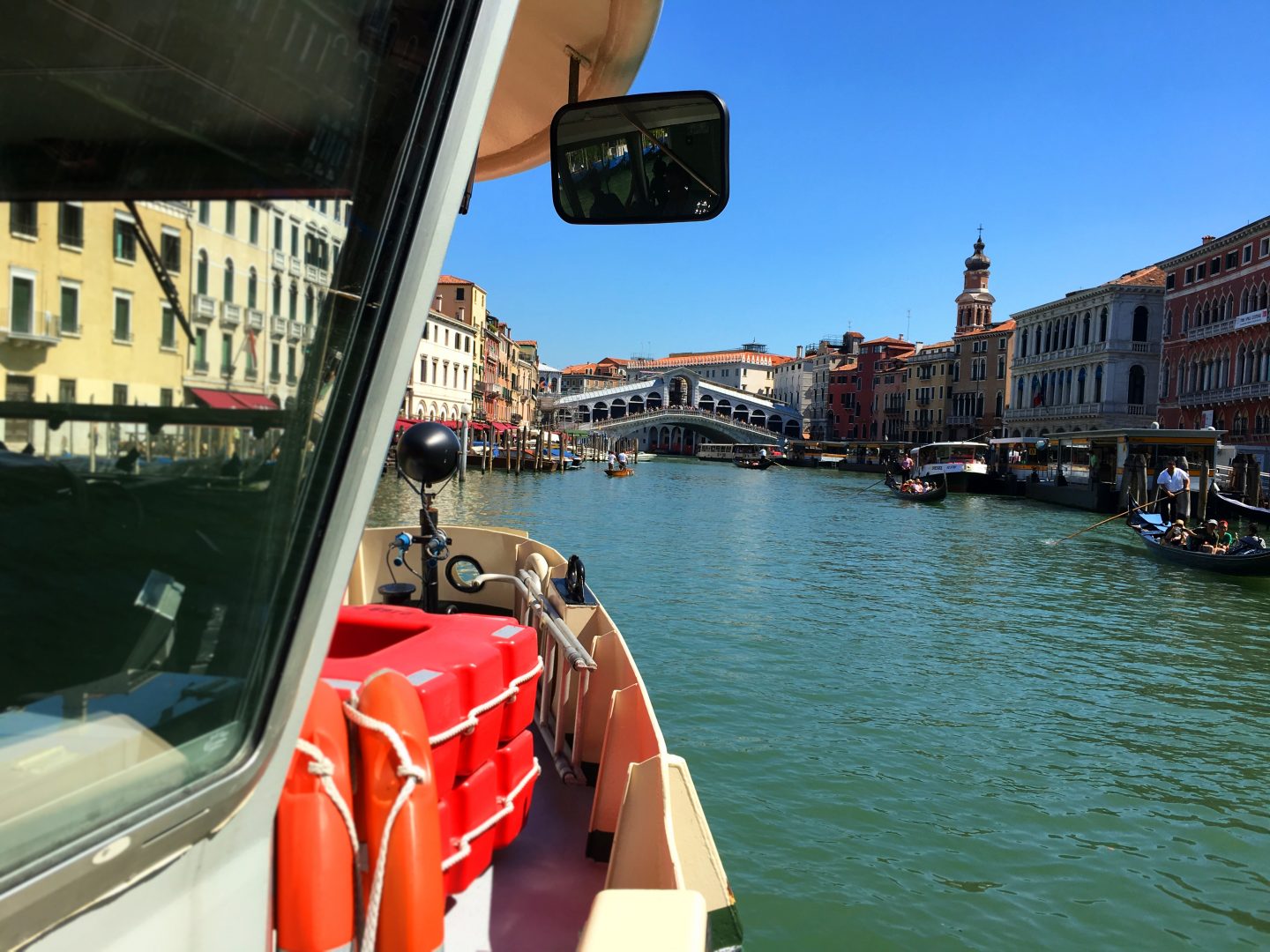 By the time we arrived in Venice it was late afternoon and, as we expected, the place was rammed. In peak season, its a miracle this city stays above water! All the enormous cruise ships moor at the side of the island, adding a further mile to its length- they're quite the site. With them, pour millions of visitors to add to those already staying in Venice's hotels.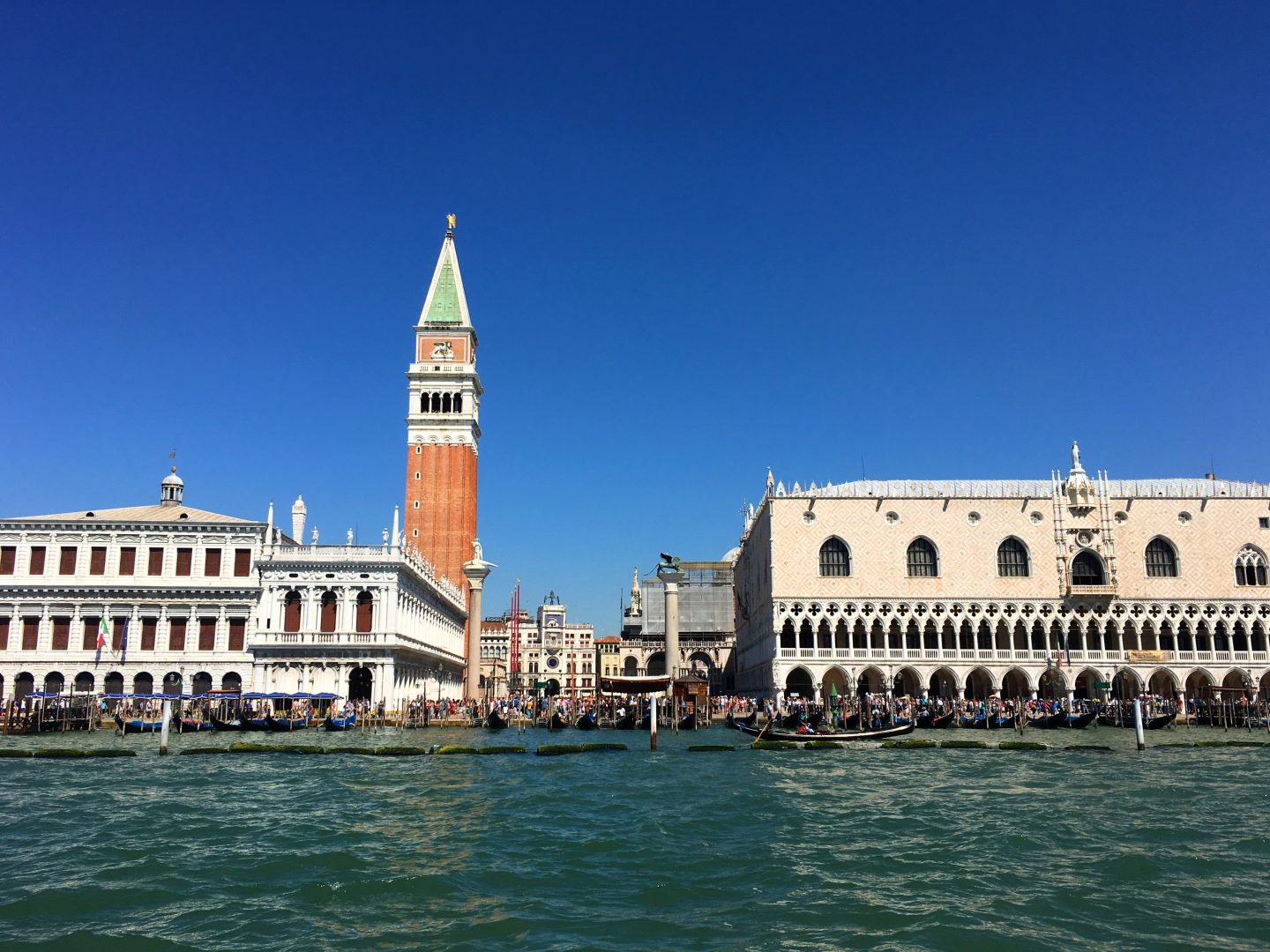 My mum really struggles with crowds (and I'd suggest I've taken after her in this respect, judging by my frequent impatience with slow walkers!), so we took to exploring the back streets. This is a brilliant way to avoid the masses- go against the sign posts and just lose yourself in the city's watery maze.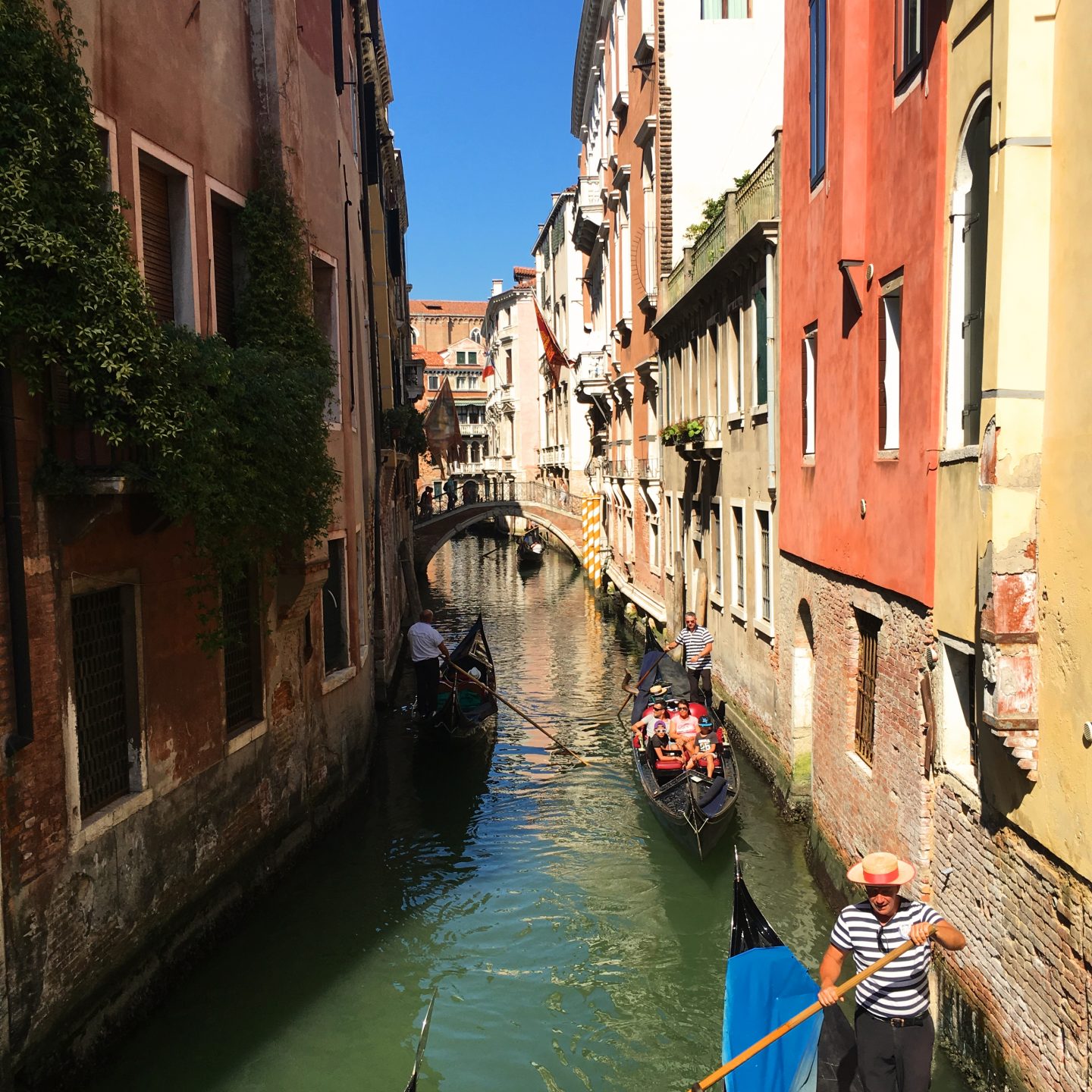 We found incredible architectural and commercial treasures around every corner. Like the (as we named it) 'Leaning Tower of Venice'!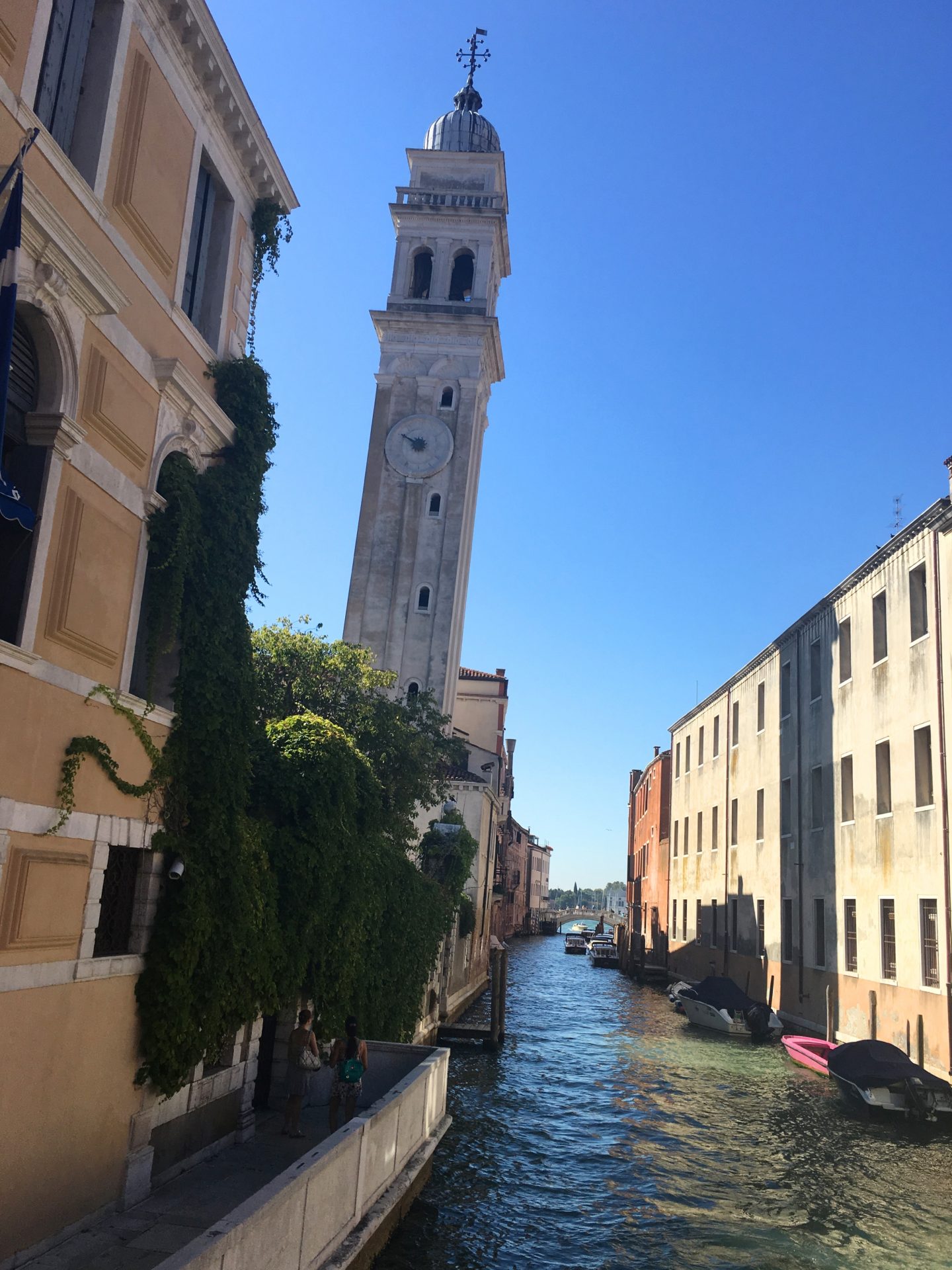 At times, we hit dead ends, but even these were treats as the canals flowed below, making for peacefully serene resting points.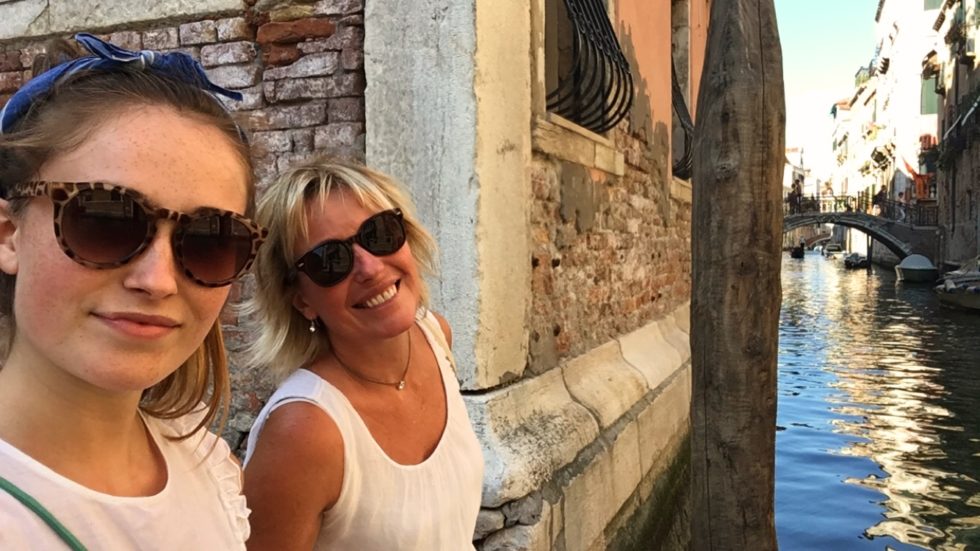 When I say commercial treasures, I really do mean treasures! EVERYTHING in Venice seems to sparkle, form the glistening water, to the pristine, polished Gondolas, to the luxurious window displays.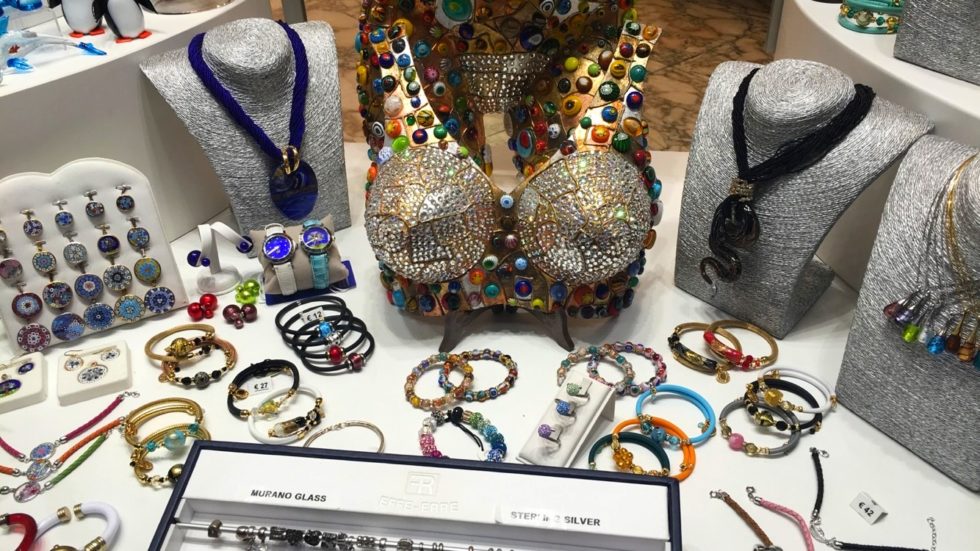 Like this ridiculous gem-encrusted bra…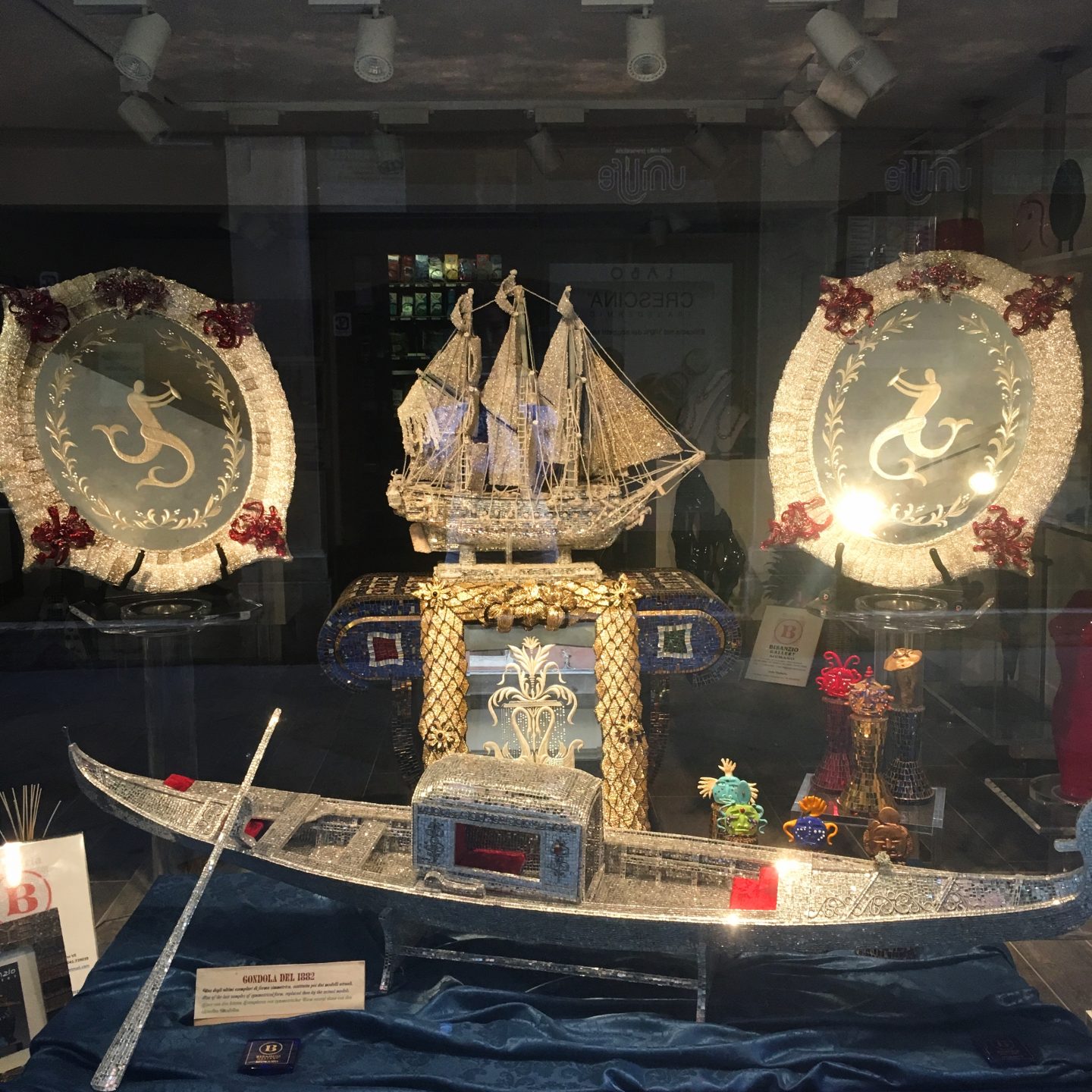 …or this gondola of diamonds! (Beautiful but impractical… I'd suggest it may just sink).
We popped back to the hotel to make the most of the wifi and research the best place to go for dinner. Trusty TripAdvisor presented us with a beautiful pizzeria/Italian restaurant, not far from our street or Piazza San Marco. Rossopomodoro had some brilliant reviews and seemed the perfect dinner situation for us.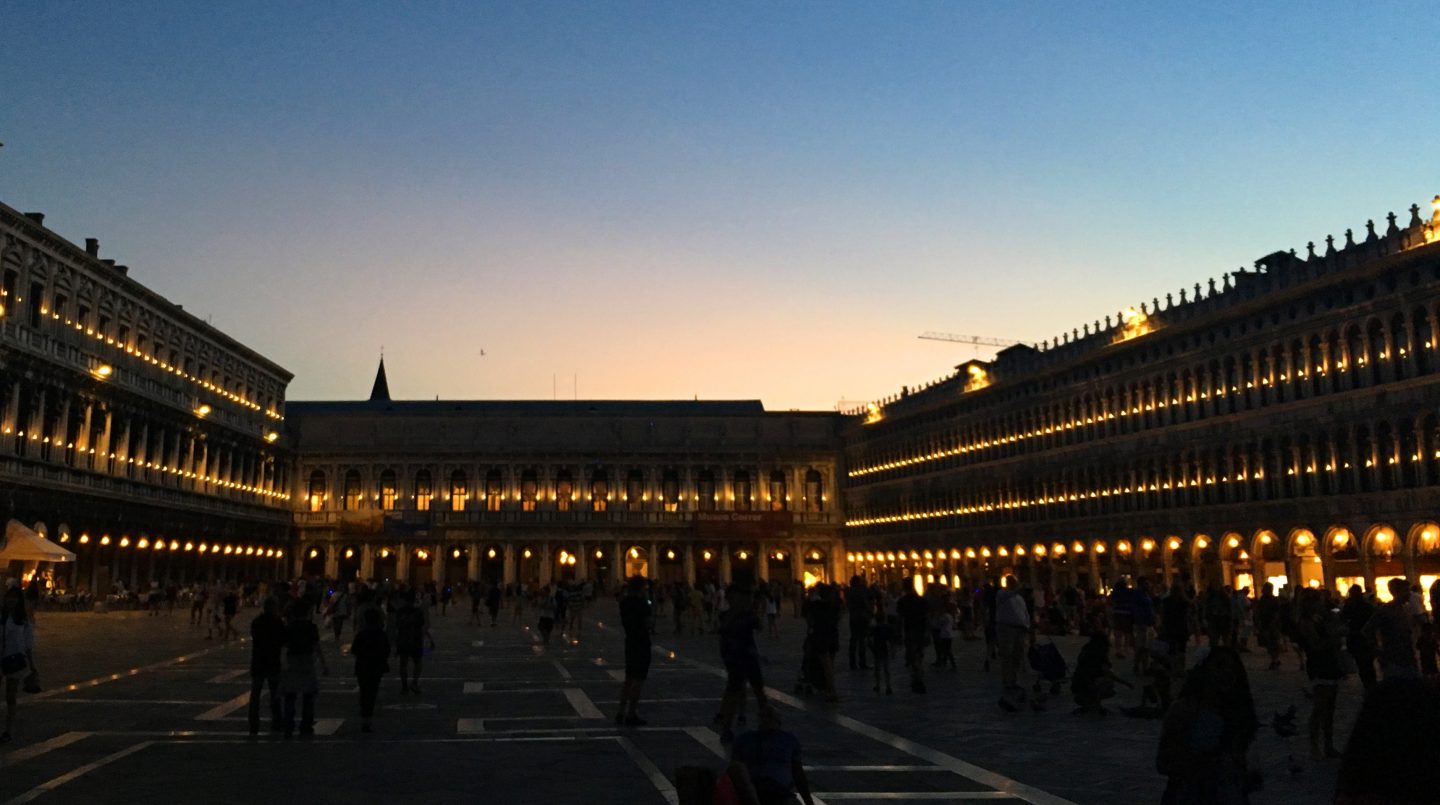 An atmospheric Piazza San Marco.
The menu was immensely enticing, offering a huge range of food.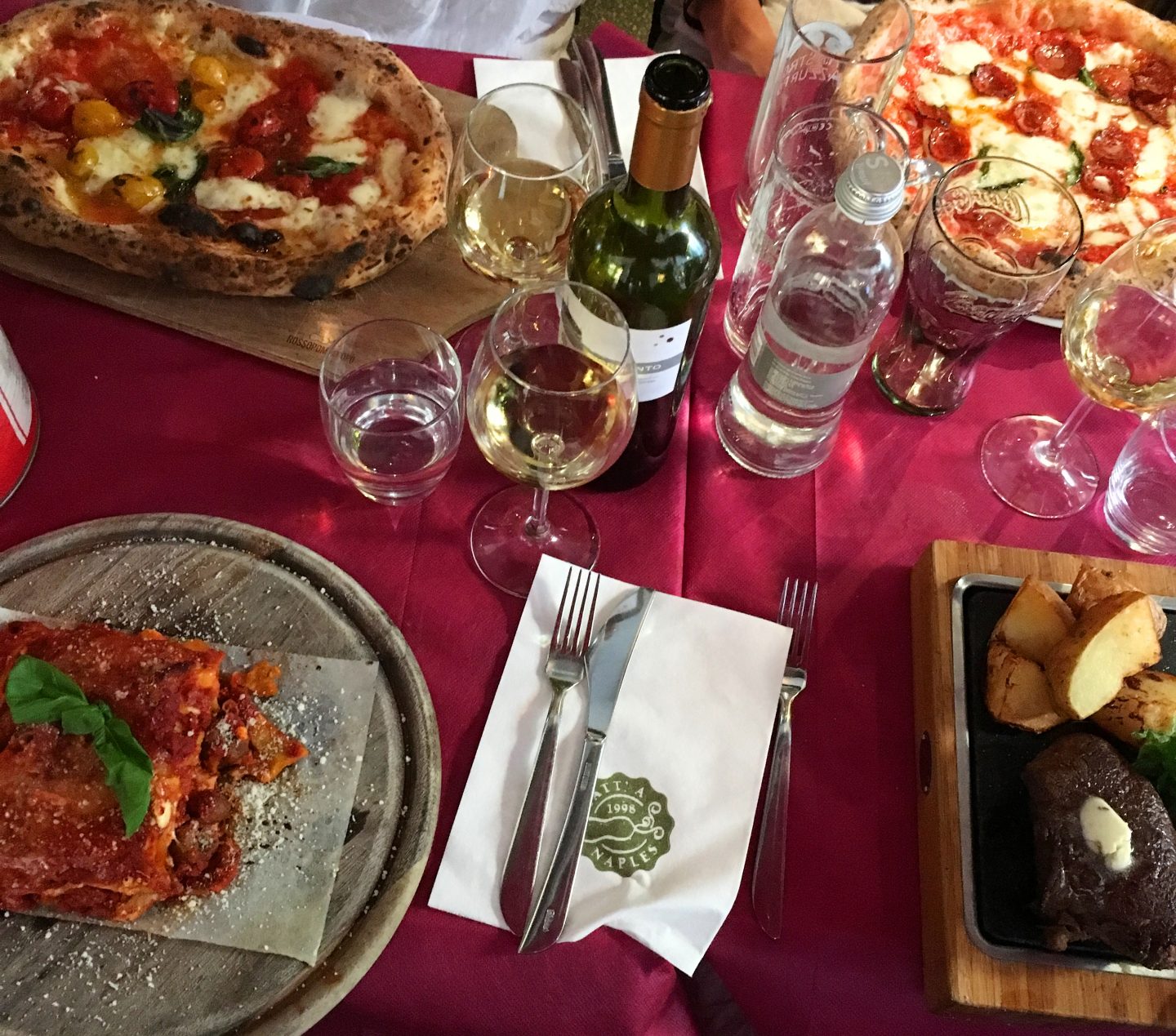 We started with the Melanzanotta- hot aubergine slices rolled around melty smoked cheese and basil, topped with fresh diced tomatoes. Heaven! Especially when the boys in our family don't like aubergines, so my mum and I greedily gobbled the whole thing.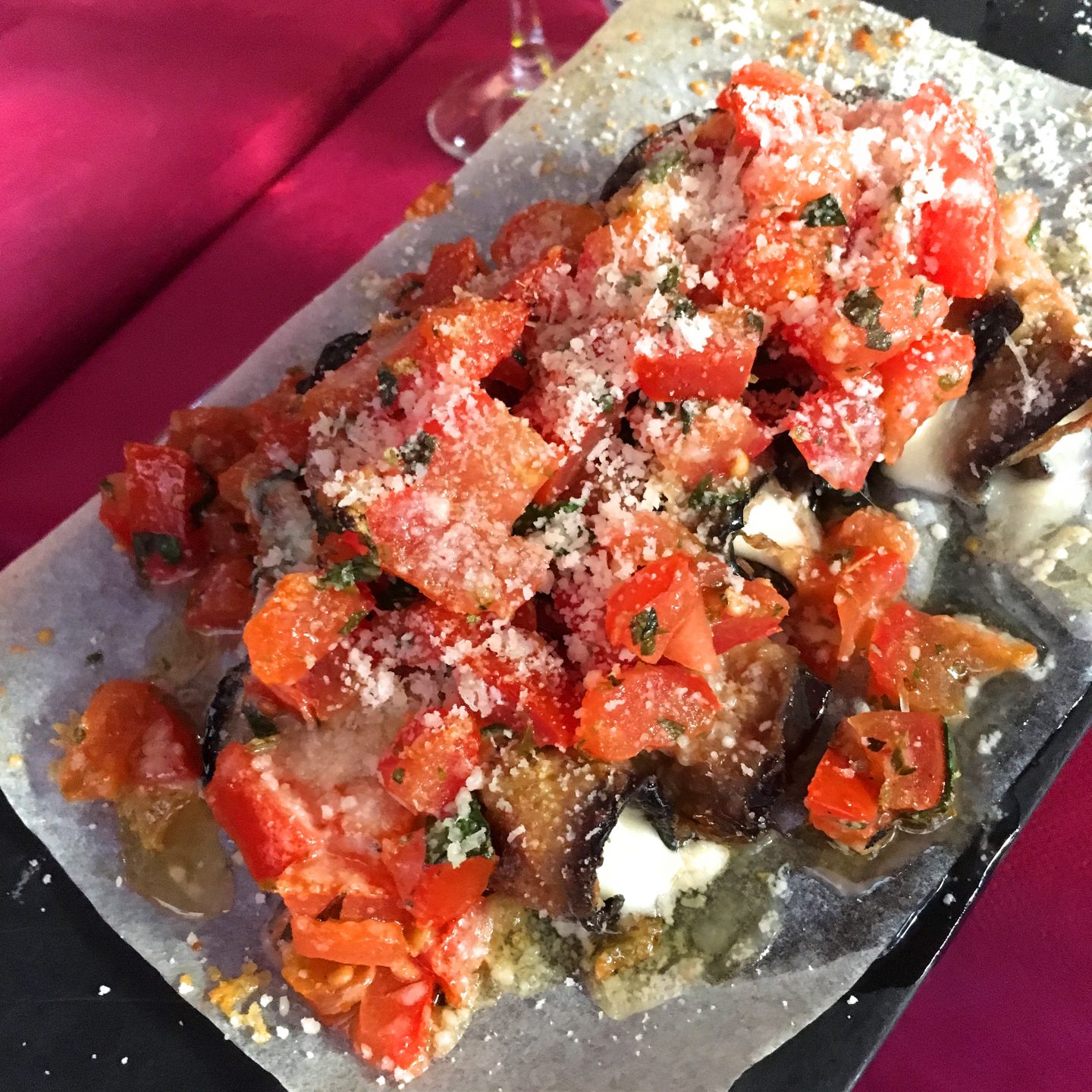 Our mains were a couple of beautifully stone-baked pizzas, perfectly seared steak on a hot plate built into its wooden board and a traditional, delicious Italian lasagna.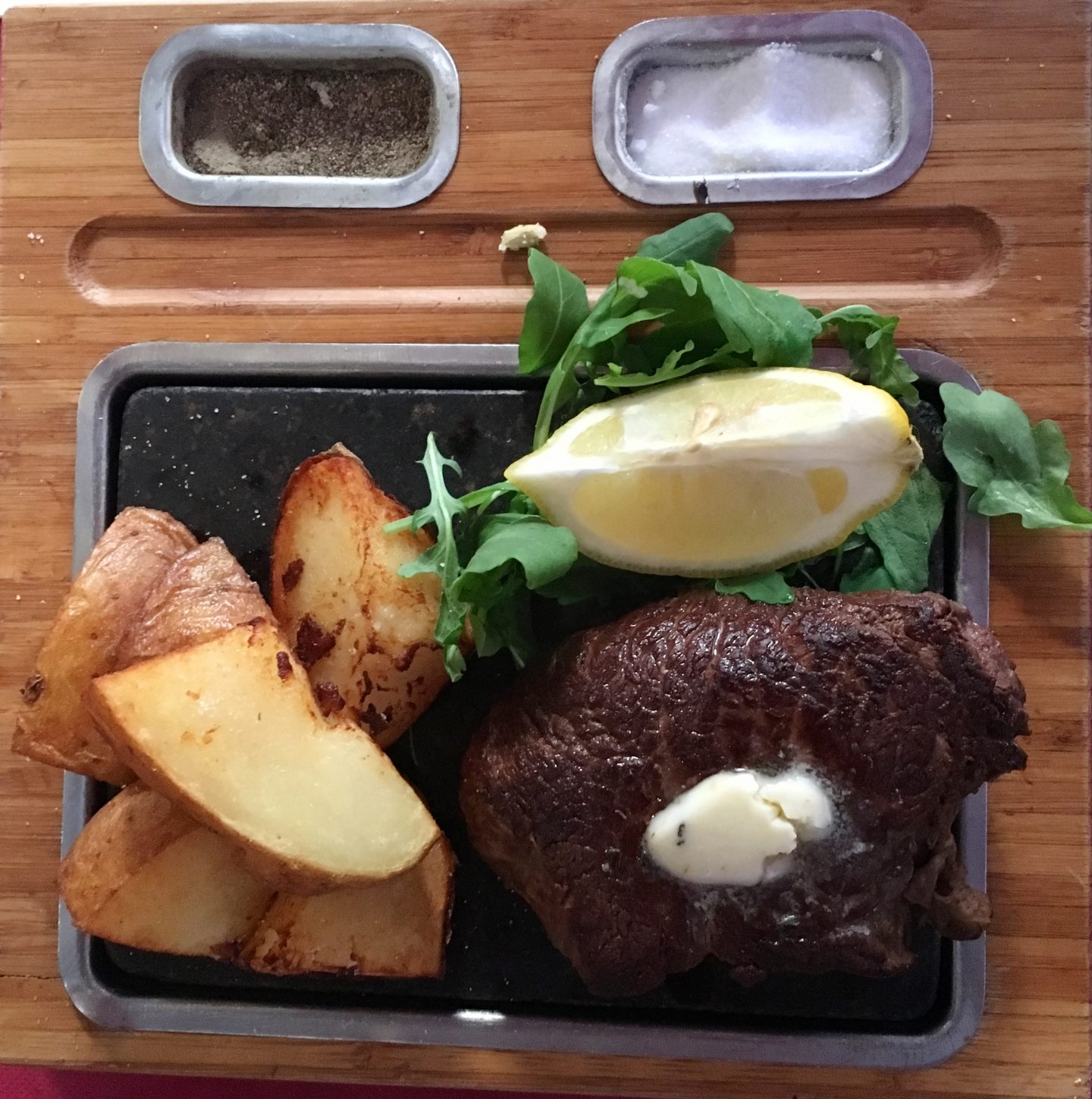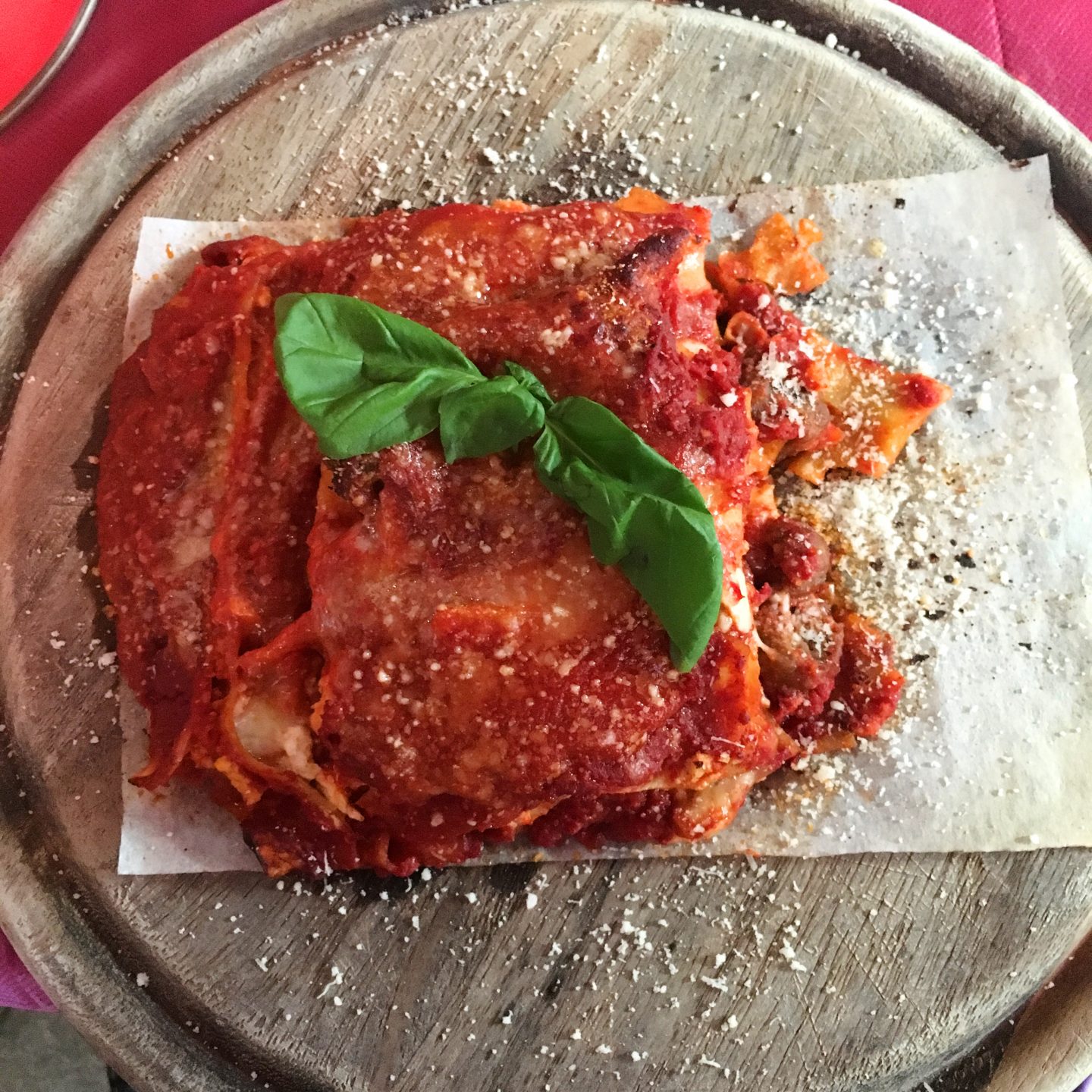 After an Aperol Spritz (or 2, or 4, or I'm not entirely sure…) we returned for the night, prepared to rise early and beat the crowds. My mum and I ventured out the next morning at 7am, and as we expected, all those other holiday makers were enjoying the normal act of lying in on holiday. We practically had the city to ourselves.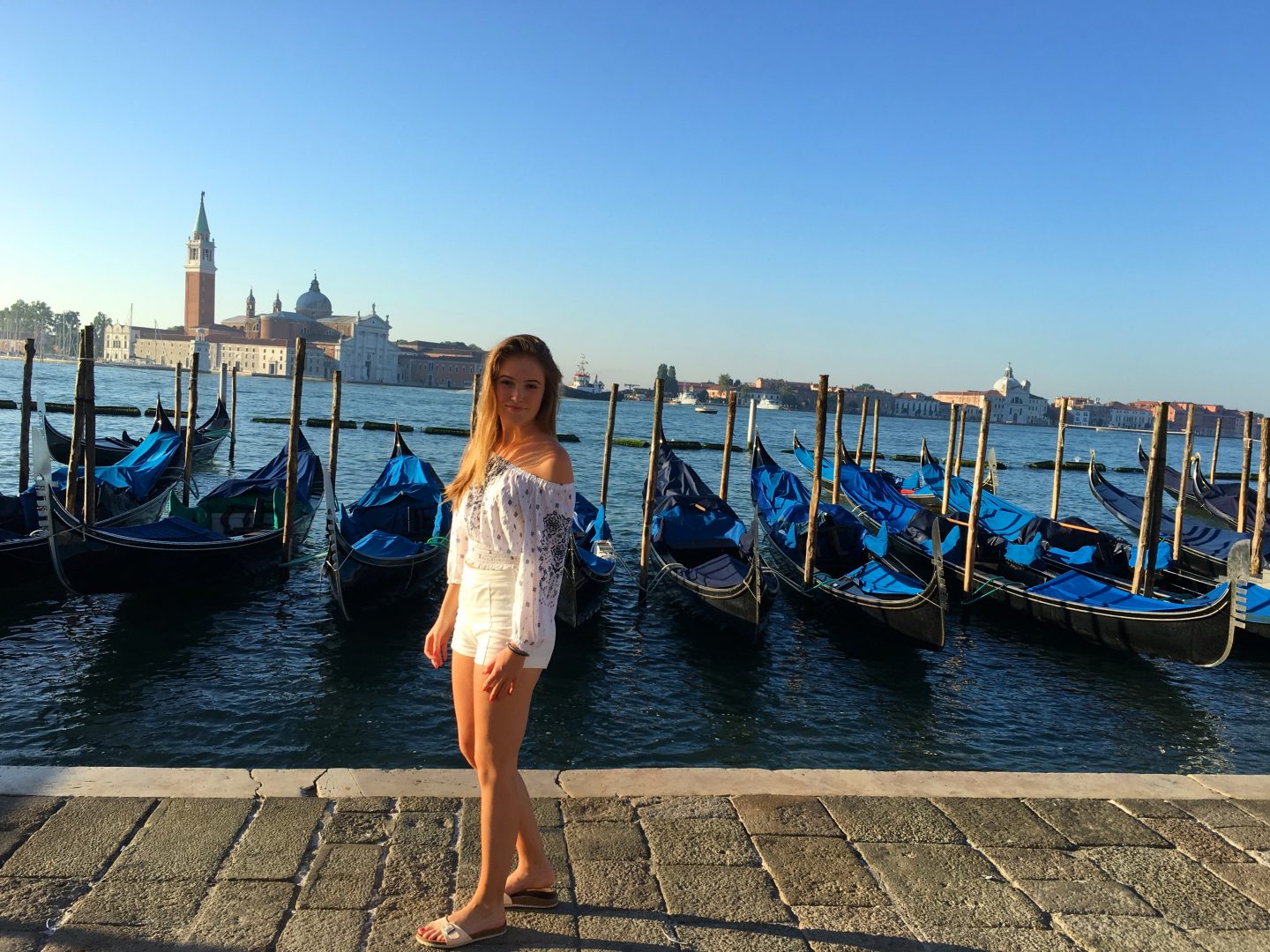 Piazza San Marco was suddenly beautifully peaceful. (Although its an extremely exciting place to be in the evenings, it has a fantastic atmosphere created by mulling people, live classical music, extremely old cafes, and the bells of the clock tower.)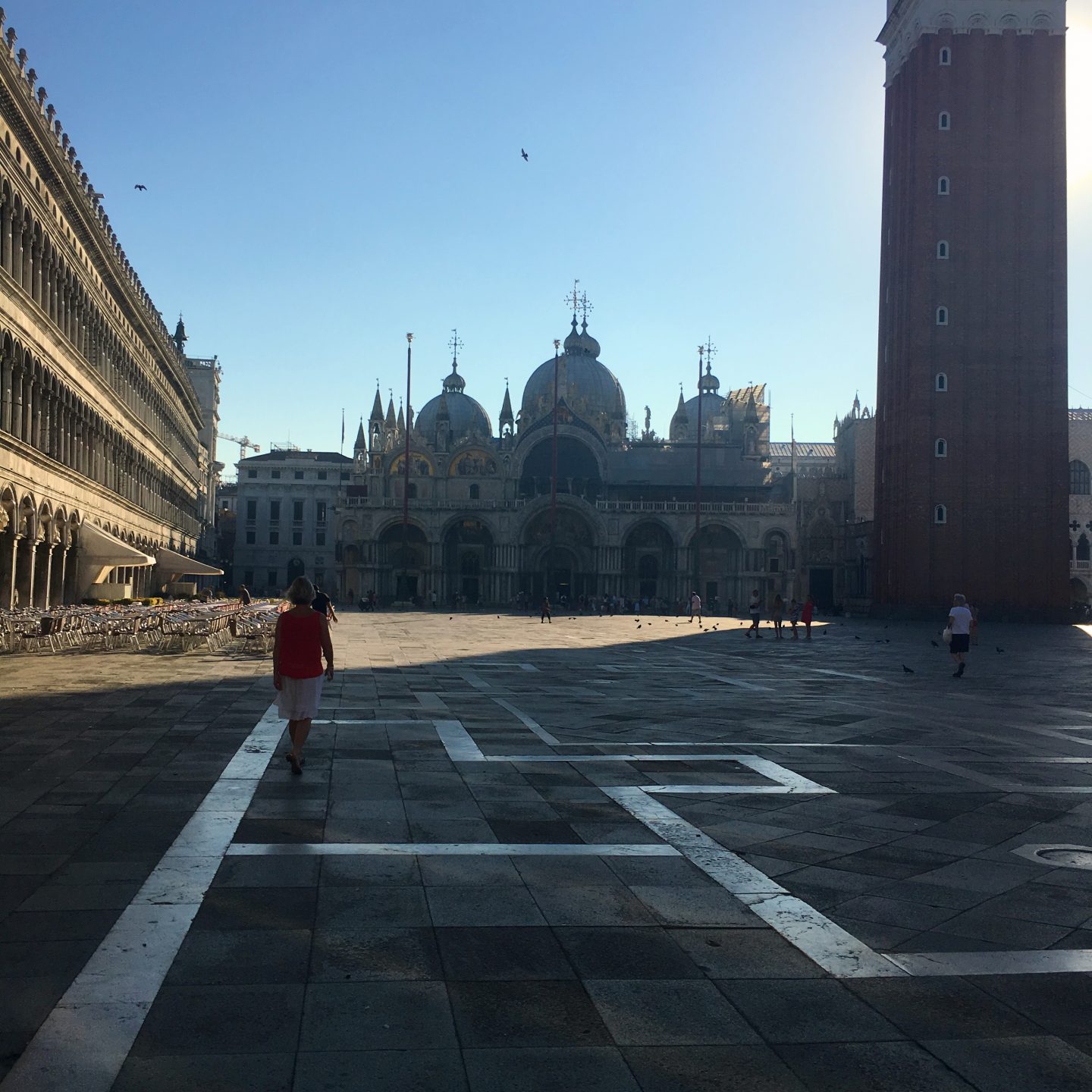 Unsurprisingly, we found ourselves accompanied by numerous photographers with models in high end fashion, or newly weds in wedding dresses hiding comfy trainers. They all know the early morning trick-  practically no people, and a truly stunning light.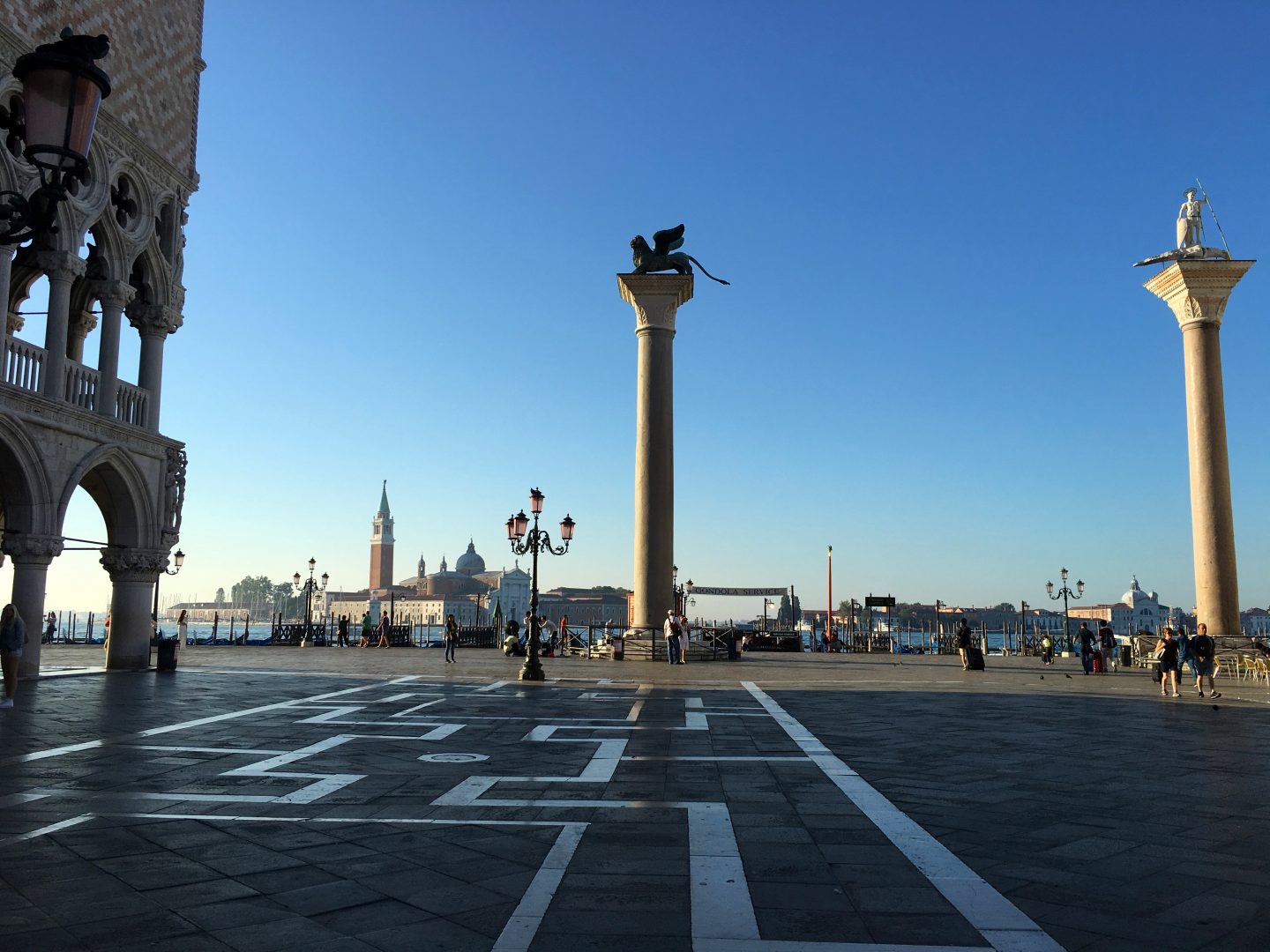 All the famous landmarks, impossible to reach just twelve hours earlier, were all ours… we even managed mini photoshoots on both the Rialto and the Bridge of Sighs.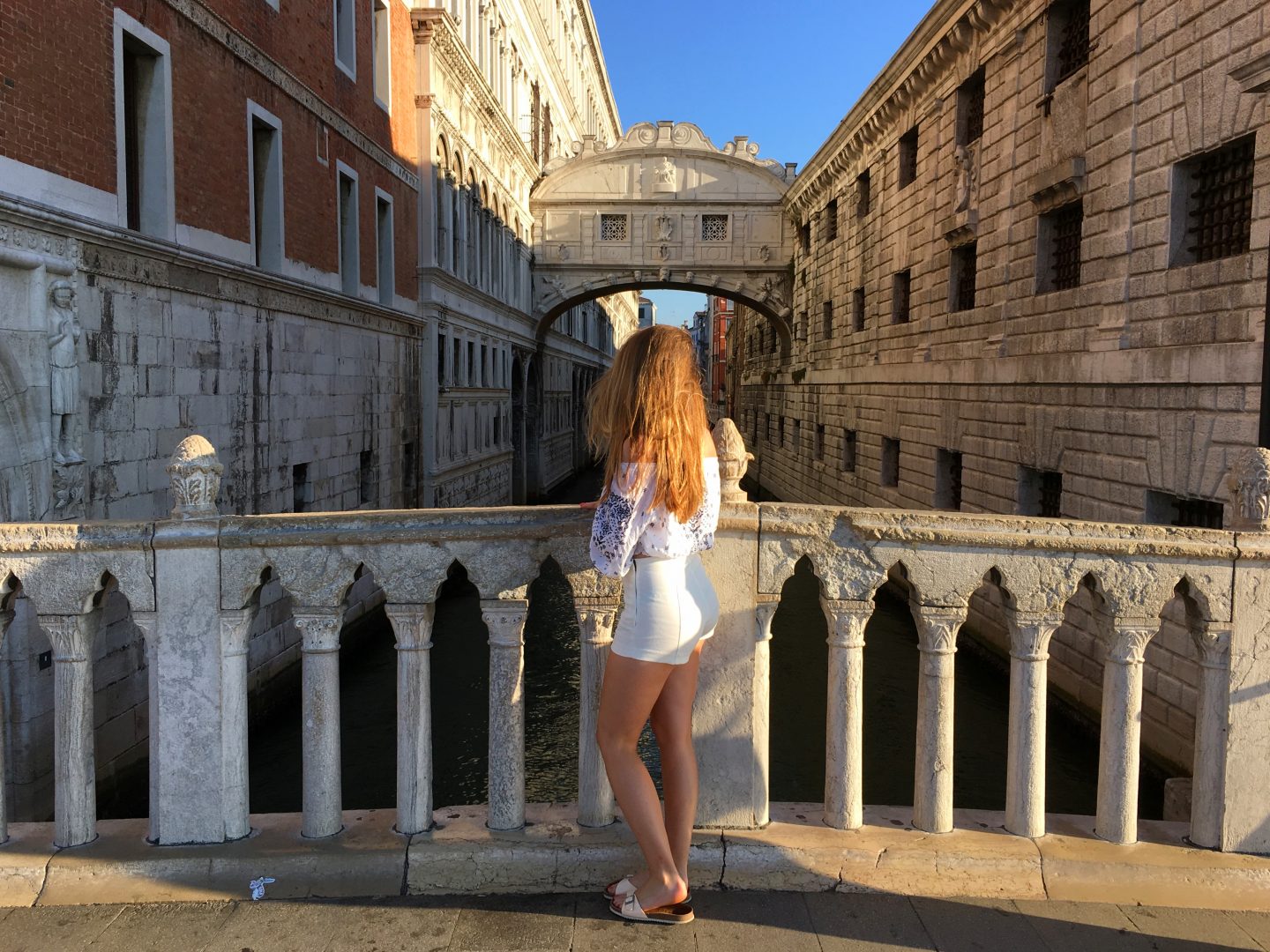 Top and shorts H&M, sandals Office.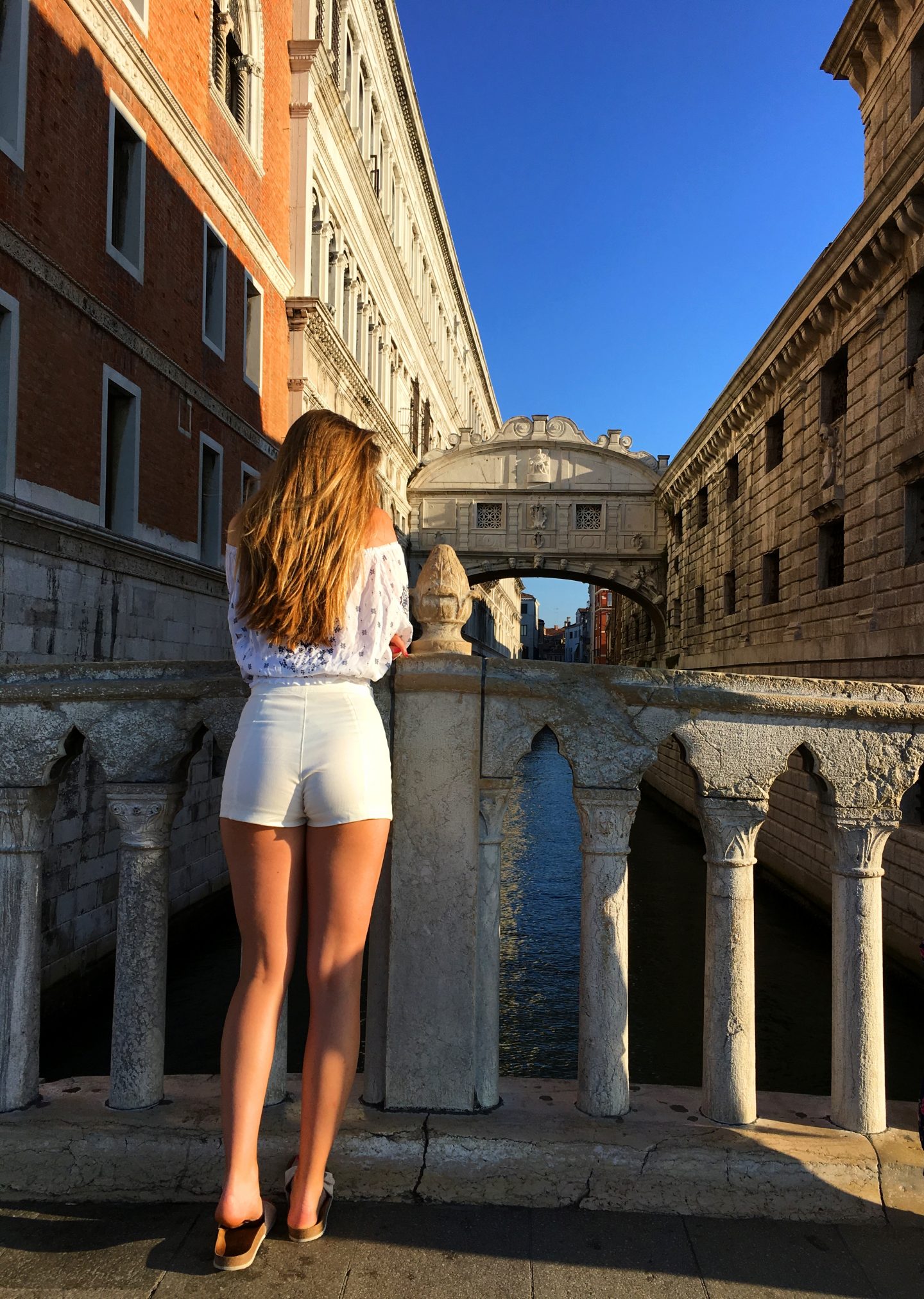 The Bridge of Sighs…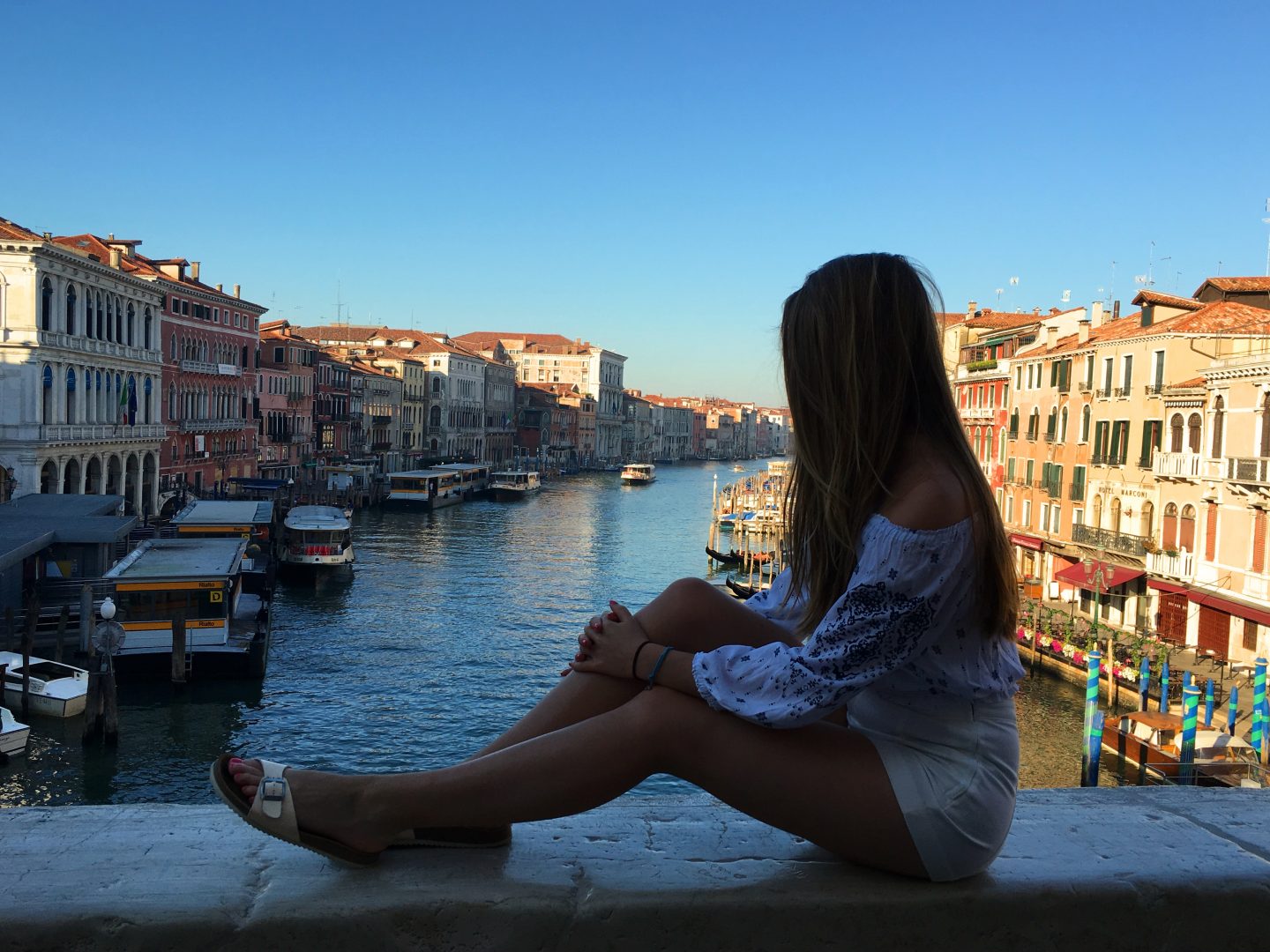 …and the Rialto all to myself.
Venice is an incredibly photogenic city, so make the most of the opportunities early in the morning, by 9am the place was beginning to fill already!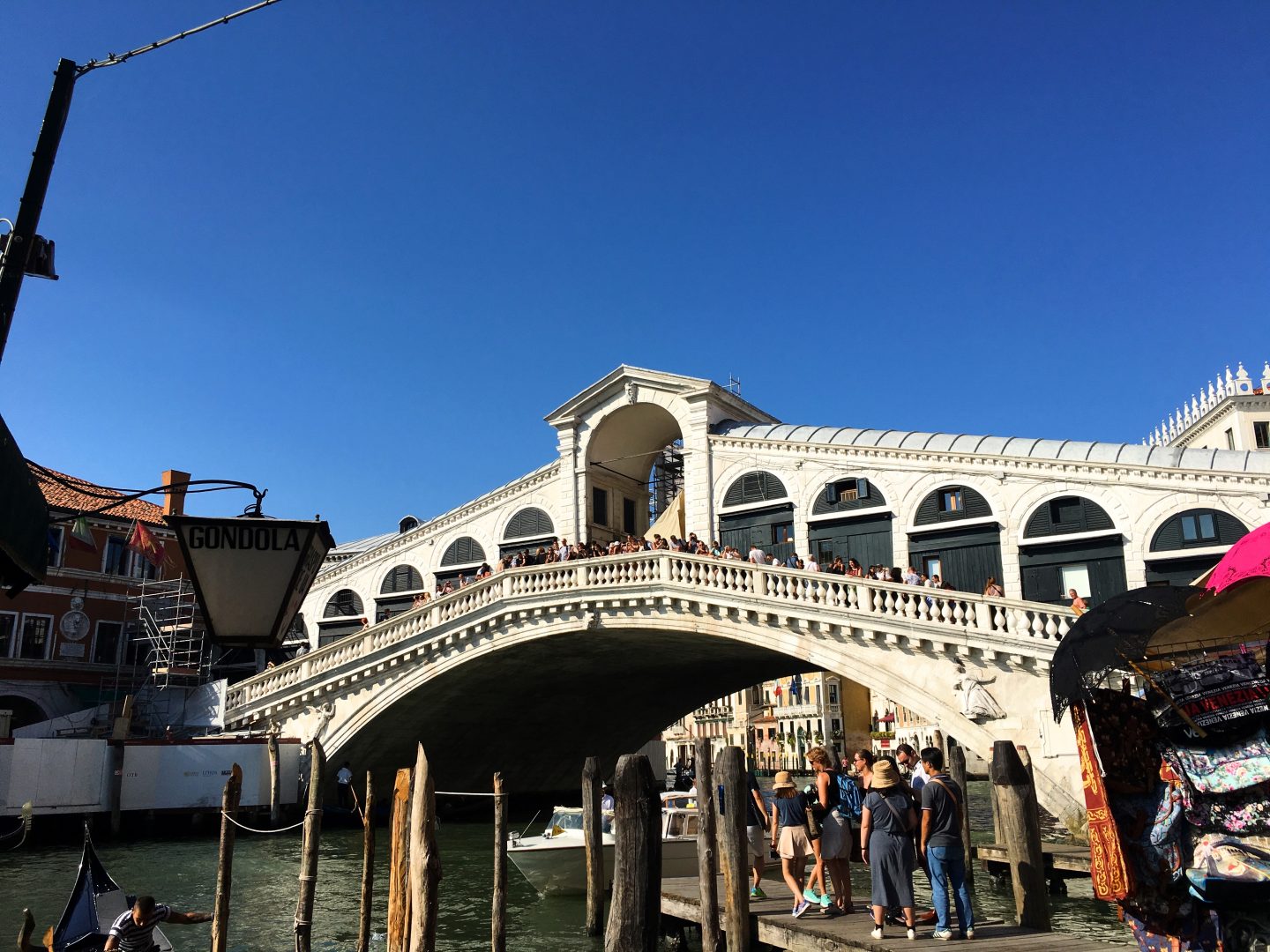 Not only is it photogenic, but also immensely beautiful to behold. Images will never be able to capture the romantic loveliness of this city.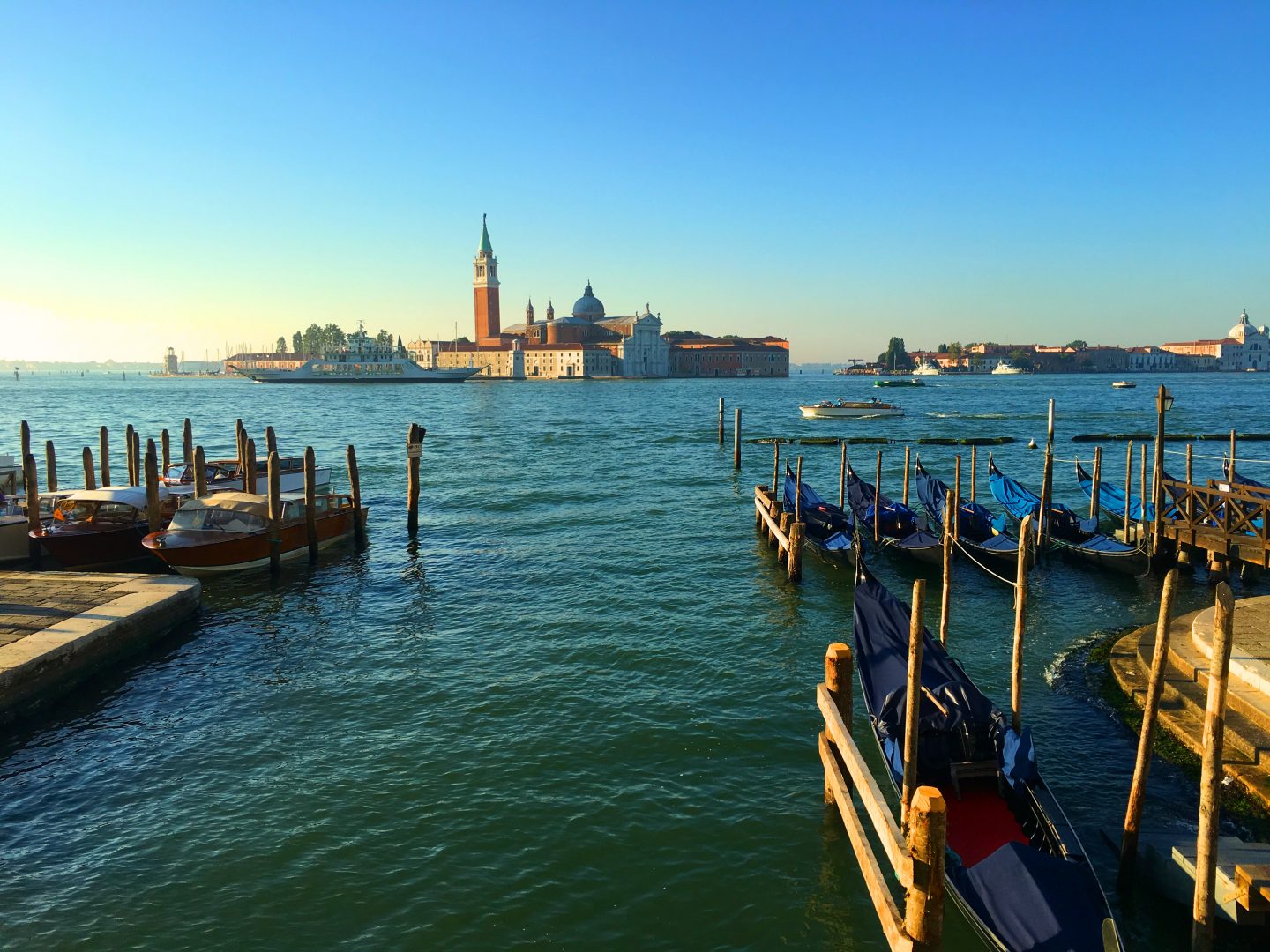 100% if you and your loved one are looking for the perfect location for a little mini-break abroad, Venice should be your destination. Admittedly it was slightly disheartening when around ever corner there was an incredibly happy, loved up couple smooching and snuggling! (at times kind of gross, but if PDA is acceptable anywhere, its in an Italian city like Venice!)  I had my wonderful family with me though and I couldn't have been happier.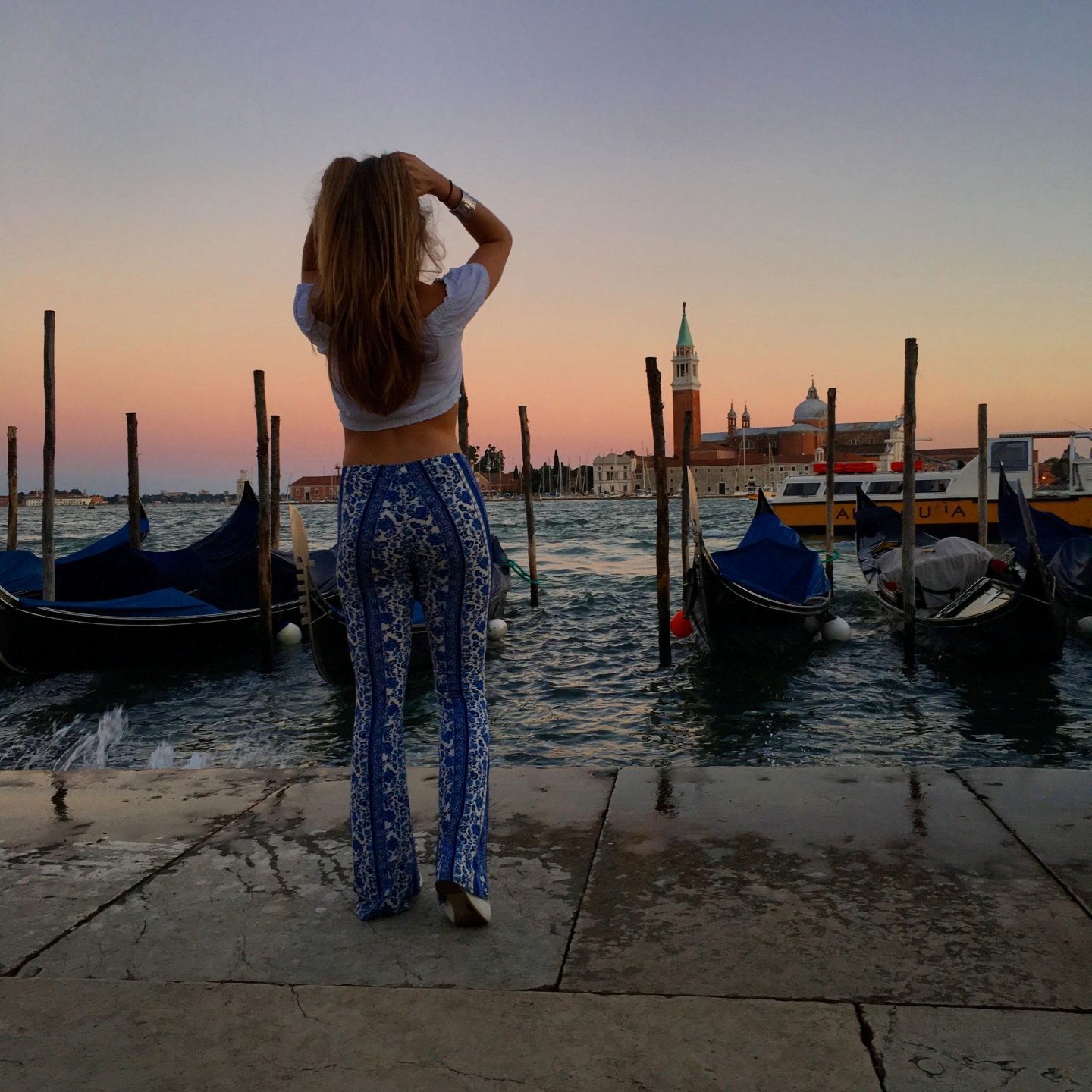 See details for this outfit here.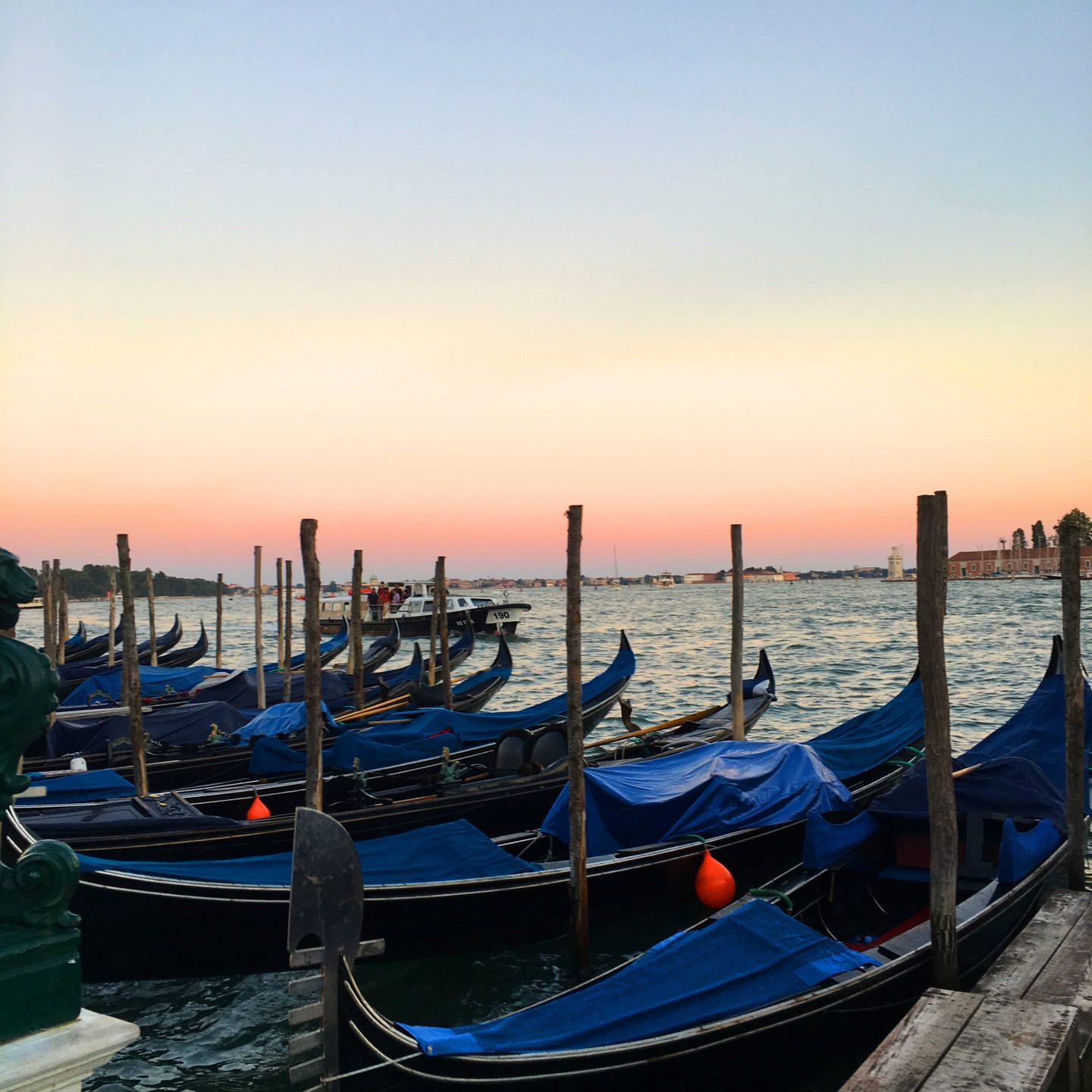 The sunsets and sunrises and general light in Venice are incredible in the summer- sun reflects off he water and illuminates beautiful, rustic architecture. I have resolved to visit again, off-season. This way I selfishly don't have to share it with so many people, and the lighting will be totally different and no doubt just as stunning. There is also so much more of this city I need to see.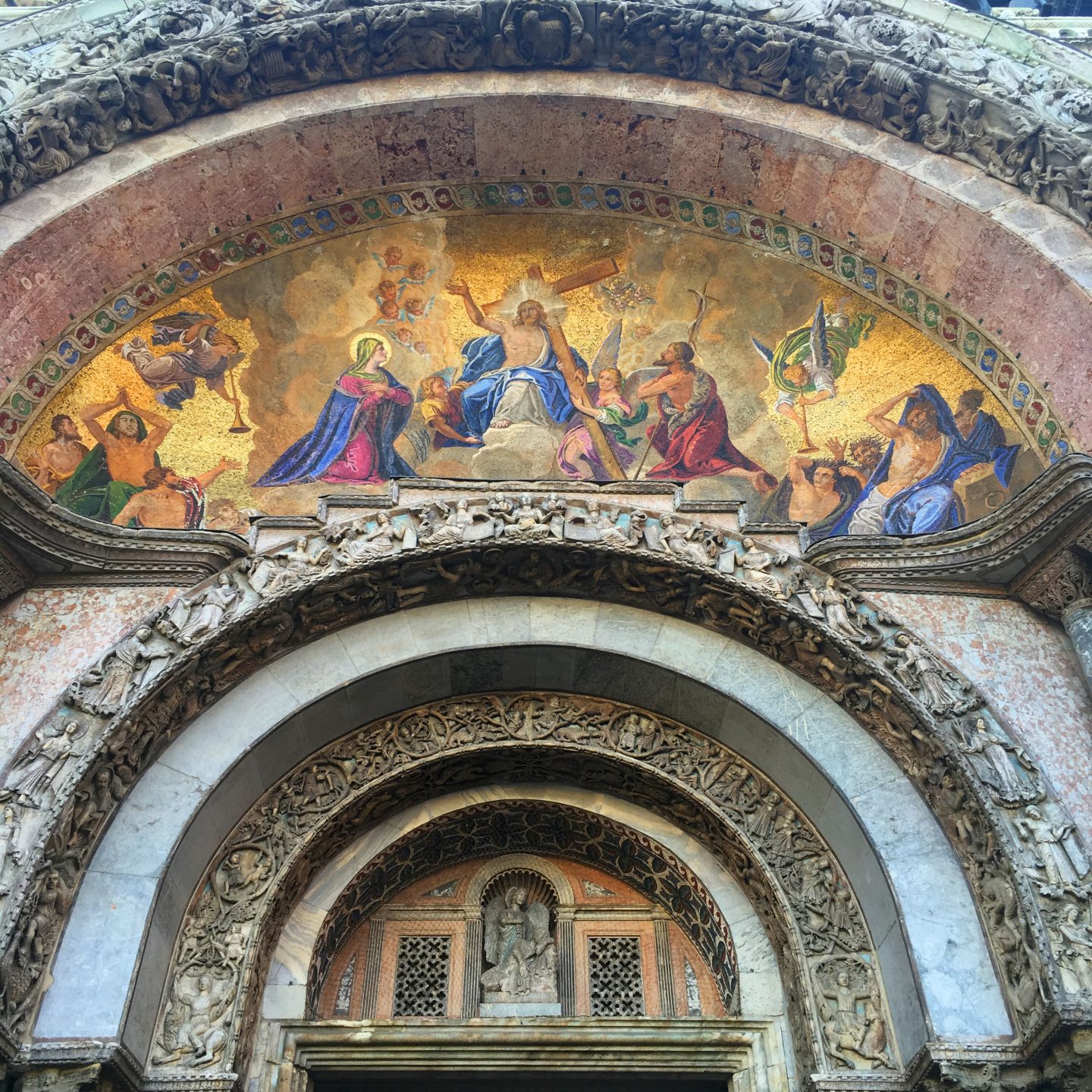 Venice's culture and architecture is something else, we didn't see nearly enough of it.
If you do fancy a trip, which you really ought to… make sure you do a little research first. It is easy to overspend in Venice, but not necessary. With a little background knowledge, its possible to do Venice on a budget and still have a remarkable trip. Saying that, don't over-research… losing ourselves amongst the back streets and just blindly exploring was what revealed so many of the most wonderful treasures!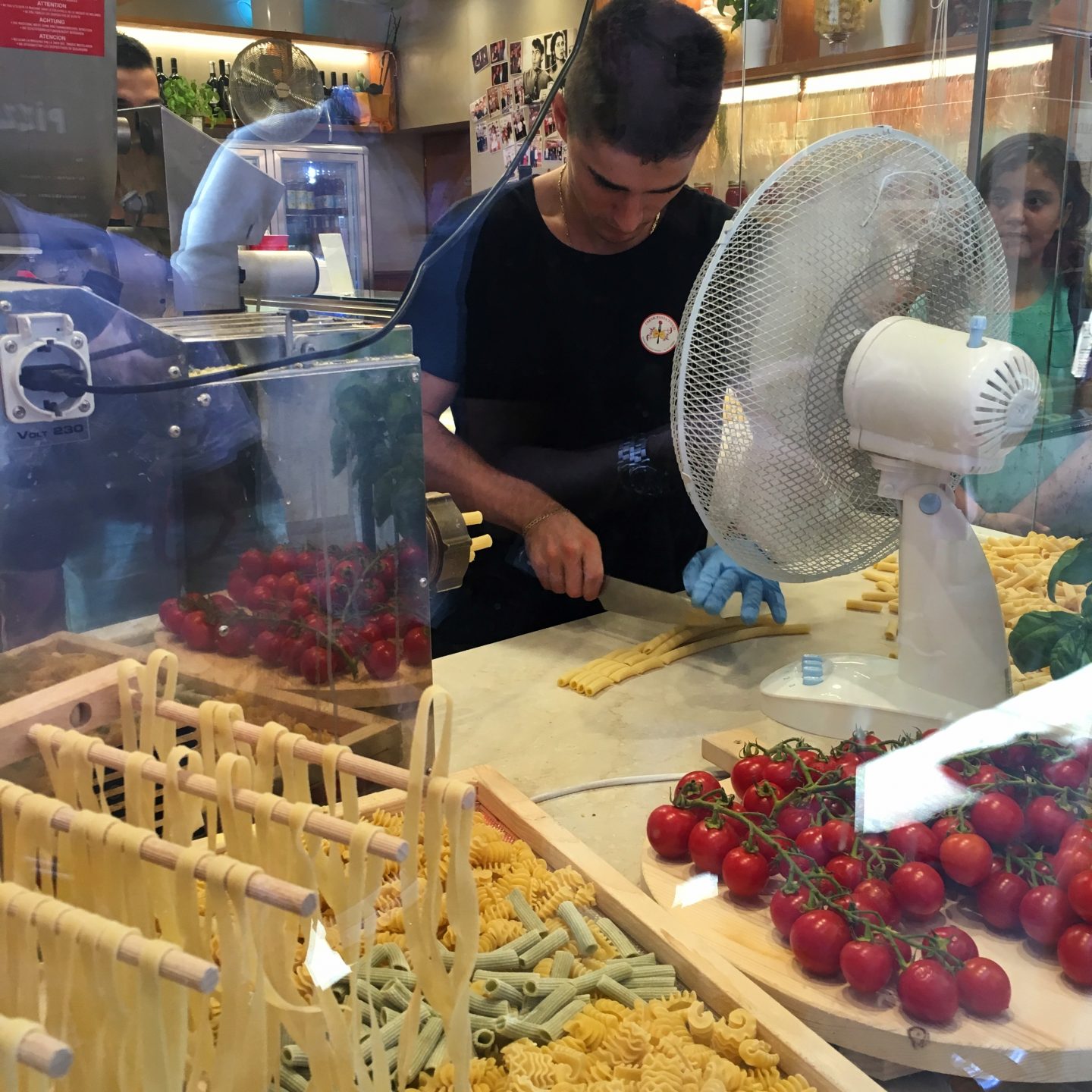 Like this charming young man making penne pasta… he loved the camera!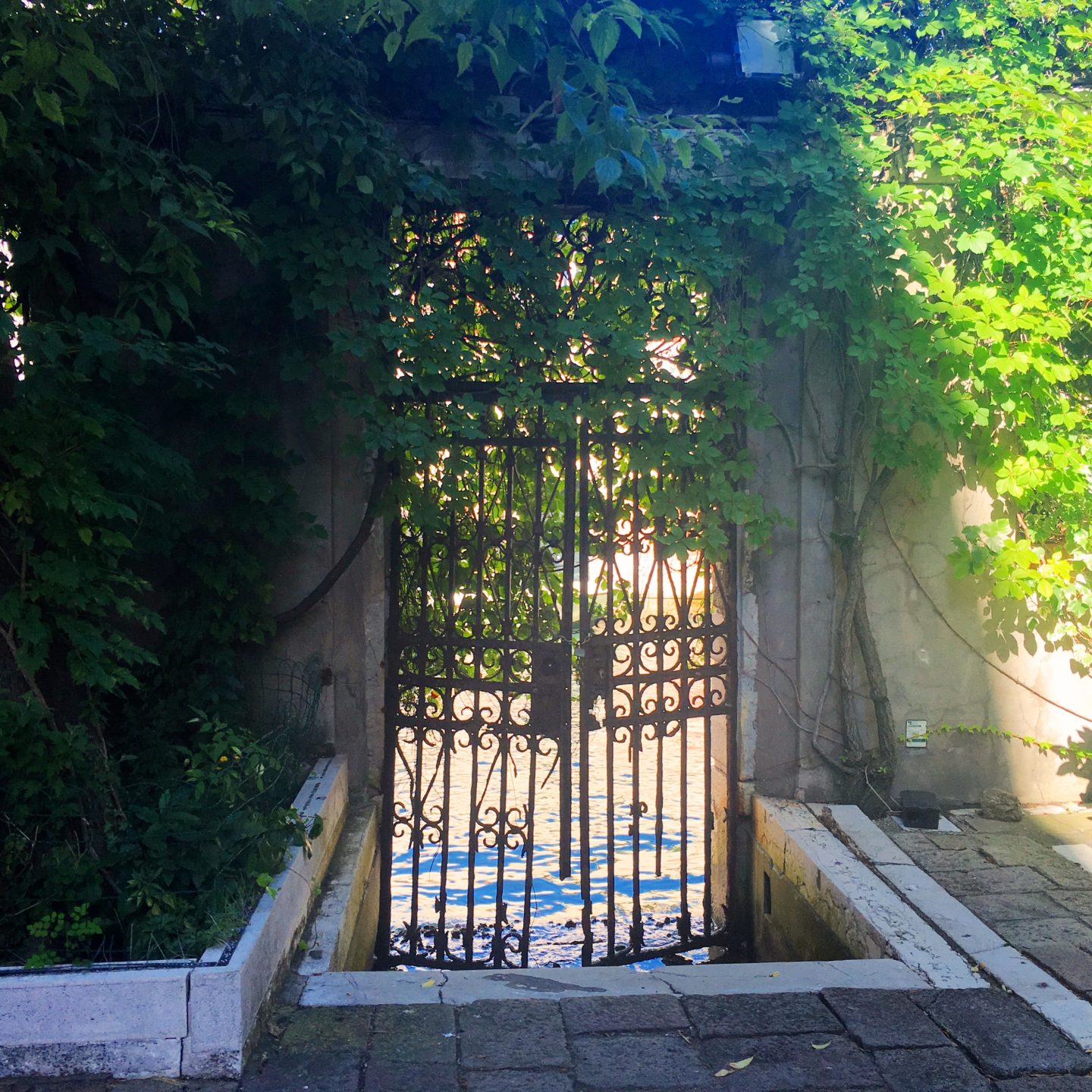 So be sure to explore Venice's magic!