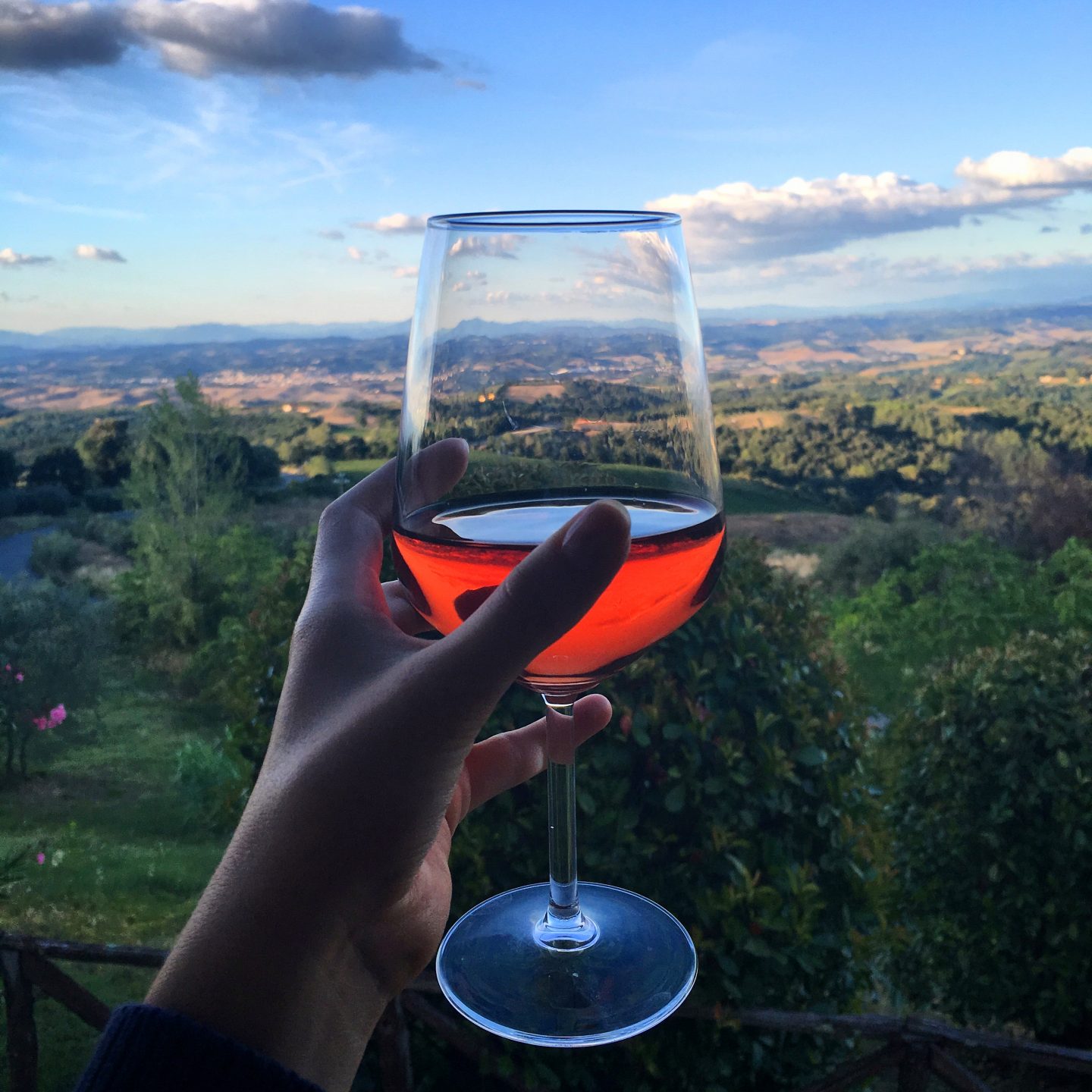 Reading Time:
6
minutes
I have now returned from my final trip abroad this summer (Italy again of course, where else!?) and have so so much to write about before we get snuggled down for Autumn and Winter and no longer want to think about scorching sun.
As you all know, this summer I have fallen well and truly head over heels for Italy- its culture, food, language, landscapes, people, everything.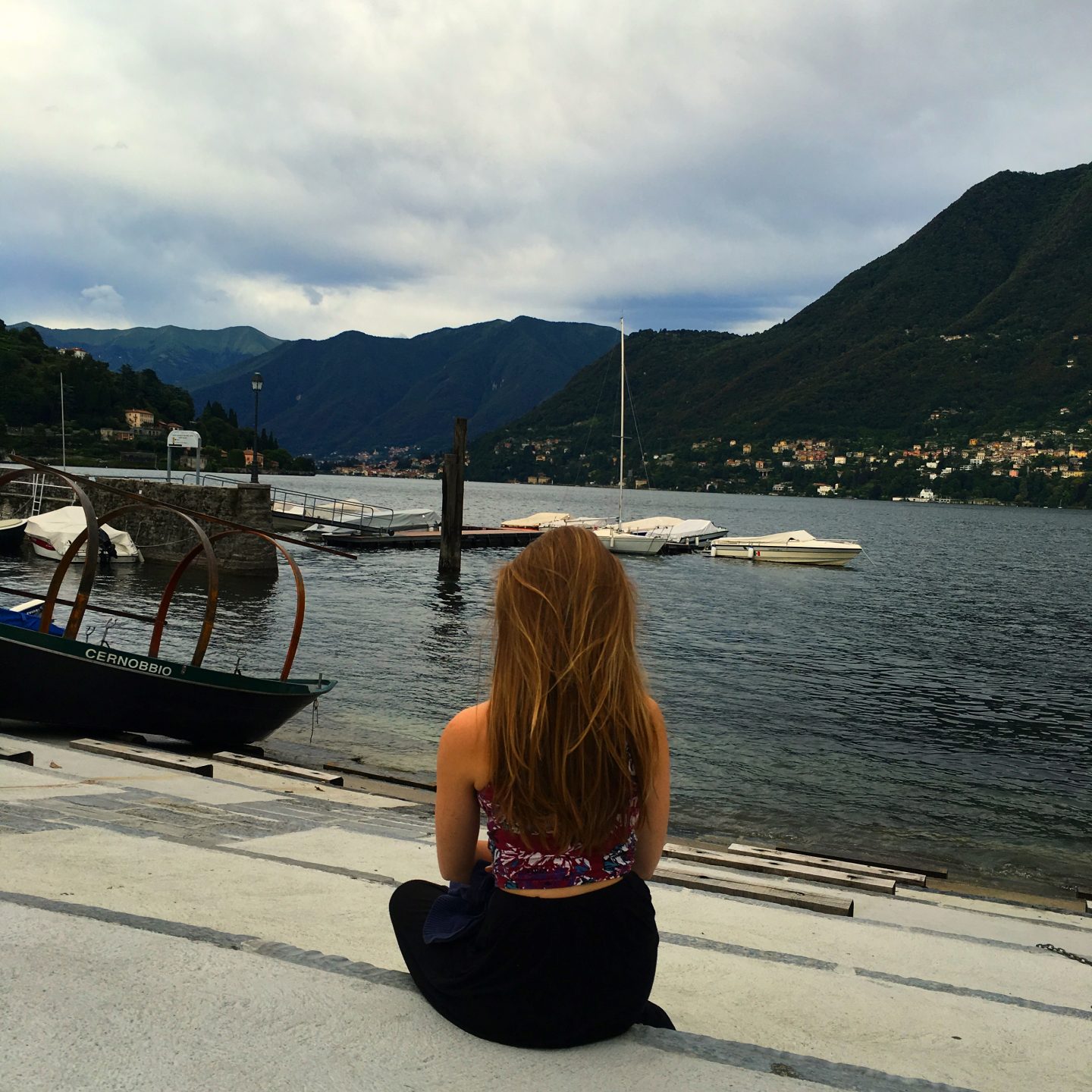 Cernobbio, Lake Como.
Tuscany was of no exception. Having journeyed through and stopped at Strasbourg and Cernobbio, we paused for an afternoon at Pisa, just an hour west of our Tuscan destination.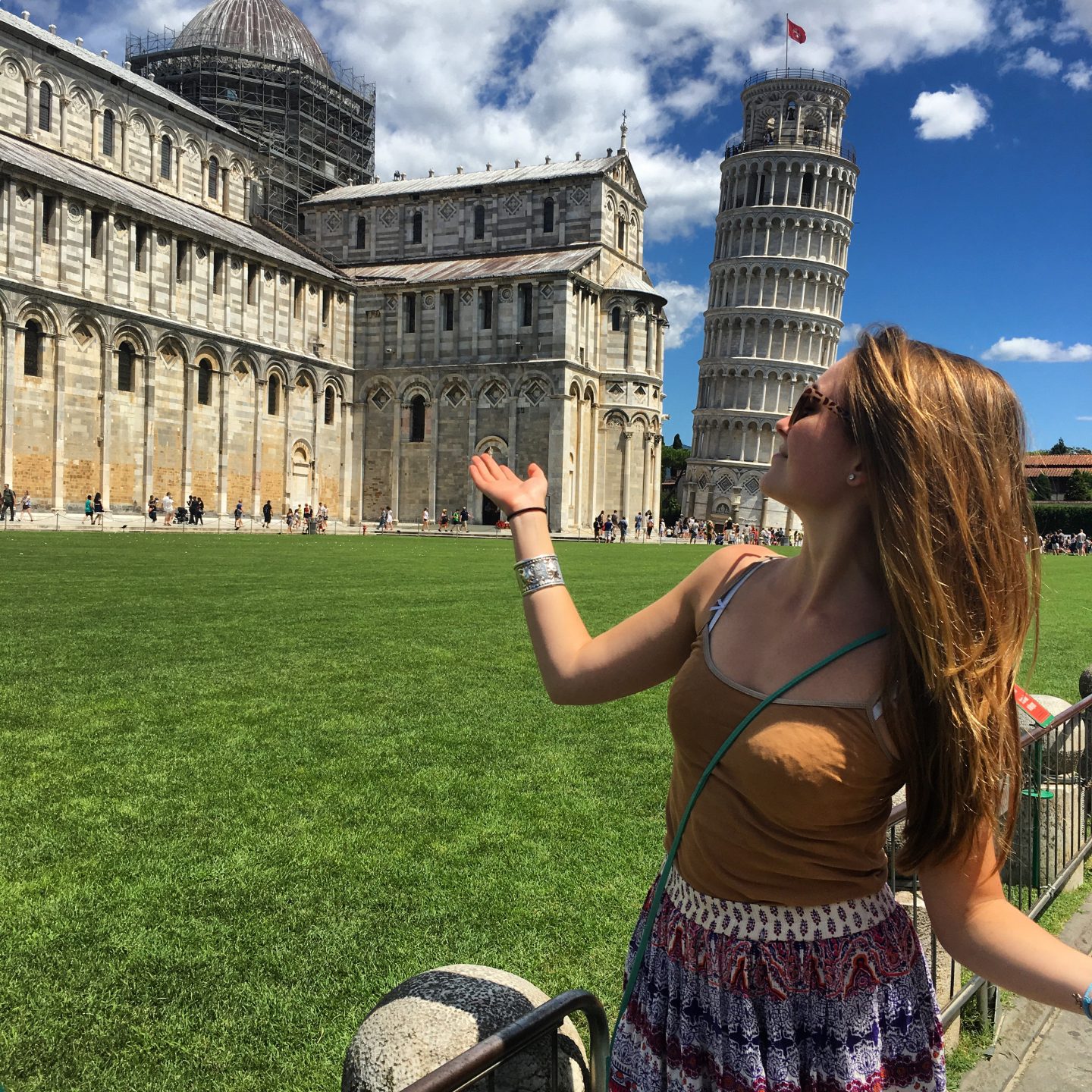 As expected, the city was buzzing with tourists as they pretended to hold up the Leaning Tower for photos, when in actual fact they were all stood as if poised and awaiting a seriously dramatic high five. Of course, my younger brother obliged and caused the surprise and amusement of many a foreign visitor as he leaped up and slapped their open palms.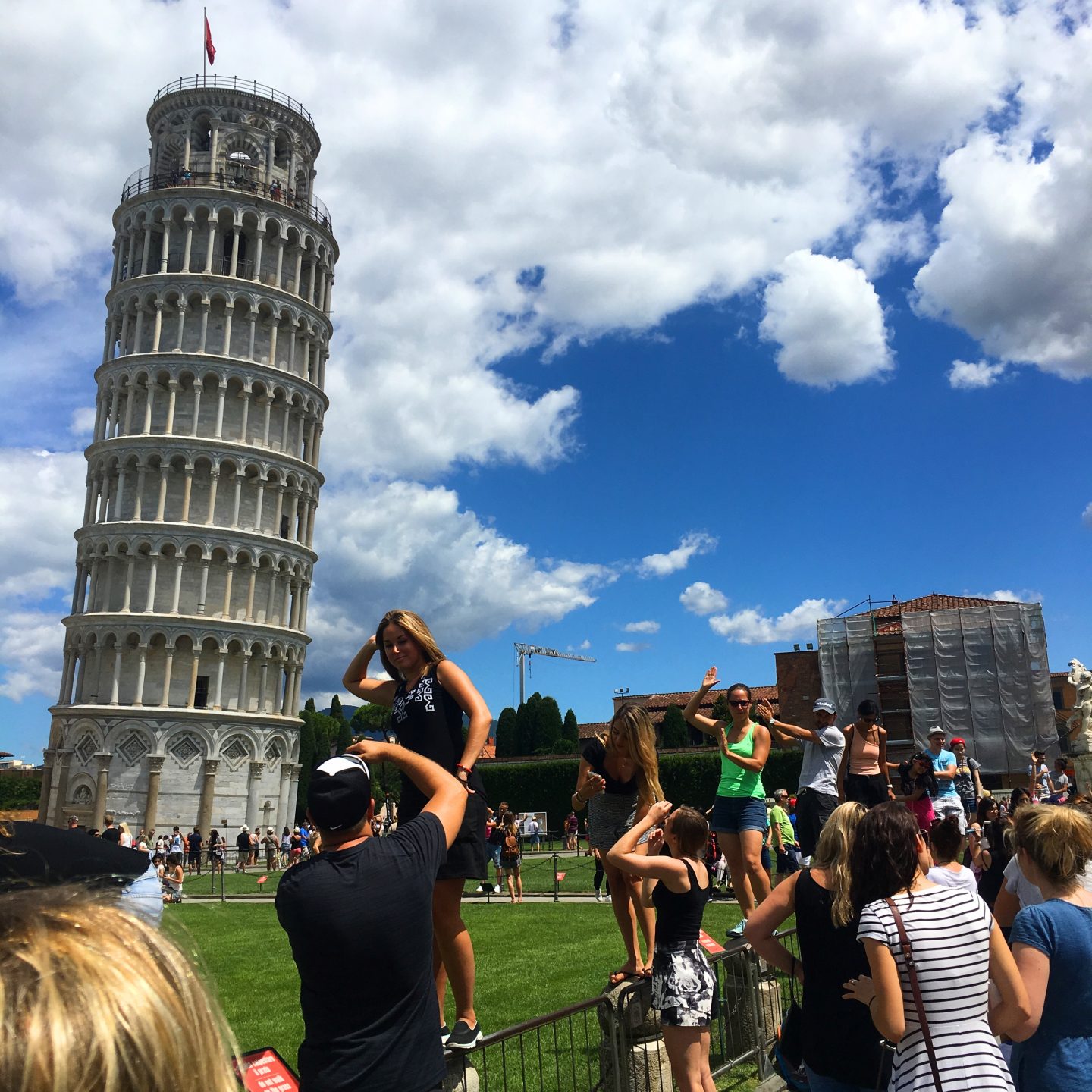 Pisa's architecture is indeed something to behold. But there is also something hilarious about the grandeur and sophistication being undermined by an imperfect, extremely imbalanced tower. My dad and I both rounded the corner and let out audible chuckles at the absurd sight.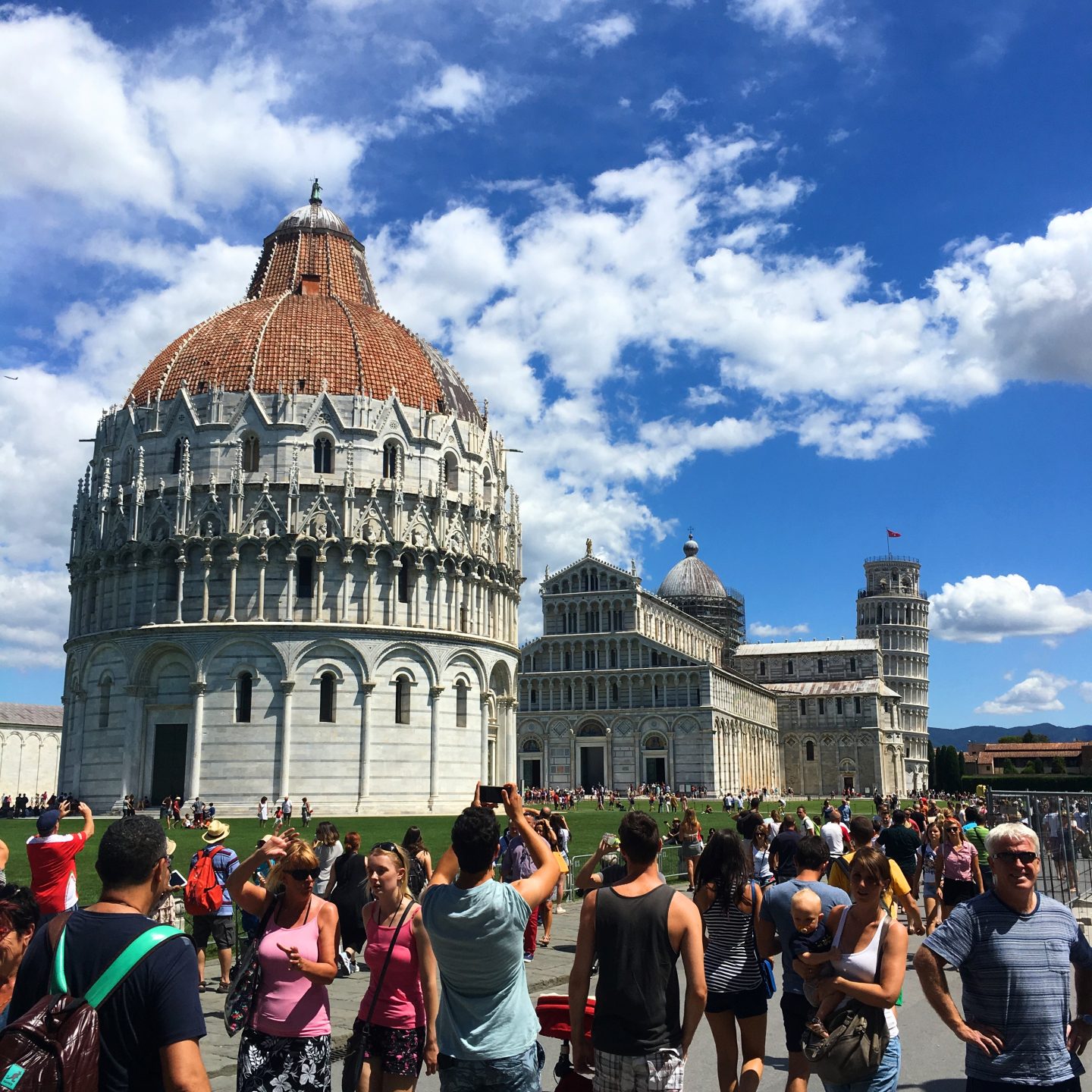 After refuelling with a drink and a pizza we continued our journey into the hilly terrain of Tuscany.
Montaione is the perfect location for cultural exploring and we couldn't commend my mum more for such a choice of base-point. The small Tuscan town, balanced (as with all Tuscan towns) upon the top of a small hill, has panoramic views of the numerous other hilltop, medieval towns surrounding it and of the grape vine-filled valleys below.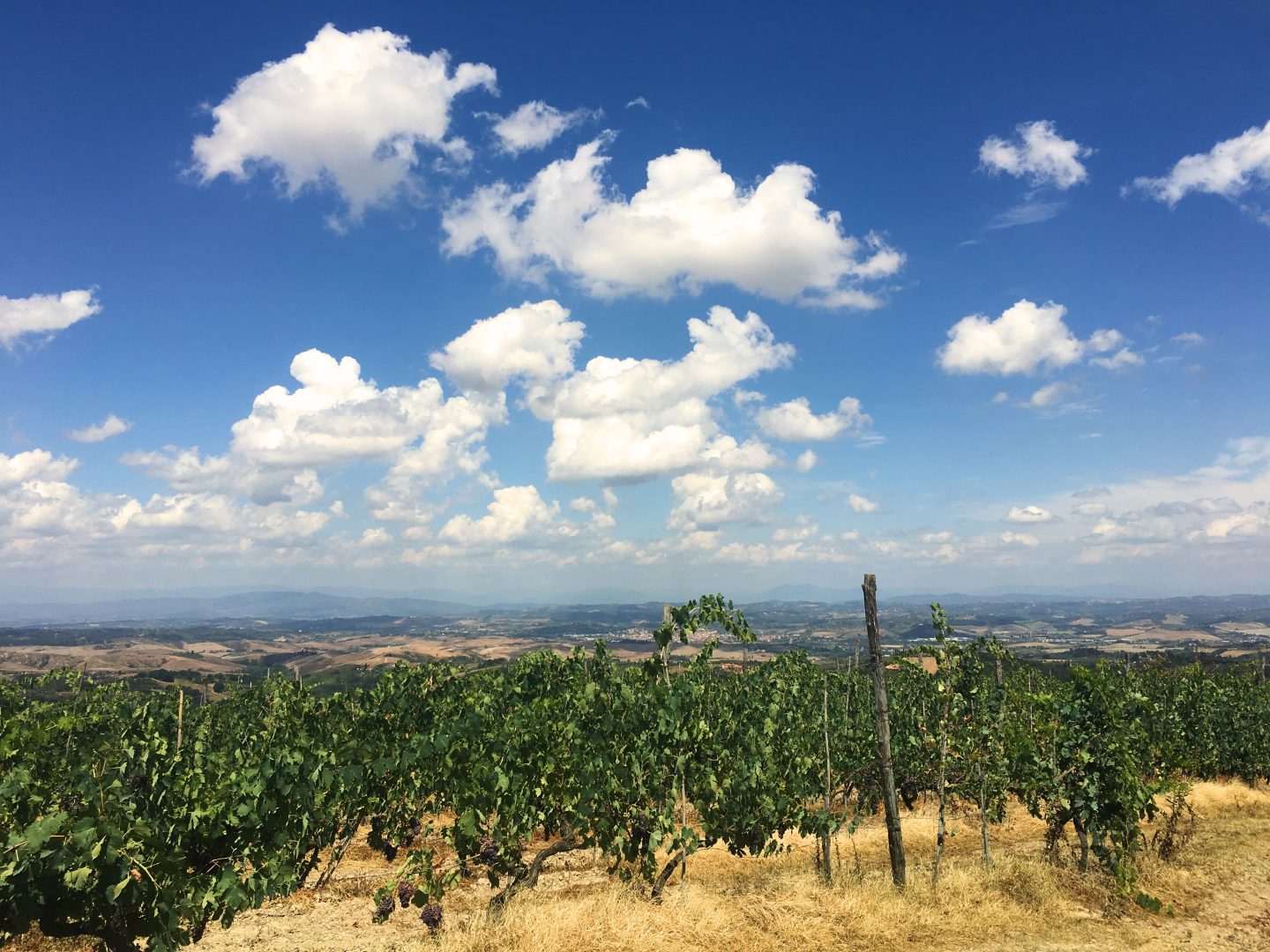 Charming even in itself, Montaione is also perfectly central in relation to the major Tuscan cities and towns. My following post will move on to retell my various adventures, away from our base into Sienna, Florence, San Giminano, etc. As I have already mentioned, it was also in close proximity to Pisa.
Our villa was a part of a complex of renovated farm buildings, called Andrea-Podere Moricci. While the kitchen was… lets say, basic, and the pluming was a little off and the WiFi was just completely off, the vistas from its location completely made up for everything else. The break from internet proved a welcome one in fact, and allowed the opportunity to make the most of the incredible surroundings. Cooking, while a challenge was made a truly enjoyable experience by the view our kitchen window had to offer.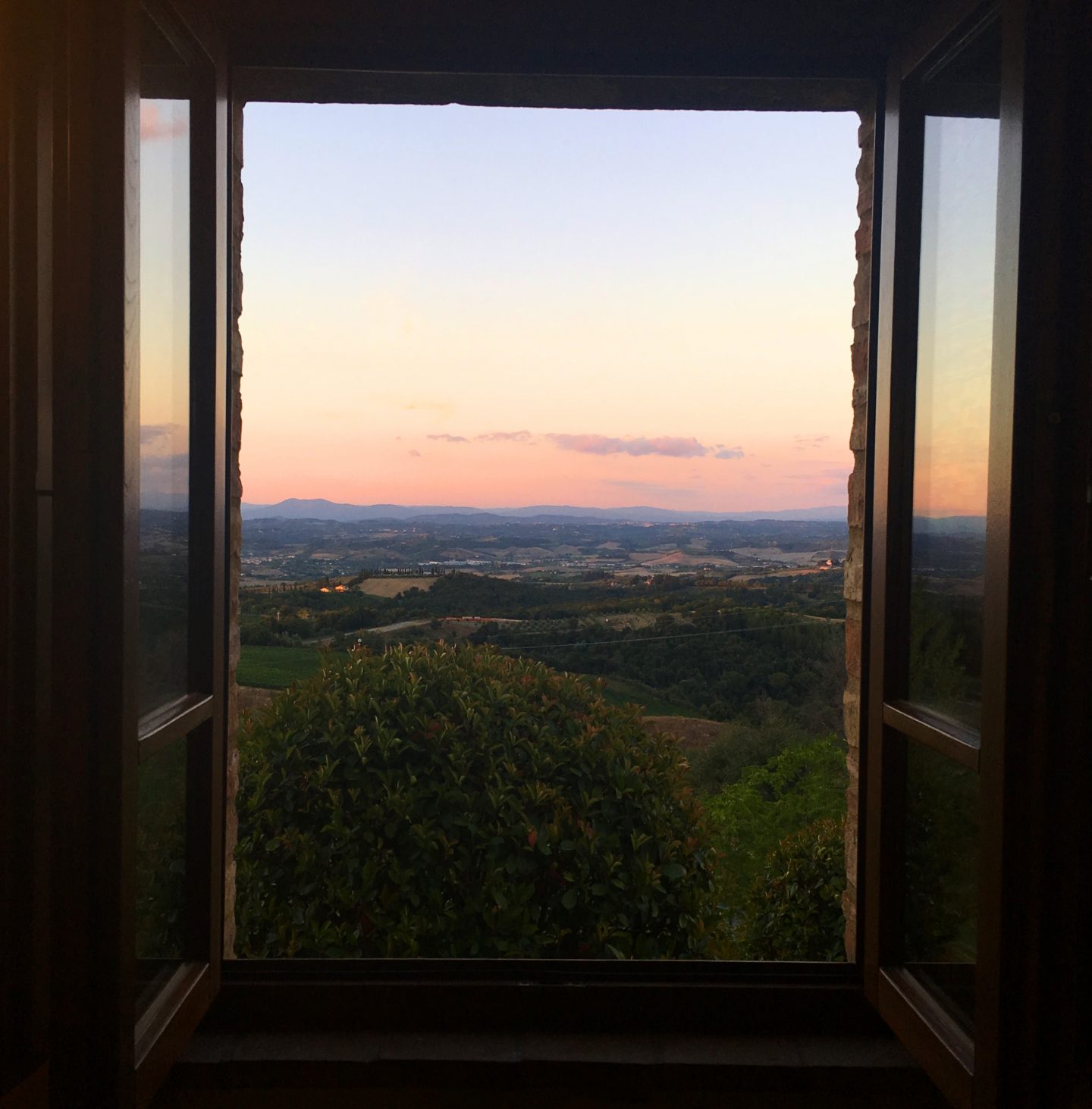 Being far too hot to sleep with the windows shut, we were woken, each morning, ridiculously early. This was not a holiday for lying in! But it was hard to be resentful to this when the cause of our awakening were otherworldly sunrises throwing a glorious red light over the shadows of the hills and basking everything in fresh warmth.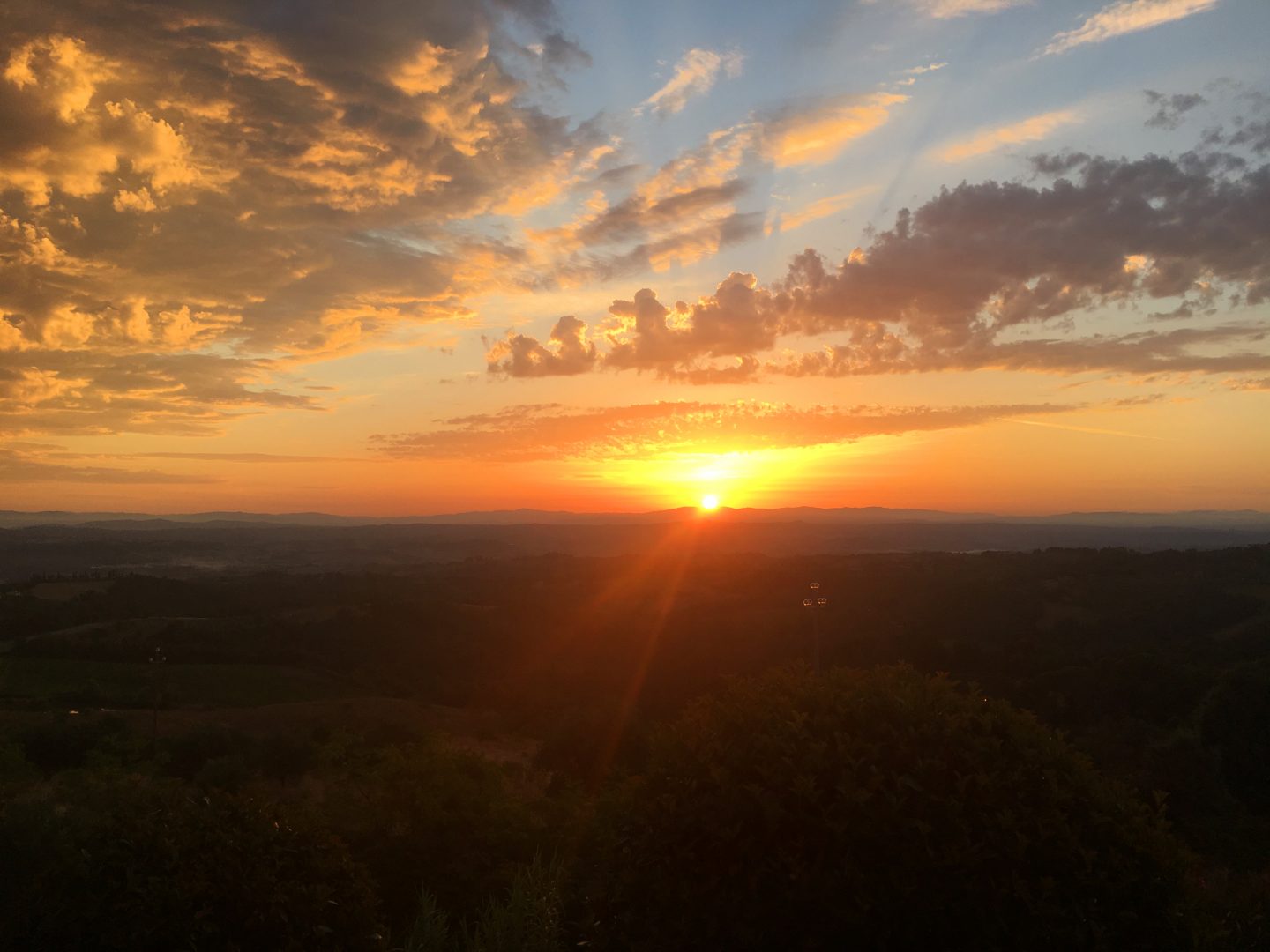 A little explore of this little town revealed a rustic beauty. Terrocota roofs, cobbled streets, summer washing strewn along washing lines that cobwebbed the buildings together. (Think Disney's Aladdin and the washing lines that slow his fall at the beginning of the Street Rat song!)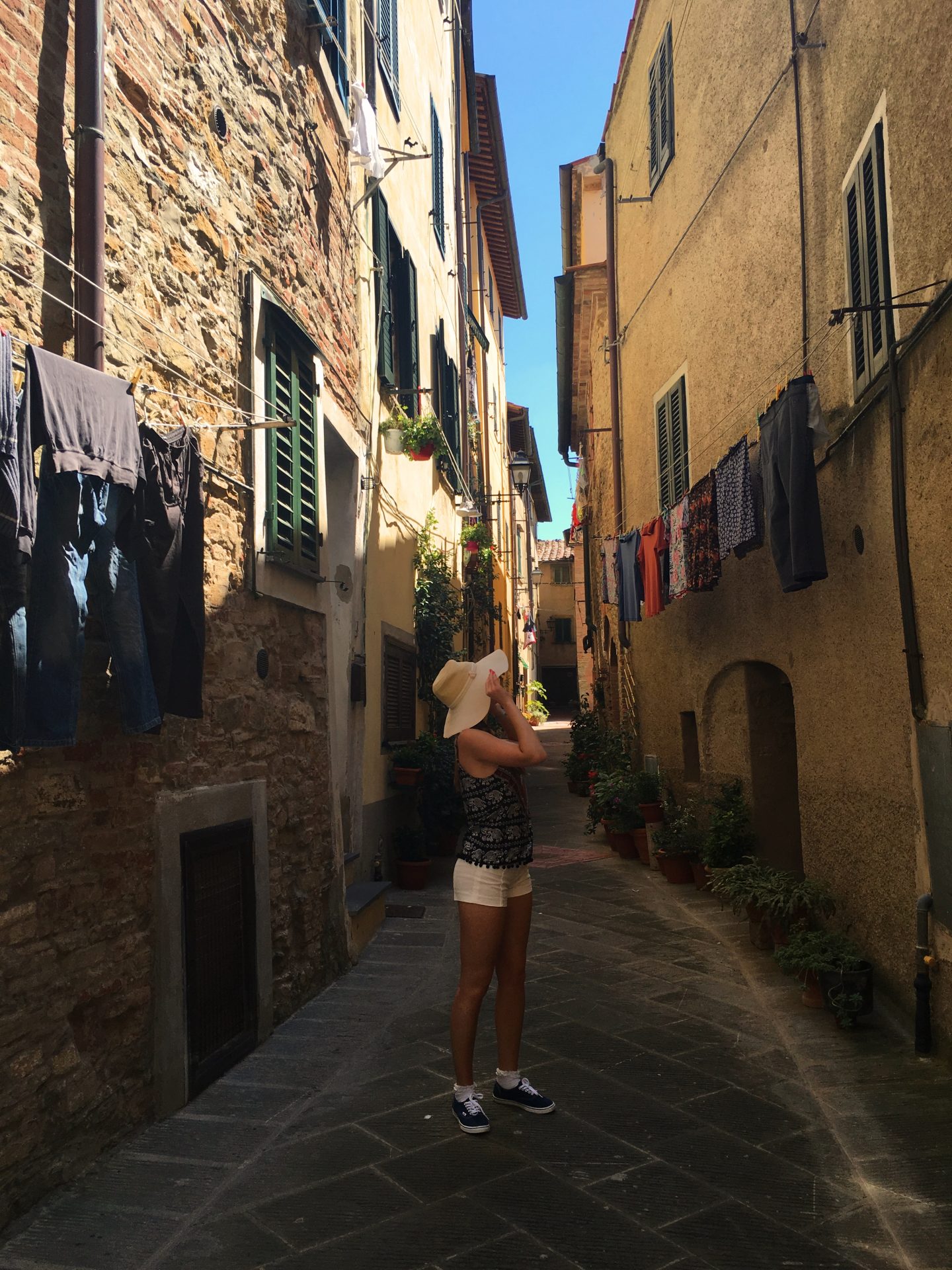 Restaurants, after leather shops, after small bakeries, after churches, after mysterious but beautiful wooden doors. Montaione is a wonderful place to meander your way through and absorb.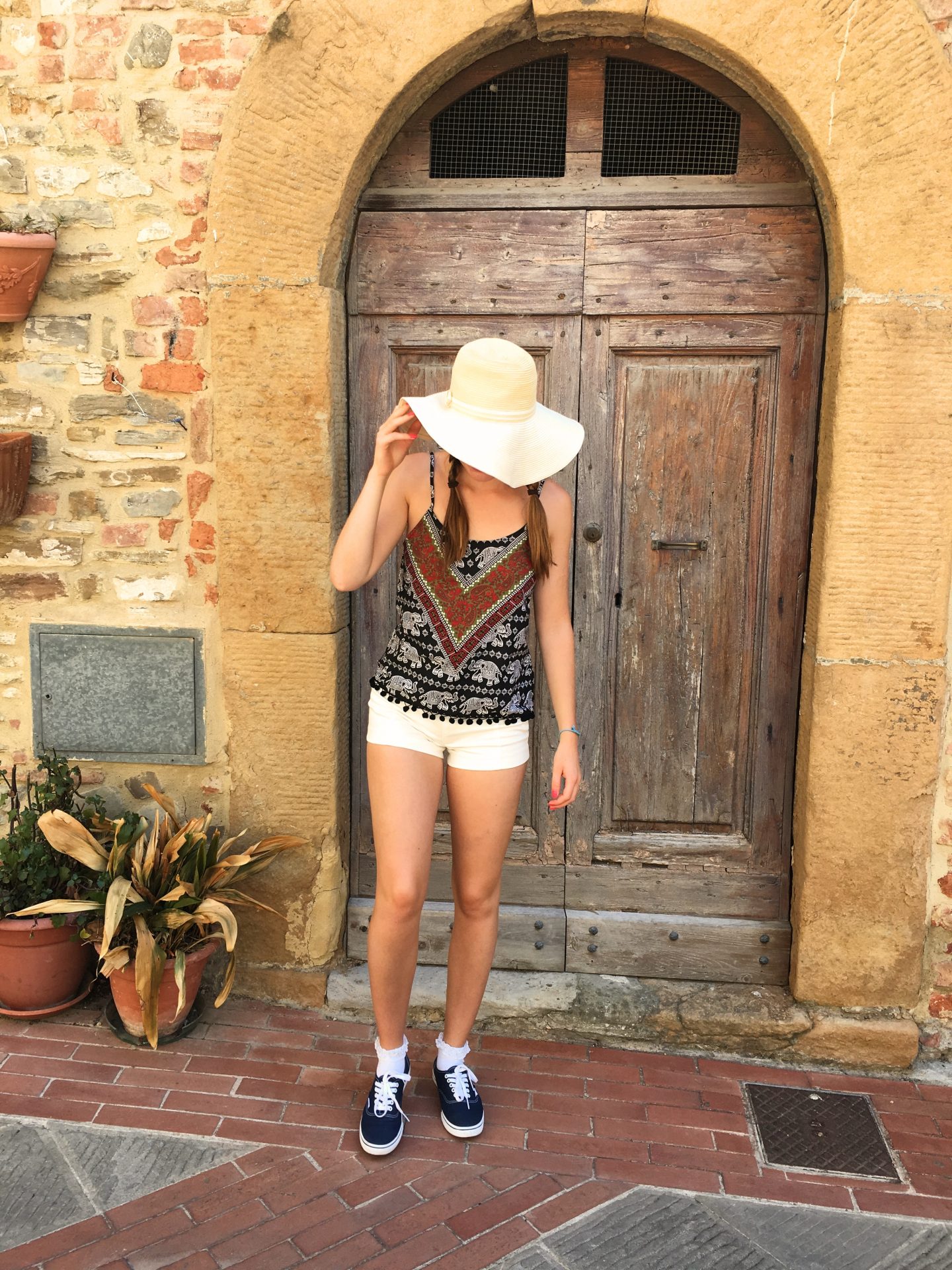 When you eventually make it out of the shady, charming streets, you're met with the vastest of panoramic vistas.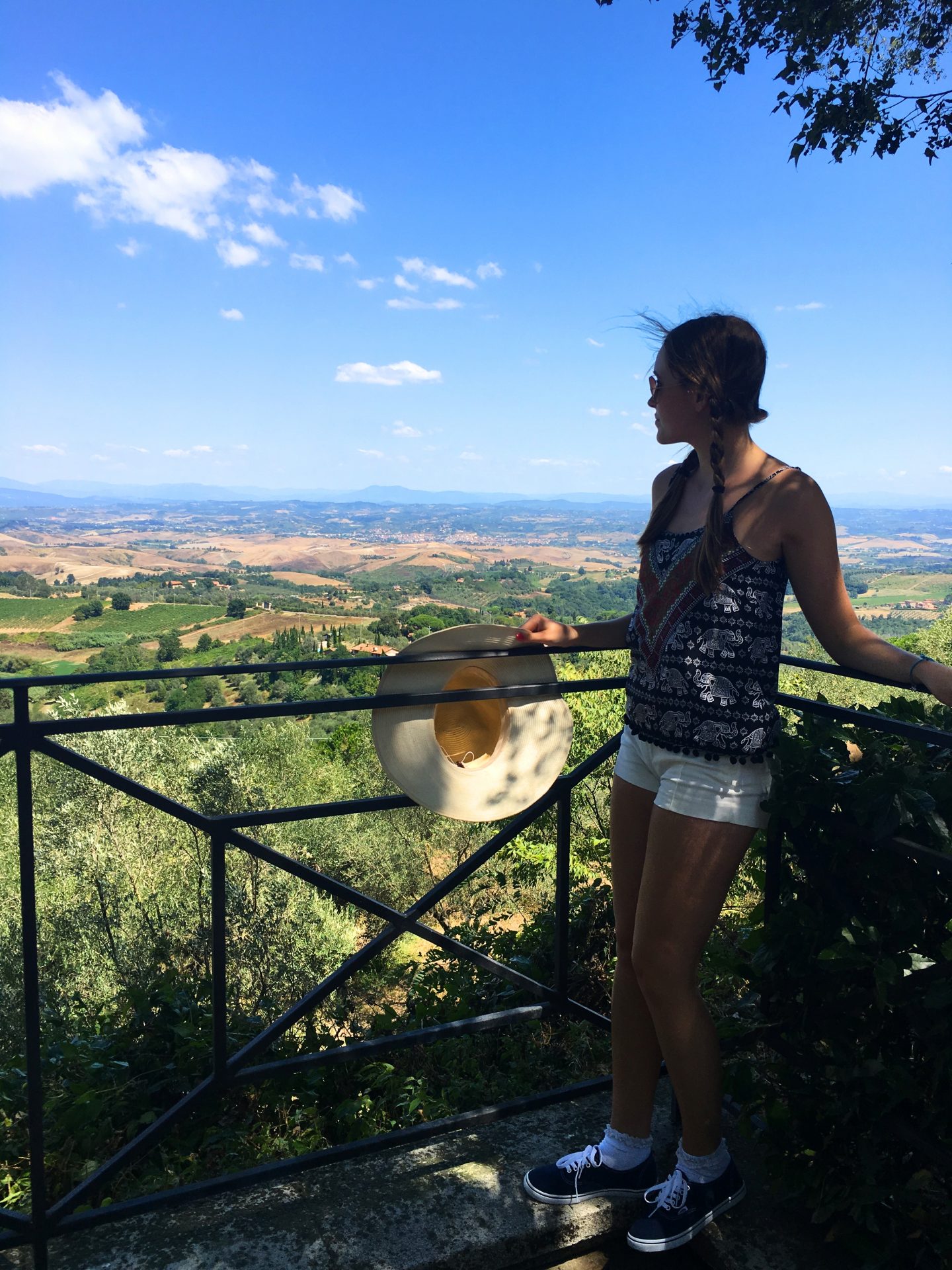 On a Friday morning, Montaione hosts its market day. Admittedly it was somewhat smaller and less extravagant than we were hoping, based on previous Eurpoean markets we have experienced. All the same, fresh ingredients were on offer and allowed the creation of a delicious lunch.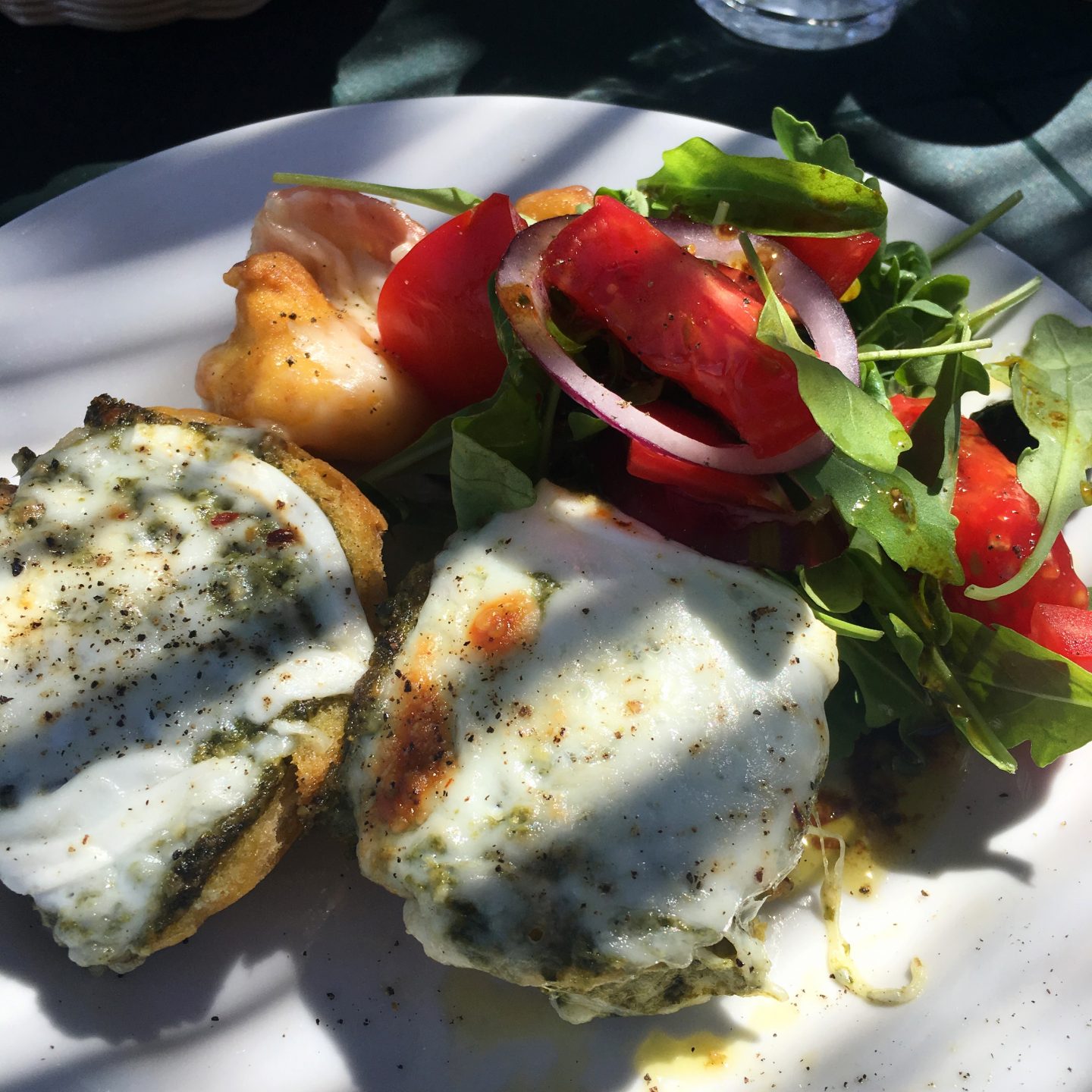 Homemade pesto, tomato, mozzarella bruschetta.
The food in Italy cannot be beaten in my opinion, and this goes for the raw ingredients as well as any meal you might order when out.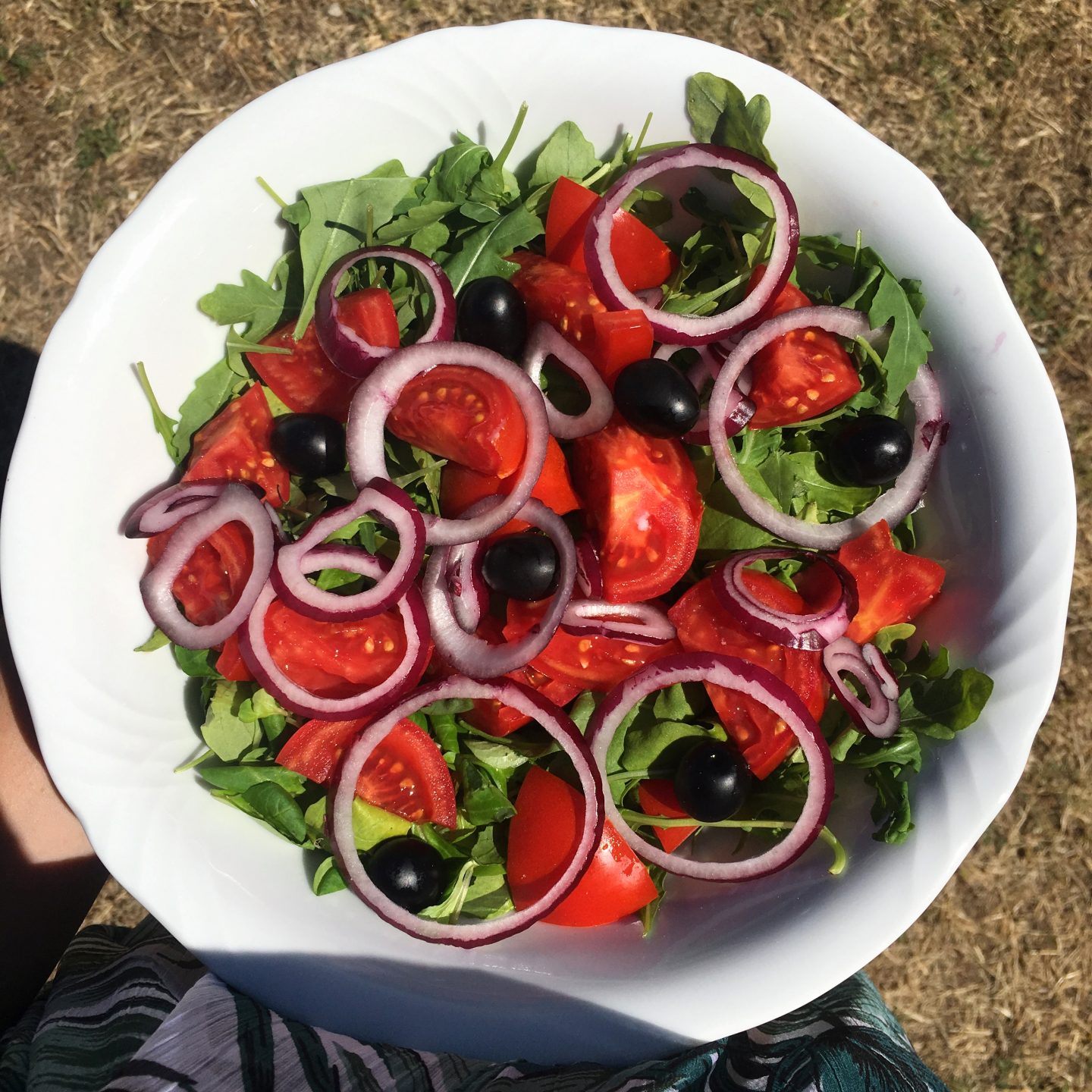 Being so surrounded by grape vines, it seemed only natural that we taste the local wine, Villa Pillo. It is possible to attend a wine tasting experience in Montaione, and this site appears to provide plenty of information on adventures to undertake and attractions to see in the area. However, it seems that a wine tasting/tour at Villa Pillo requires a booking in advance, and I am struggling to find much online about this… but Trip Advisor says its possible! We spent the week consuming this rich, but delicious rosé wine whilst admiring a view that we never tired of.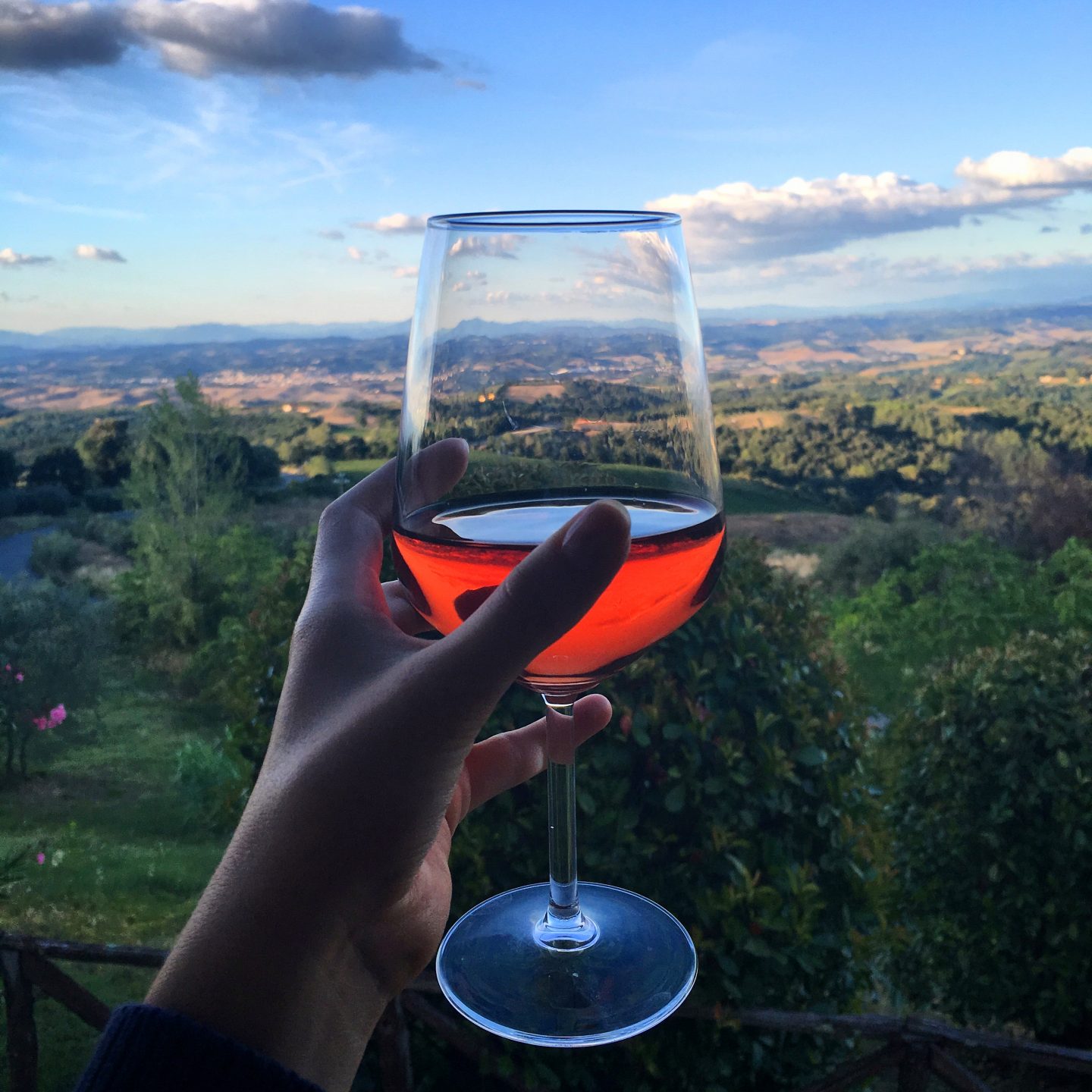 Having been drinking the local wine, we thought it only fitting to take a wonder through the surrounding area and explore its natural beauty. We got a little lost and struggled to follow the route signs, but it was a good opportunity for some much needed exercise… being so hilly, our calves and quads got a solid workout!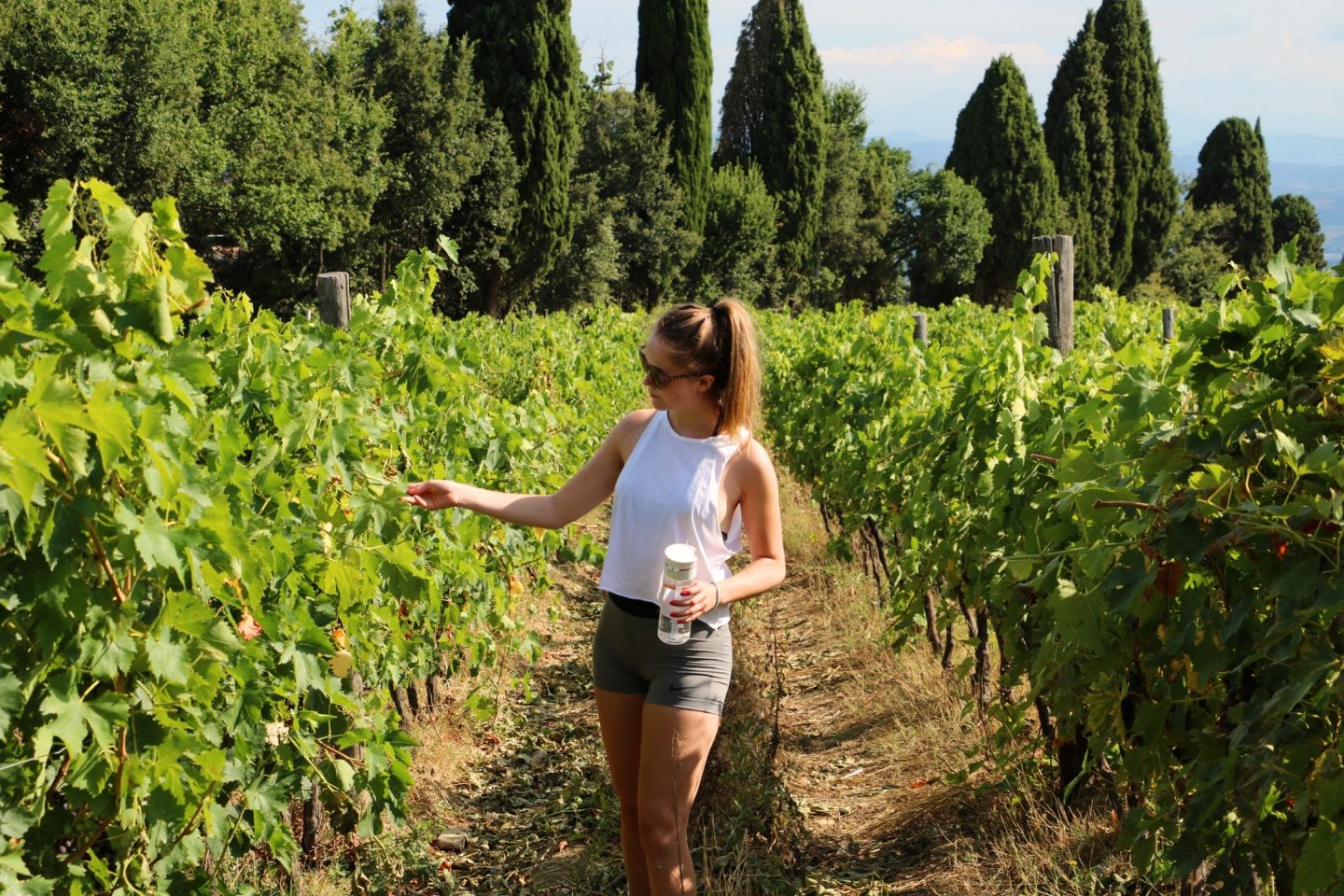 It was then back to the pool to cool off. If Tuscany is going to be your destination for a summer holiday, I cannot push enough the importance of a pool. Being pretty far away from the coast, there is no cool sea available to splash into when the heat becomes too extreme, so be sure to find a swimming pool that will provide the same facility! Having our own designated loungers made the typical summer ritual of tan in the sun, cool off in the water, dry in the sun, repeat, perfectly easy.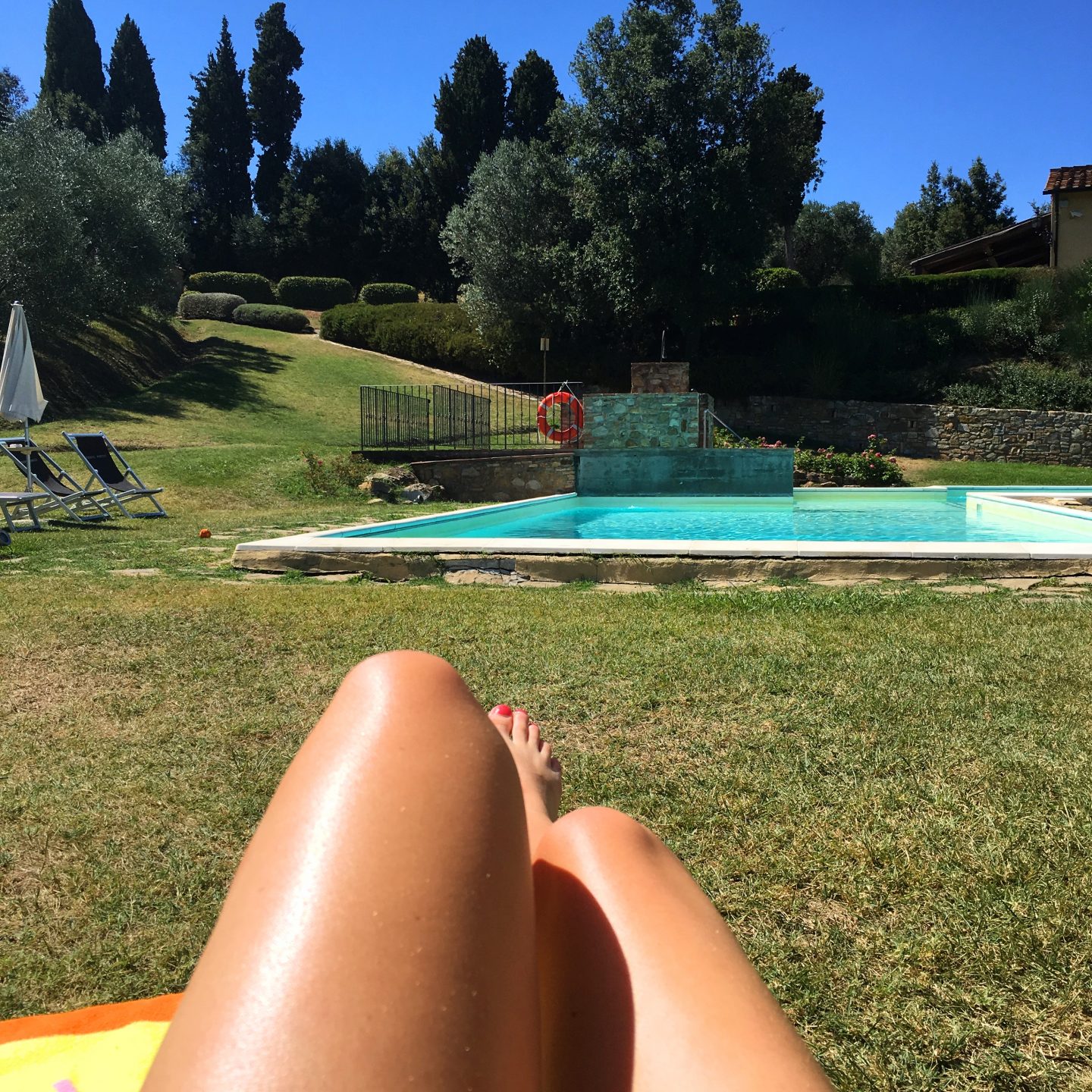 As with anywhere in Italy, Montaione offered its fair share of restaurants and pizzerias.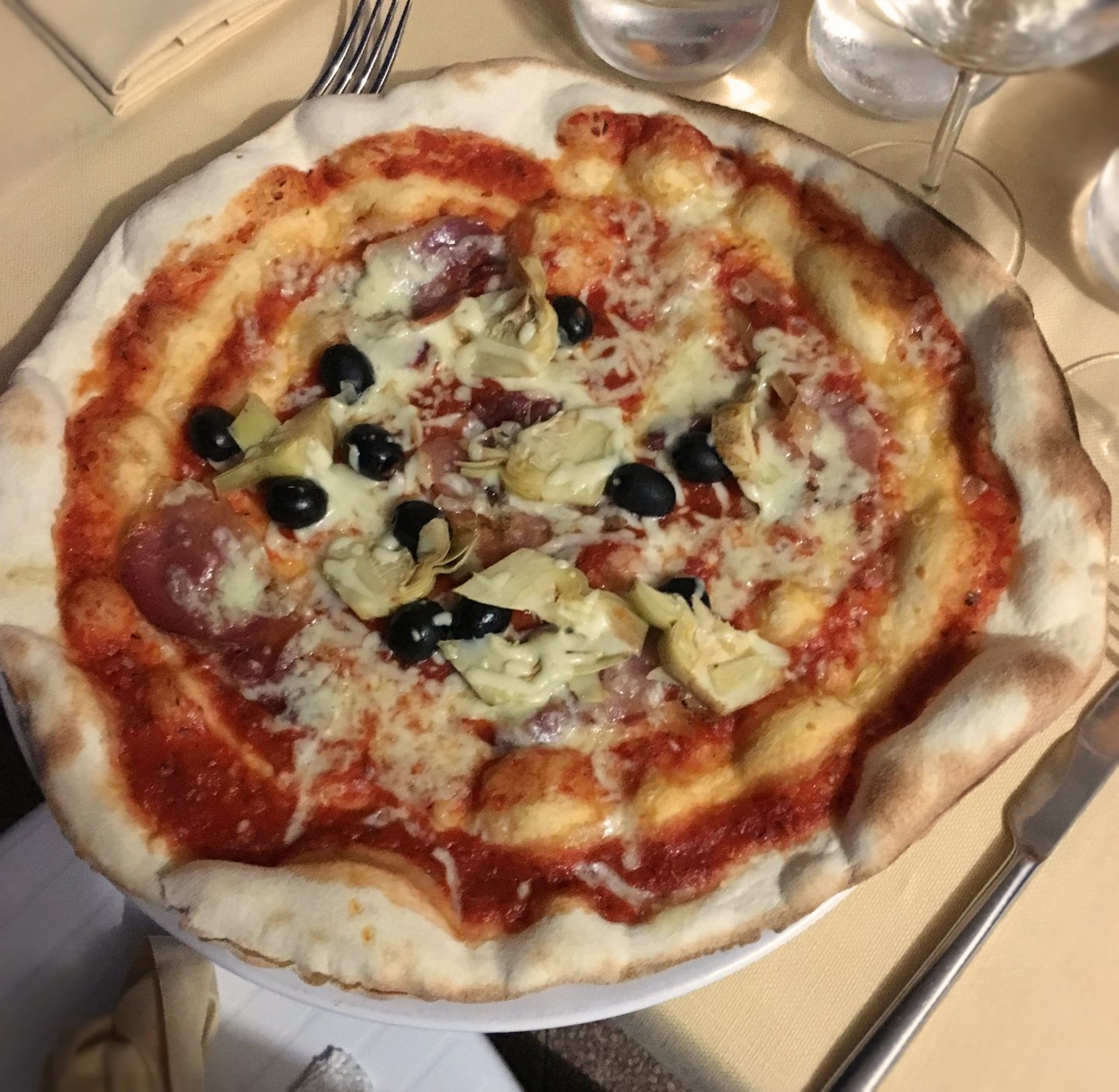 Personally I cannot understand the desire to eat at any other nationality restaurant, than Italian when in Italy… so Pizzeria's were our go-to dinner excursions. And we found ourselves a favourite that we ended up returning to on numerous occasions.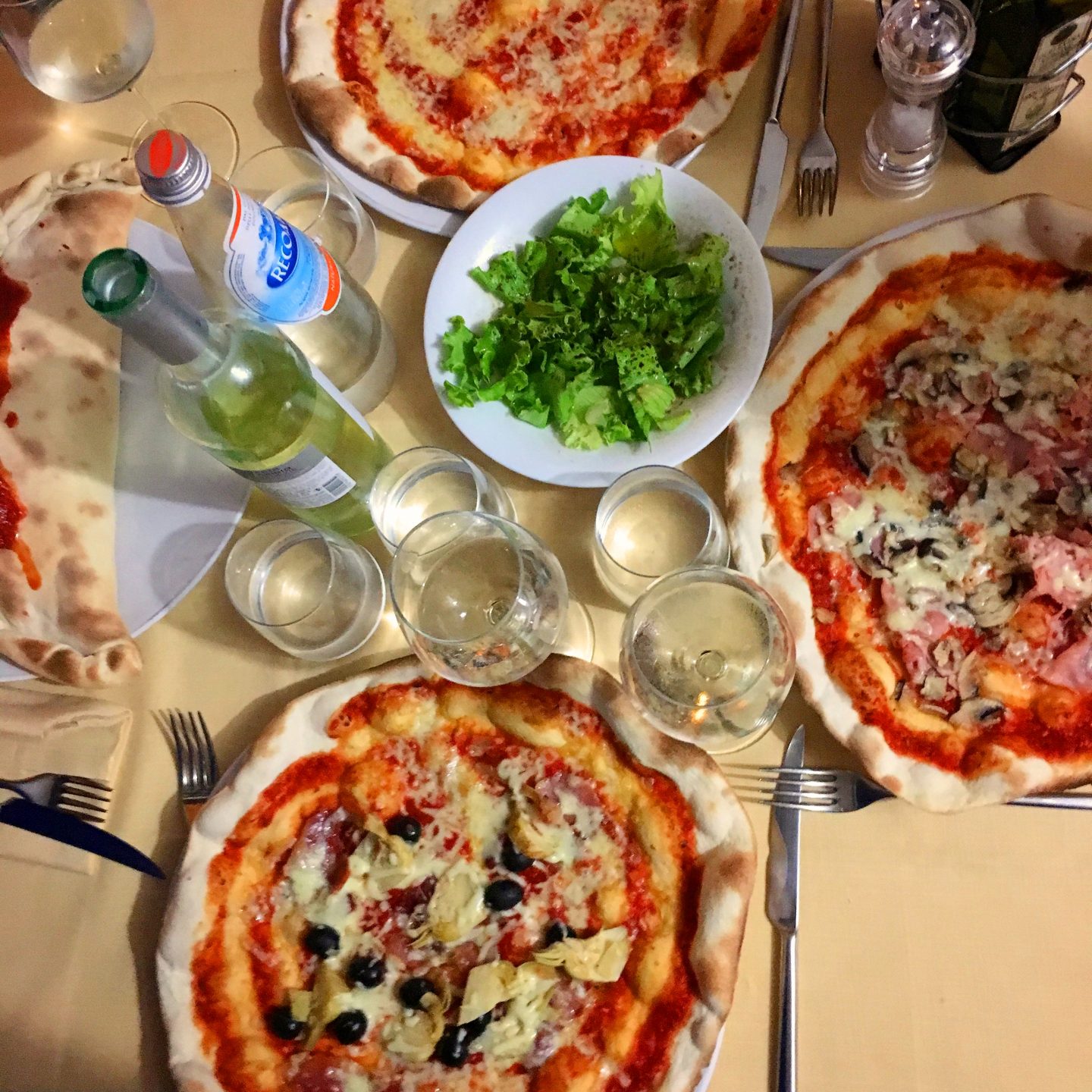 I'Ciampa offers a view over the city's wall, a cosy terrace and garden, friendly staff and an extensive Italian menu. While we all opted for pizzas, calzones or lasagnas, we still found amusement in the English translations of other options on offer…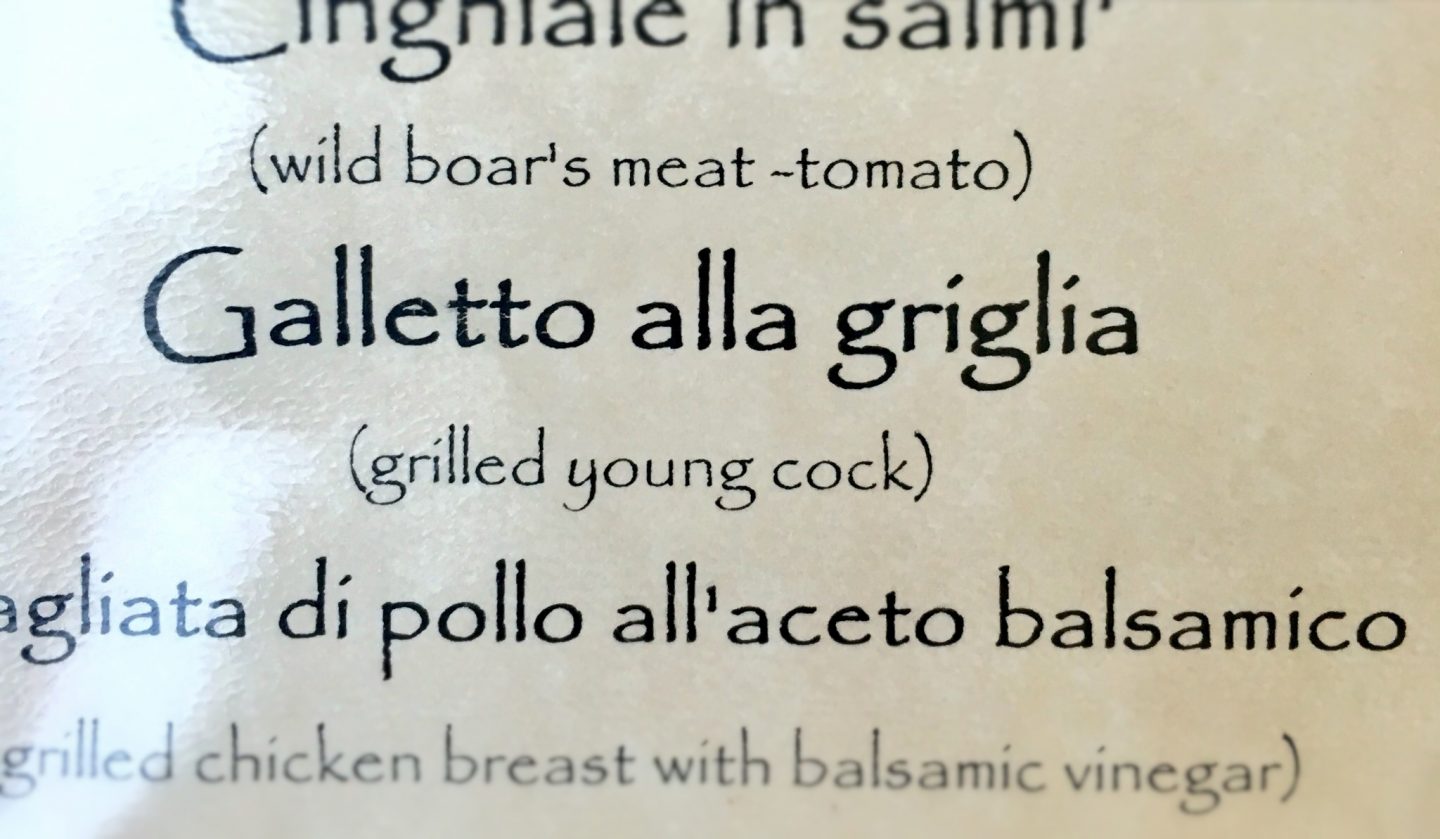 The bruschetta appetisers allowed a tasting sensation, a range of flavours in paste form and selection of delectable local meats.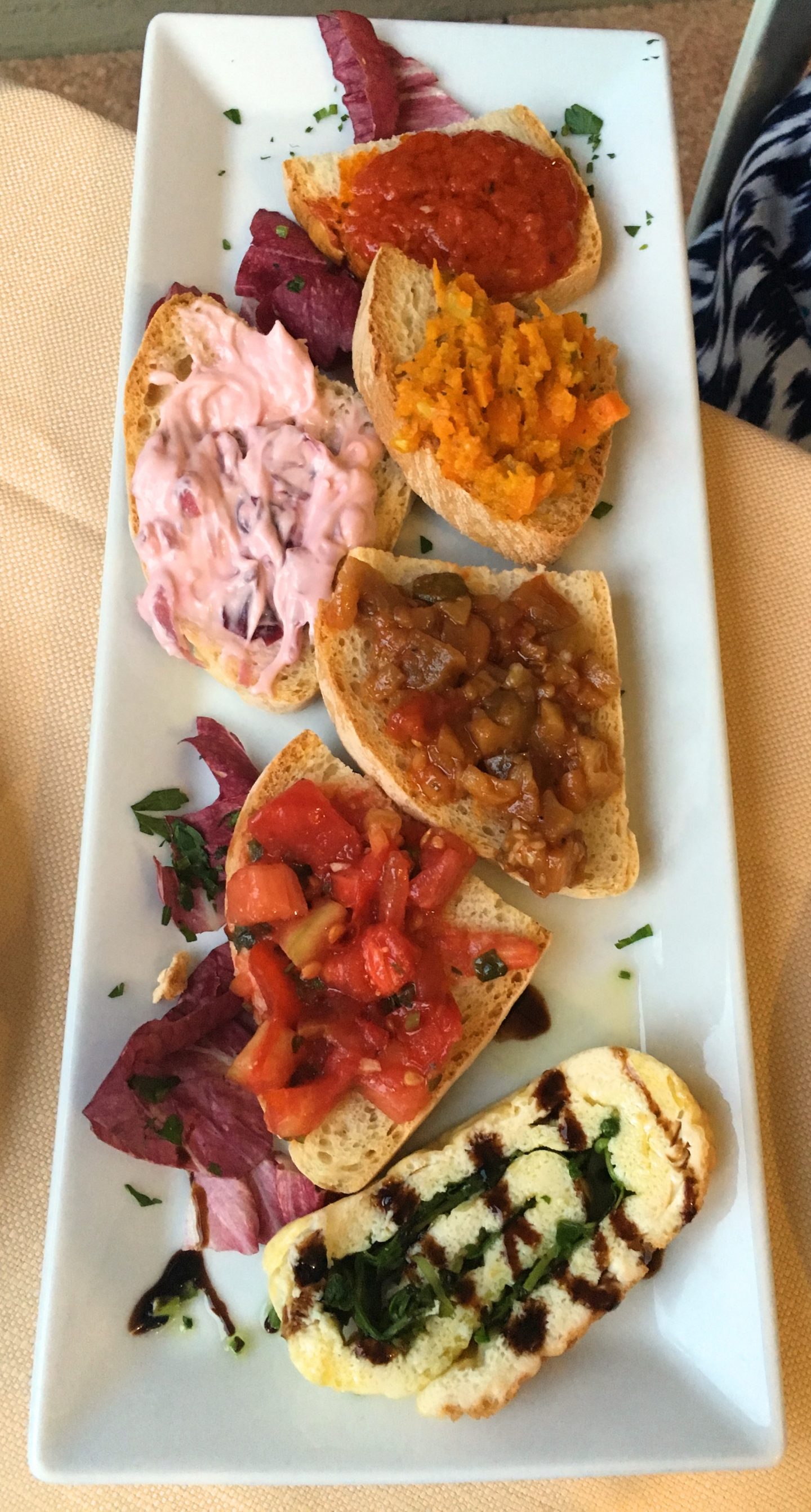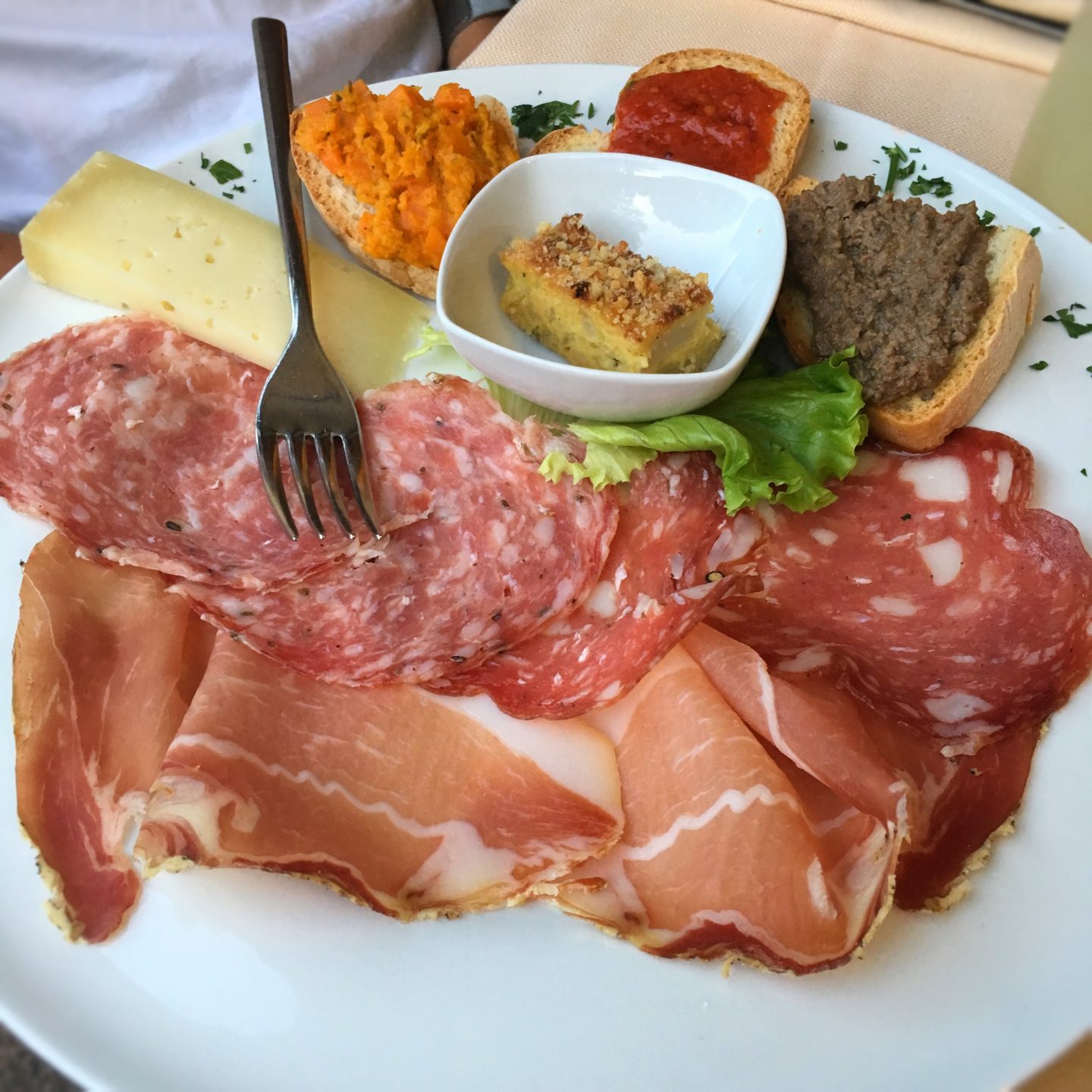 The wonderful thing about Montaione is that everything in the town is within walking distance from each other, so plenty of house wine was consumed prior to wandering back to our welcoming beds.
If you're looking for an area of Italy to explore, I cannot recommend the Tuscan region enough. what it lacks in beaches, it more than makes up for in dramatic tempests, natural hot springs, medieval culture, delicious food, local wine and powerful sun. Be sure to read my next post as I further push Montaione as the destination for your Tuscan 'base'. We covered so many destinations due to the centrality of this delightful town.