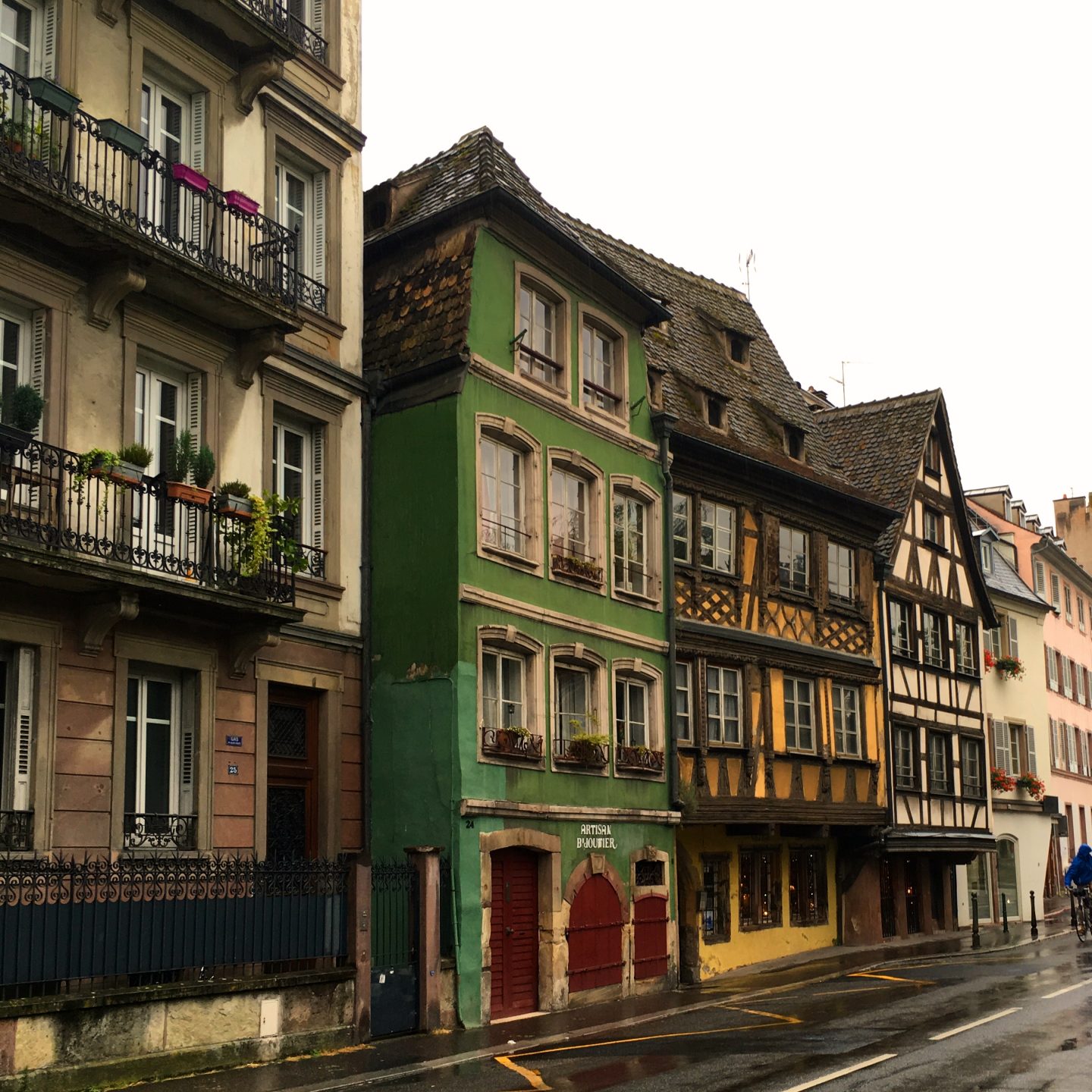 Reading Time:
4
minutes
I am just back from an incredible adventure, and am desperate to share it with you. Whilst the prospect of crossing continents and exploring exotic far-fetched lands is exciting; and ticking distant, glamorous countries off our bucket lists creates a massive sense of achievement- we needn't go to such extremes to discover new worlds. Europe is on our doorstep and is home to some truly magical scenes.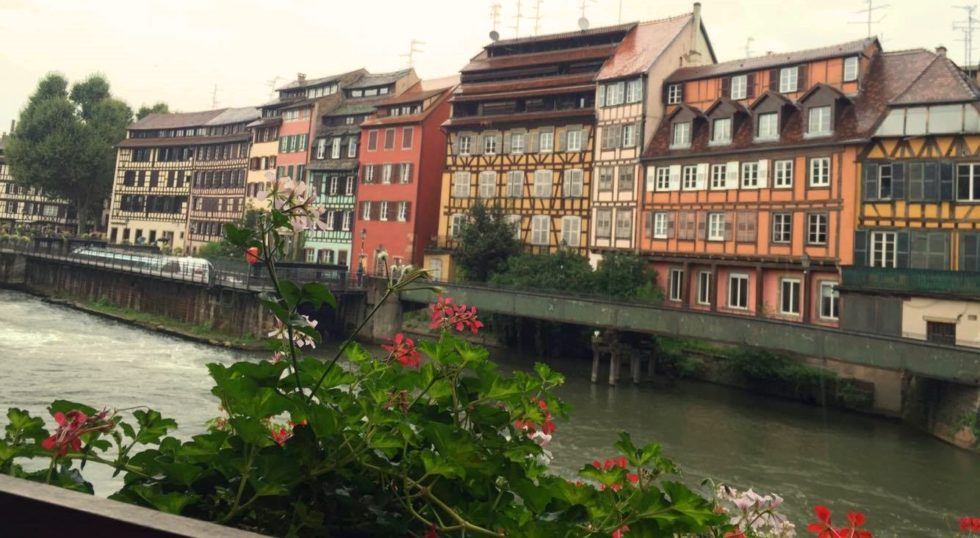 My use of the word 'scenes', is deliberate here, because Strasbourg (the first destination on our journey) honestly looks and feels like a set straight out of Hollywood. Think Beauty and the Beast's animated, picturesque village- just with more cars and fewer petticoats. While the buildings are real buildings and not two dimensional sets, the city did remind me of my adventures in Disney World, Florida.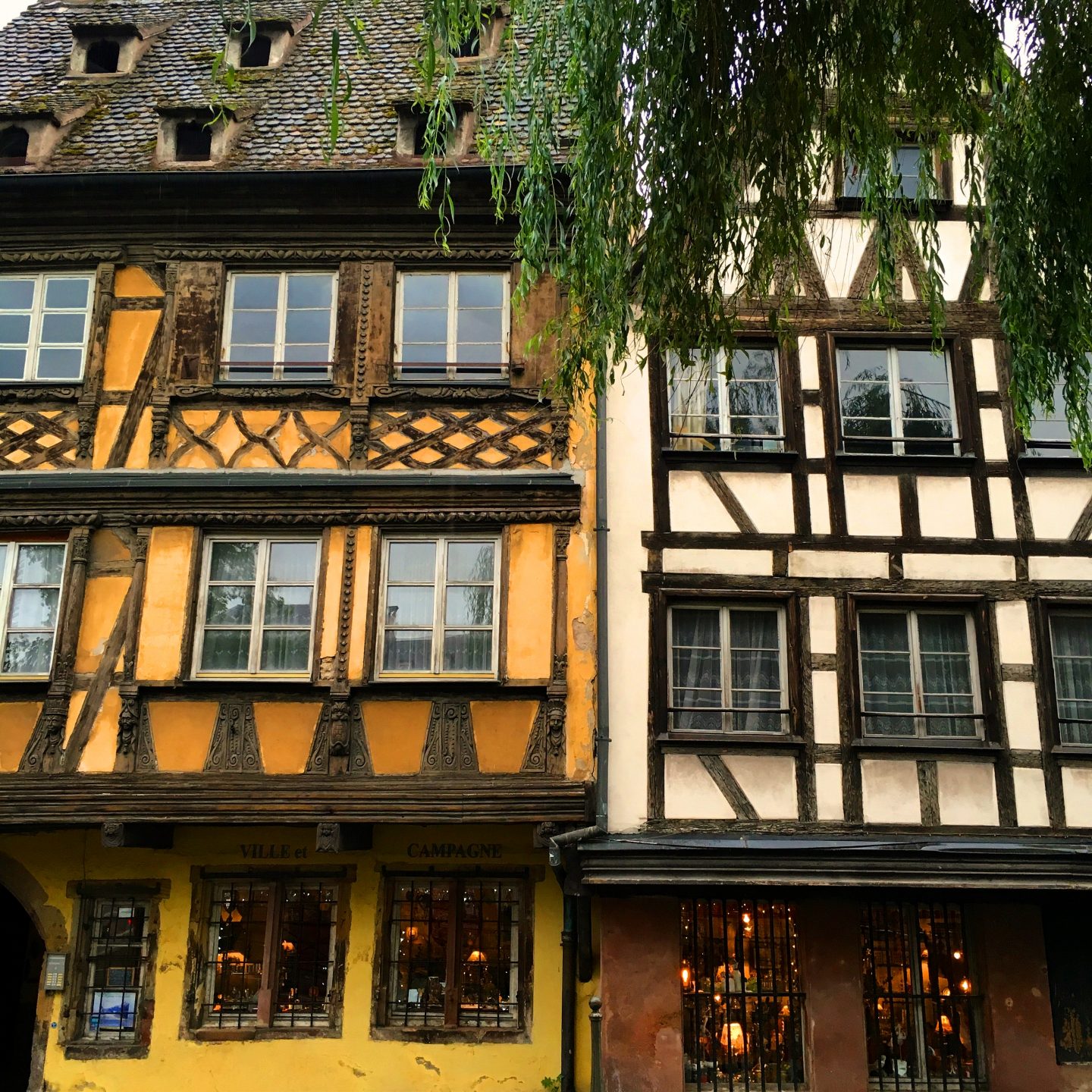 In fact, having commented on the uncanny resemblance of the city's centre with a Disney reproduction, I followed this up with a little research. I discovered that the artistic creators of Belle's home village drew on Alsace, France, for their inspiration. Strasbourg has been labelled the 'capital of Alsace', so no wonder I felt my inner-Disney Princess stirring!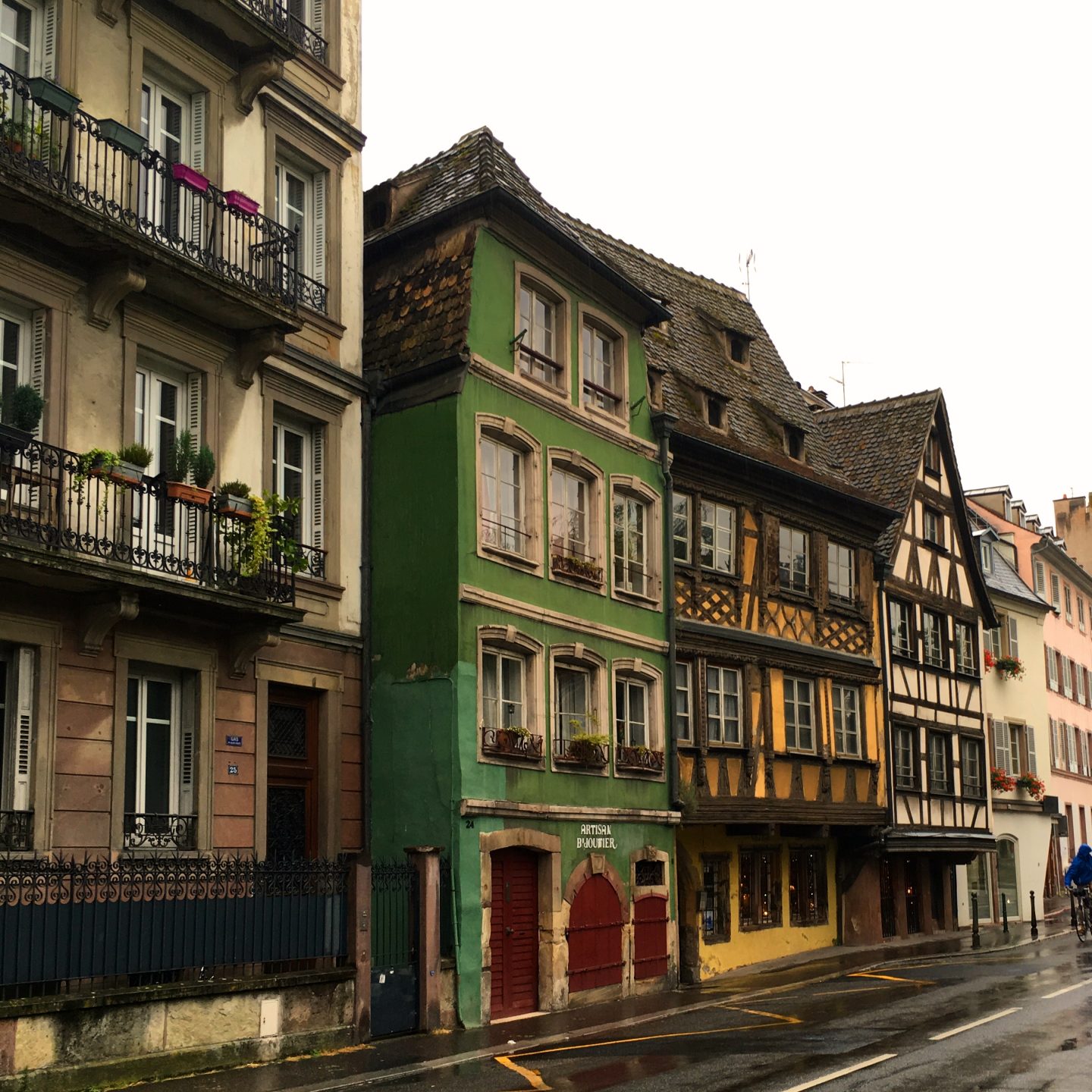 Making Strasbourg even more Brothers Grimm, was the ominously huge and dark cathedral that towered over its quaint centre. My mum (usually right on it with sense of direction) and I (never had any sense of direction anyway) got completely lost whilst exploring the city's numerous and mysterious back streets. However, the magnificent cathedral, with its spire disappearing into the clouds, provided a reliable landmark.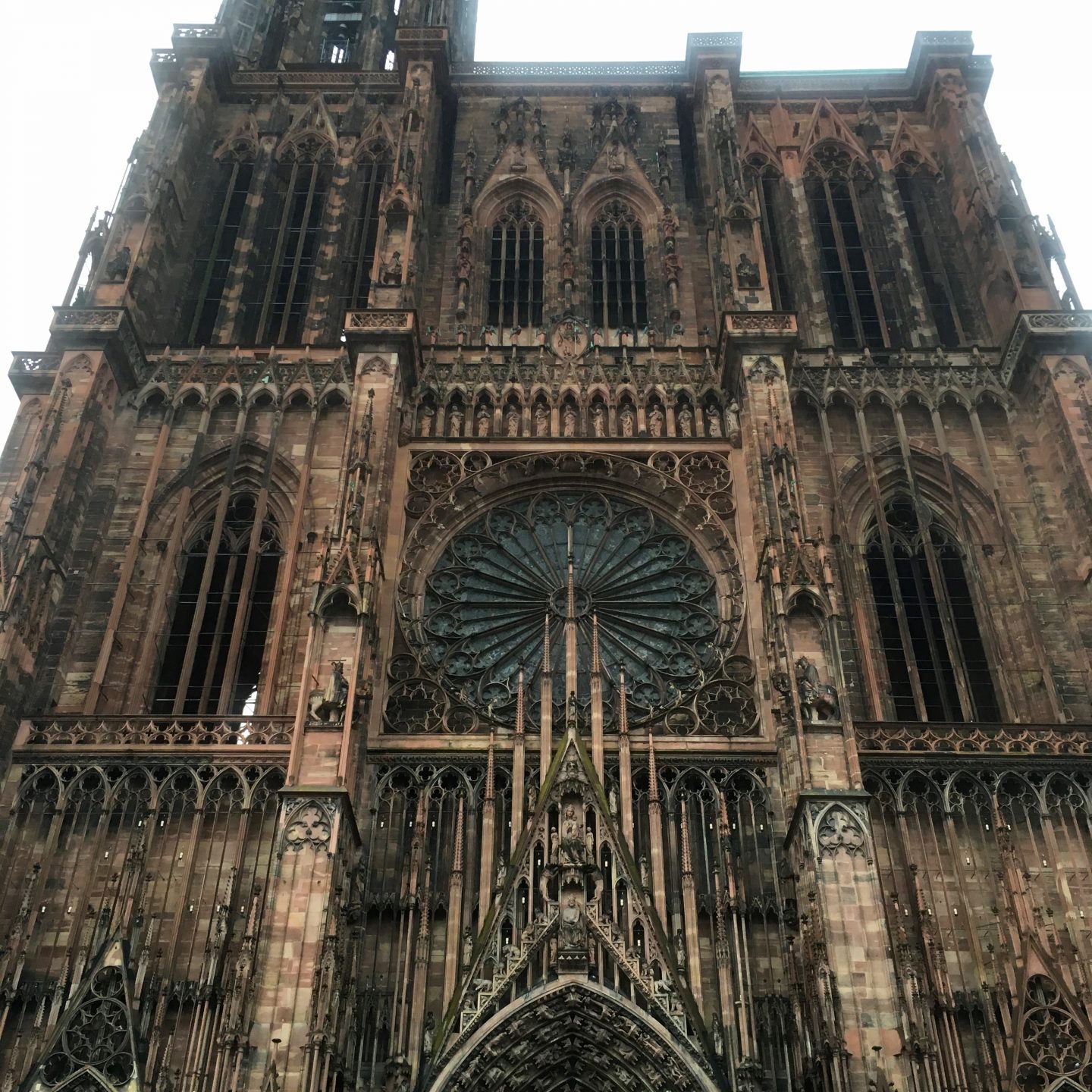 Admittedly, the 'spire disappearing into the clouds', may sound a little atmospheric, in actual fact it was utterly chucking it down while we were there, so the clouds were considerably lower than they may ordinarily be… but, it all added to the fairy tale effect, which I hope is coming across to you too.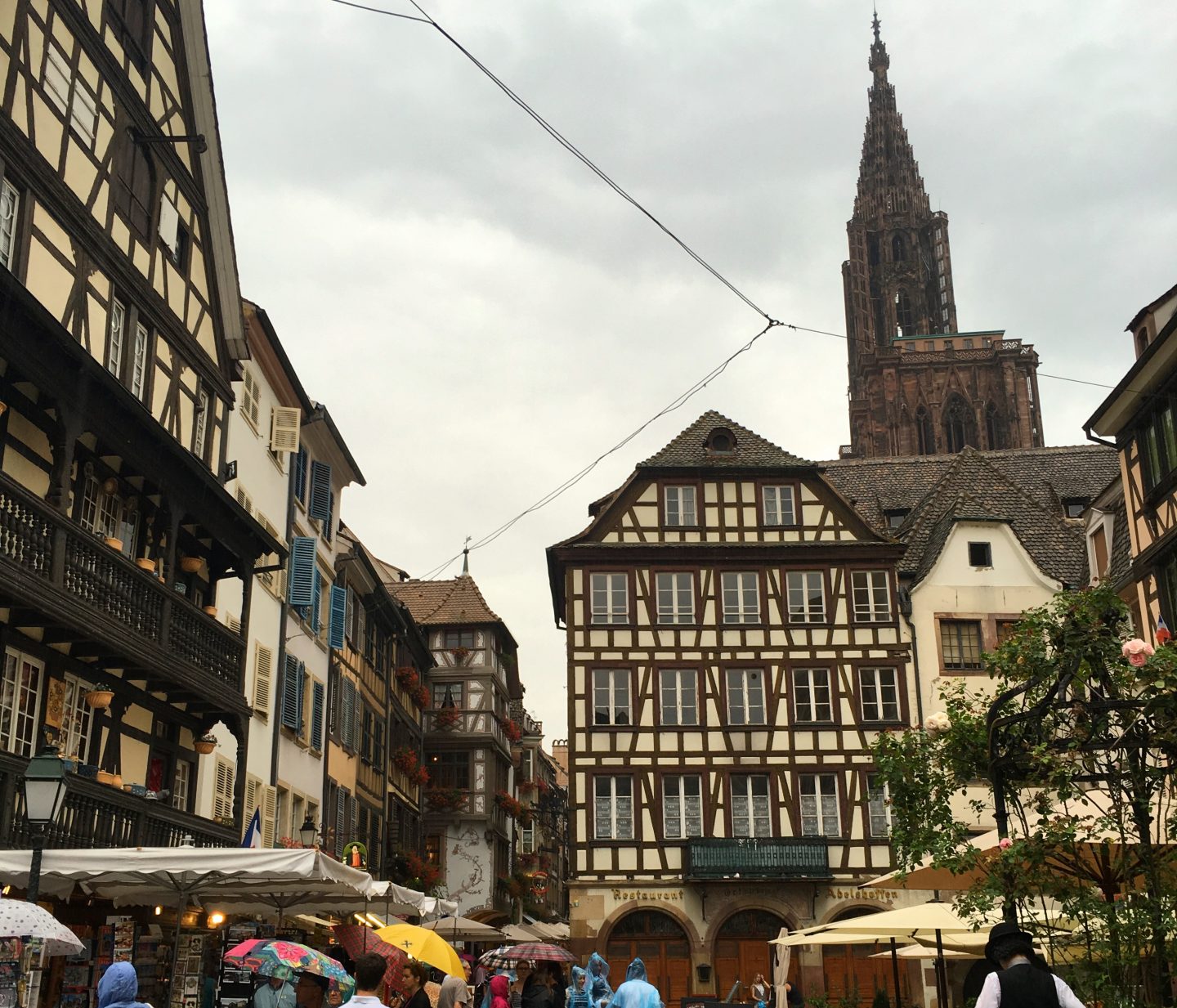 So as I say, the rain was torrential and we got extremely soggy very, very quickly. Drenched, actually.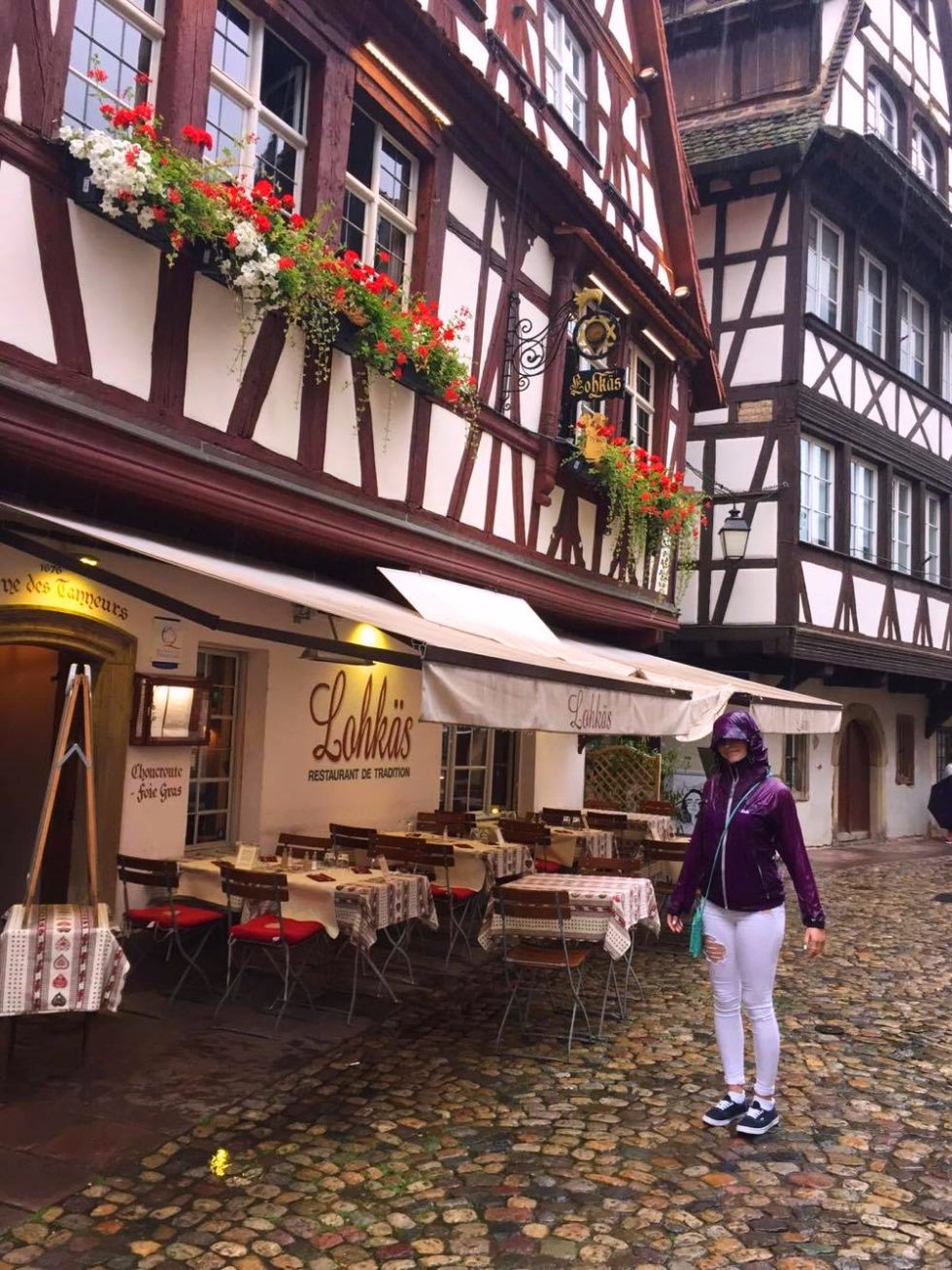 Scurrying through the city's Petite France district, we discovered a beautiful haven- Au Pont St Martin. At 5 pm, it was really too early for dinner, especially considering our body clocks were an hour behind anyway… but an early dinner on the river front was preferable by far, to further trudging through the rain.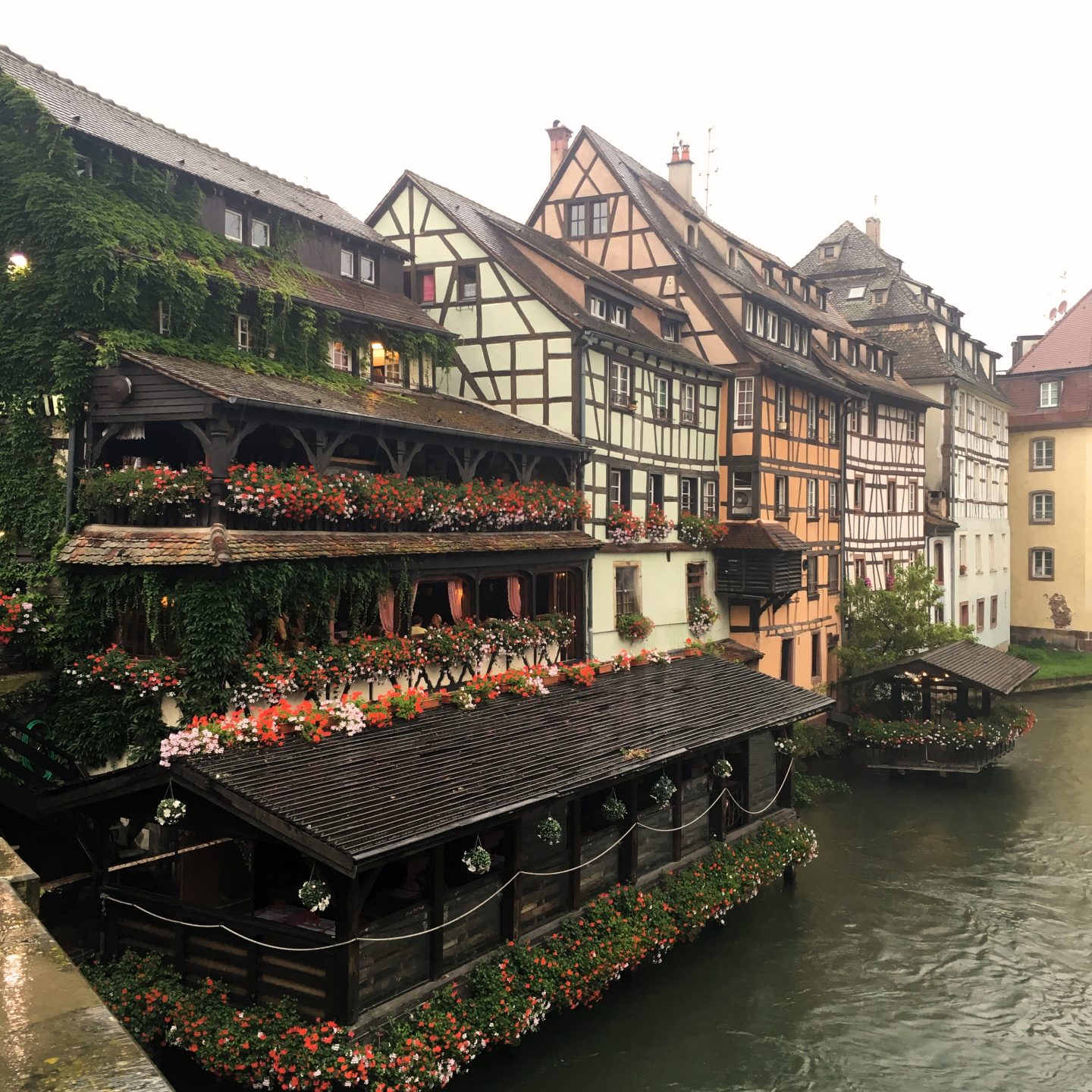 The food was nothing really to scream about, but still quite tasty, if a bit over-price. The location more than made up for it, with beautiful views over a flower-decked balcony onto a tributary of the Rhine and beyond to more fairy tale buildings. We had warmth, beauty and wine- all was well.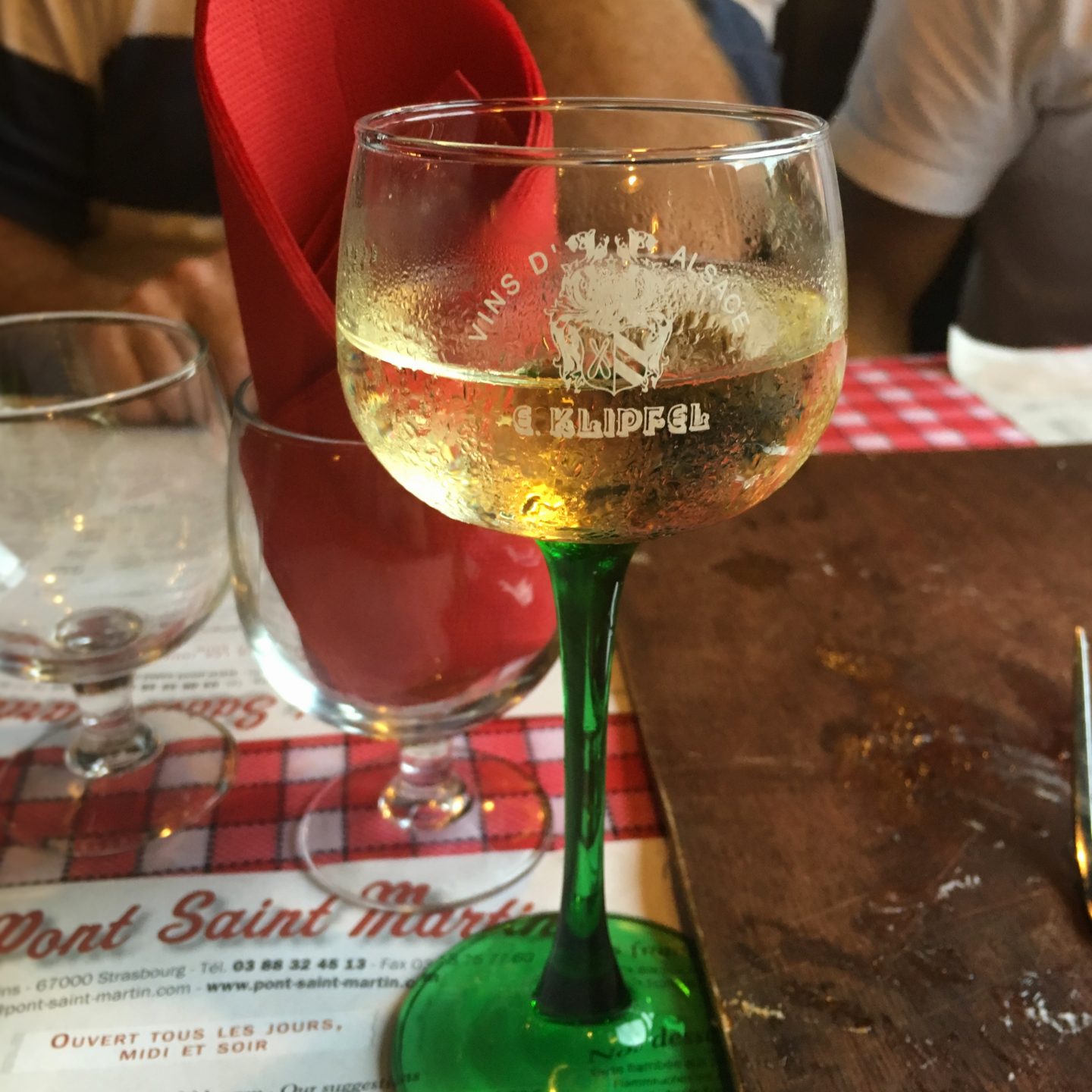 The next morning proved much drier and posed the opportunity to do some more pleasant exploring. But first, a little energy was needed since it had been so many long hours since our super early dinner. We made our way toward the ominous cathedral (whose spire was now in full view), and chose to eat at the first restaurant that had crepes on the menu. Obviously.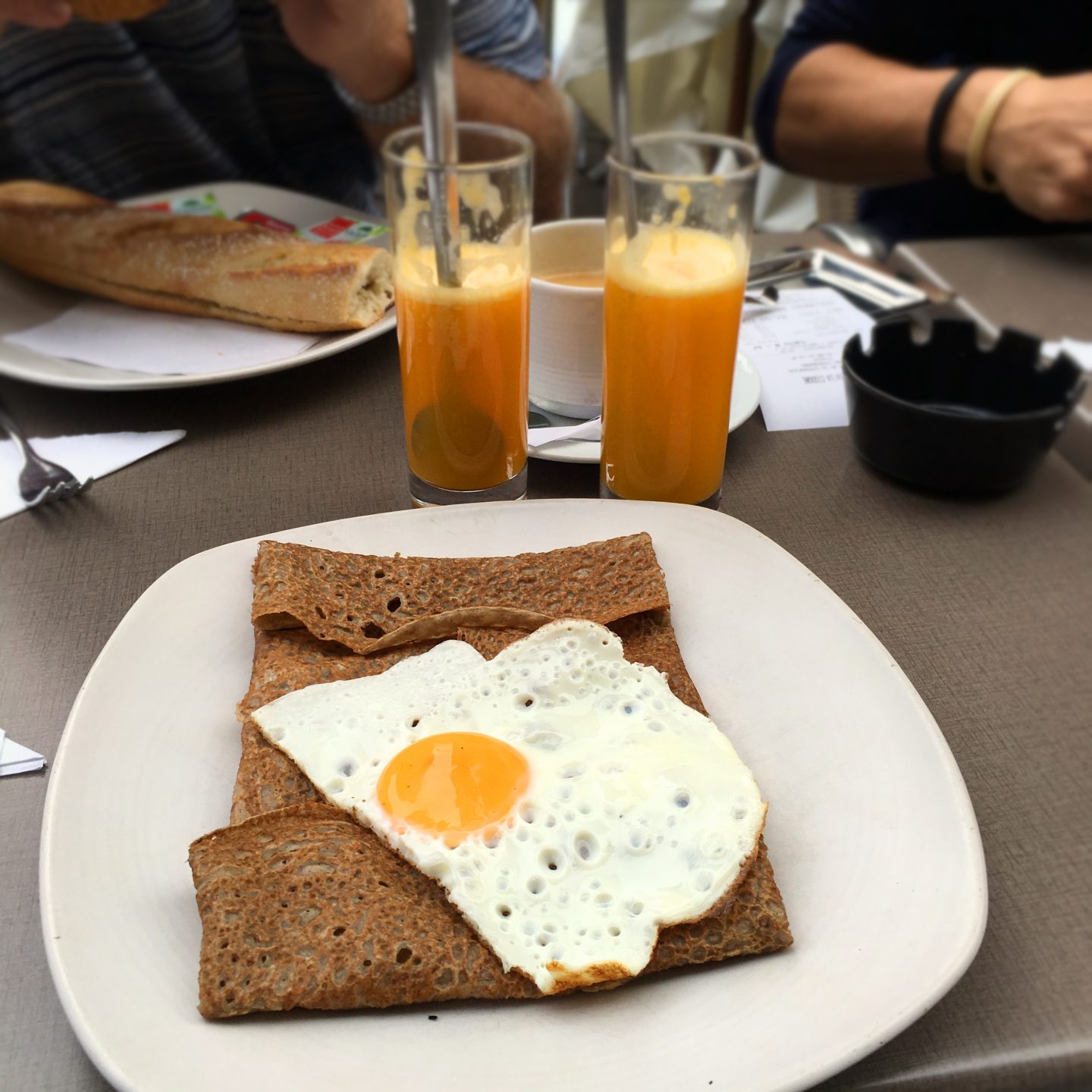 Any restaurant in the same square as the cathedral is going to be more expensive than those a few streets back, but you are paying to be in the presence of this extraordinary piece of architecture. And a presence it most certainly has.
We then continued exploring Petite France and beyond, and happened upon a real gem of a chocolate shop, Christian. The window display offered up a beautiful plate of chocolate conker truffles. These not only looked out of this world, but were also massive and tasted heavenly- we would know, having spoilt ourselves on treats from this shop!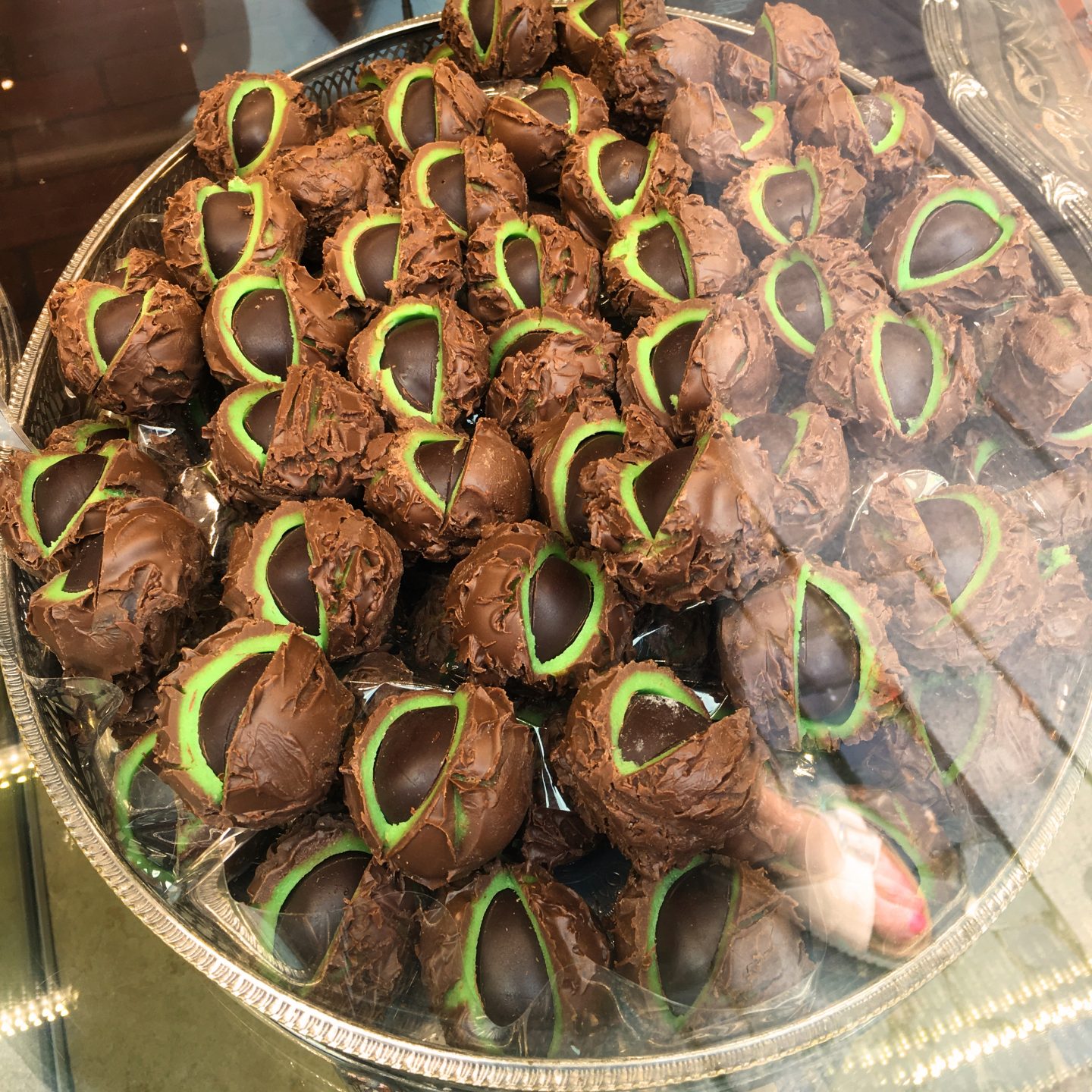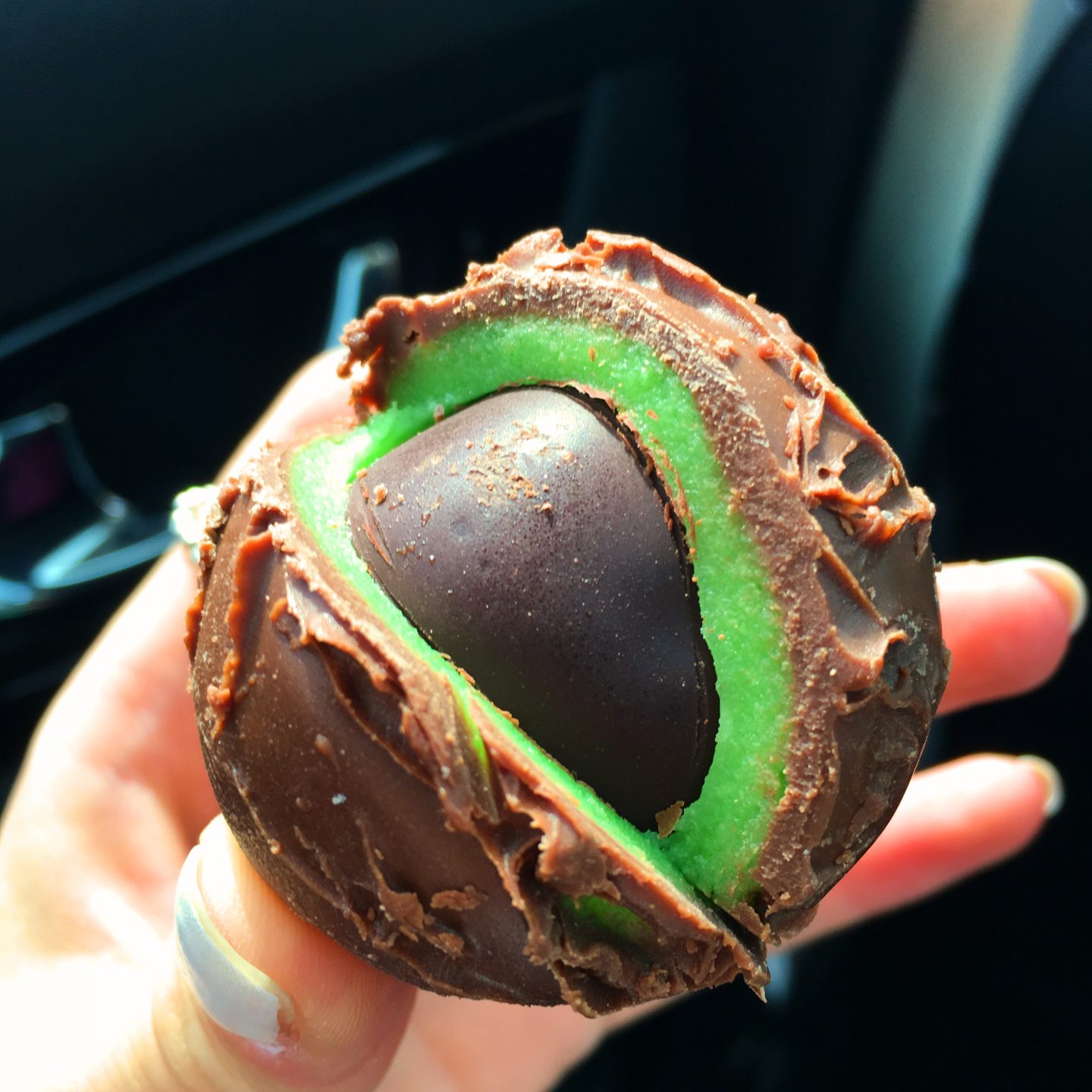 Inside I found the most gorgeous pick 'n mix-type setup I have ever seen- a curved chest of small drawers, complete with gold leaf, glimmering pinks and bronzed labels.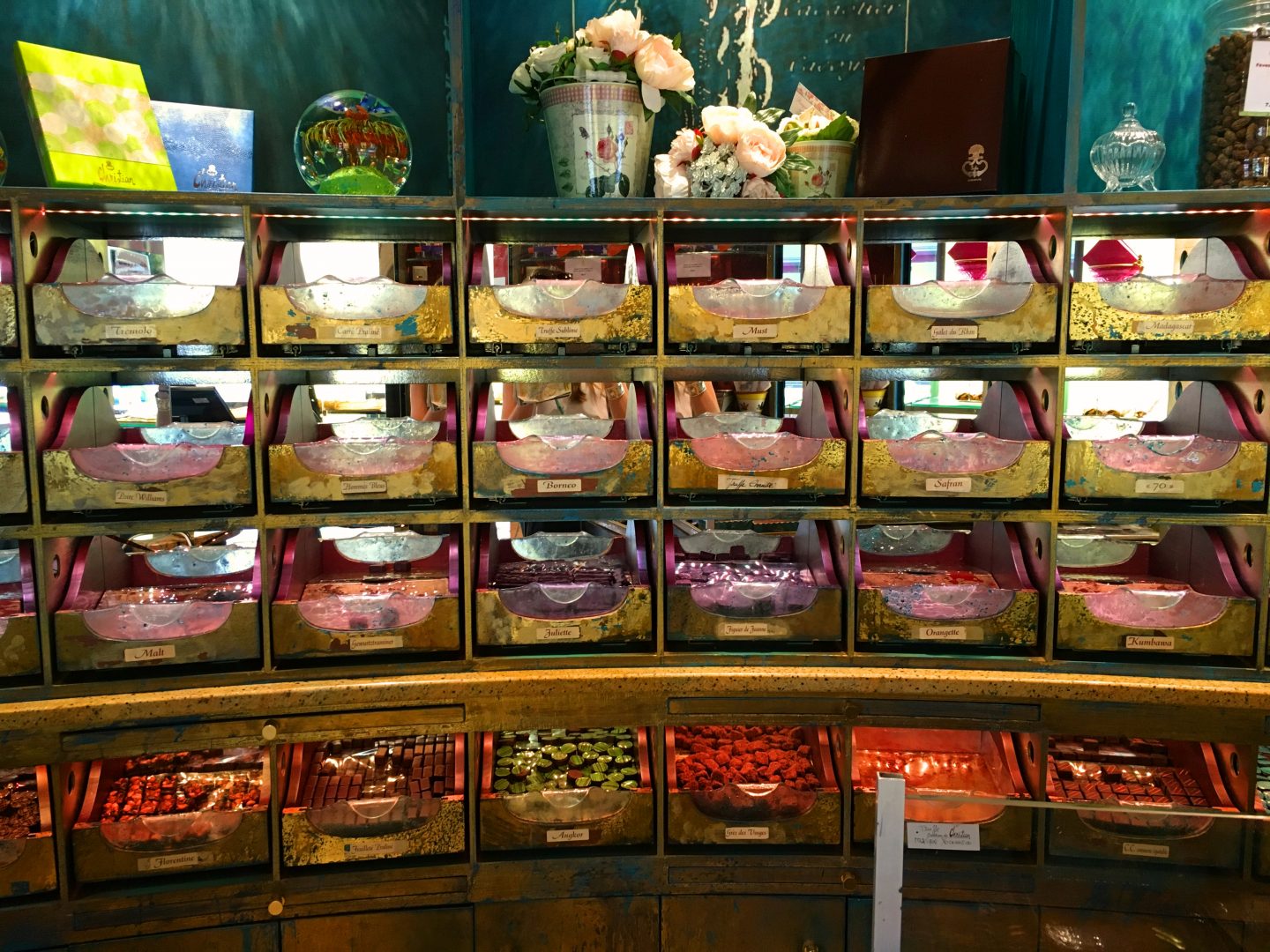 With all its magical-looking architecture, Strasbourg really makes an effort to make the contents of such buildings look equally alluring. The window displays of its numerous fashion, boutique and food shops are works of art. Particularly the patisseries!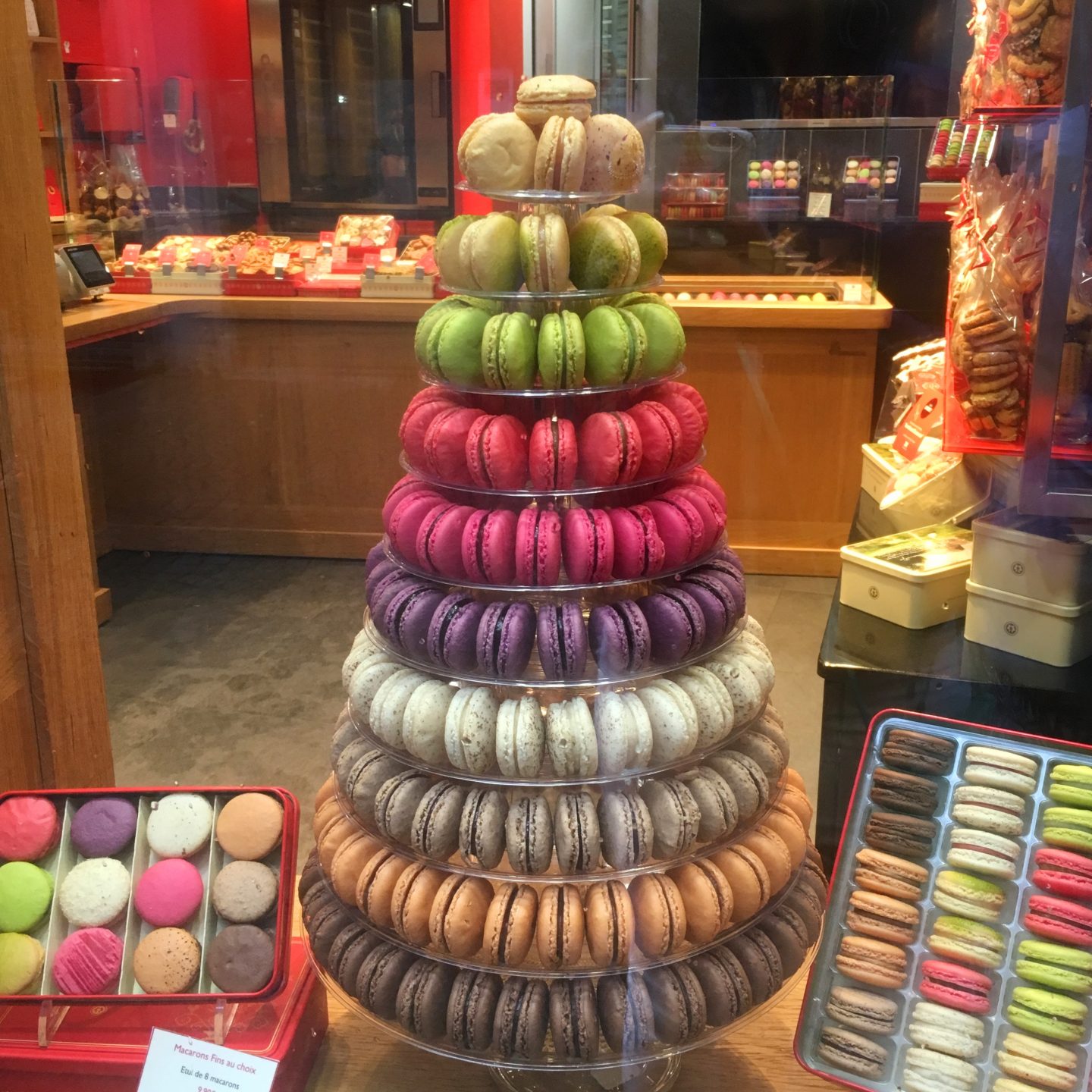 So, whether you're a Disney lover, chocolate enthusiast, culture vulture or simply an explorer looking for new worlds and exciting destinations, Strasbourg should be on your must visit list! As ever, I recommend Lonely Planet as the next place to continue your research.