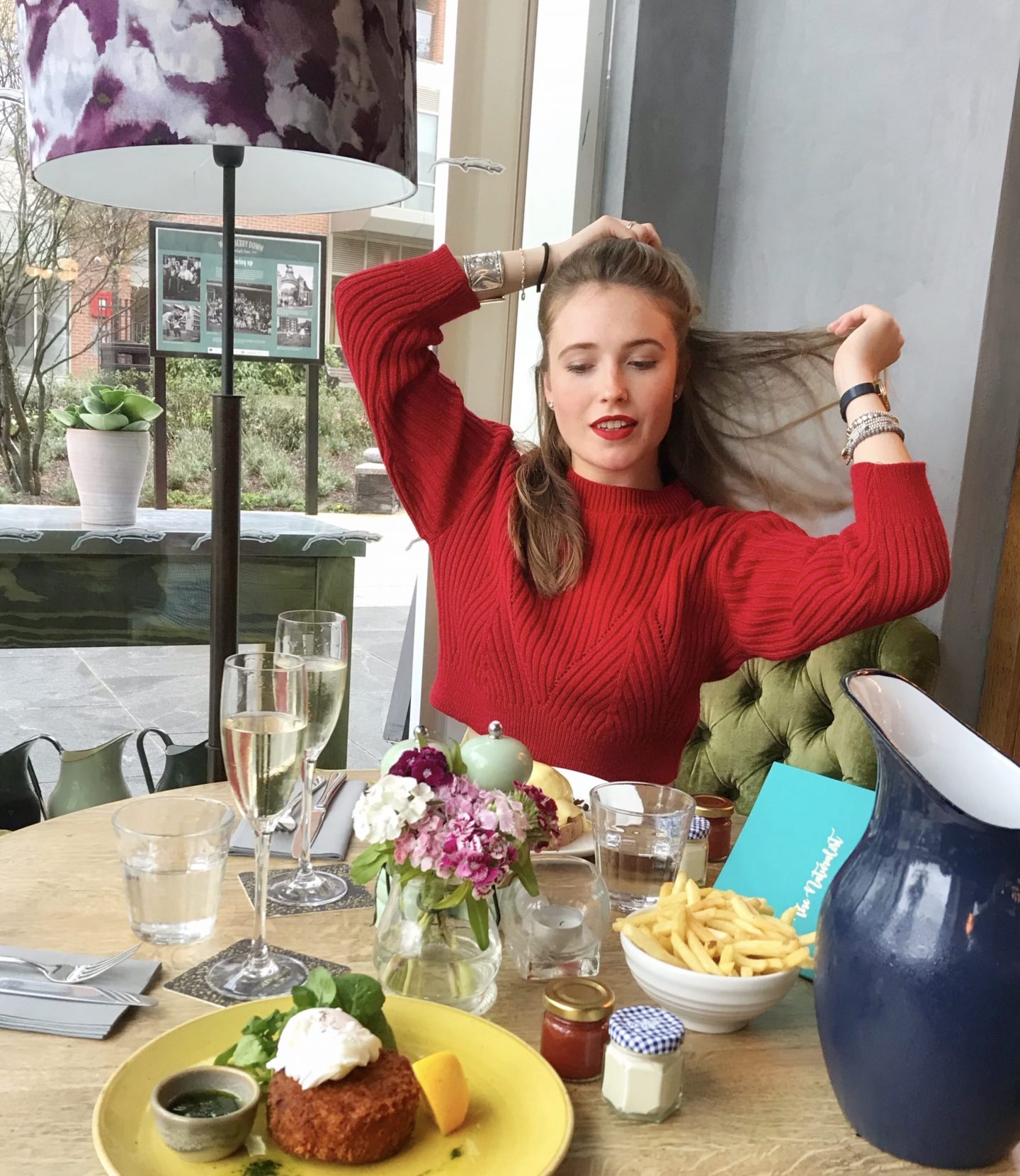 Reading Time:
3
minutes
Time for a new brunch series… this time in London. I have covered a few places previously, in my 'Most Instagrammable Cafes in West London' post, but now that I'm based in the big city, I've decided to spread my brunching wings and find the quickest, prettiest and yummiest spots in London to share with you all.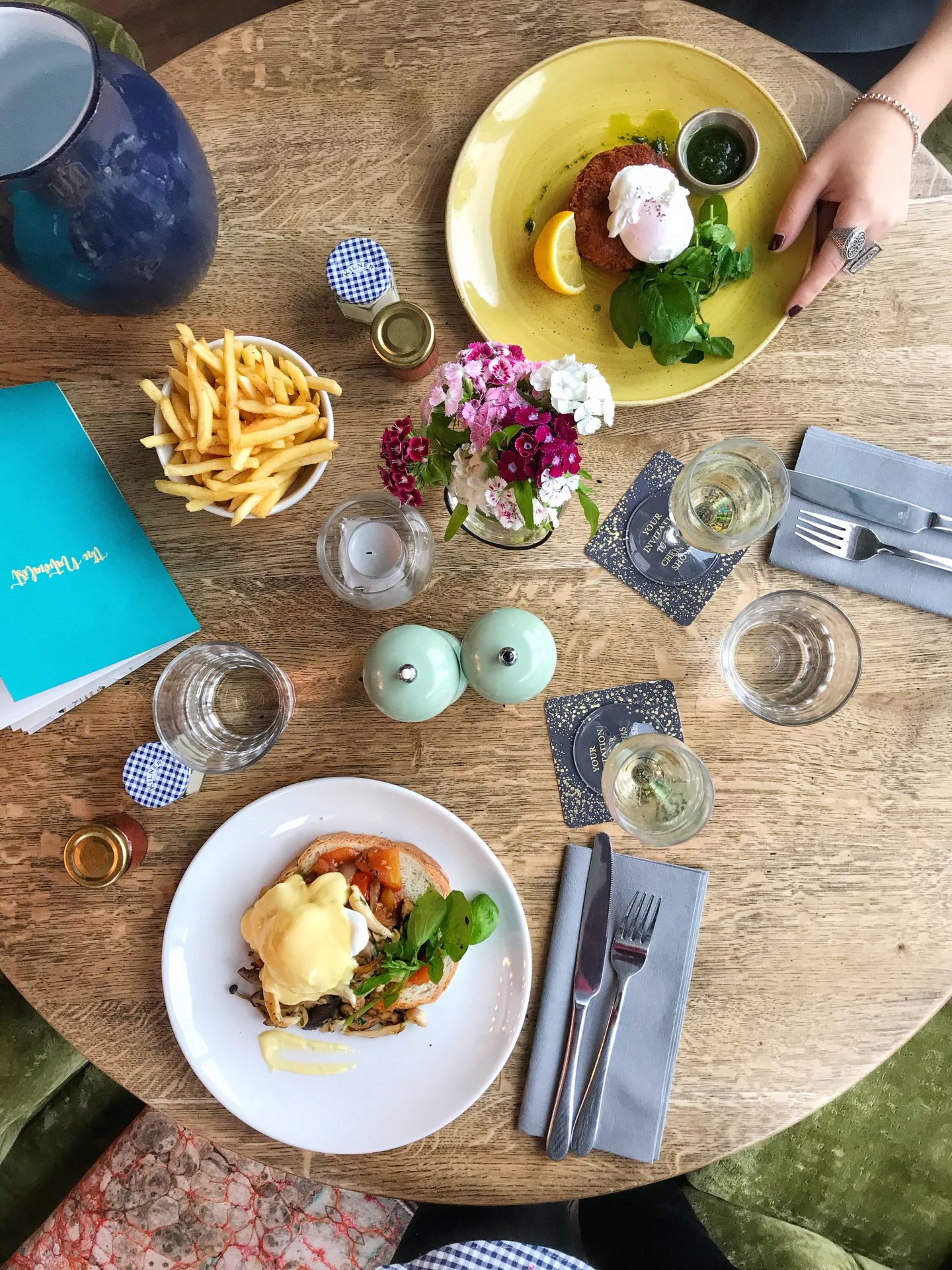 So, first stop, The Naturalist in Manor House, Hackney. This is a brand new pub with a colourful interior and an excitingly diversified pub menu. It's a real gem and worth a visit ASAP whilst it still looks spanking new.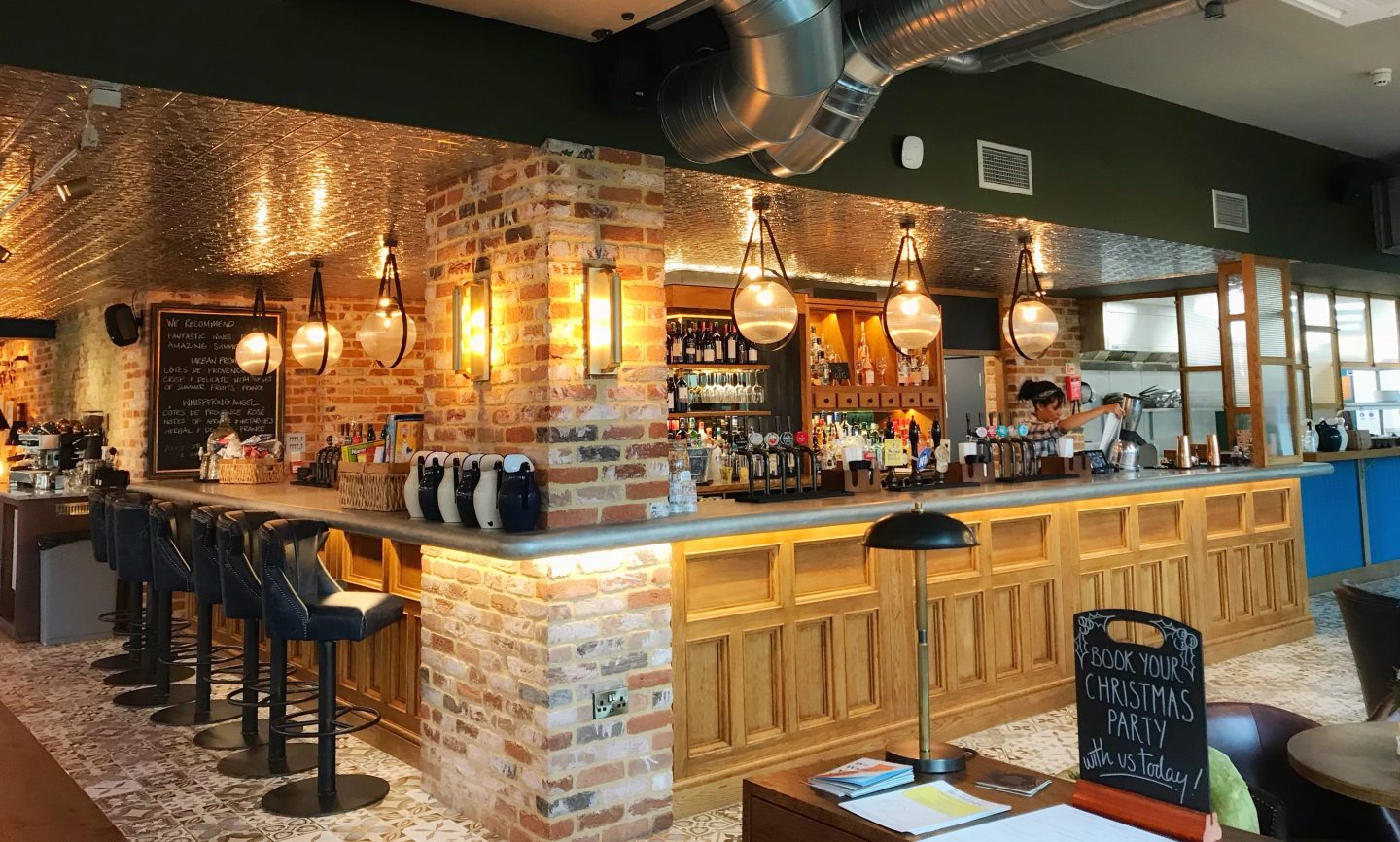 The Naturalist very kindly invited my housemate and I to try their all day brunch menu (an offer we, of course, lept at… is there any better gift than a hearty meal!?) So we made our way over to Manor House, an area in the northwest of Hackney, and approached the stylish facade of The Naturalist.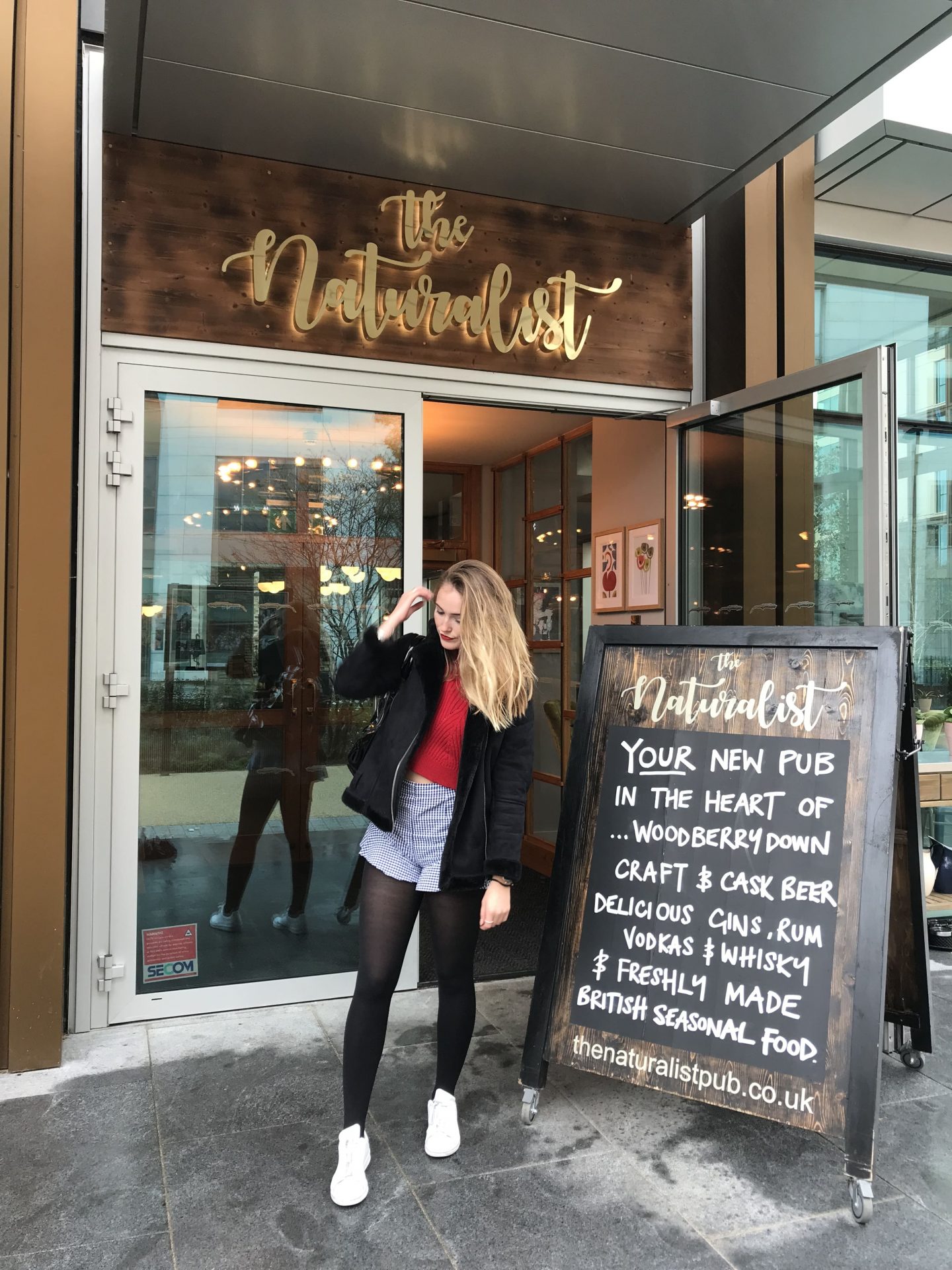 I want to take a minute to appreciate the interior of this place… OMG Instagrammableeeee! Every attention to detail has been paid, from exposed brick walls dressed up with paintwork, plush velvet in every colour, a shiny chrome ceiling to peppermint coloured salt and pepper grinders. This place is honestly gorgeous, and super quirky. Oh, and it's also filled with daylight… which those of you keen on 'gramming your food will know is a big old plus.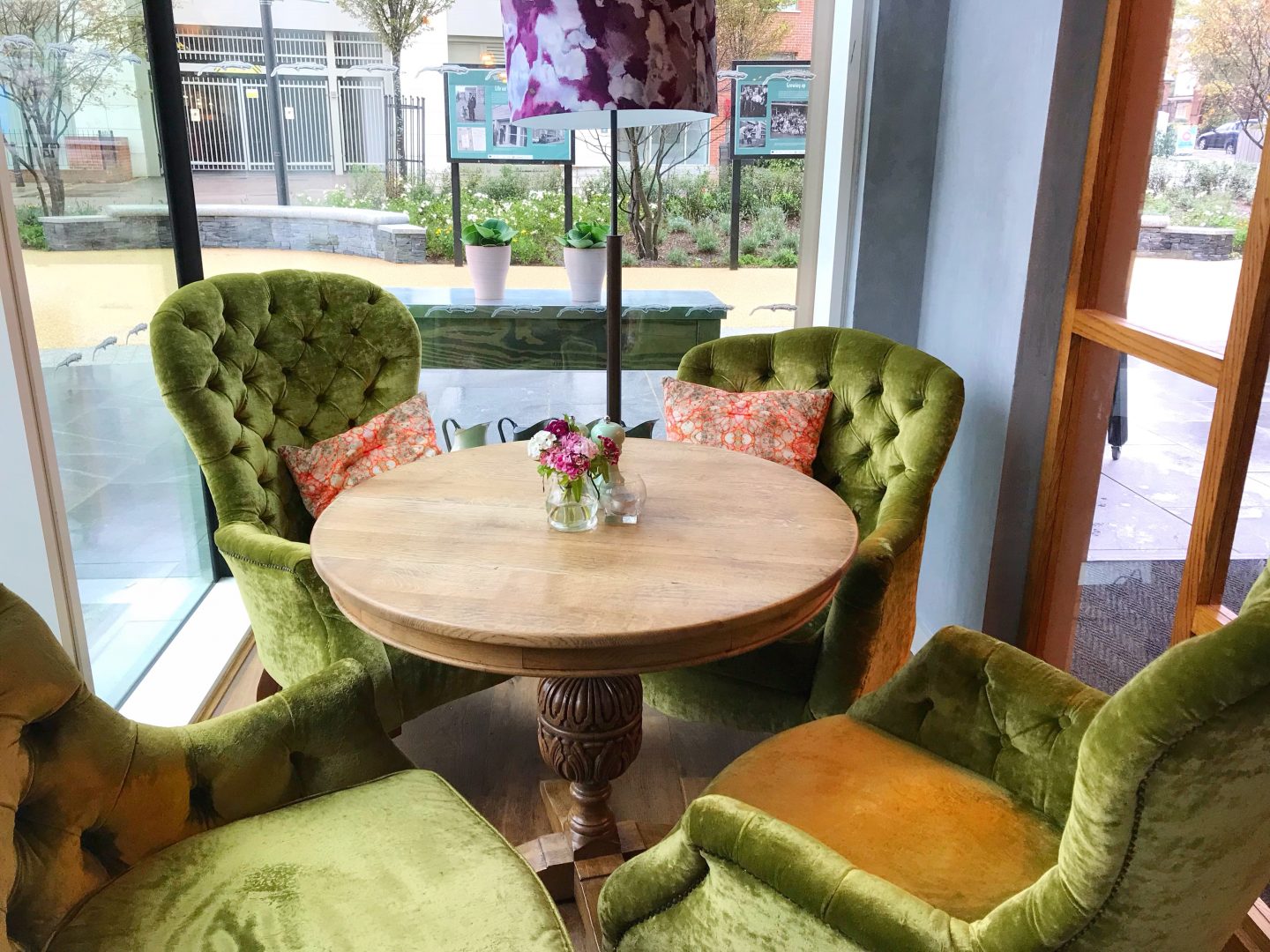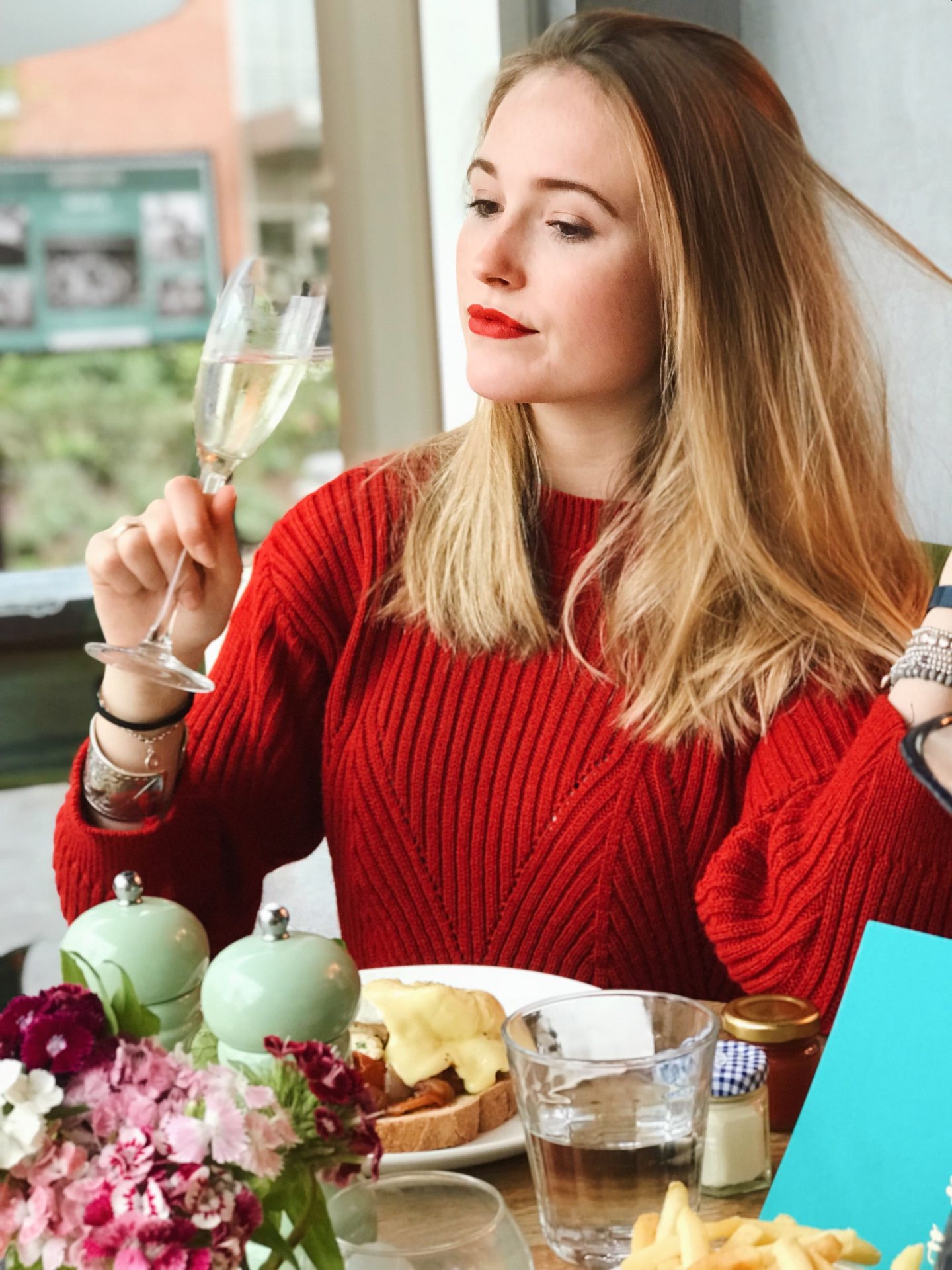 On to the important bit… the food. We started out by ordering a couple of glasses of prosecco as we scoured the menu. Being a pub, The Naturalist holds up tradition in its offering of fish n' chips and mashy peas, or sausage mash and gravy. And yet, nestled in alongside these offerings are options of Devon crab cake, poached egg with lemon & herb dressing (Zoe's choice); Locally sourced honey & soy baked aubergine, aubergine purée, pinenut, pickle chilli; and Wild mushrooms, poached Legbar egg, tomato relish, hollandaise, toasted sourdough (my choice). Salivate over their menus here.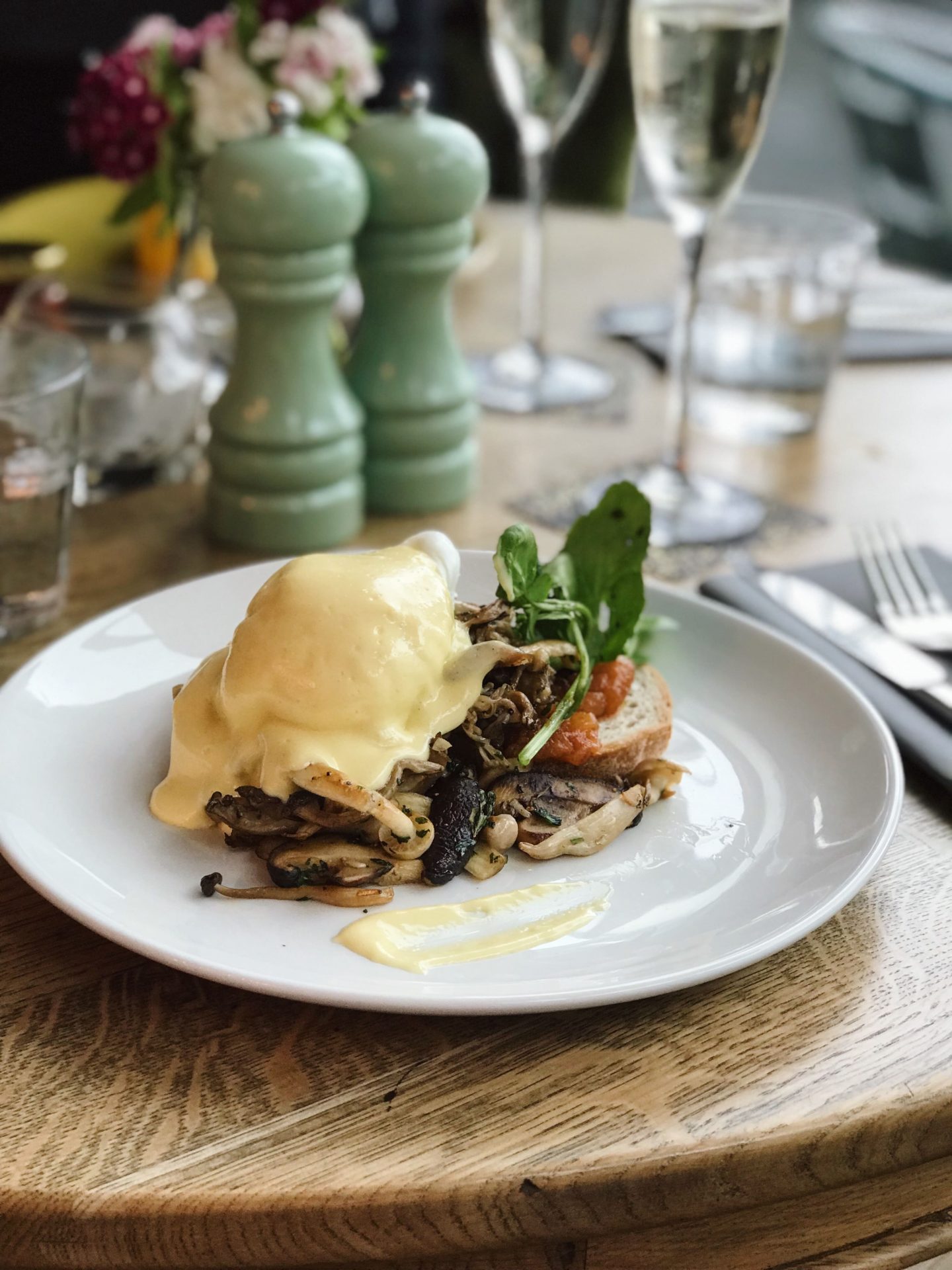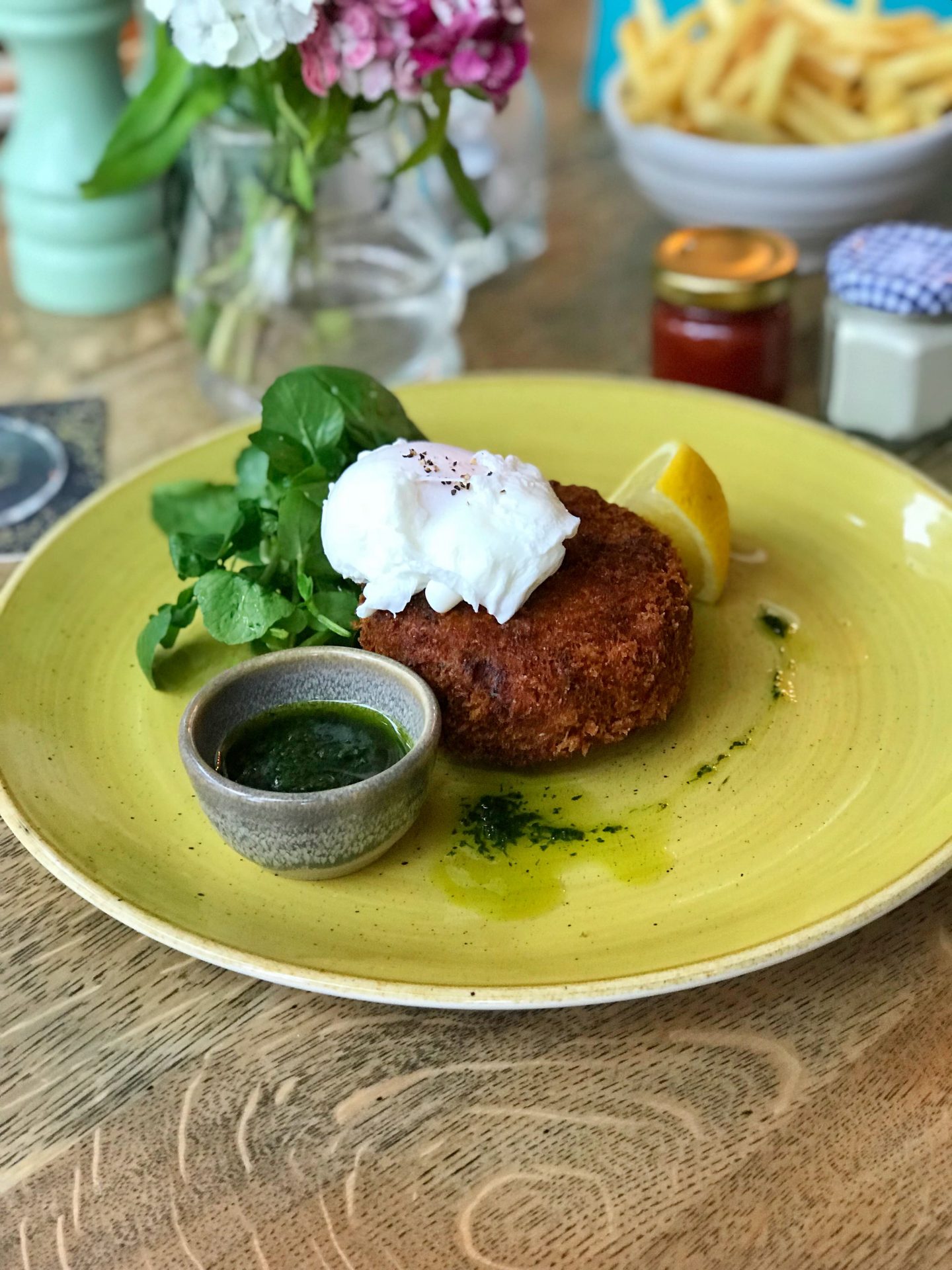 Having gorged our mains, our eyes proved classically larger than our stomachs as we poured over the dessert menu. We opted for a cheeseboard and an apple and pear crumble with vanilla custard (for Zoe) and ice cream (for me). That's right… we're girls that can eat! I have to admit that I preferred the mains to the puddings, but that could well be down to my overwhelming hunger upon starting the meal.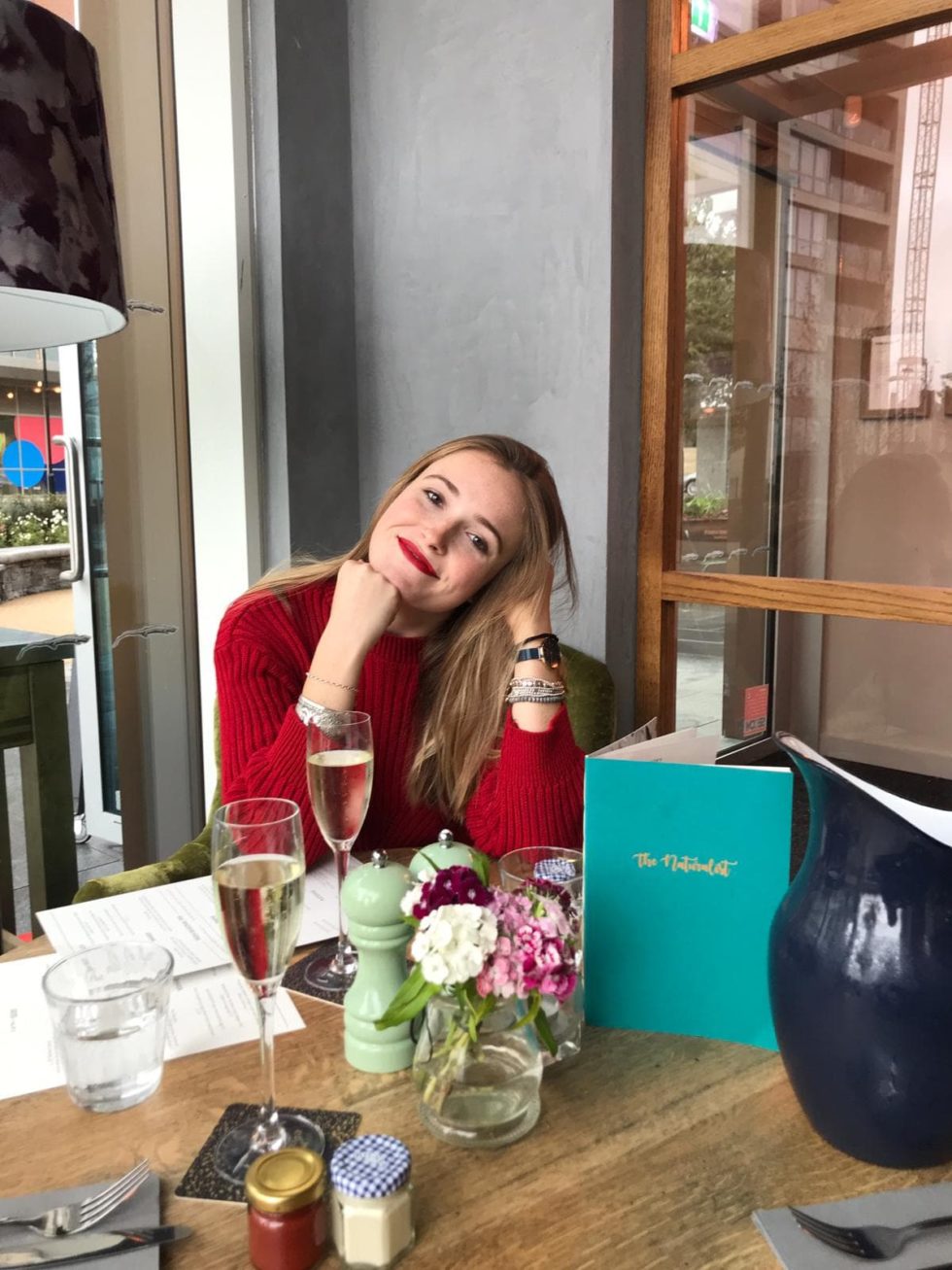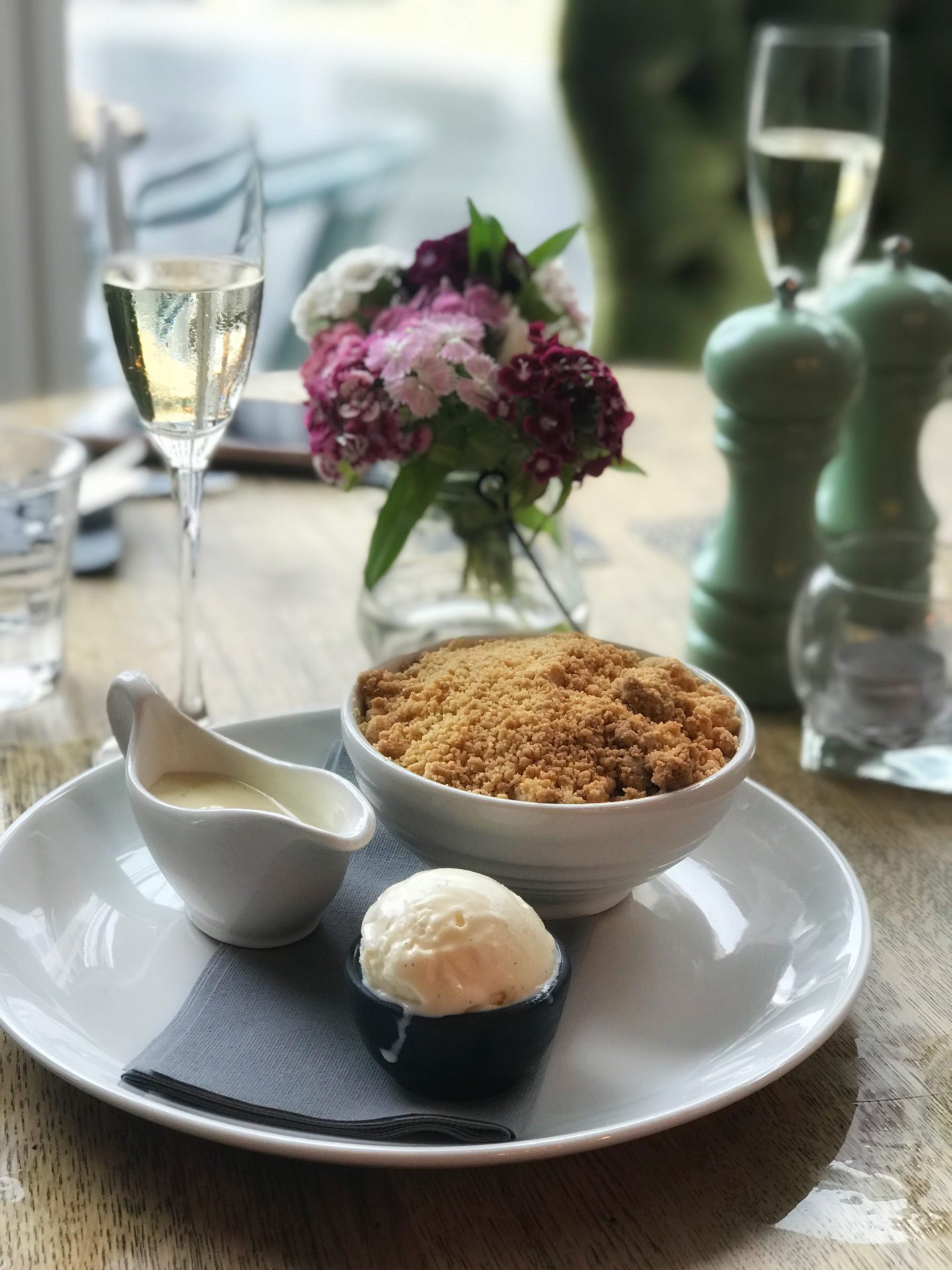 That said, the crumble was warming and delicious… perfect for the cooling seasons. We enjoyed another glass of bubbly each and continued to take in the stylish surroundings. I re-iterate, make your trip to The Naturalist soon! The beautiful design may not stay quite so perfect for long. And, besides, the food is delicious, staff are super bubbly and friendly and with breakfast, lunch, dinner and roast menus be a destination for any time of the day.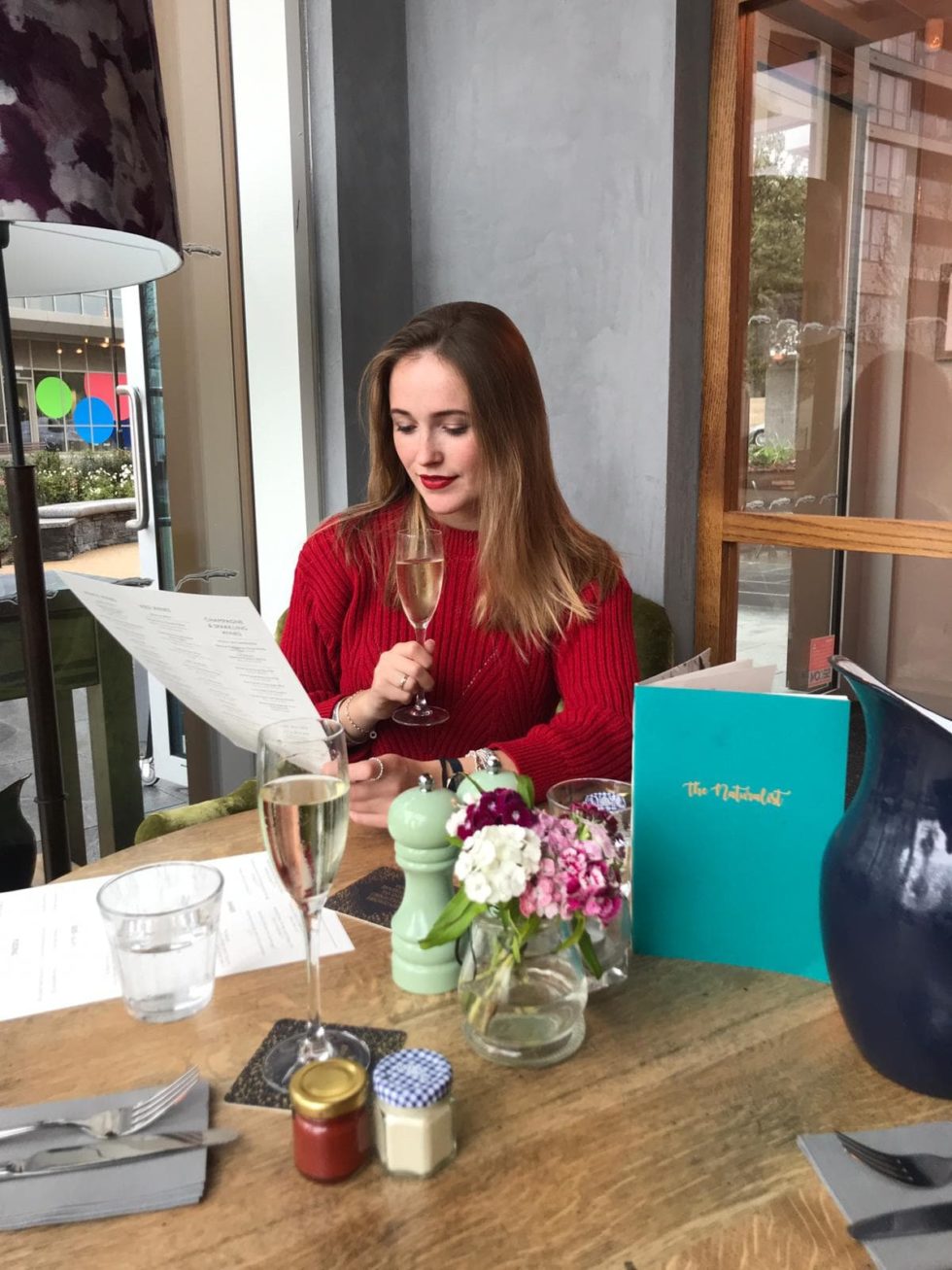 Thank you for having us, The Naturalist.
Ax.