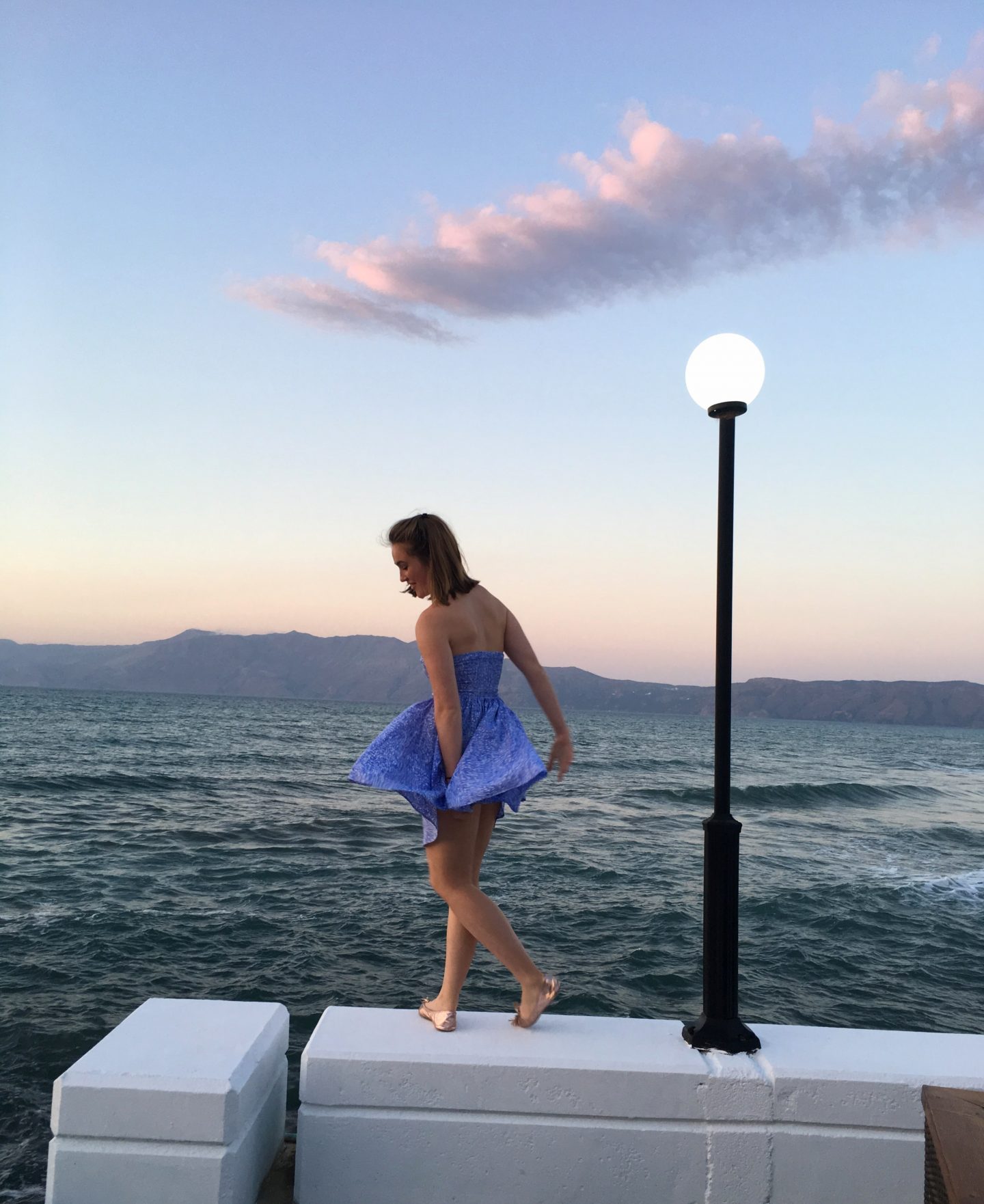 Reading Time:
7
minutes
Greece has been on my bucket list for years- I am desperate to take on an island-hopping trip at some stage, and to absorb the natural charm and beauty of the quieter spots. However, I recently embarked on a spontaneous trip with my two housemates to Crete, one of the bigger and more popular islands, and had the most wonderful time.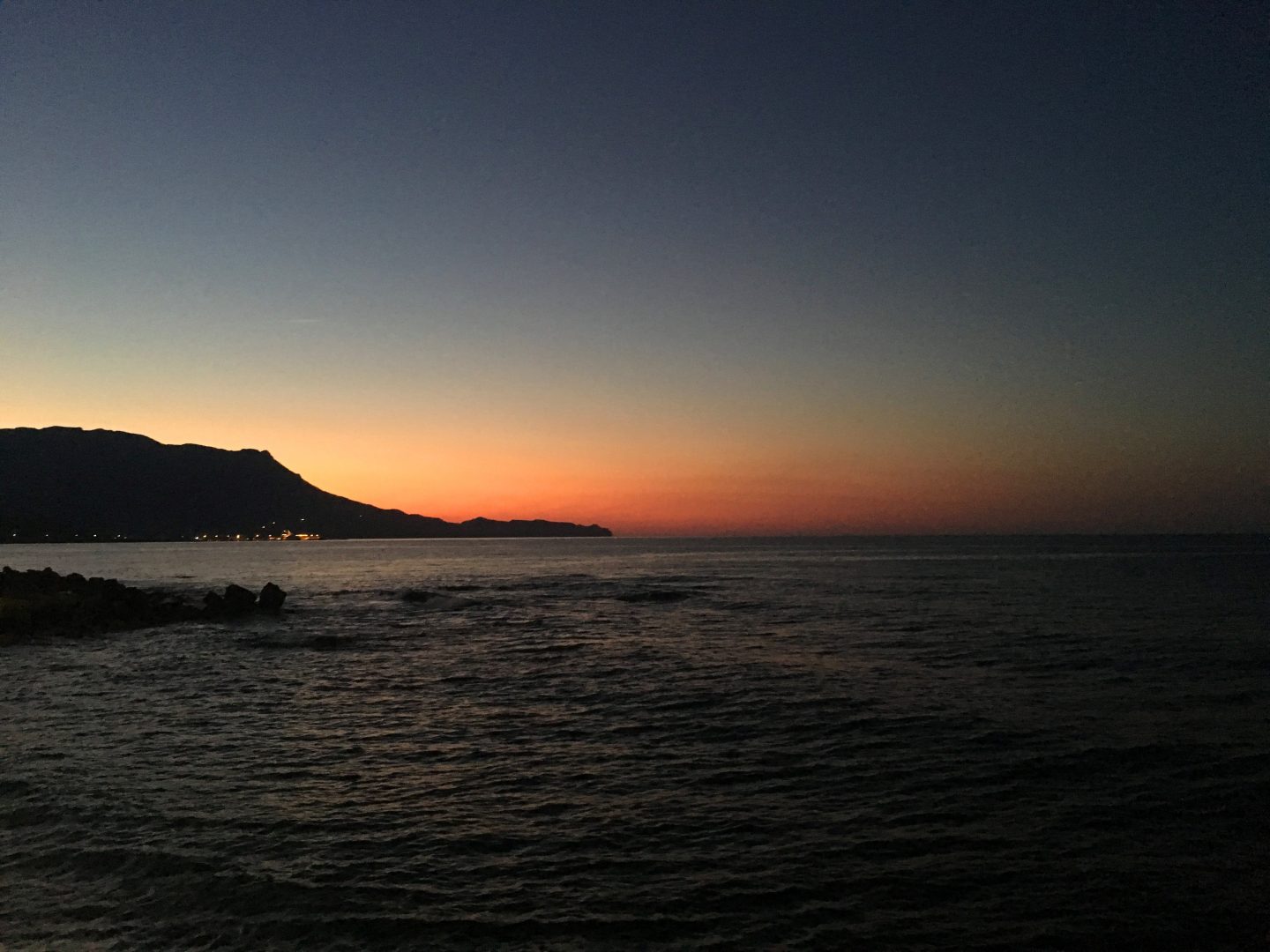 We had frantically explored SkyScanner for the most affordable flights to anywhere with a beach- revision-ridden zombies that we were at the time, these were our only criteria. The three of us are far from the party-animal-students most people at uni are- a super quiet place by the beautiful ocean appeals far more to us than the crazy hussle and bussle madness of Maga. When a flight to Chania, Crete (the other side of the island to Malia I'll add!) popped up for a really decent price we booked it straight away. Suddenly the doubts brewed; we hadn't really done any research into the city, and when we started looking at photos online we were incredibly unsure- it didn't look like the magical paradise of Santorini we had hoped for. Ever the optimists though, we researched beaches in the Chania region and found a photo of Balos lagoon; things started looking up. There wasn't an Airbnb or hotel on the beach which boded well, and we found a room for three in the nearby town of Kissamos. Again for such a decent price we booked it straight away.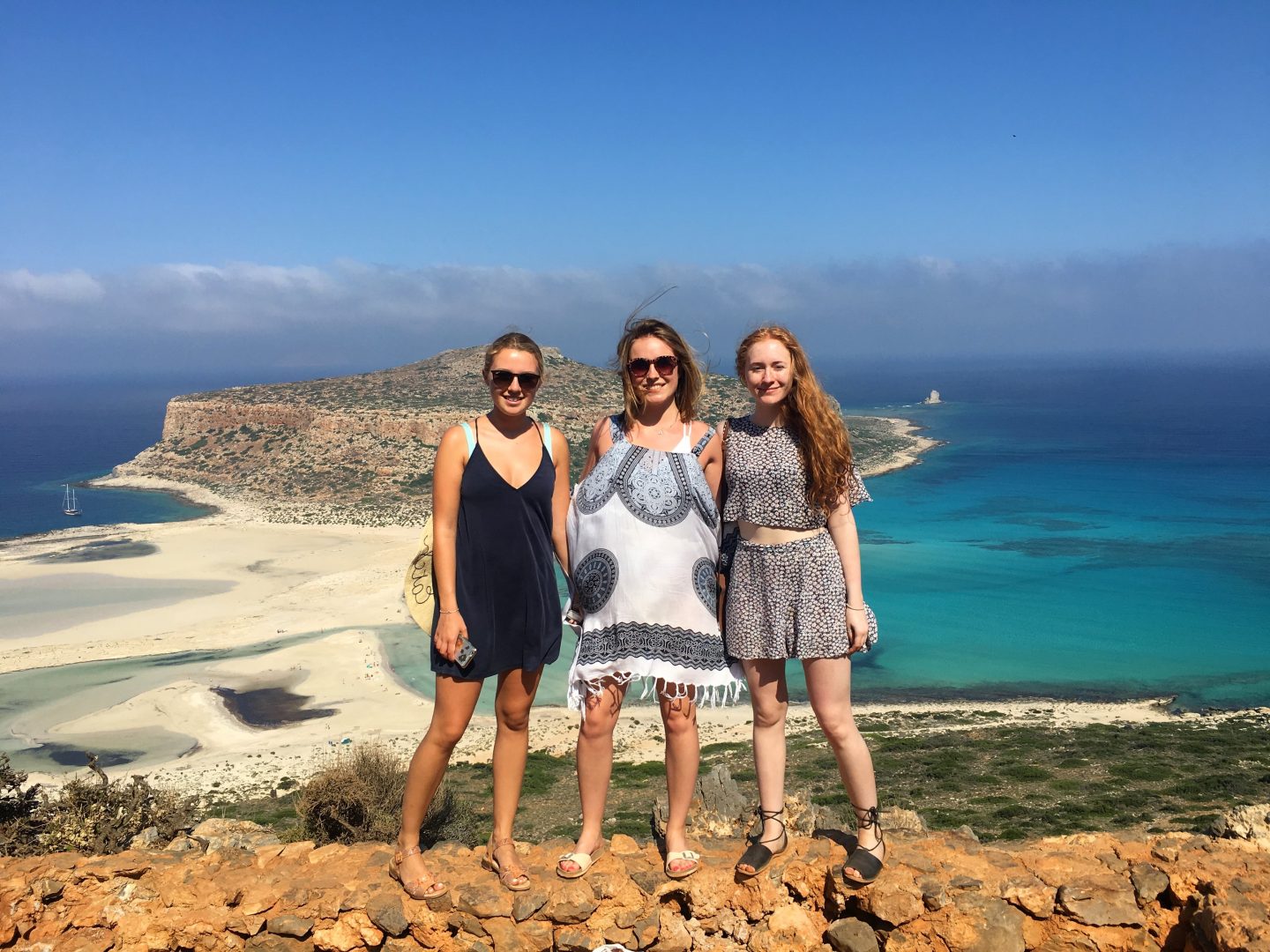 So we embarked on our mini (literally just 4 days) adventure, still highly doubtful over what we might find. When we landed in Chania and grabbed some lunch things grew more positive, the city was actually really alive and everyone was happy. We then took a €1 coach and travelled out to Kissamos. The further from Chania city we drove the more beautiful the landscape became. After an hour of growing excitement we arrived and began searching for our Airbnb. The first real moment of awe came when we rounded the corner onto a strip of local restaurants to see the waves lapping right up to the walled path.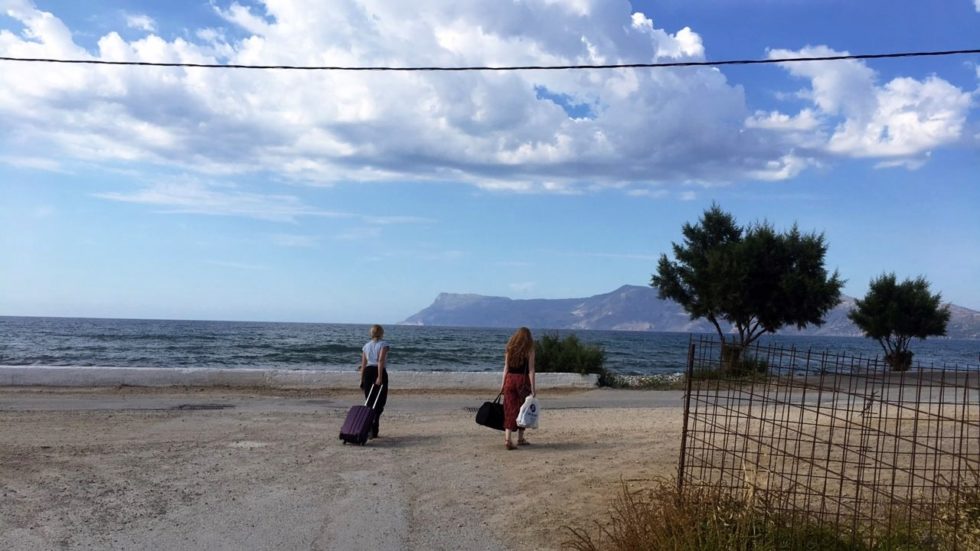 We were then super fortunate with the Airbnb as the lovely owner (who later became our mother-figure) upgraded our room to one far bigger. We would 100% recommend Revekka Rooms Bed and Breakfast which we found on Airbnb. She suggested we hire a car and gave us a list of beaches to explore, all within an hours drive. We rented a car in Kissamos town, however, it is possible and perhaps preferable to use a company based at Chania airport. From research into reviews, Rental Center Crete seems a reliable and affordable option. By hiring a car at the airport, it saves the long coach journey and allows you the freedom to see various towns along the way.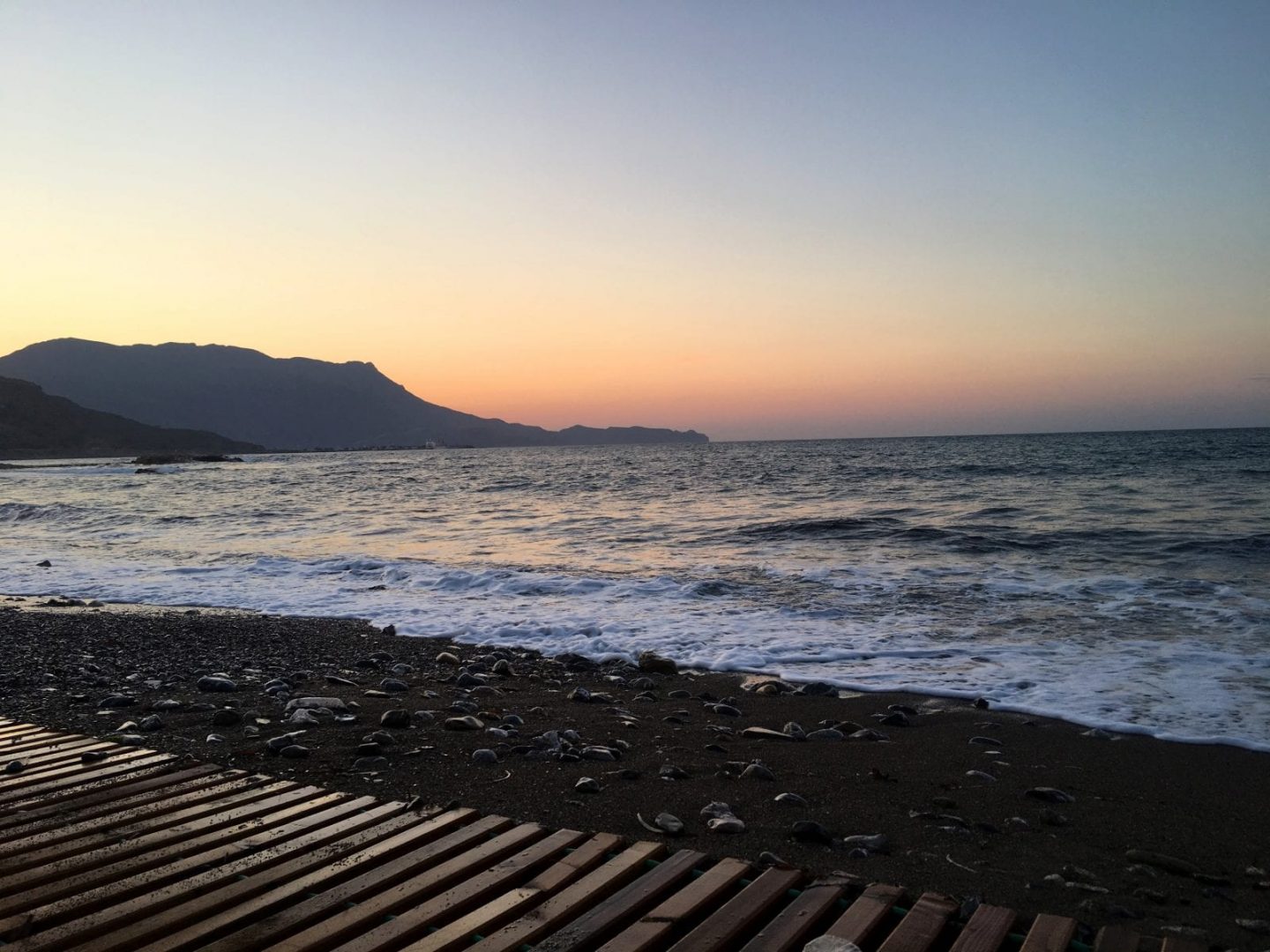 That night we had dinner in a restaurant on the sea and I confirmed my fear that perhaps Greek food just isn't my thing. I'm not really a fan of anything goat-related, except from cute goats themselves. There is a slight struggle in finding things on a true Greek menu that avoid goat… however, the setting was beautiful and the wine was flowing- all was well. We then took a wander and came across a modern looking bar called Elvetia– and frequented it every night subsequently. The owners were fabulous company and offered further suggestions for beaches to visit.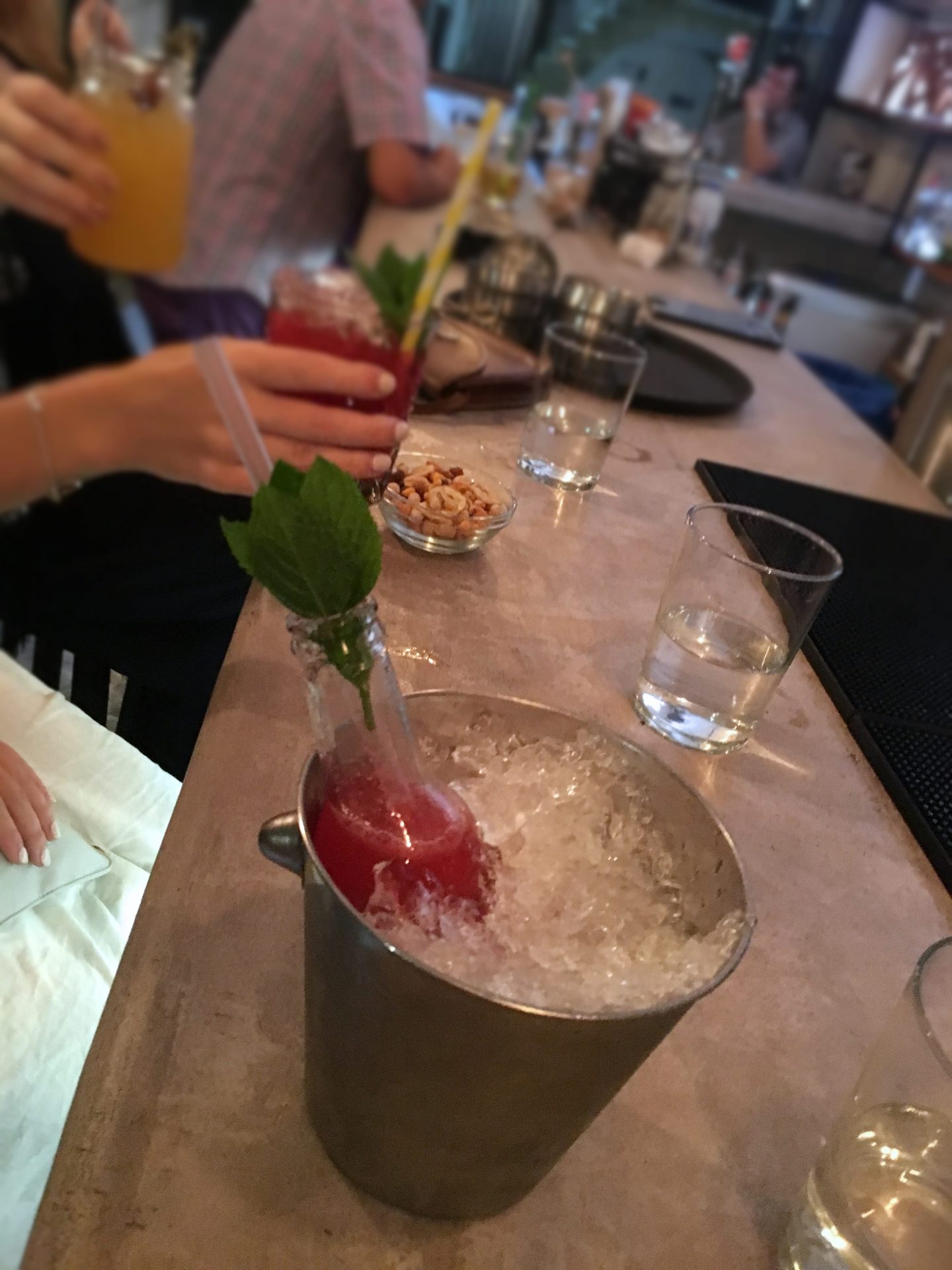 Following their advice, the next day we drove down to a super quiet beach called Kedrodasos. We had been advised that it was something of a hidden, unknown gem compared to the far busier, nearby Elafonissi beach- and the journey showed us why. We pulled of the actual tarmacked road with still 15 minutes to go on the satnav and spent the remaining time on a narrow dirt track meandering through a goat farm, dodging the goats and fully realising how much a basic Fiat Punto lacks suspension. Once we finally reached a car park, we then commenced on what can only be described as a mini hike down the rocky slope until we caught a glimpse of pure blue.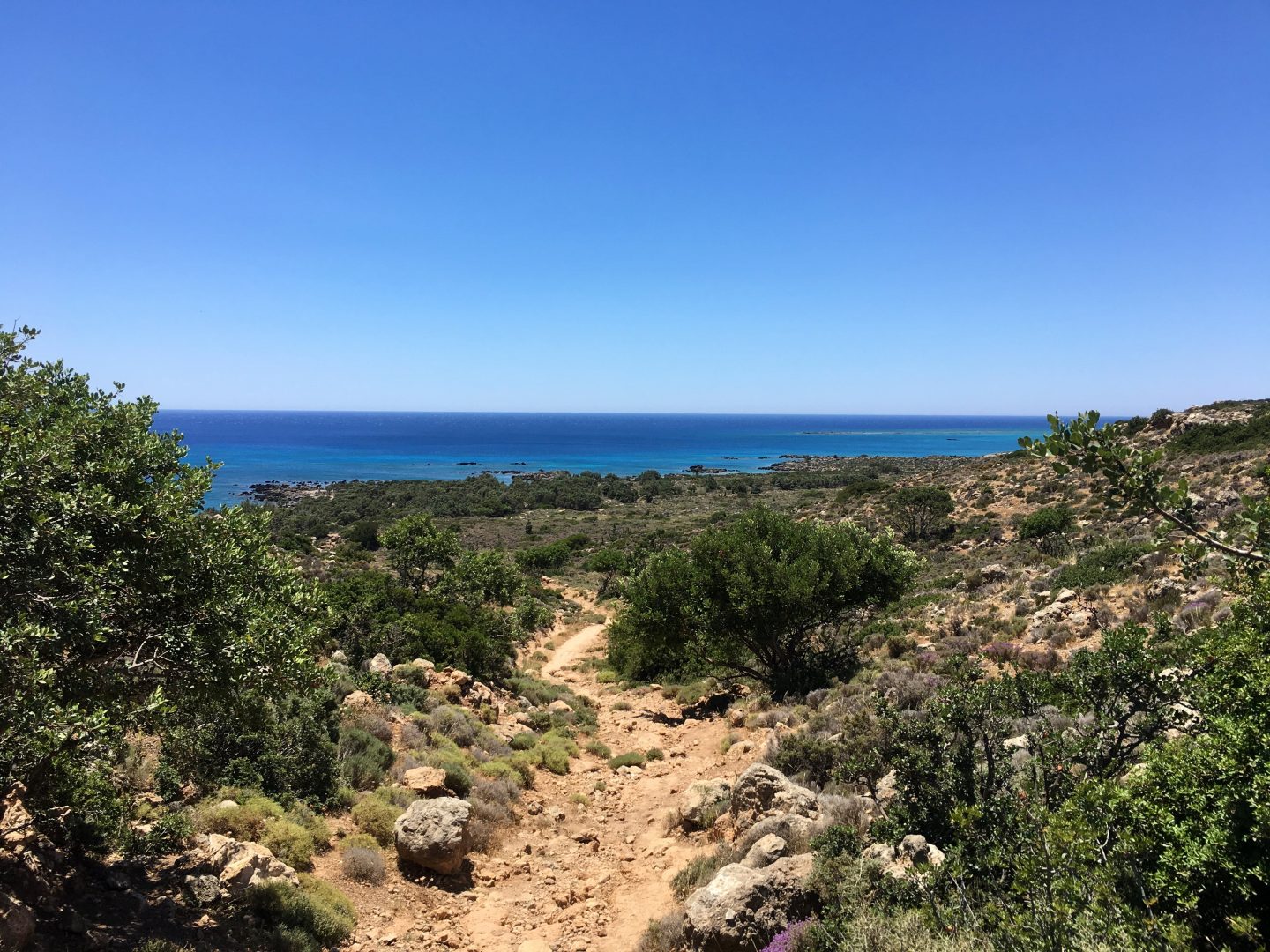 Once on the beach, we'd found paradise, and were sharing it with maybe only two other families. The ocean was crystal clear and shallow.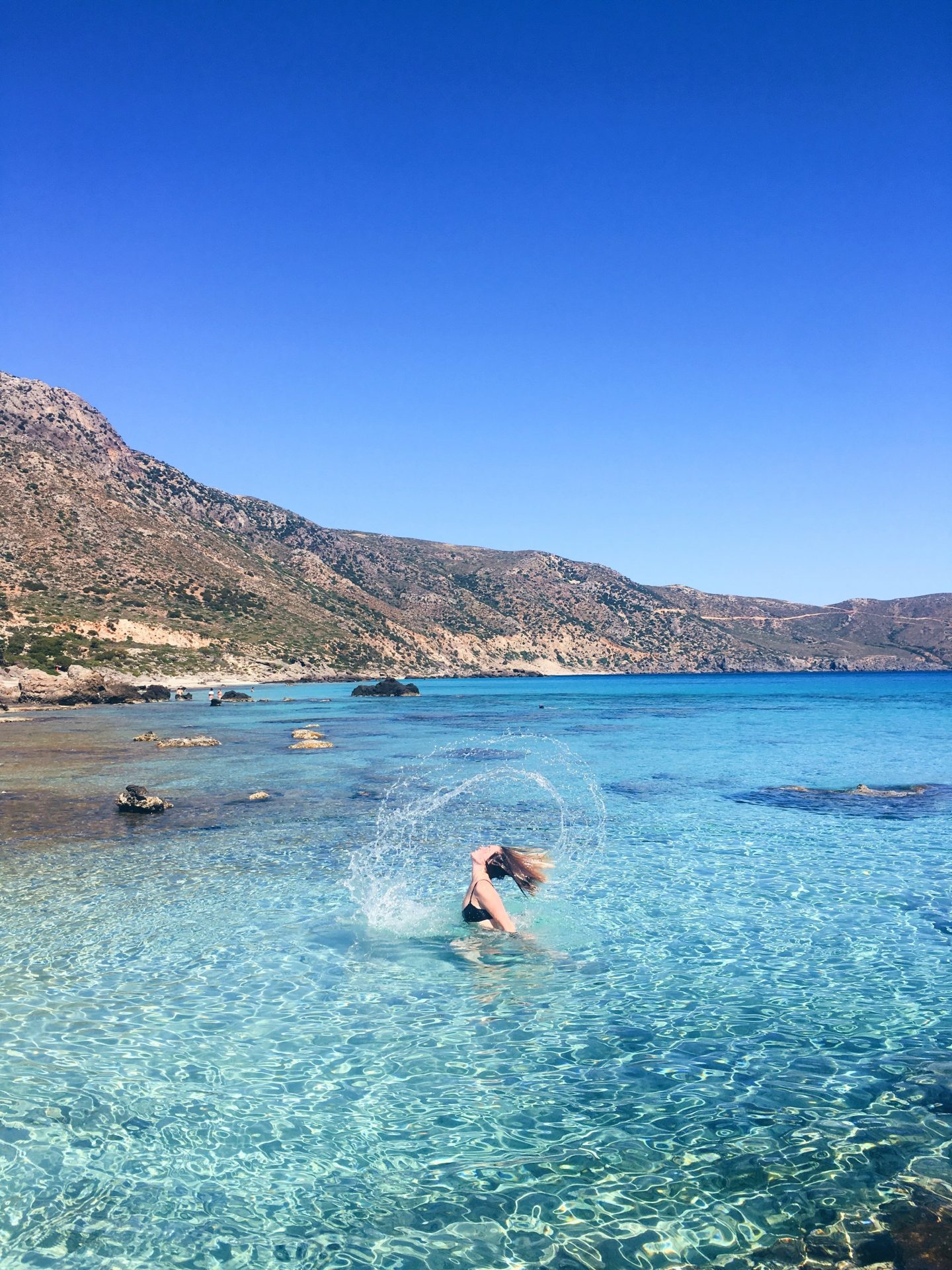 We took the snorkels and followed rainbows of colourful fish, we basked out on the rocks and then munched a picnic beneath a canopy of shady trees.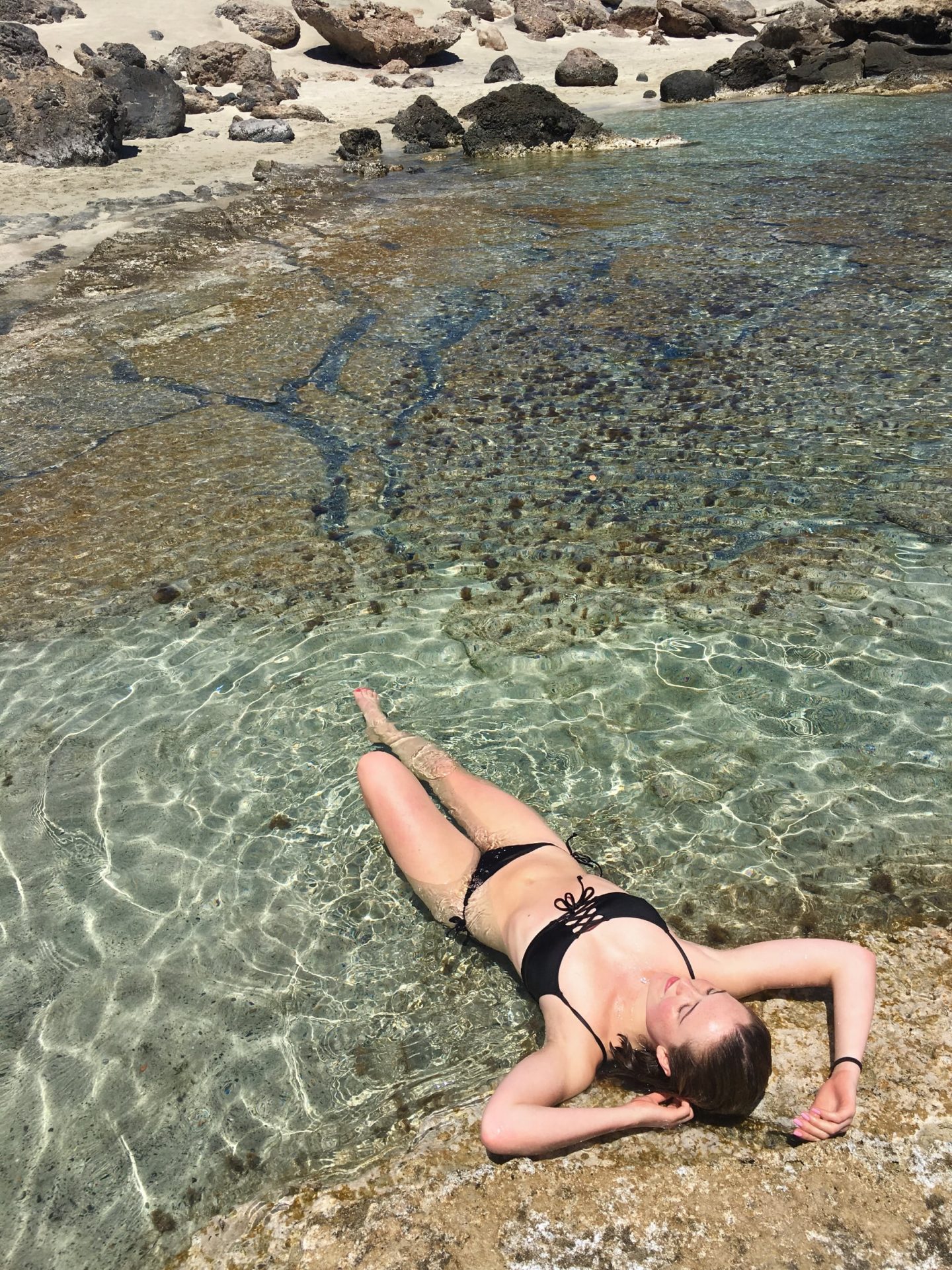 The Cretan ocean reminds me of the striking beauty of turquoise waters surrounding Sardinia.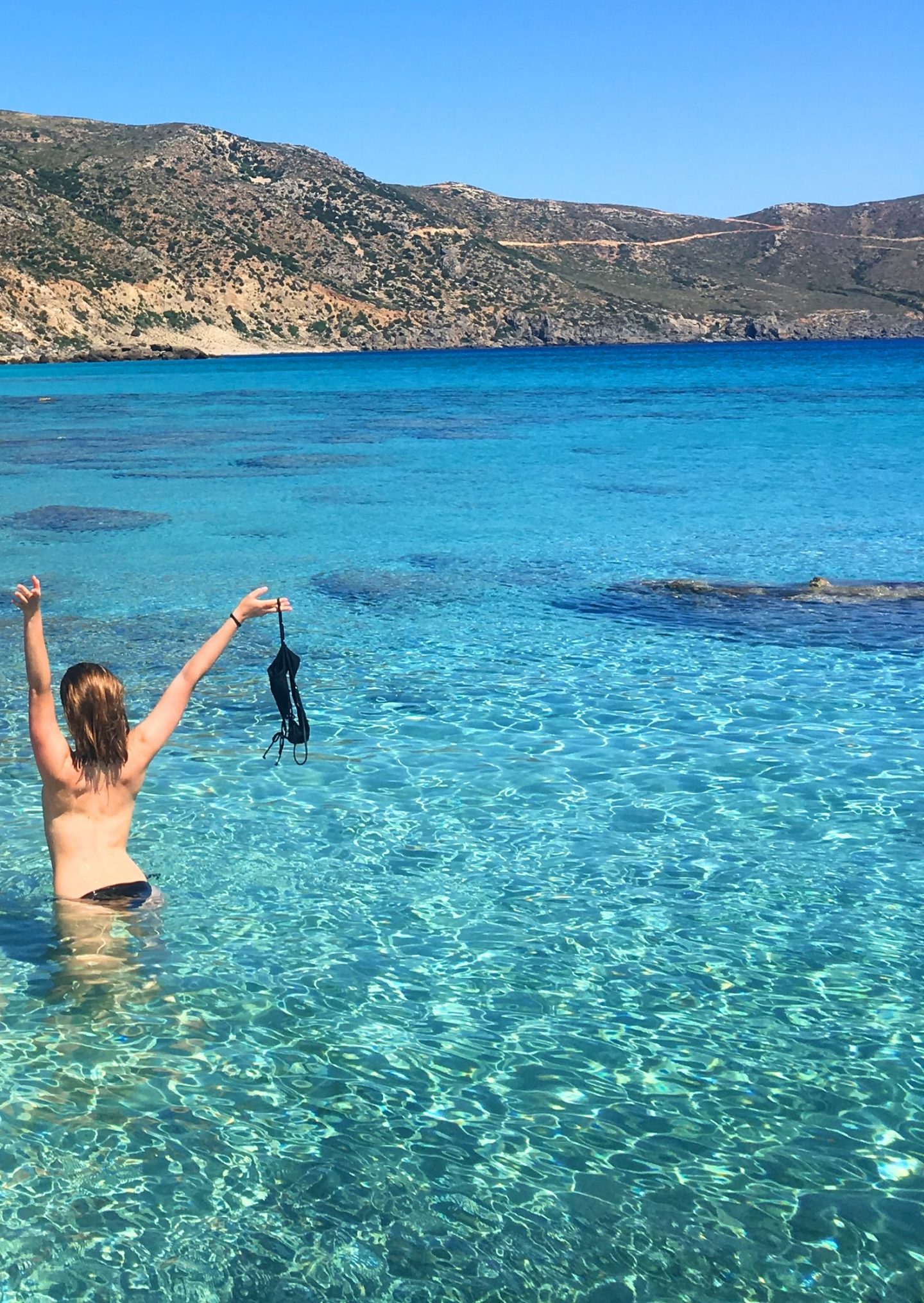 On the way back we thought we might stop at Elafonissi beach anyway, as we'd been told the sand appeared to be pink as a result of mini red organisms being washed up by the sea- something unique to Crete. It wasn't quite as pink as google images had led us to expect but it was incredibly charming all the same. Elafonissi beach was also far more developed in that it presented beach bars, volleyball nets and sunbeds/umbrellas for hire.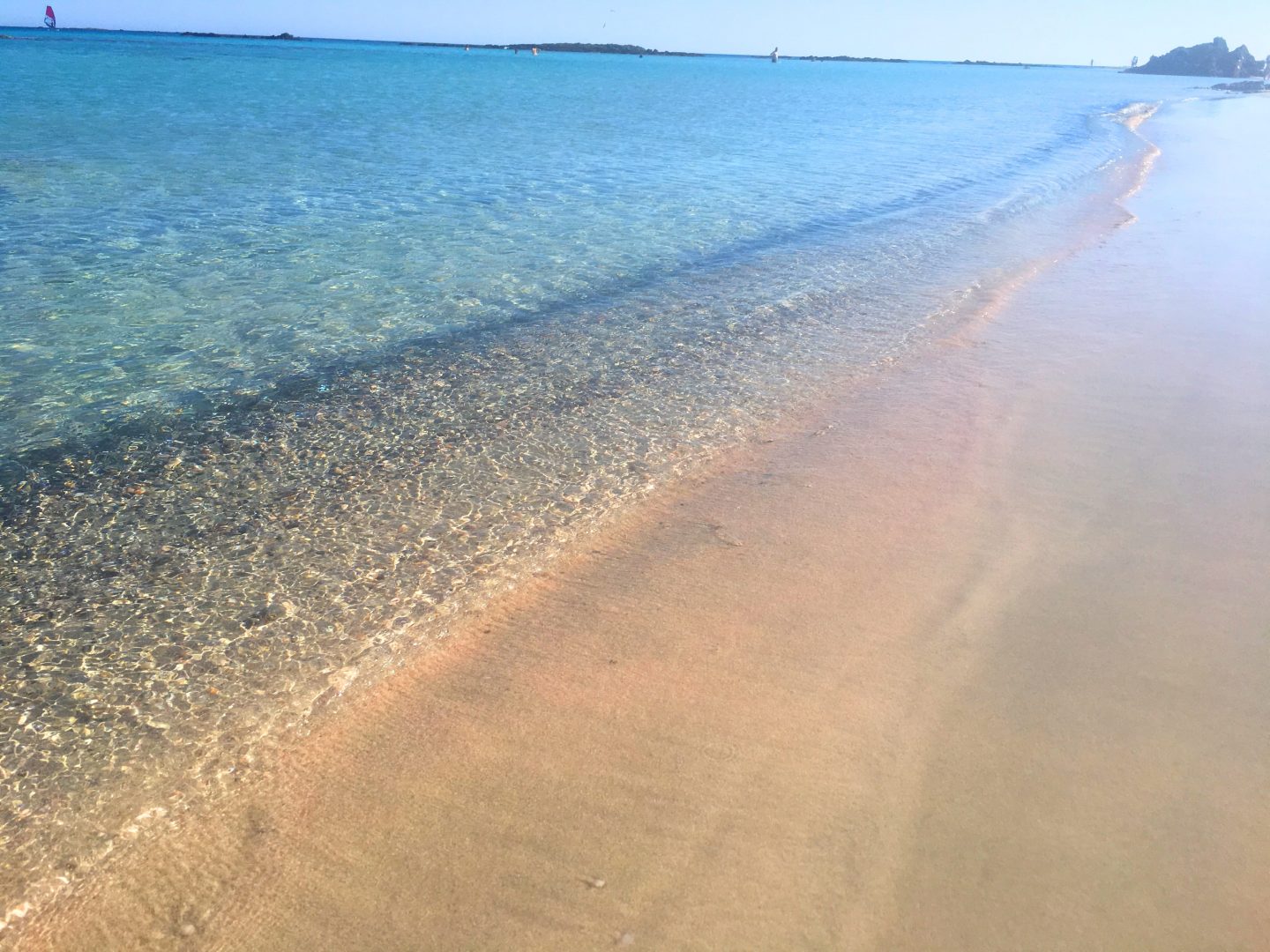 We drove home- back along the mountainous hairpin-bends, which provided awe and extreme terror in equal proportions. On a couple of occasions we stopped to admire the view over deep green gorges, and appreciate how lucky we were to be there in that moment.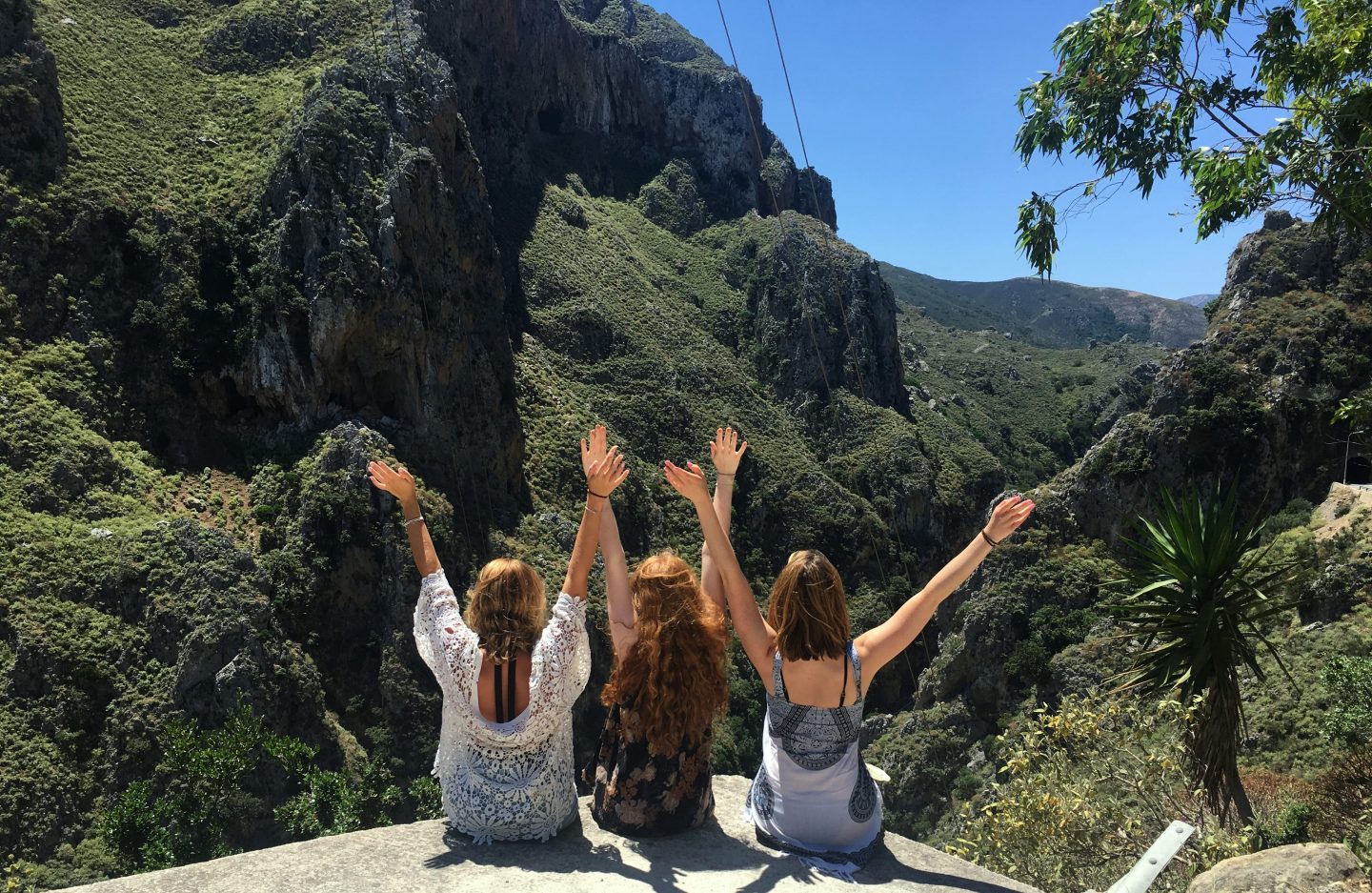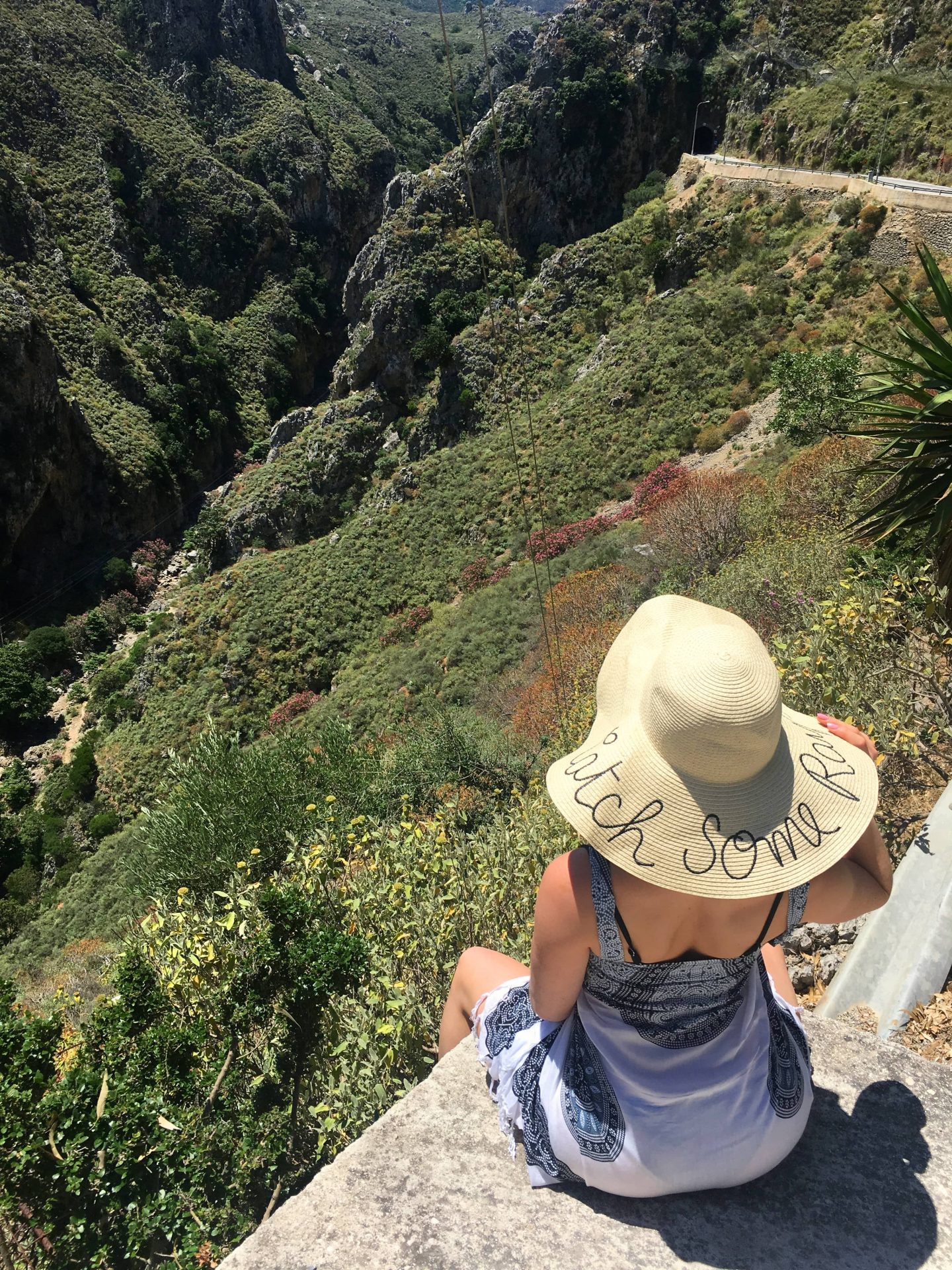 Another great thing about having the freedom of a car in Crete is that dotted along the roads are local restaurants with incredible overgrown balconies and canopied hammocks.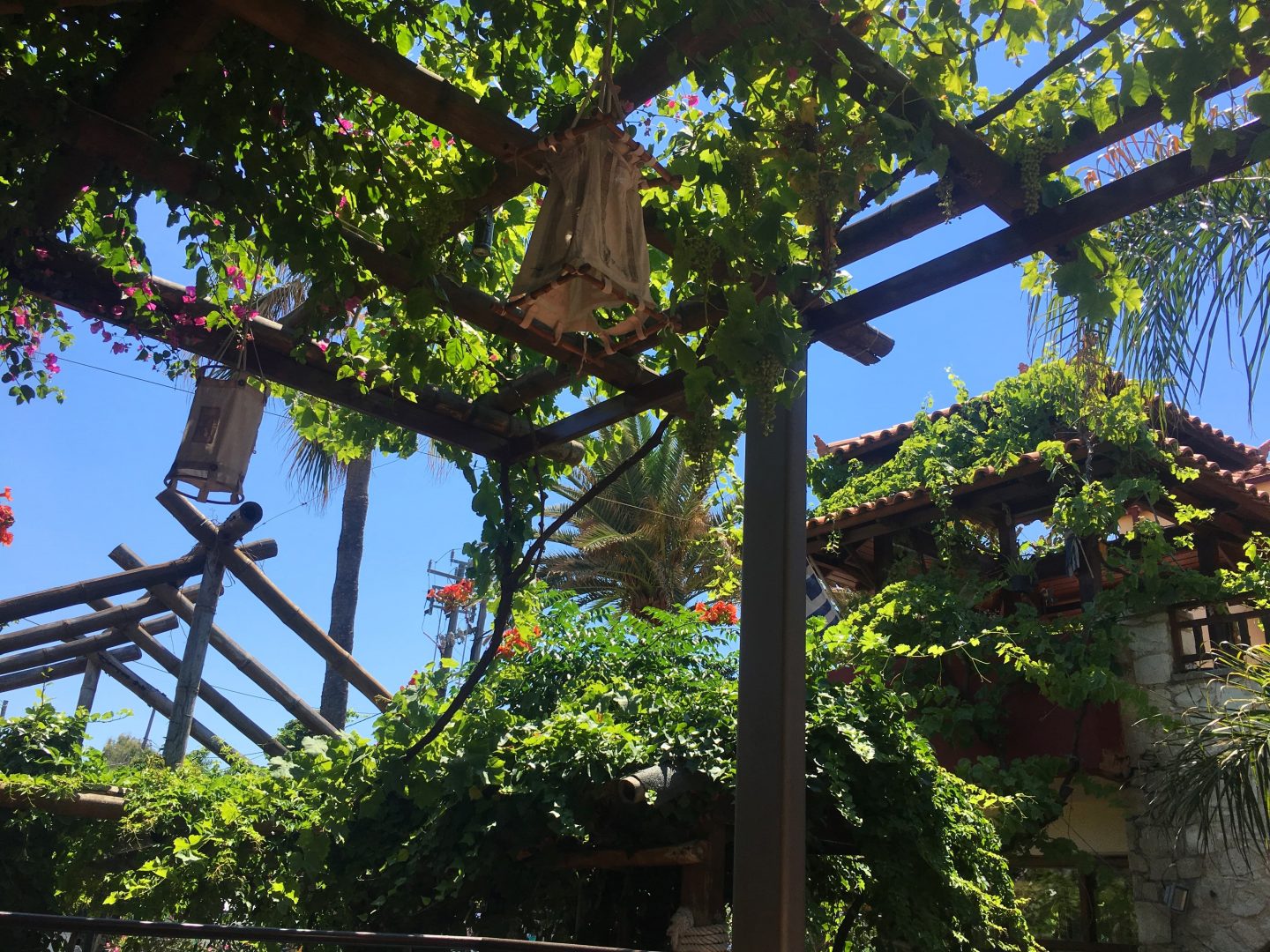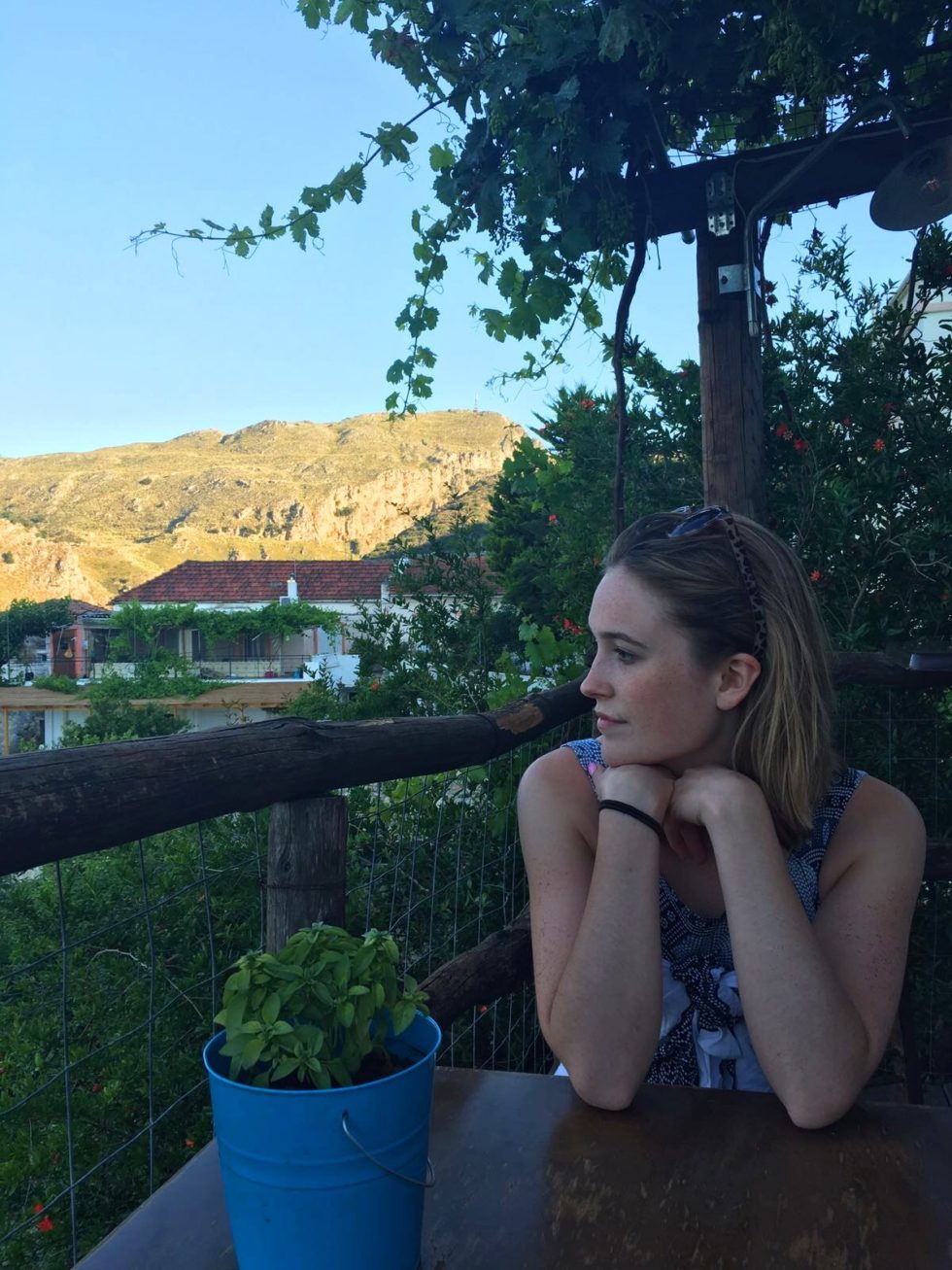 The next morning, breakfast was provided with our Airbnb room and we ate it overlooking the lapping waves again.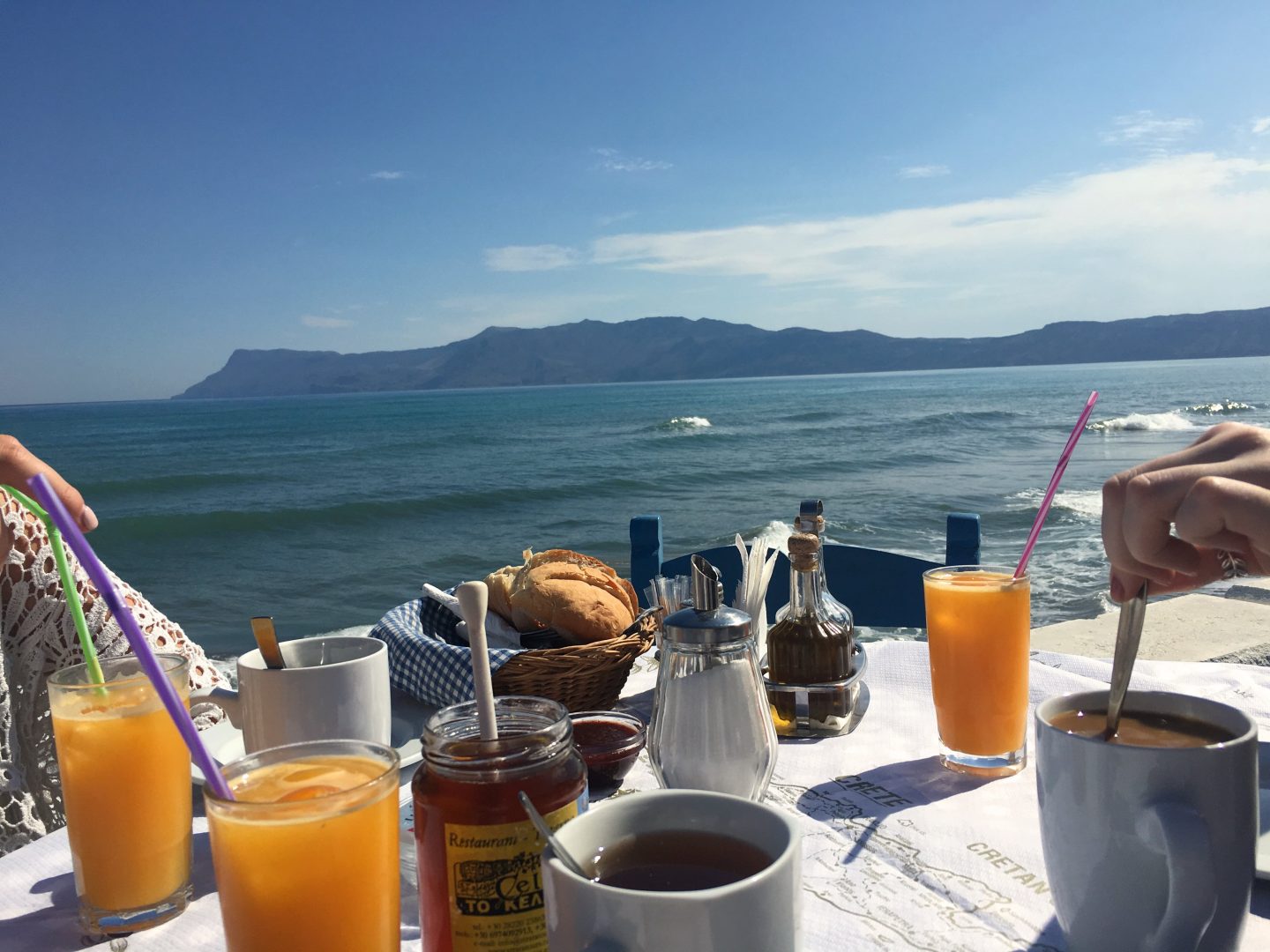 We decided to explore the town and stumbled across the most gorgeous jewellery "shop" in a charming gentleman's garden.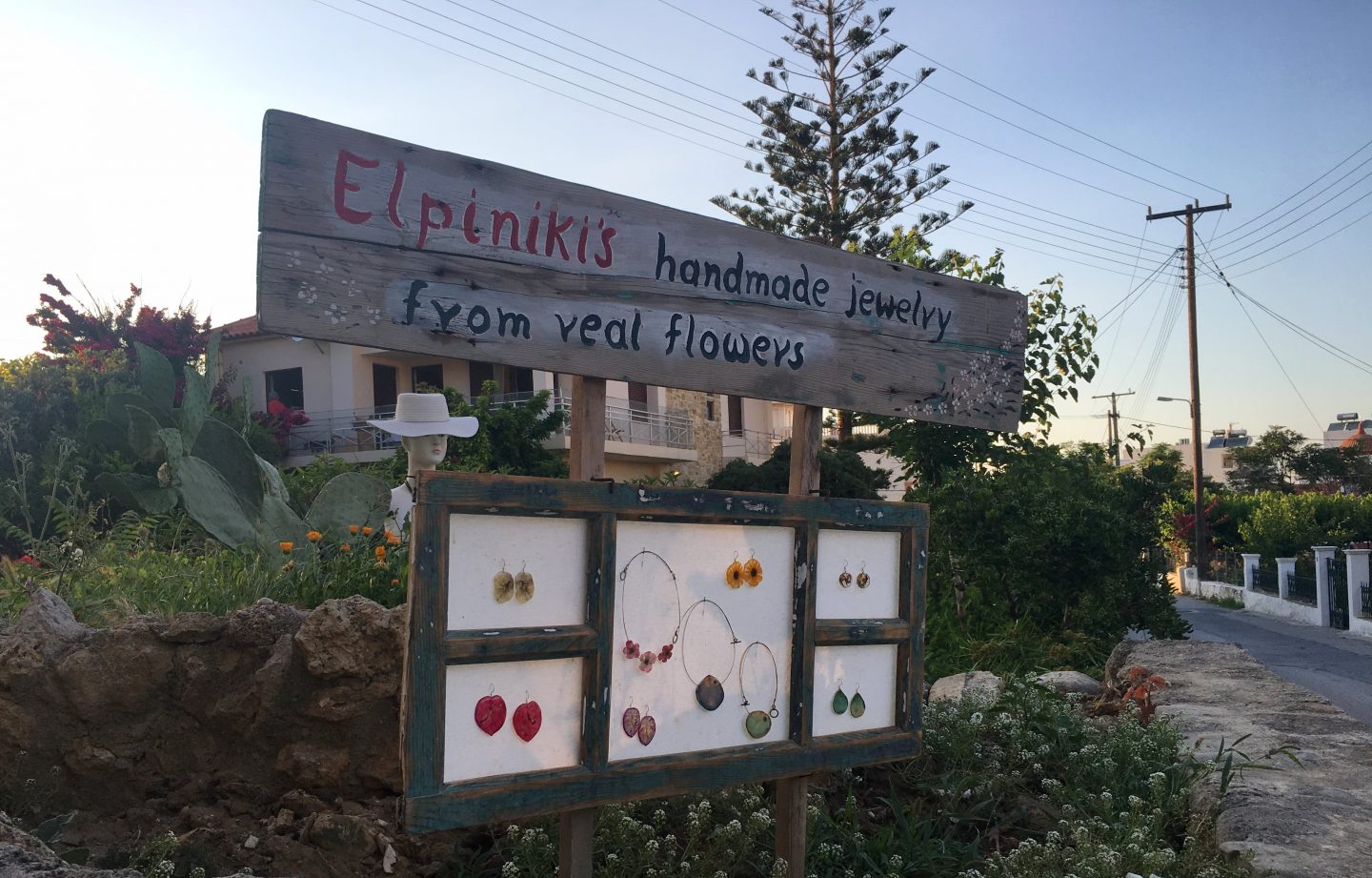 All their pieces, made by the family as a whole were on display in lit up cabinets along their rustic brick walls. It was a treasure trove of earrings, necklaces and bracelets made from preserved, real flowers, leaves and other natural finds from the island.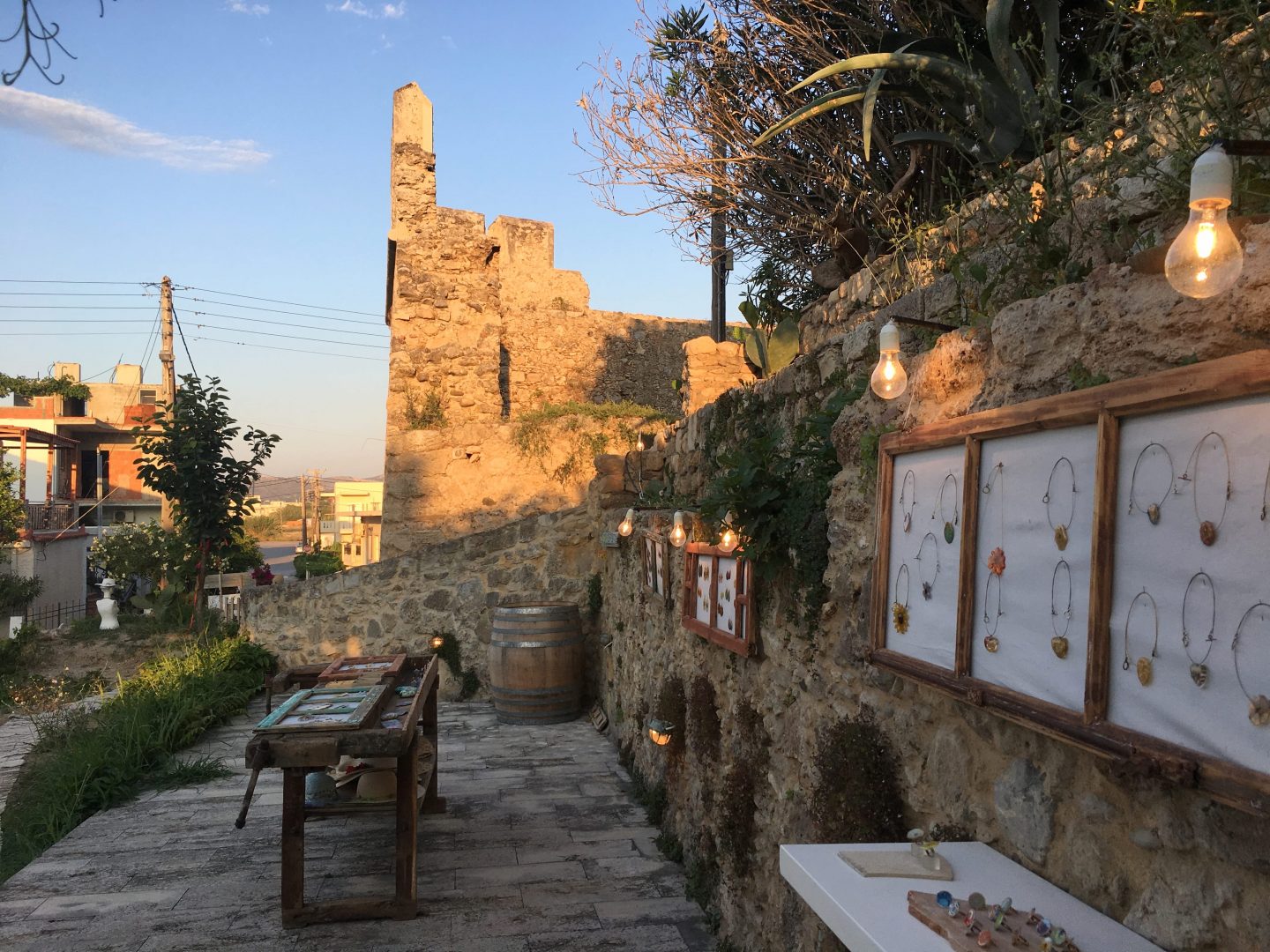 Up in the main town are more restaurants and sophisticated shops. Though we all decided our own little piece of heaven back down on the sea front was where we wanted to stay.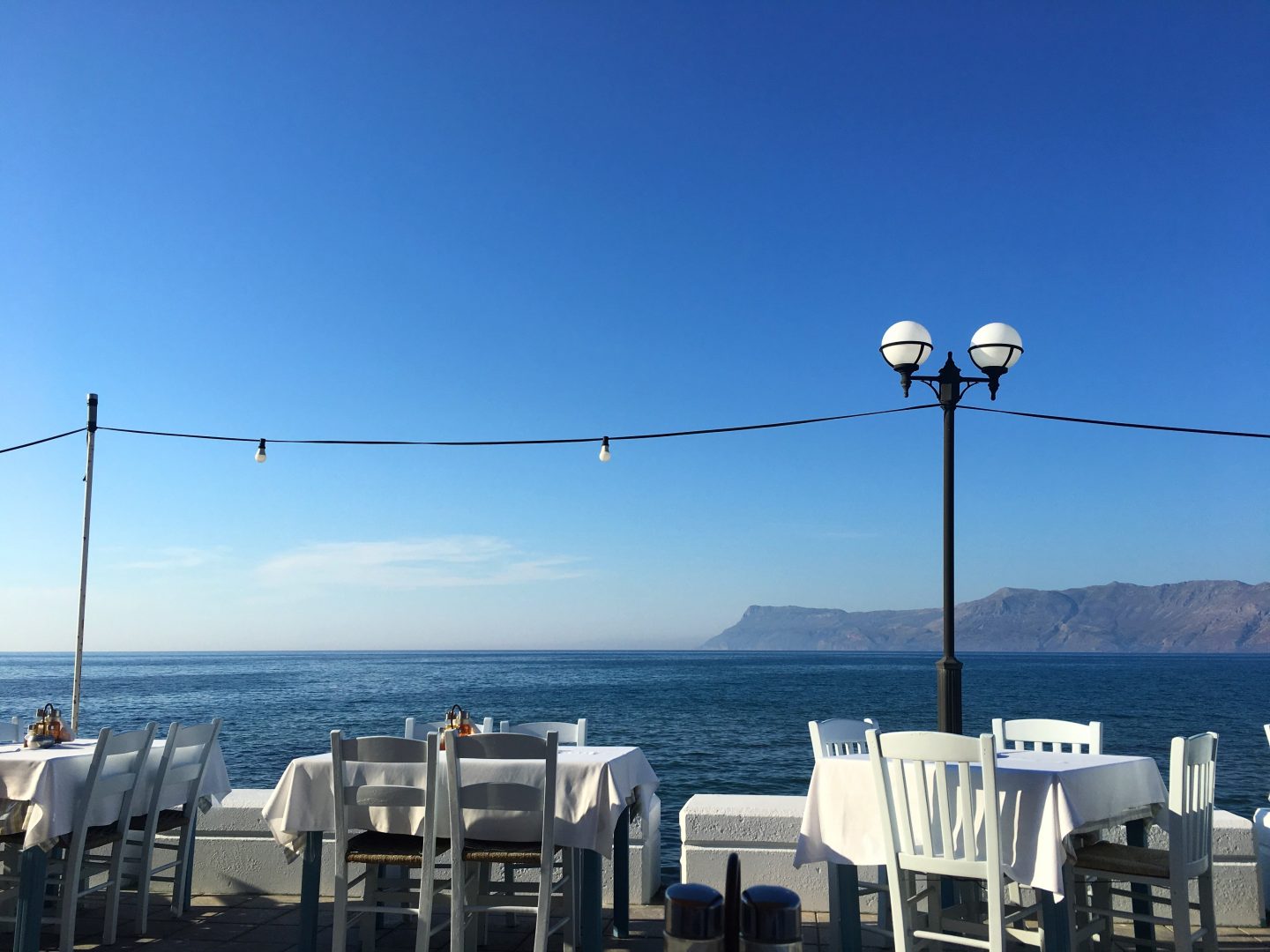 Considering Balos Lagoon was our initial reason to stay in Kissamos, it took a great deal of deliberating over how we should get there. Our Airbnb 'mother' had begged us not to try and drive there as apparently the route was extremely treacherous, especially for English drivers (although perhaps she is unaware of the ridiculous pothole thing we've got going on over here). Instead she pushed us towards getting a boat. There is a small ferry which takes you from Kissamos port to an island topped with an old castle and then on to Balos beach. But we weren't taken by the idea; wary that ferry tours mean far too many people crashing on our idyll! So we were determined to brave the road.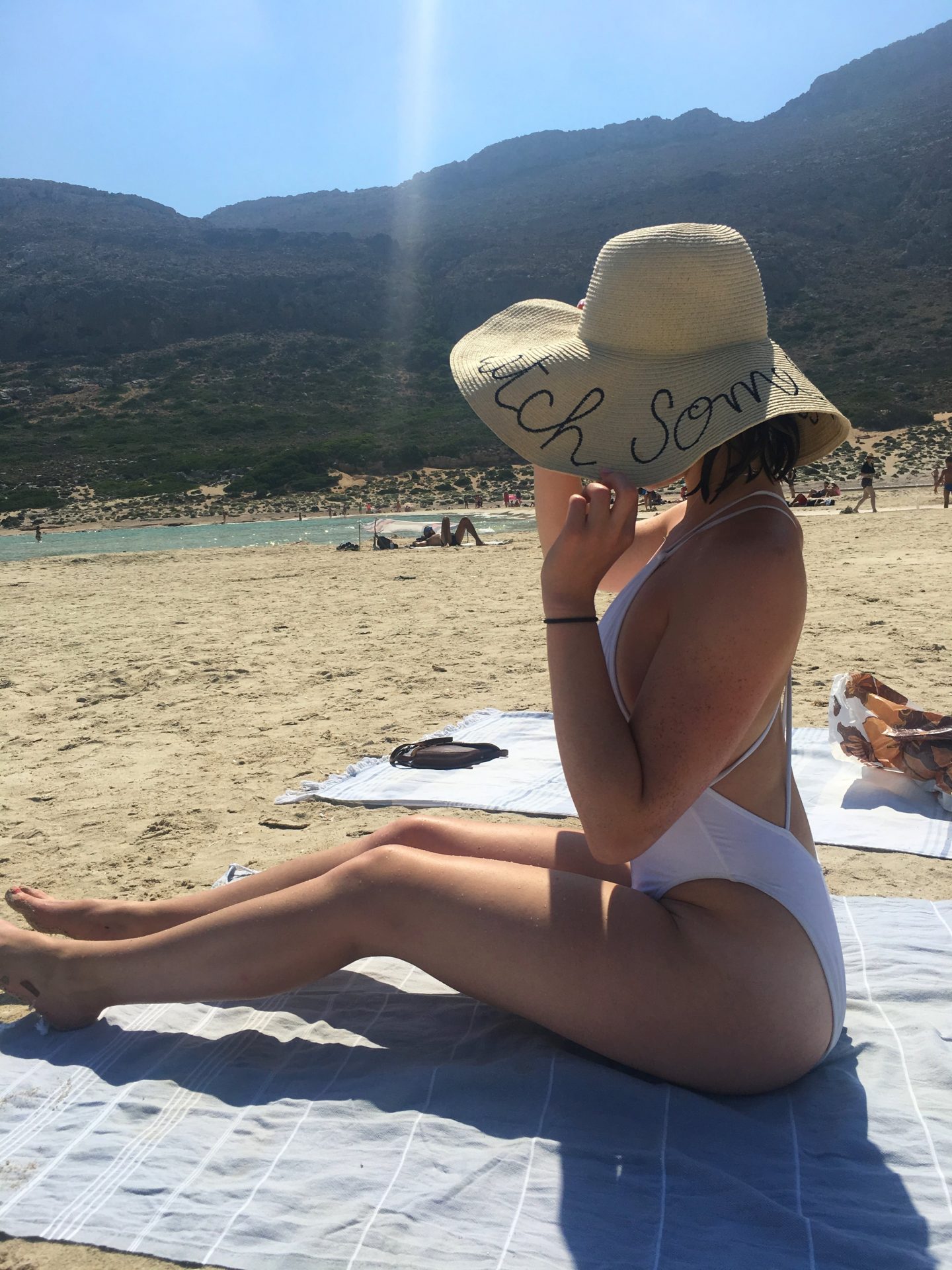 When the bartenders at Elvetia proposed that we'd be fine, and that if we weren't we could always call on them to come to our rescue, we made our final decision. Now its fair to say that it was the most ridiculous road I've ever been on. Imagine roads through the Alps which circle over cliff faces, only just reassuring you with a solid barrier- it was that kind of level but without a barrier and a deep ocean at the bottom of said cliff. Also, the road, again, lacked tarmac, and was lined with cars parked on the inside of the road- forcing us to drive along the cliff edge, knocking each wing mirror with our own on the way.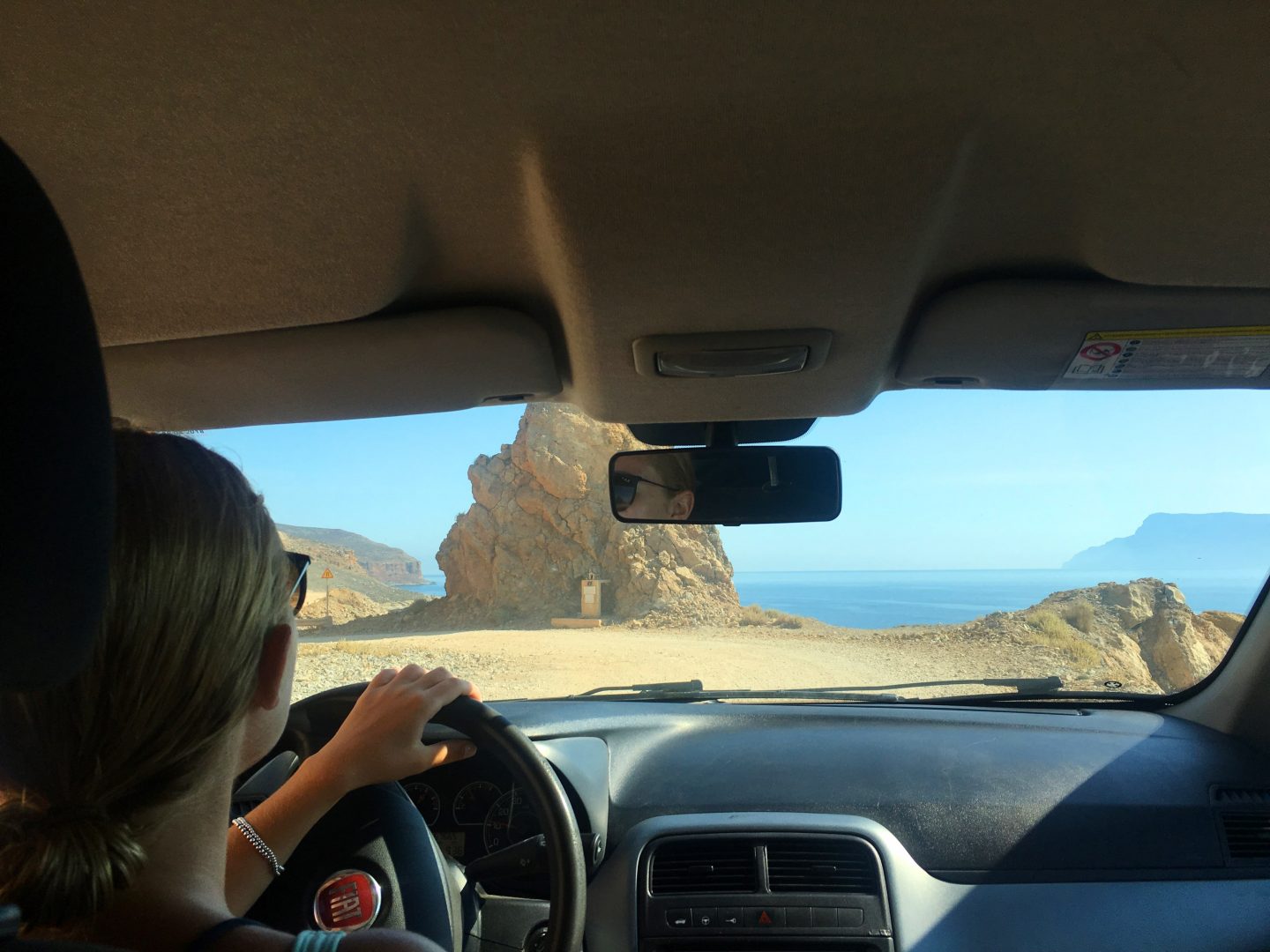 But eventually we made it to the carpark, at which point we set off on foot for another mini trek descending the hill, down thousands of rocky steps to the lagoon; all the while well aware of the fact we'd have to climb back up in the midday sun later on.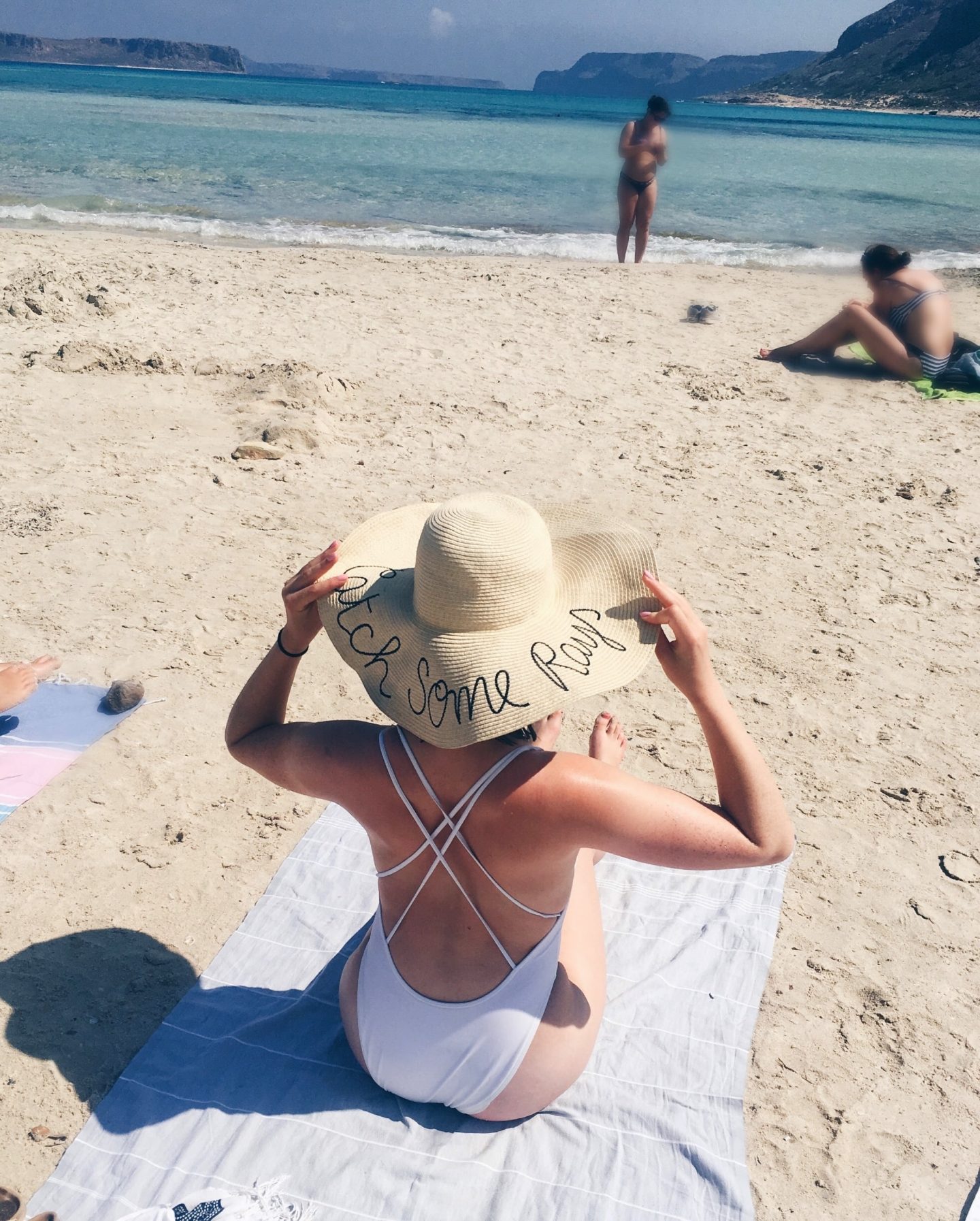 But again, the ocean was worth it- the most extraordinary turquoise colour, shallow until really far out and clear as glass. Whilst we had planned our timings to avoid the inevitable ferry rush in the afternoon, there were still quite a few people sharing utopia with us- so perhaps Kedrodasos beach became the reason for our Kissamos love, even if Balos was the reason for our Kissamos visit.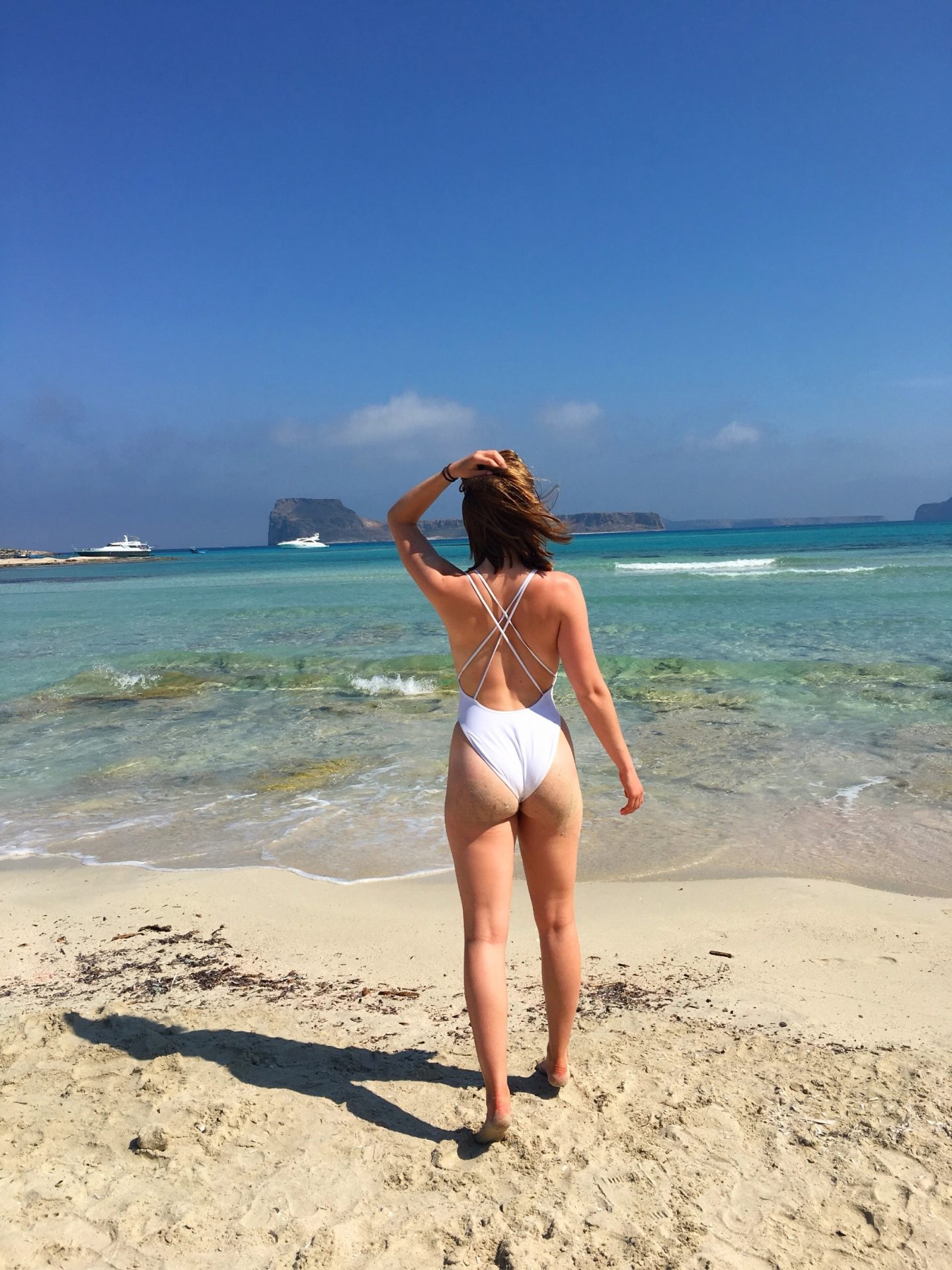 I'm aware that this has been quite a long post and congratulate those of you who have continued reading to here- you're truly committed and you're the best. I hope that perhaps my words, suggestions and photos spark a curiosity and desire in you to explore Crete's quieter side.