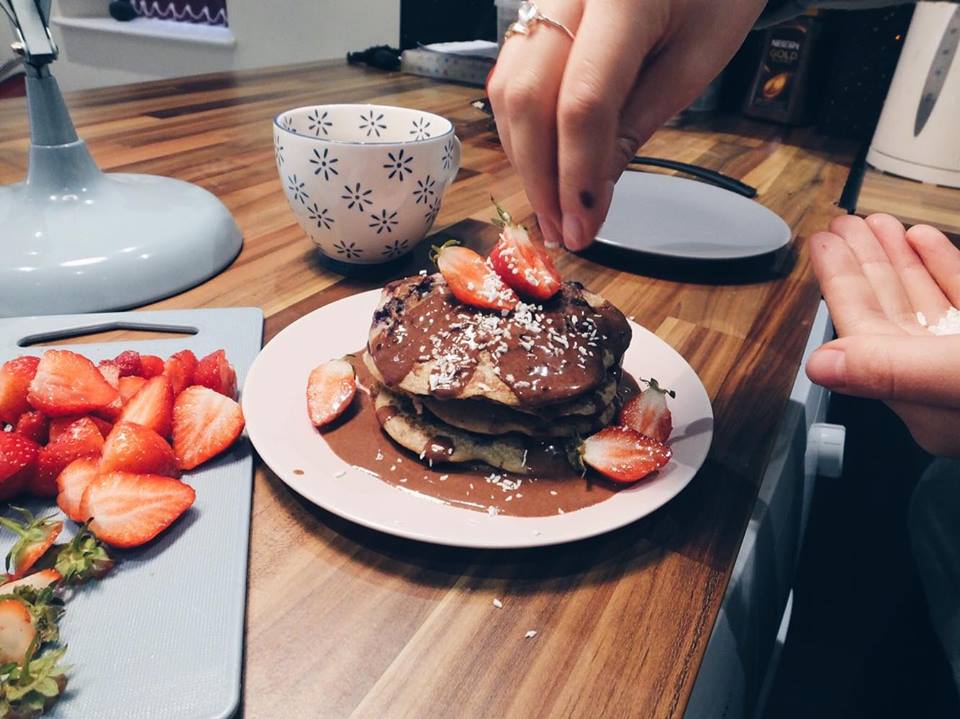 Reading Time:
6
minutes
So, I mentioned a while a go about my exciting plans for a little collaboration… and here it is! Now, don't just notice the word Vegan and run away hiding, because this post is not a plug to try and force you to change your entire lifestyle, it is simply to show you how fab Veganism is and some possible ways to incorporate it into your diet in little bits. Since starting uni, I have changed my own food habits quite a lot, I rarely have meat now (purely because its so much cheaper to be vegetarian)! But I am still a cheese and chocolate lover, and I can't honestly see that ever changing… but I was excited to build a friendship with Elise, whom I introduced in my last Amsterdam post, because she showed me how delicious non-cheesy or chocolate-substitute food can be. So I wanted to share this yumminess with you and get a little diversity on here so you don't get bored of my voice! So without further ado, I'll pass over to the beauty herself: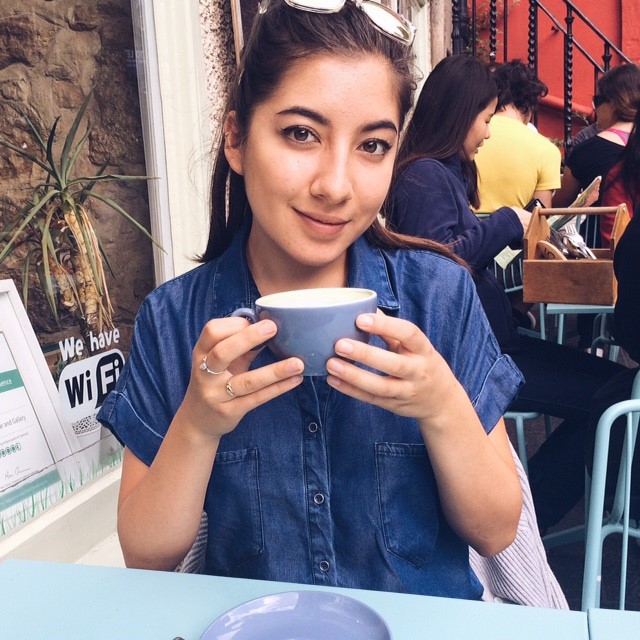 Vegetarians to me meant protein deficient, scrawny, pale hippies with messed-up taste buds and a weird view of the world. I mean, who doesn't like spaghetti bolognese (my favourite meal) or beef burgers? I therefore surprised myself when I first came across the term 'vegan' on Instagram, promoted through colourful, dreamy looking food and healthy, glowing people and decided I wanted to become one. I was instantly intrigued and began researching what it meant to be vegan and why people embraced such a stigmatised lifestyle.
I watched three documentaries: Earthlings (graphic video clips of what goes on behind the slaughterhouse walls), Forks Over Knives (the negative health impacts of consuming animal products) and Cowspiracy (covering the detrimental effects of investing in animal products). These really encouraged me to take the plunge and eliminate all products derived from animals out of my diet and lifestyle – I waved goodbye to dairy, eggs and meat, as well as investing in cruelty-free make-up and other household items. It sounds very alternative, I know, and quite daunting at first but believe me, I have found it incredibly easy to adopt and stick to – I would suggest to slowly reduce your consumption of animal products instead of switching cold-turkey so that your body can get used to such a change. Even reducing how much meat you eat can have amazing effects.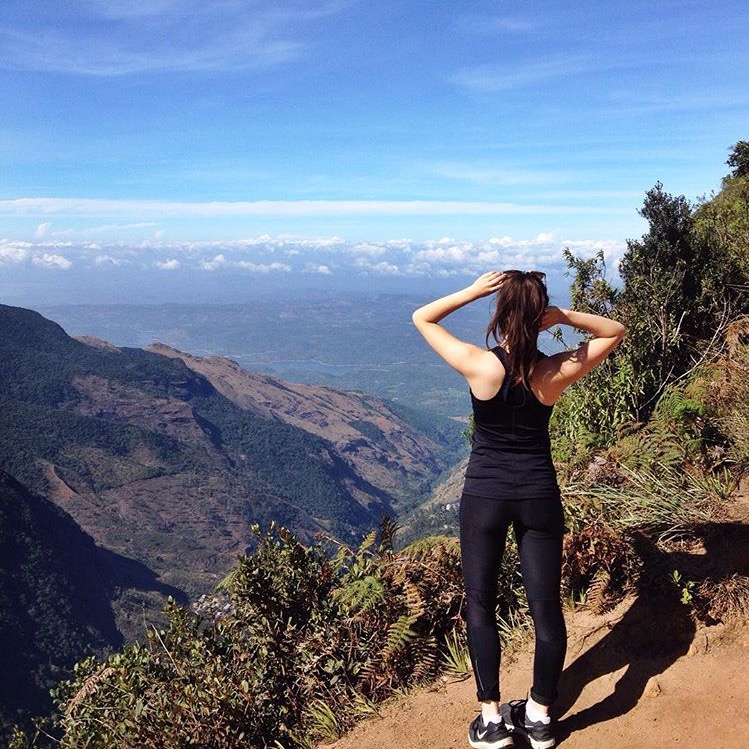 Overall, I have found being vegan incredible. I feel so much lighter as I eat a lot of fibre (digesting red meat usually takes three days!), I have a lot of energy and I really enjoy what I eat.
It's also really nice to know that I'm contributing to reducing environmental degradation, the suffering of animals and helping to improve my own health. My parents have also taken the plunge and have eradicated meat from their diets!
When I first went vegan, I decided to make my own vegan Instagram, Petite Elise to share with others how delicious just eating plants can be. A year and a half later, I'm still discovering and creating new recipes that nourish and fuel the body.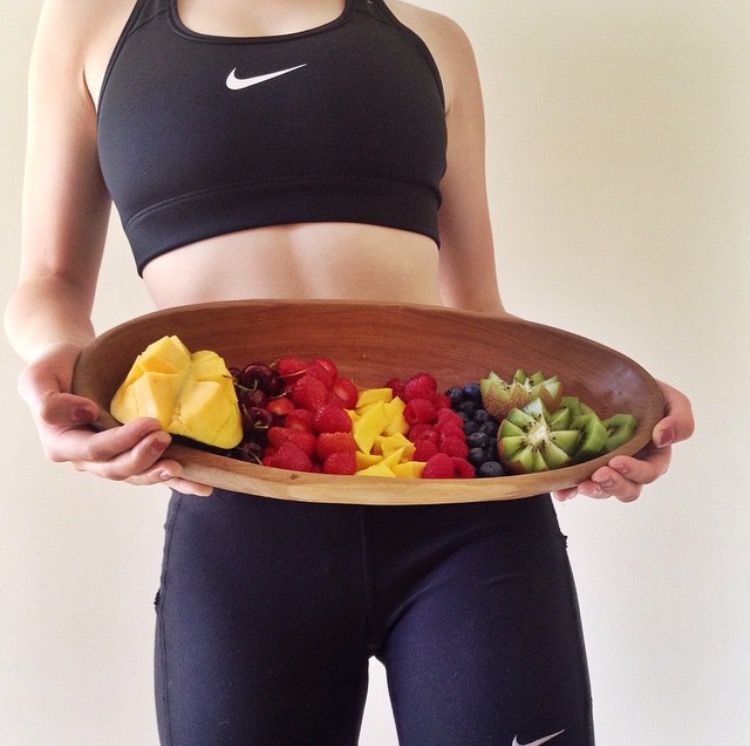 There are so many vegan alternatives to my favourite foods including sweet treats like decadent chocolate cakes and lemon meringue pies, delicious coconut curries, avocado sushi, (vegan)cheesy bean burritos and creamy banana ice cream. I can literally make anything I ate before with a little bit of research and messy experimenting in the kitchen.
I wanted to share a festive, healthy, three-ingredient pancake recipe on Common Toff, which is super simple to make and can be personalised with your own favourite ingredients.
I decided to create these ones with the warming taste of winter and Christmas by adding cinnamon and fruity blueberries, drizzled in a nutty chocolate-tahini sauce and topped with desiccated coconut and berries.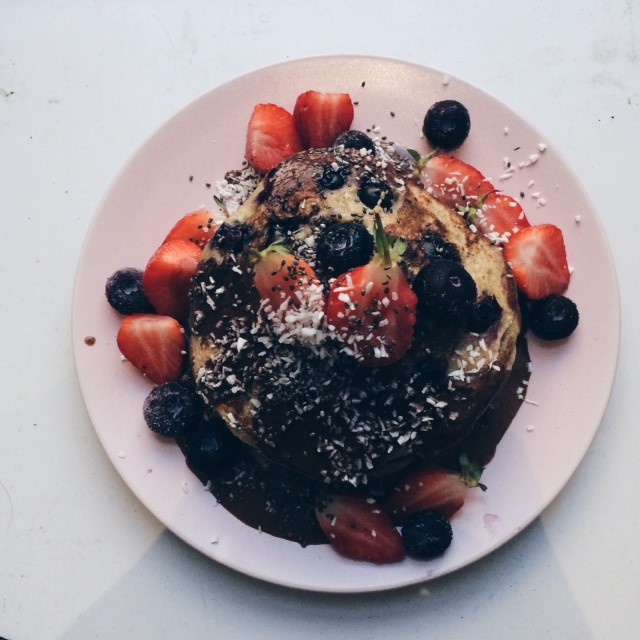 These American-style pancakes include lots of energy and fibre from the oats, healthy fats including omega-3 fatty acids from the chia seeds, which also contain protein and calcium, plentiful magnesium can be found in the cacao, whilst the fruit delivers a multitude of vitamins.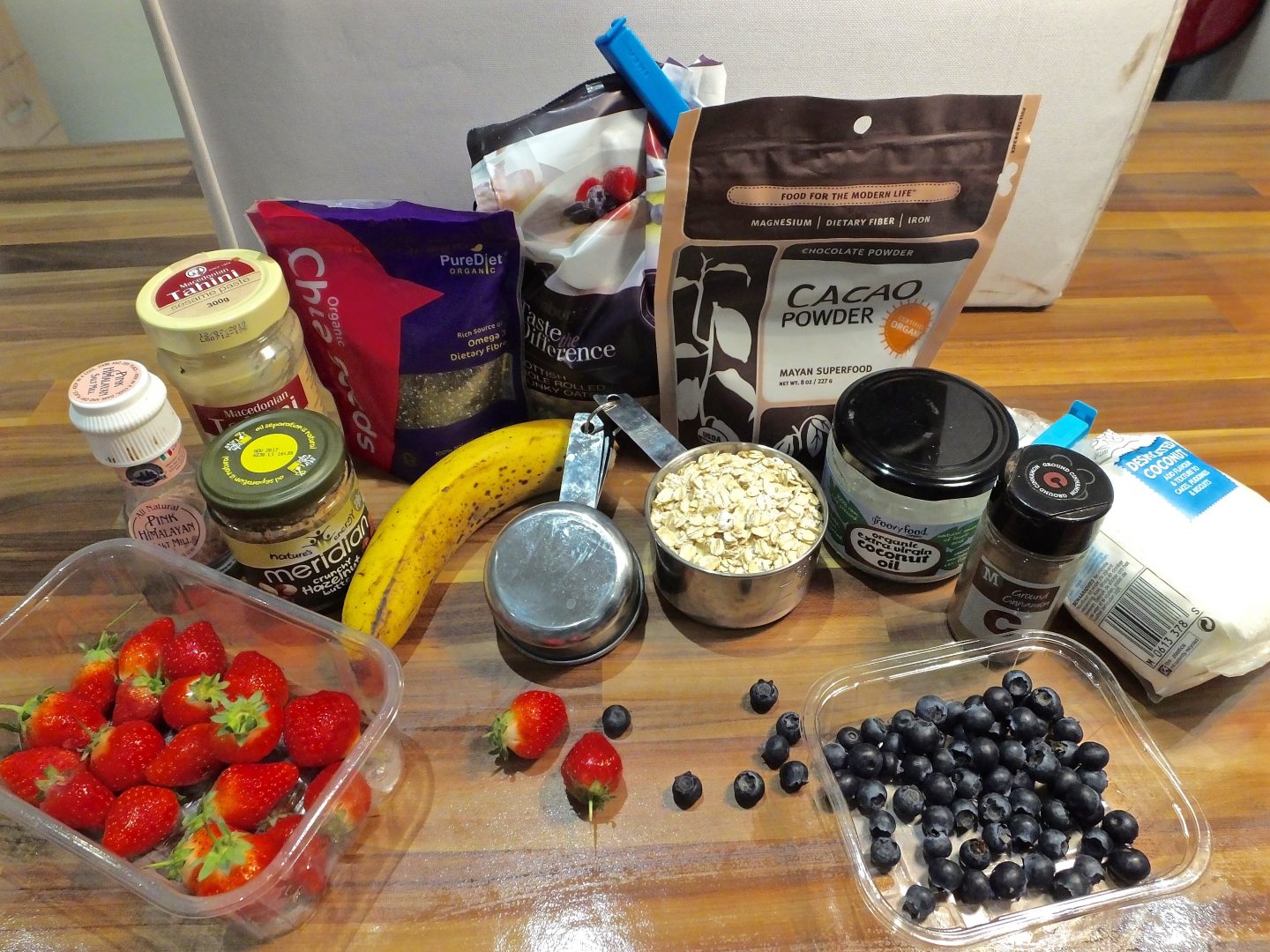 The ingredients you will need are:
For the pancakes
-1 cup oats
-1 cup almond milk (or other milk alternatives such as soya milk, oat milk, coconut milk etc.)
-1 ripe banana
-1/2 cup blueberries
-Coconut oil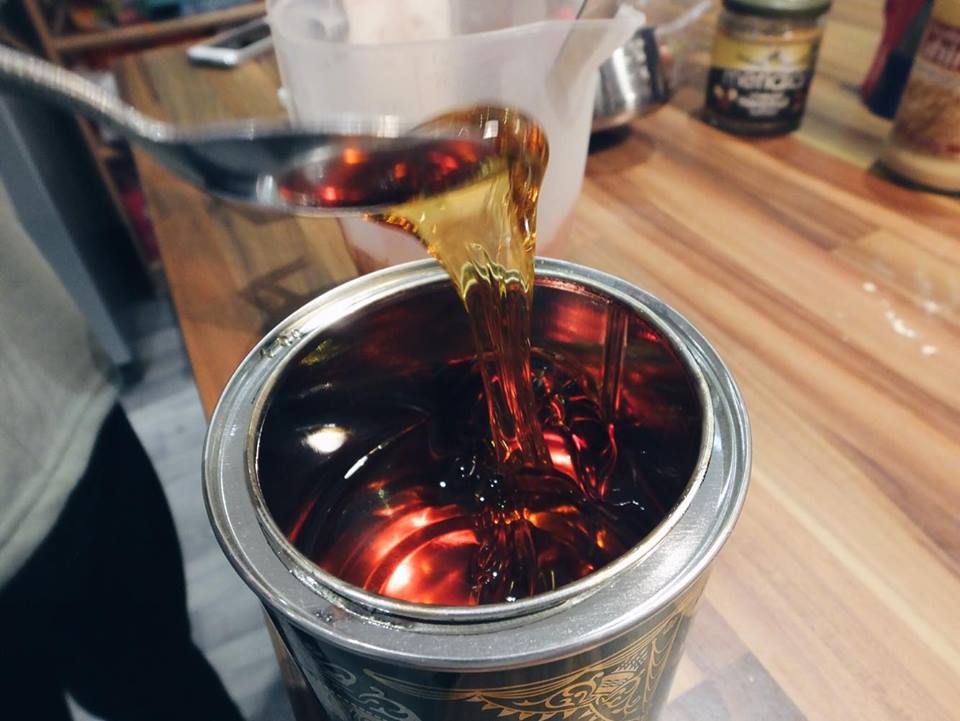 For the chocolate-tahini sauce
-2 tablespoons tahini
-1 tablespoon cacao powder
-1/2 tablespoon of golden or maple syrup
-almond milk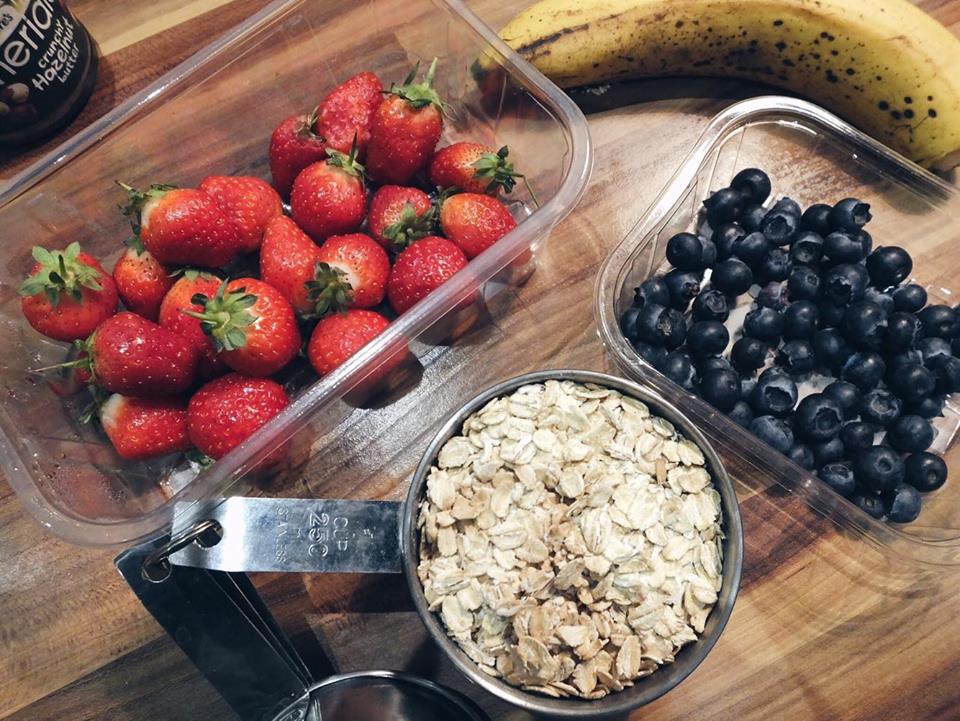 And strawberries, blueberries, desiccated coconut and chia seeds for toppings.
Method:
My all-time favourite tool would be the glorious blender (I own a powerful nutribullet) which I use to make smoothies, banana ice cream, warm soups and pancakes.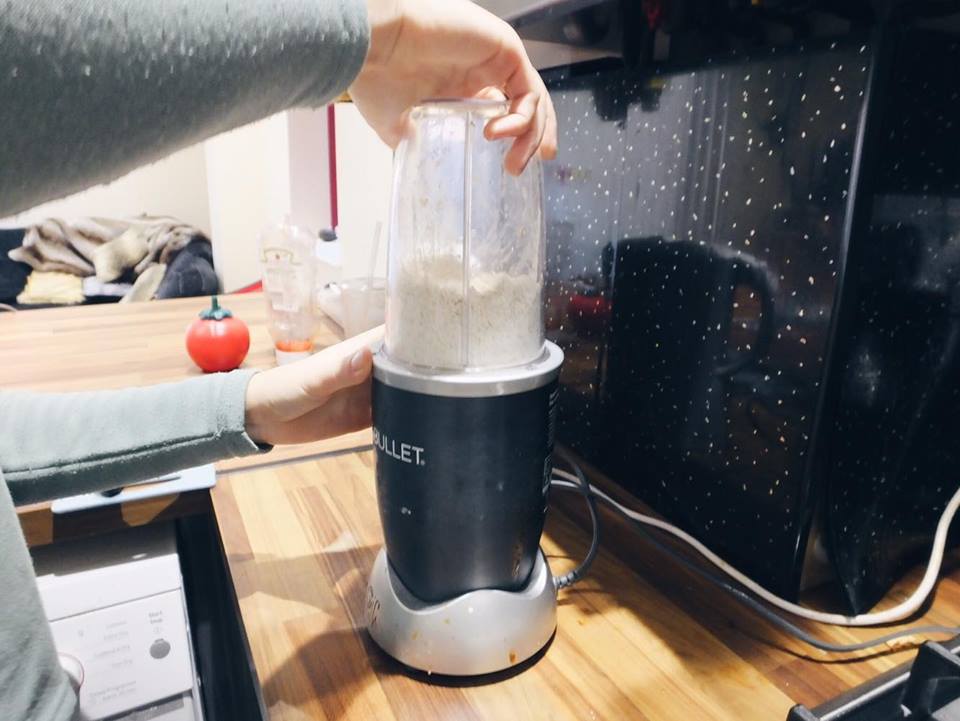 Firstly blend up the oats to make oat flour and then add the almond milk and banana (make sure it's ripe so it has its own natural sweetness) and stir in the blueberries.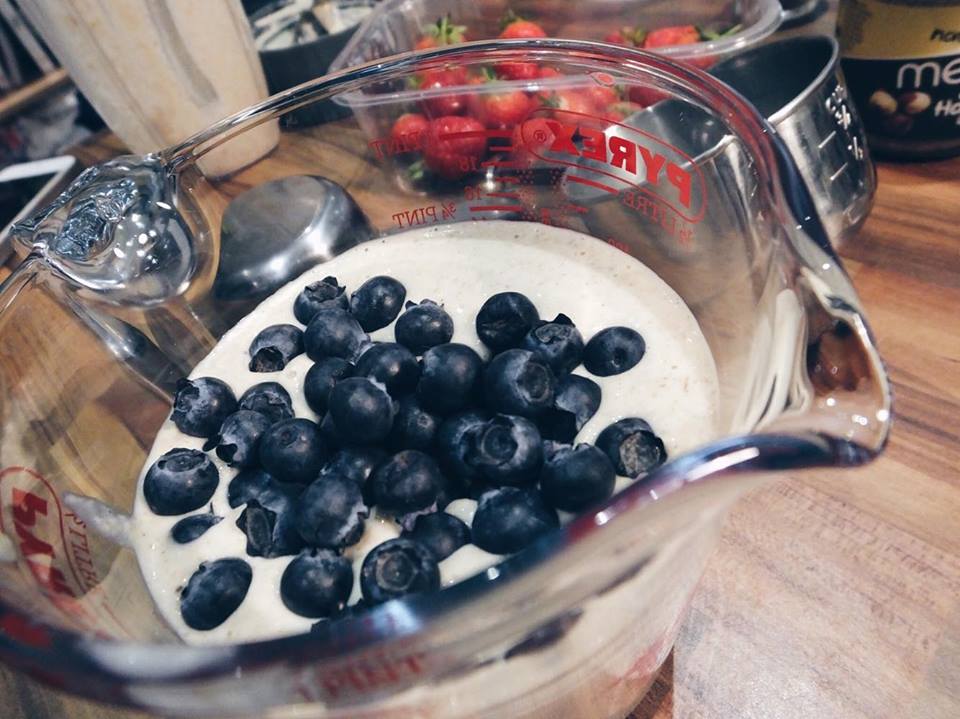 Over a medium heat, melt a small spoon of coconut oil on a non-stick flat pan and pour the pancake batter in the centre.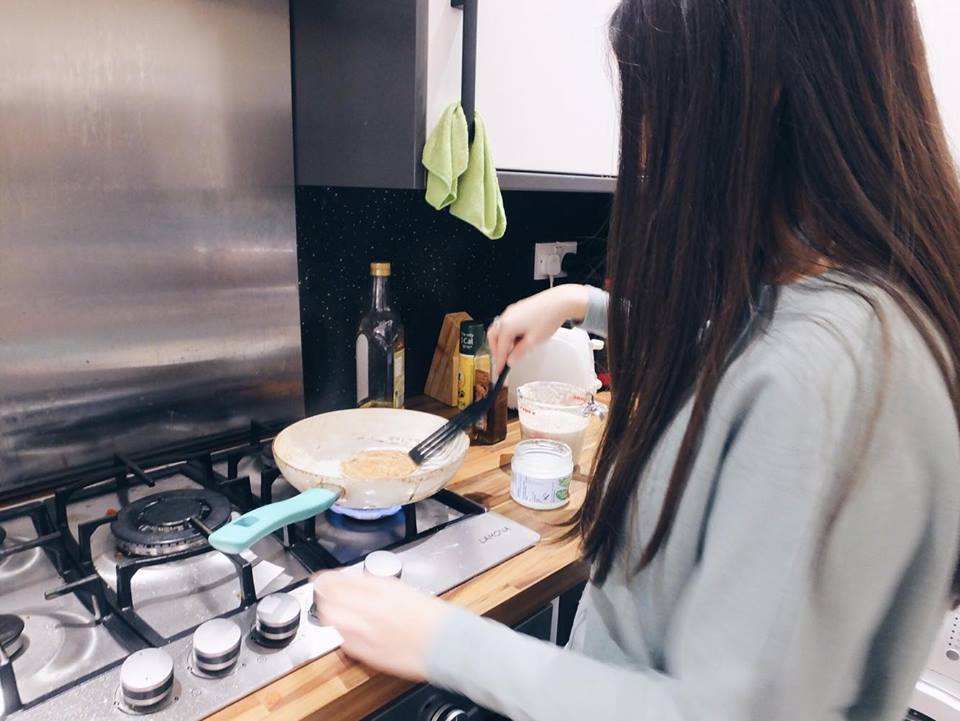 Once lots of little bubbles have formed on the surface of the pancake, flip it over with a spatula and heat until golden brown. Whilst your pancakes are cooking away, whip up the divine sauce by mixing the cacao powder with the tahini and syrup and slowly adding almond milk in order to create a smooth pouring consistency.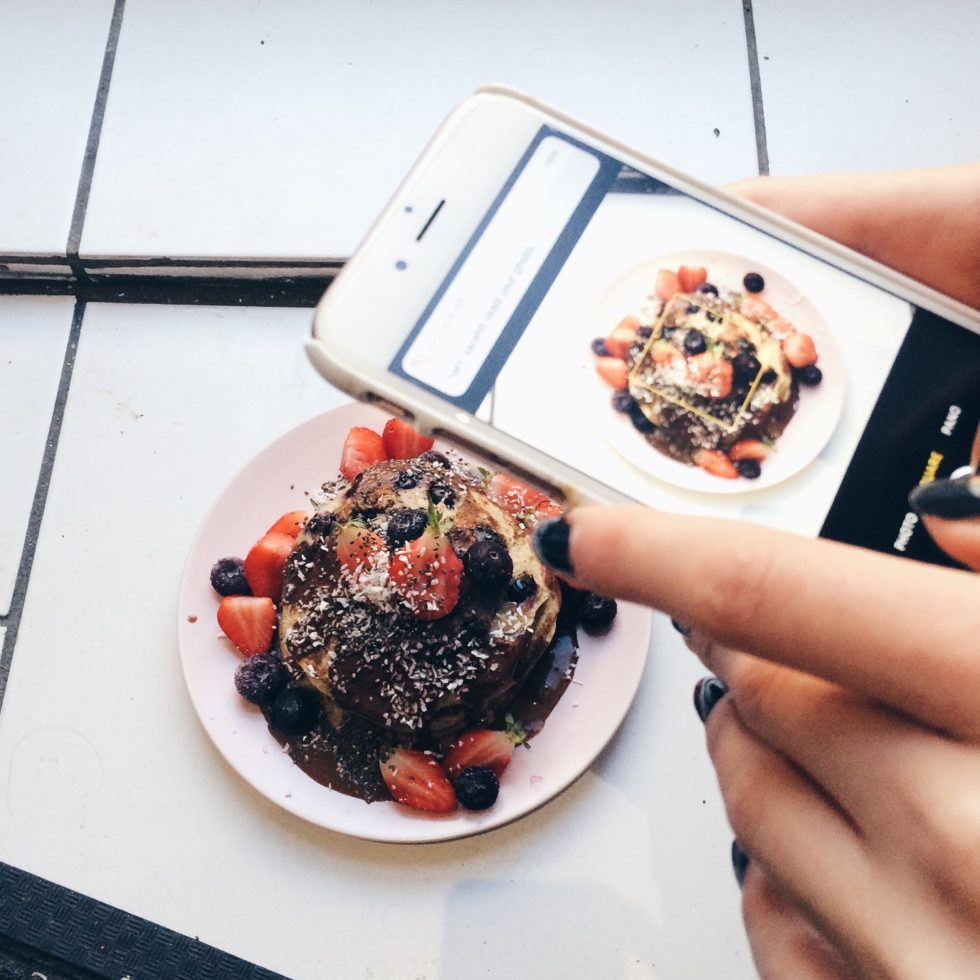 Stack your pancakes, drizzle on your sauce and decorate with the toppings. Don't forget to take multiple snaps of your decadent, but healthy creation (c'mon it's literally like eating porridge – oats, milk and fruit!) and keep to yourself to drool over later or post online for others to drool over, your choice. Then, demolish the entire stack and wash it down with a herbal tea.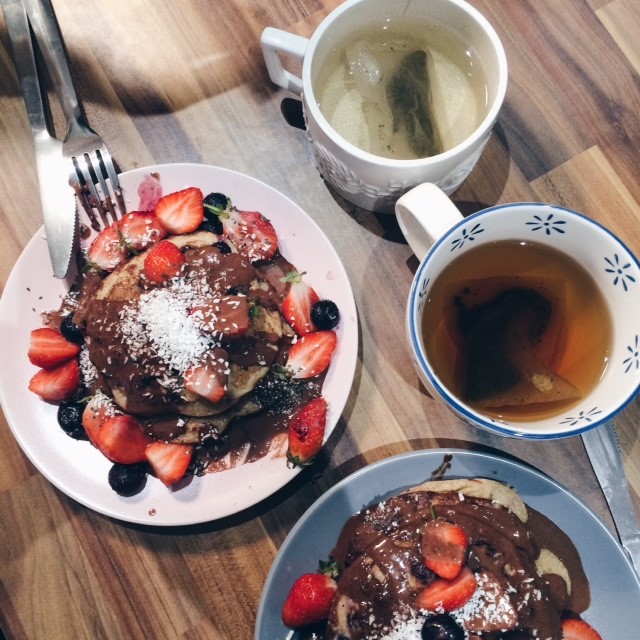 I wish you luck in mastering veganism – be it eating one plant-based meal a day or going full-out hippy and joining the dark-side with me, or just attempting this super easy recipe.
I'm back (Ailsa)… just wanted to remind all you fellow pancake-lovers about my pancake post from last year- but will also warn you that my photo quality way back then was truly horrific!