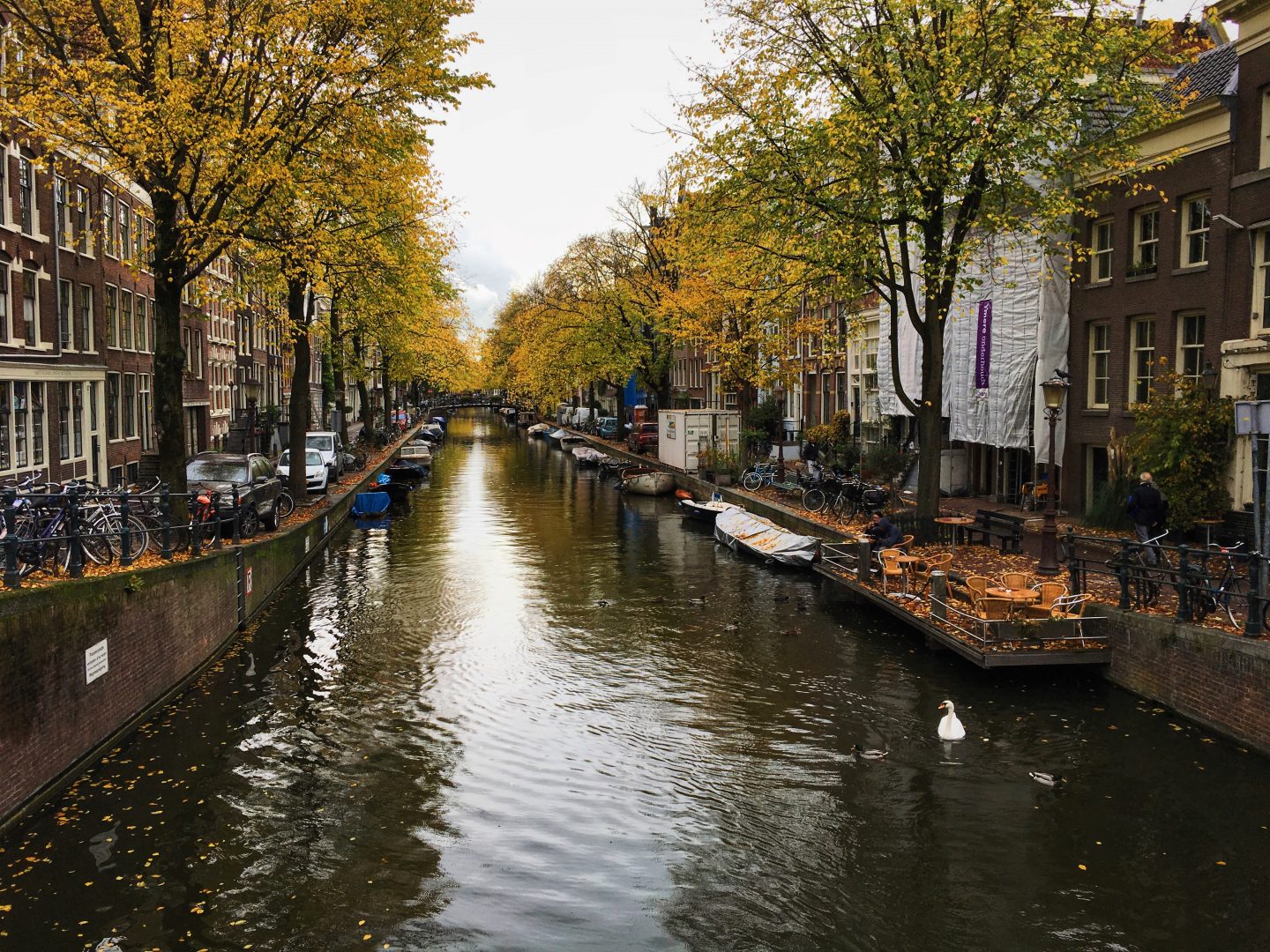 Reading Time:
8
minutes
Its hit a bit of a stressful time of year… deadlines, reading, deadlines, reading, internship planning, job applying, etc., etc., etc… But, at least its coming into that festive time of year where the world goes a bit doolally and the usually important things are relegated beneath Secret Santa, Christmas movies and huge roast dinners!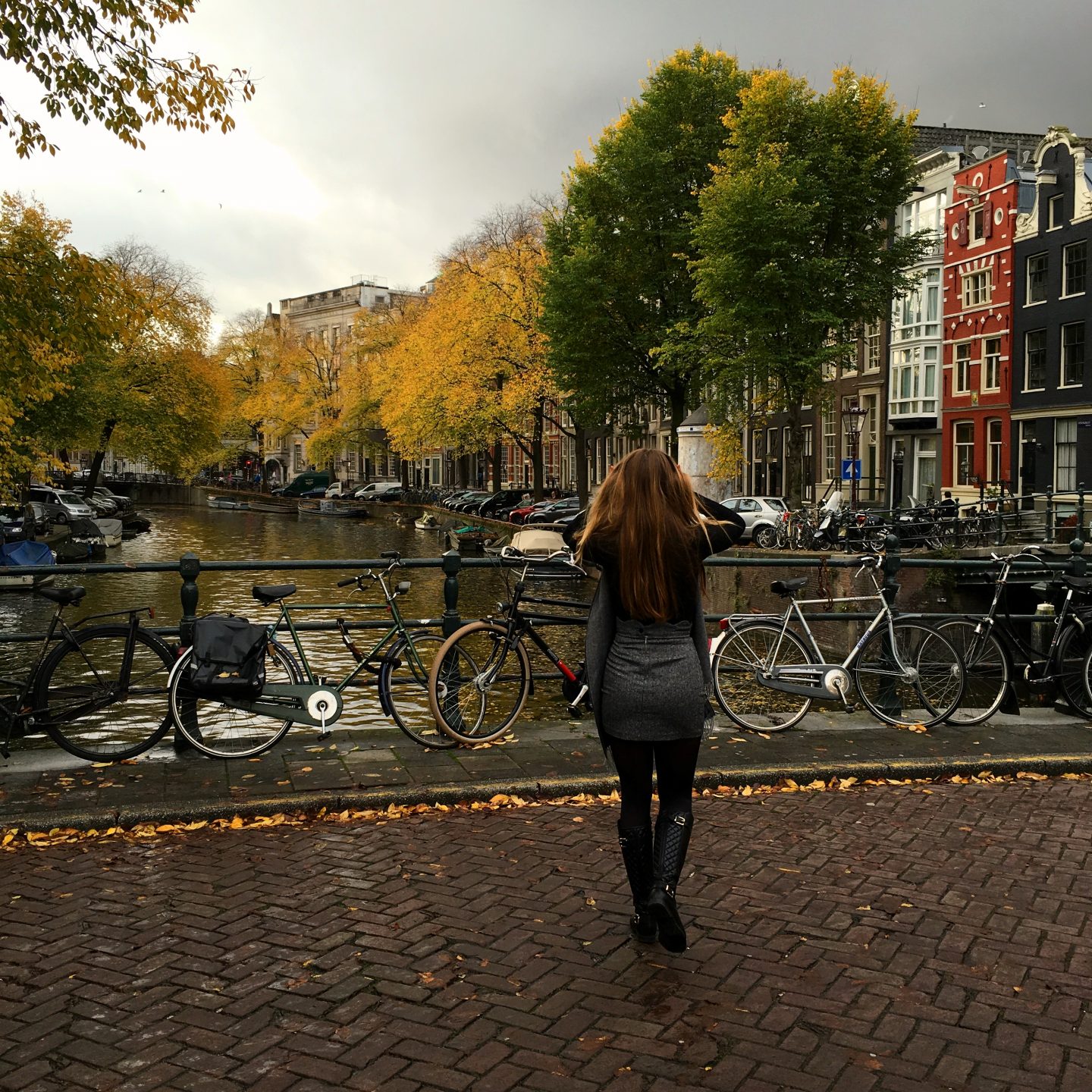 While Winter possesses perhaps the most obvious magic of all the seasons, I discovered Autumn's charm this year. Until now I've often found Autumn a bit depressing: Summer comes to the end and its back to frumpy jumpers, freezing cold beds and soul-destroying rain. But this year, I properly noticed the prettiness of the changing leaves and the richness of colour that Autumn brings. I think this sentimentality was helped somewhat by my mini trip to Amsterdam over reading week. (This is possibly also the primary cause of my current stress however, since reading week is sort of provided as a time to catch up on exactly that.)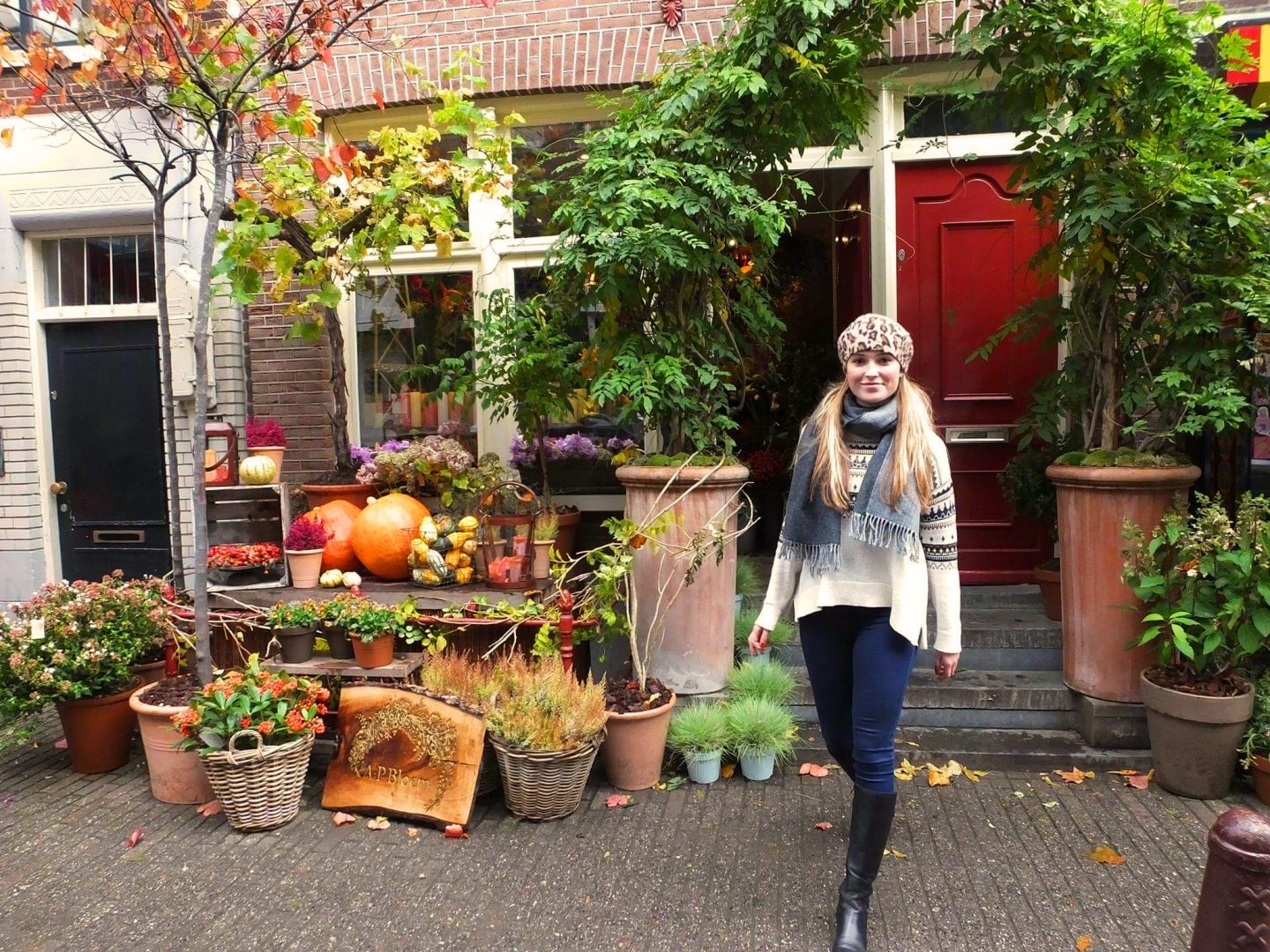 Our university English society organised a short 2 day trip (3 nights including one on the 14 hour coach trip…ew) to the bizarre, yet beautiful creative city of Amsterdam. Having never been before, I expected little past the daunting thought of the coffee-shop culture. I have since discovered that it is so so very much more, again I was reminded of how much I adore the various towns and cities of our culturally diverse Europe. As I drifted in and out of sleepiness the morning after our overnight journey I spotted my first windmill and excitedly realised the extensive voyage was nearing its end and the possibility to stretch my legs was near!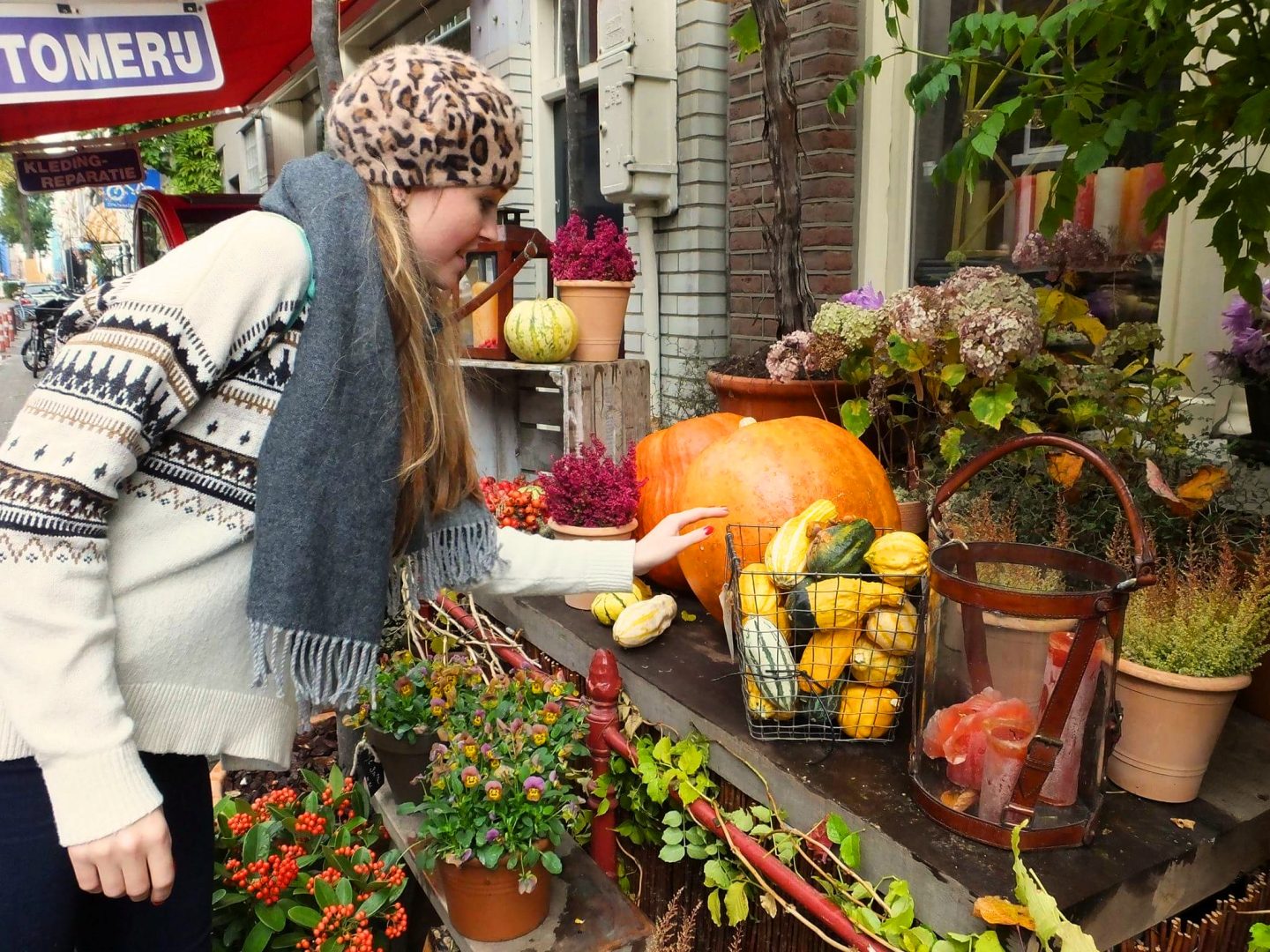 We then meandered our way through the intricate canal system and I realised Amsterdam's beauty for the first time. The network of glistening water, ornate but simple bridges and quaint canal houses was incredibly pretty and only intensified by the enchantment of falling Autumn leaves.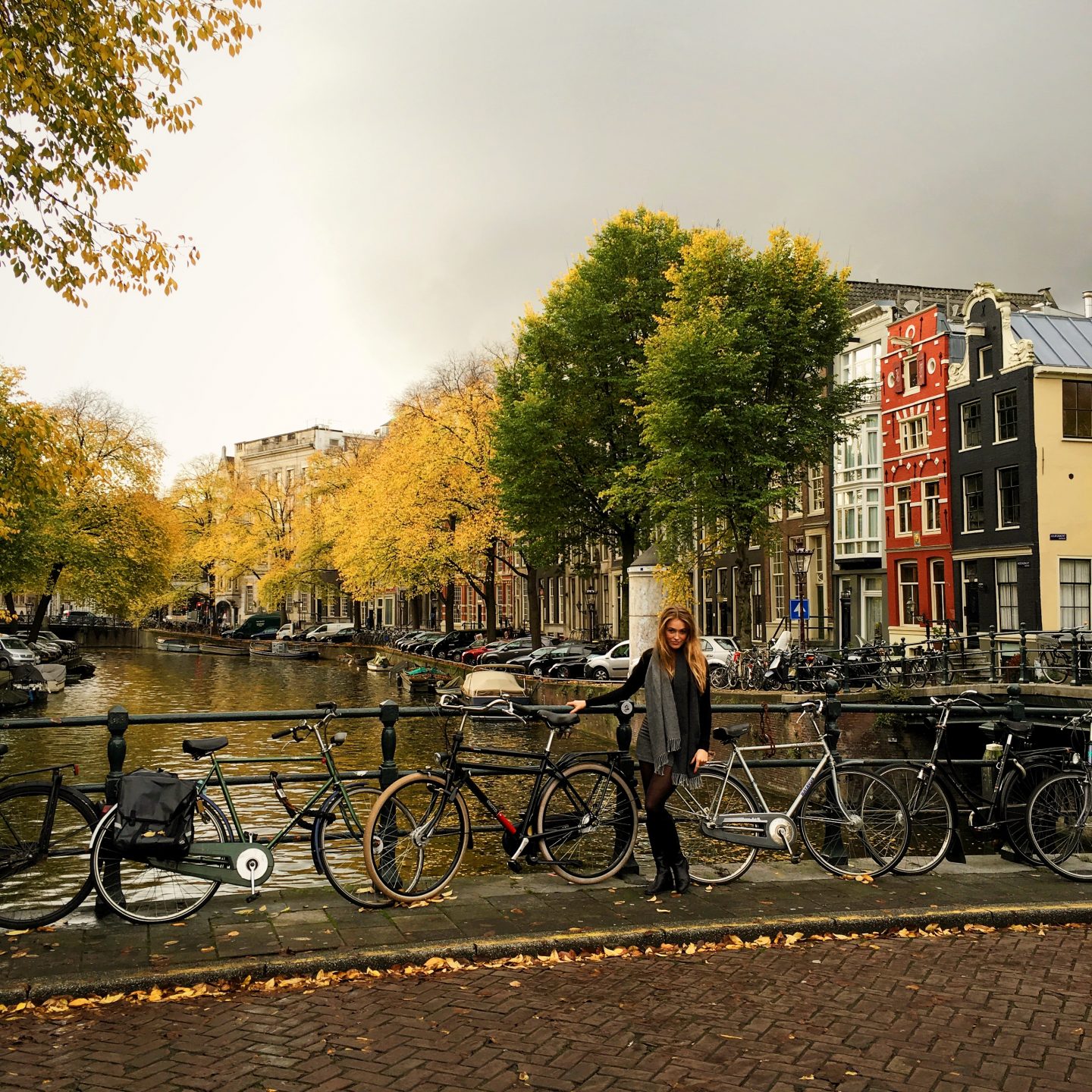 I was filled with an aspect of trepidation before embarking on this trip, as we had made the error of researching our youth hostel beforehand… the fact that Hans Brinker publicise themselves as the worst hotel in the world with the advertising slogan of 'It can't get any worse. But we'll do our best' possibly speaks for itself- but just so you can really understand, this is what we read prior to going. On arrival, however, it wasn't nearly as bad as it could have been, and for such low prices was ideal. Especially, and I will stress this heavily, the more time you spend in your hotel, the more precious time you're wasting that should be spent exploring!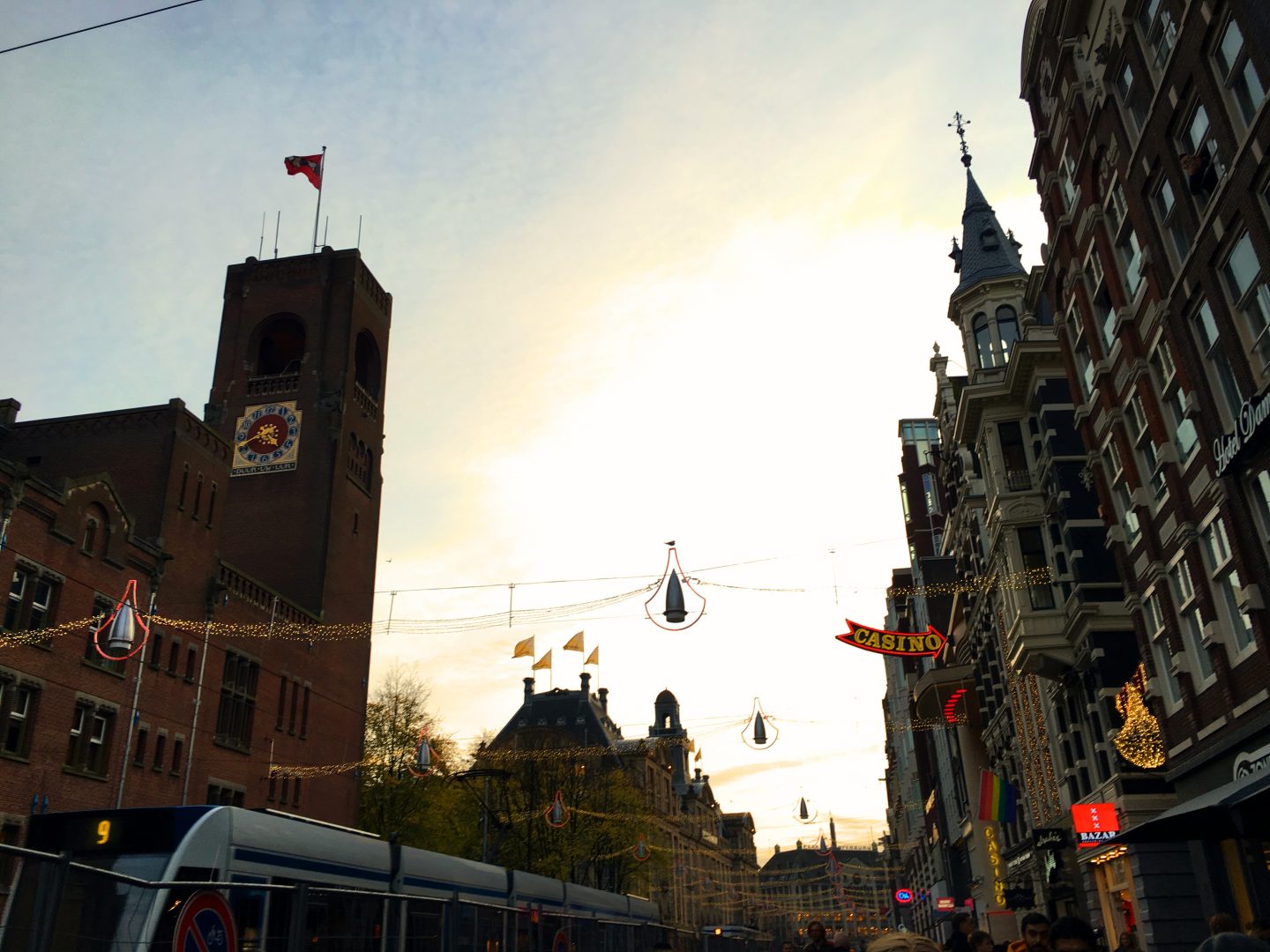 And that's the thing with Amsterdam, there is so so much to explore… its a city of culture, in fact it has the highest concentration of museums in the world! (A little fact I nabbed from another article that my dad sent me yesterday- just in case you require a second opinion on why its such a worthwhile place to visit.) We just used our feet and walked everywhere, which is definitely possible if you're willing to invest the time and effort, the city is so concentrated that everything is fairly close by. Walking allows you to pay closer attention to the city's smaller details.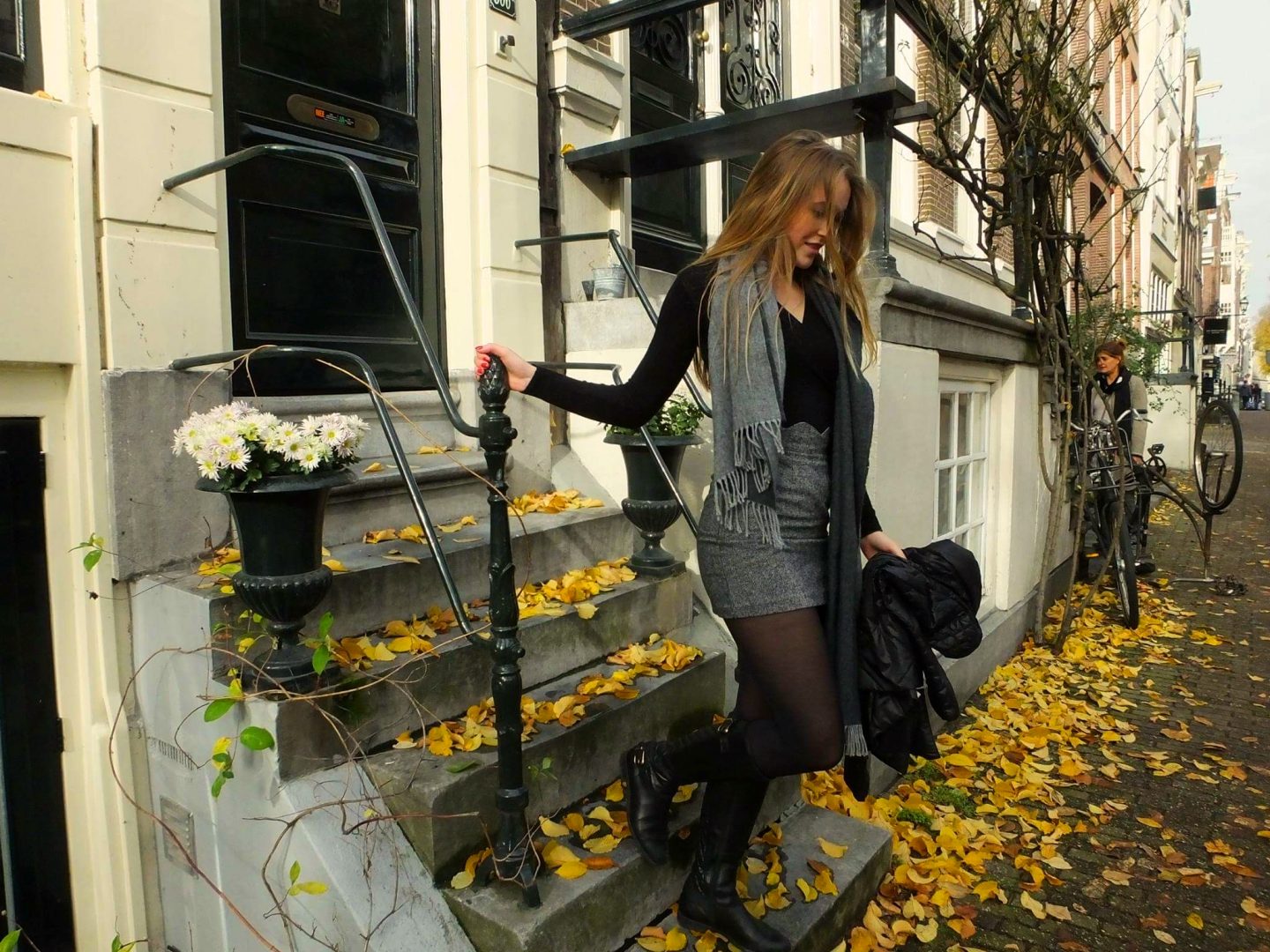 However, most people in the city cycle, there's more bikes than people! The canal system is not the only network running through this city, bike lanes are everywhere… and while I am no doubt sure there is some kind of rule system that keeps them all safe, I came across many a near-death-experience as a pedestrian in this cycling-city! All I can advise is that you never ever switch off, keep your eyes peeled and be wary at pedestrian crossings- as far as I can gather, they don't apply to cyclists! Still, it's great that bikes are such a big part of this city, and the air genuinely feels cleaner for it… and they only add to the already charming aesthetic!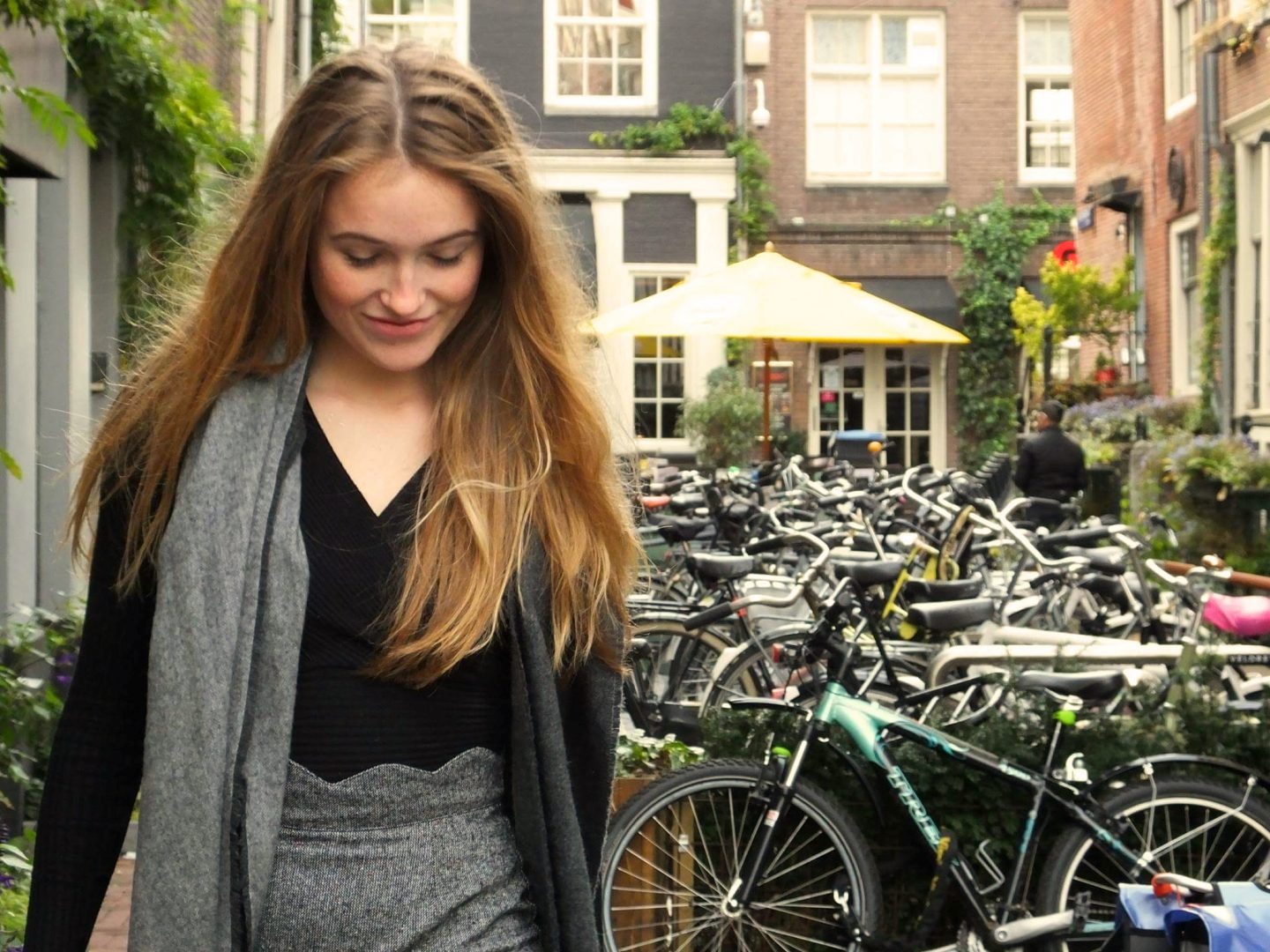 So I mentioned museums… and we did our fair few, including a cheese museum, because why ever not!? We also took a trip to the famous sex museum to see what all the fuss is about. Its an experience. I won't say much about it as would quite like to keep Common Toff PG, and I certainly wont include any photos from inside! But if walking around bizarre and sometimes terrifying artefacts of sex and fetishes while surrounded by strangers sounds like an activity that could be entertaining (and in a weird way it is… we instantly turned into embarrassed little giggling schoolgirls), then go for it, its hardly expensive!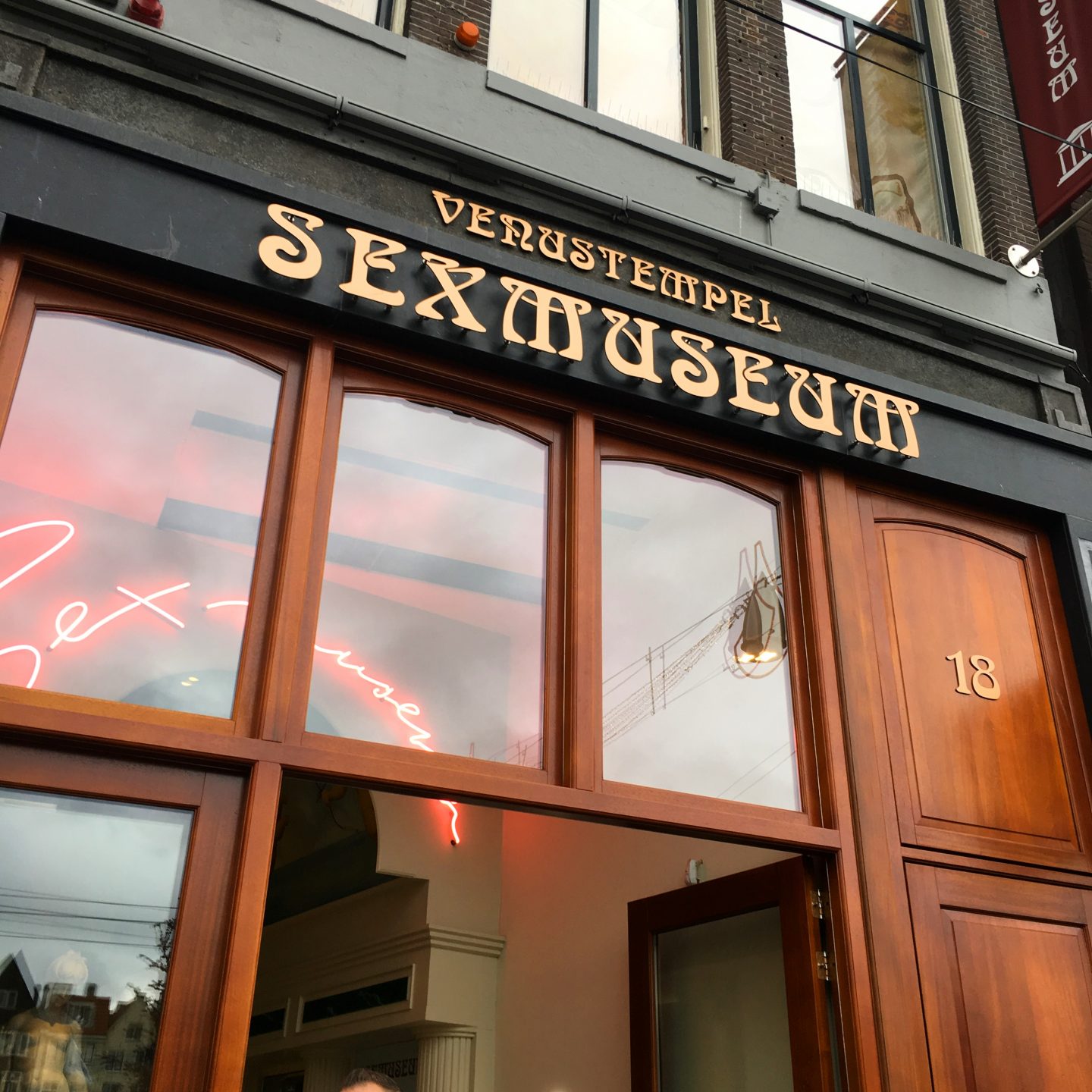 We balanced up our questionably cultural experience with The Van Gogh museum for a little more education and sophistication. There are a number of art museums surrounding the IAmsterdam sign, and when I return I will definitely be paying a visit to the Moco Museum of modern and contemporary arts, this is more my style than Van Gogh really, and what can ever be more calming than a wonder around an art gallery?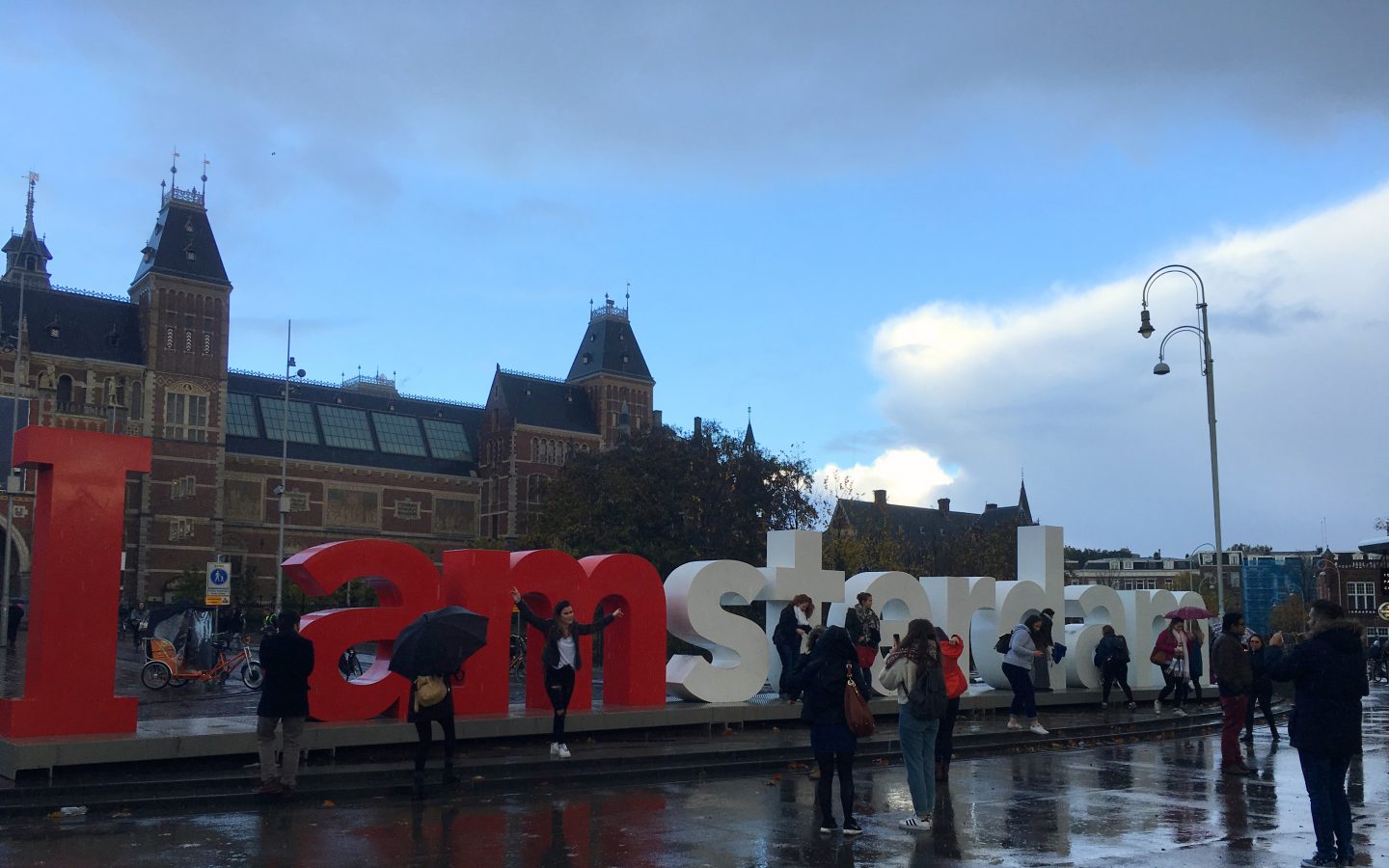 We had resolved to visit Anne Frank's House and take in the emotional culture that obviously surrounds her story, but unfortunately on arrival were told we were too late. If Anne Frank's House is on your itinerary, then make sure you book your place a few weeks in advance, or be prepared to queue for several hours from 3pm. All the same, we were able to take a look at the exterior of her house and there is genuinely a strange sense of importance surrounding it, we spent a few minutes just standing and absorbing the aura surrounding it.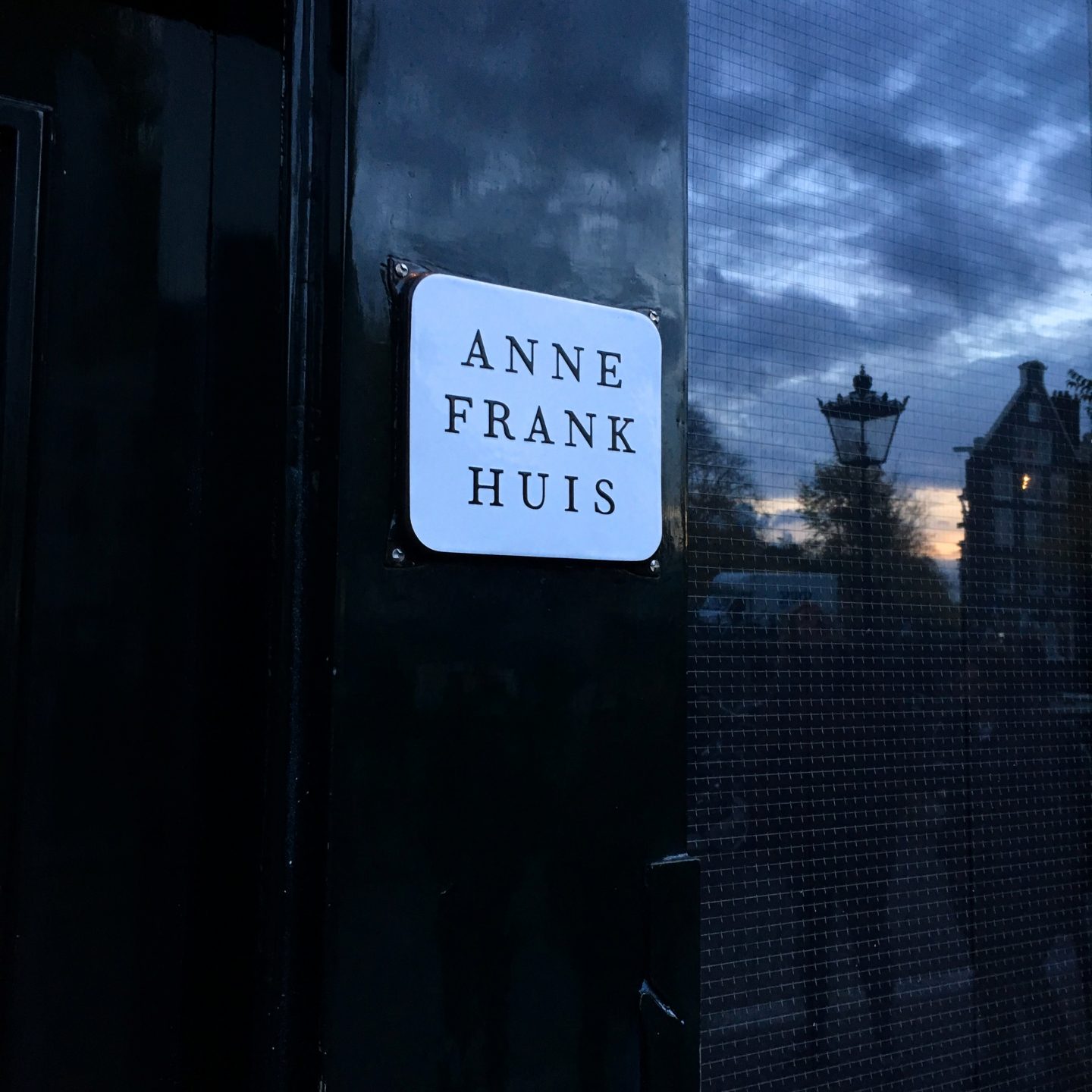 The travel/rep agency our uni used for the trip were Outgoing… if you are part of a society committee somewhere and looking to put on a trip abroad, I can definitely recommend! On our first night, half-dead already from a rather disturbed sleepy coach the night before, the reps took us out on our first night-time-Amsterdam experience. It did not let us down… as far as I can remember. The city's bars are very much like the classic European nightlife, dancing, poles, loud music, it reminded me a lot of my time in Barcelona actually. Emerging from the final bar in the early hours, we set our plans to take a trip to the renowned Red Light District, for cultural purposes only obviously…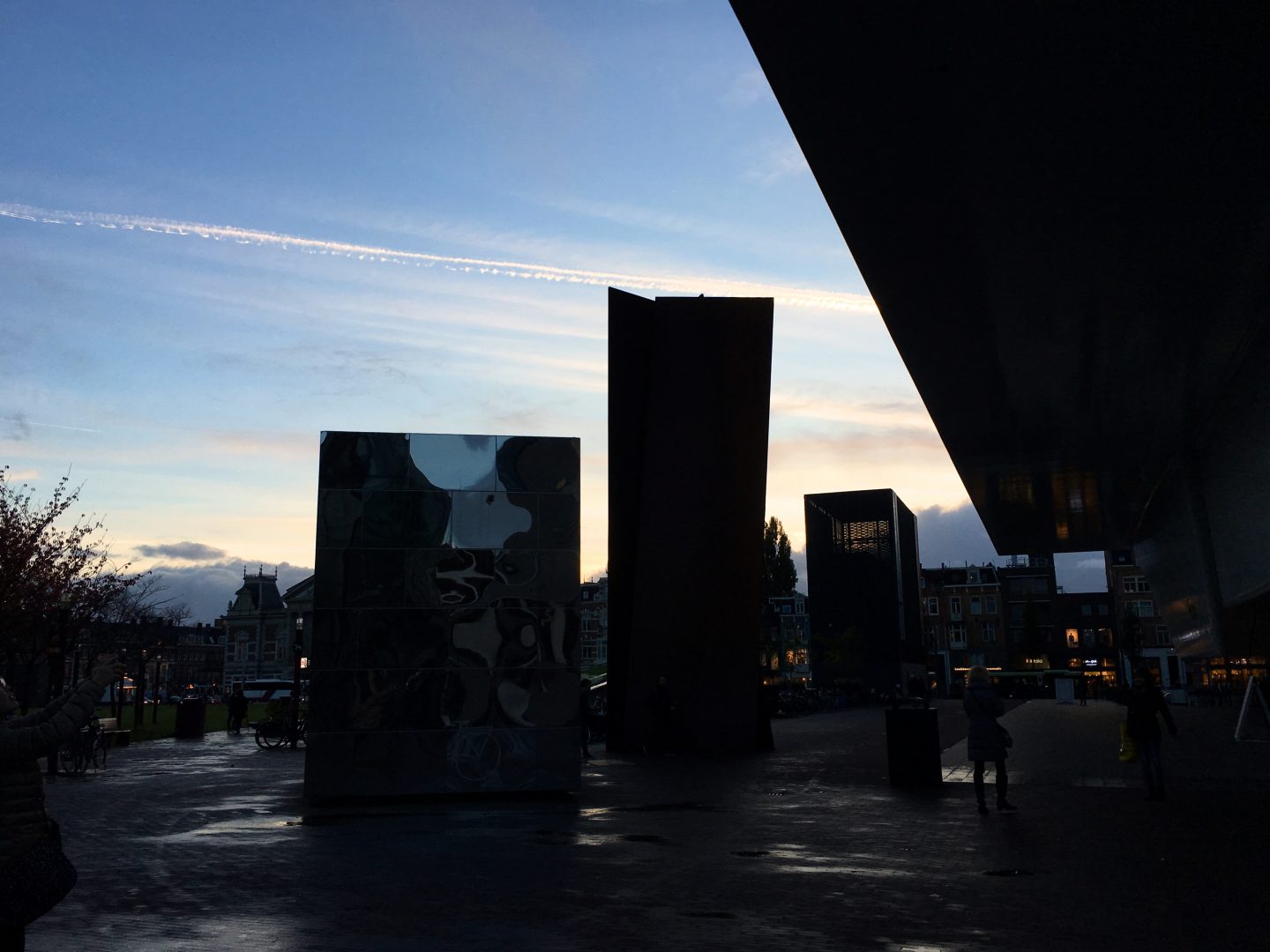 It's safe to say Amsterdam's bizarre identity was upheld. The district was completely surreal, you kinda have to see it for yourself, so I'll leave it there! Making our way back to the hostel was yet another experience- we got so entirely lost that we wandered around the city for at least an hour before finally stumbling upon our street. That's the other thing about Amsterdam, its so so easy to get lost… but actually that's no bad thing, its when you get lost that you find the most hidden treasures.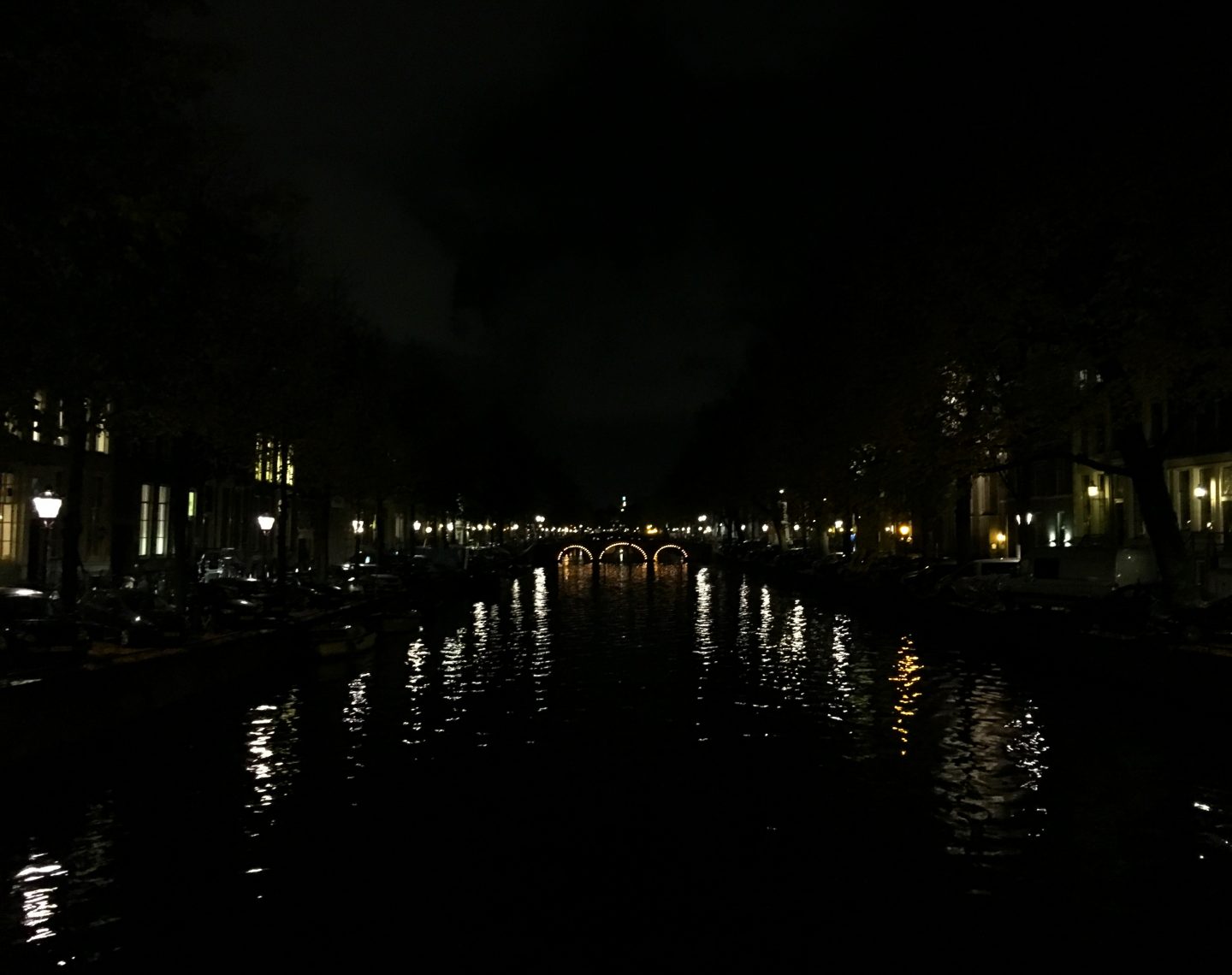 The next morning, feeling somewhat fragile, we decided a food day was in order. A friend of mine, Elise (look out for this name, it will come up again! Also make sure you look at her Instagram) is vegan and was determined to introduce us to just how delicious a cheese-free meal can be.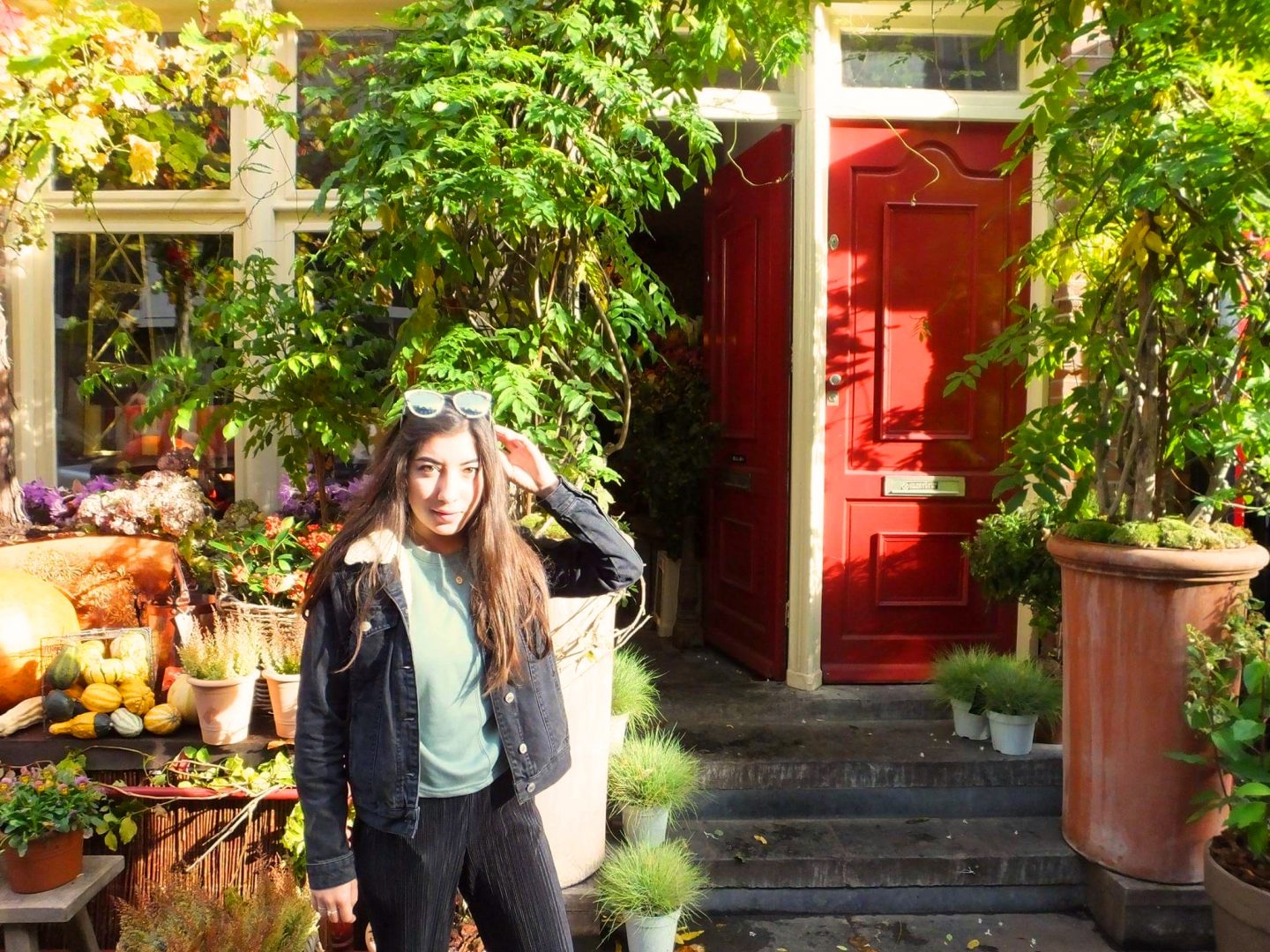 The pretty lady herself.
Slightly dubious, (because obviously a meal can never be a proper meal without cheese), we agreed to follow her to Sla, a vegan restaurant that she'd noticed on several blogs and vegan Instas.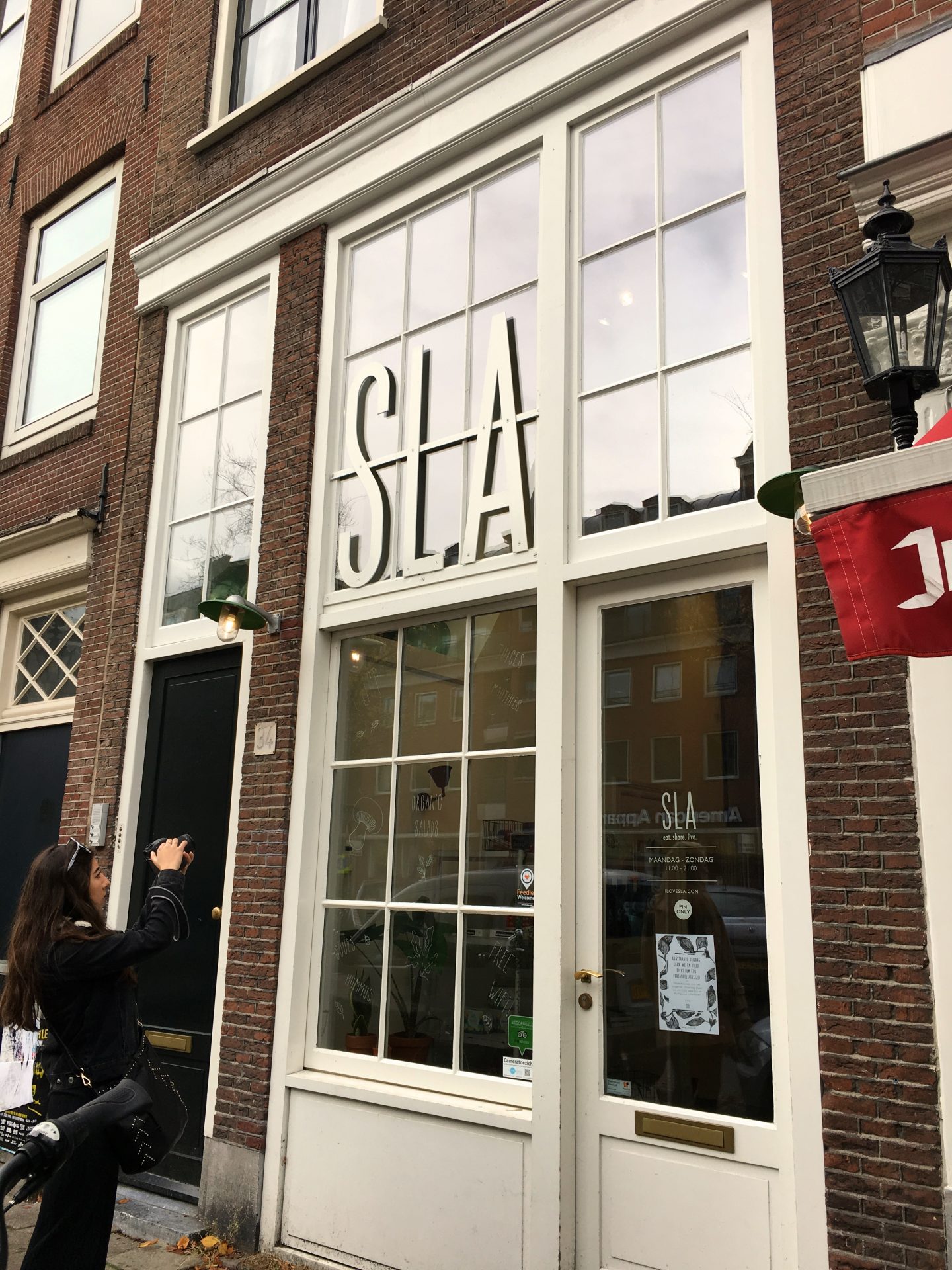 To be fair, she was right, turns out cheese isn't actually a necessity! We had a beautifully light lunch of humous, salad, seeds and grains in a chilled, calming atmosphere.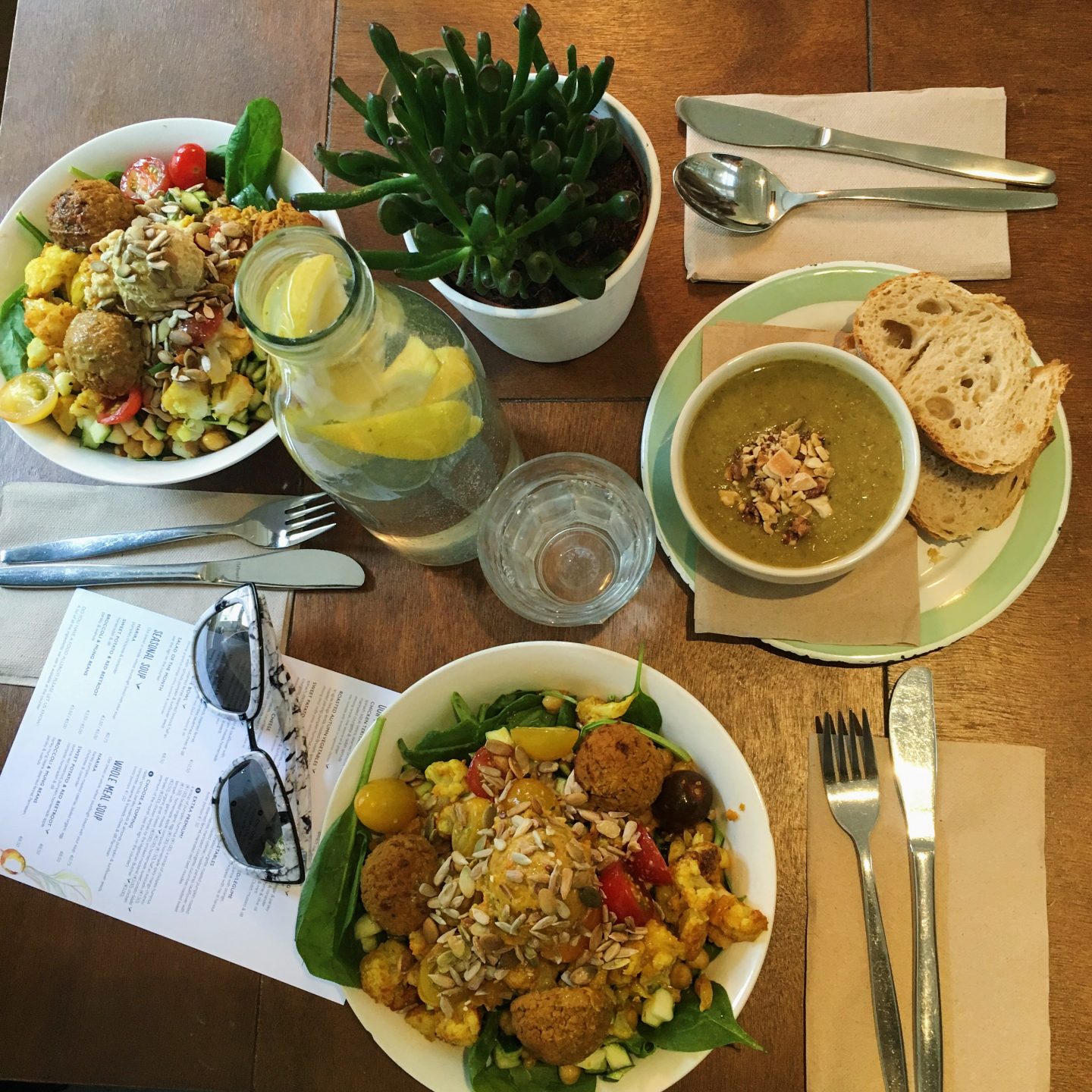 Make sure you pay Sla a visit if you happen to journey to this city, its like a super healthy, organic Subway for salads but with considerably more sophisticated decor.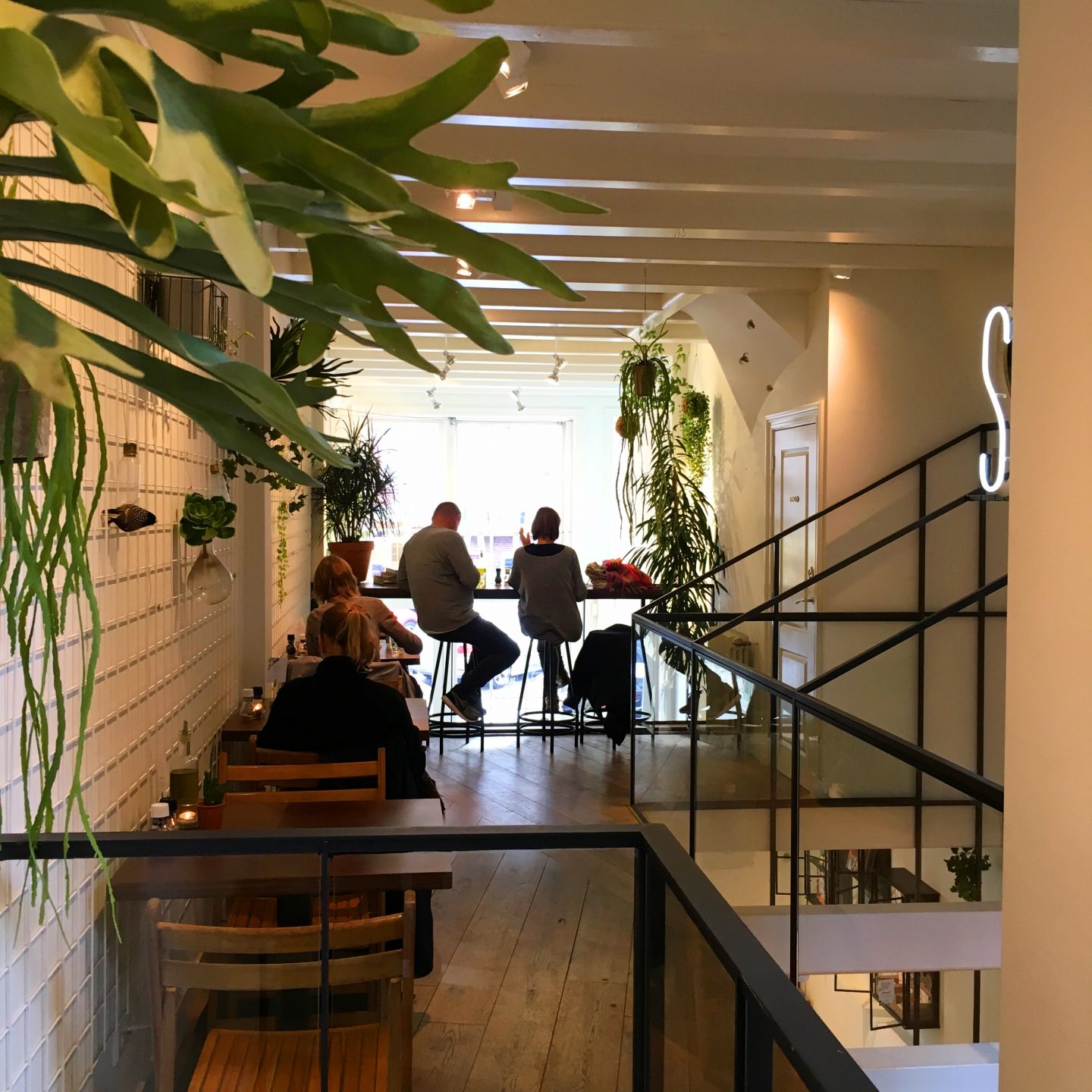 My healthy righteousness didn't last long however, as we made our way to Winkel cafe! This was honestly, the most simple and most delicious hot chocolate I have ever had, apparently it didn't have milk in it, so I dread to think what it was made of! Also a scrumptious slice of warming apple pie and cream.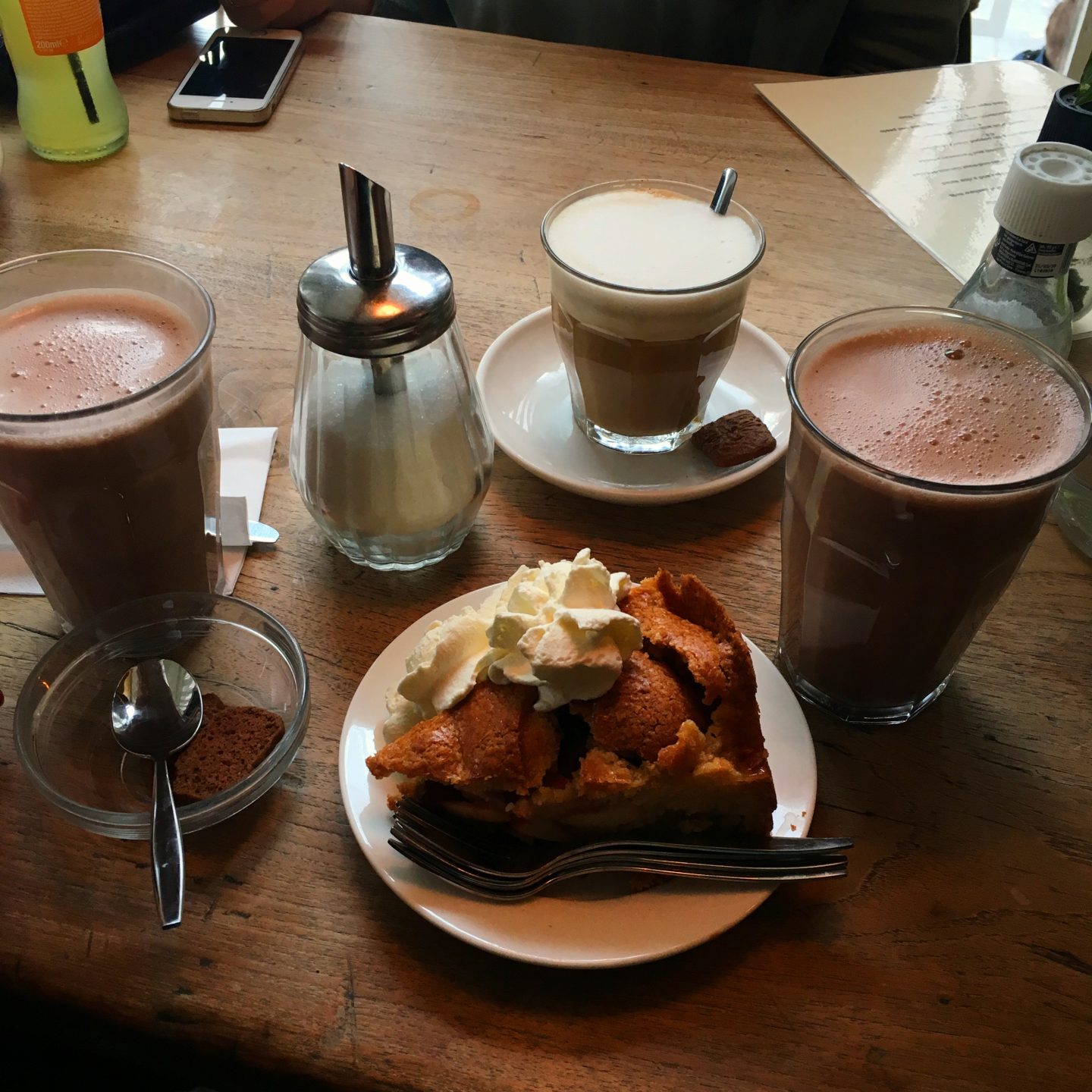 We walked this off as best we could, by exploring the beautiful buildings lining the canal and frolicking in the autumnal leaves.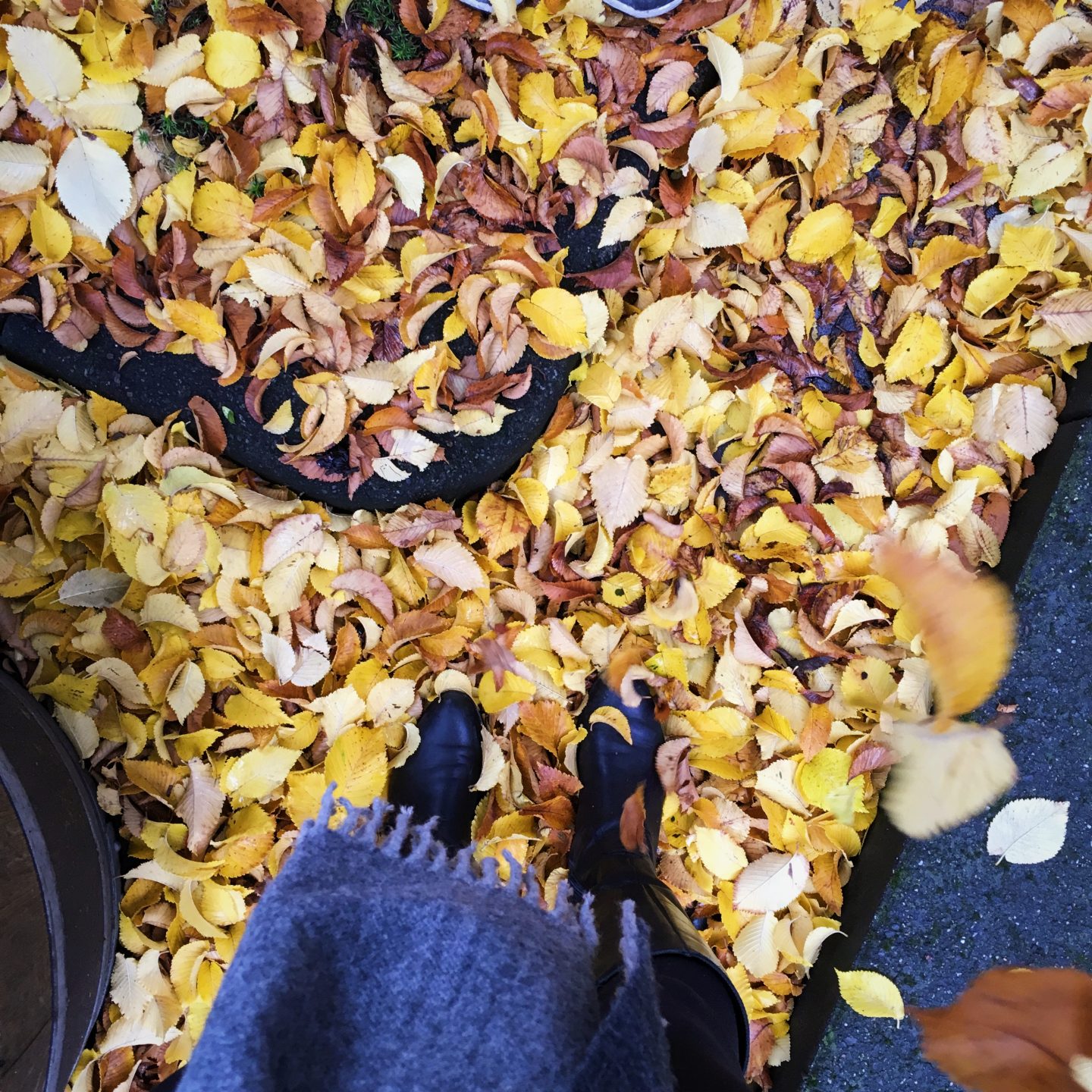 (Okay maybe that was a bit of an idealism… but it really was lovely).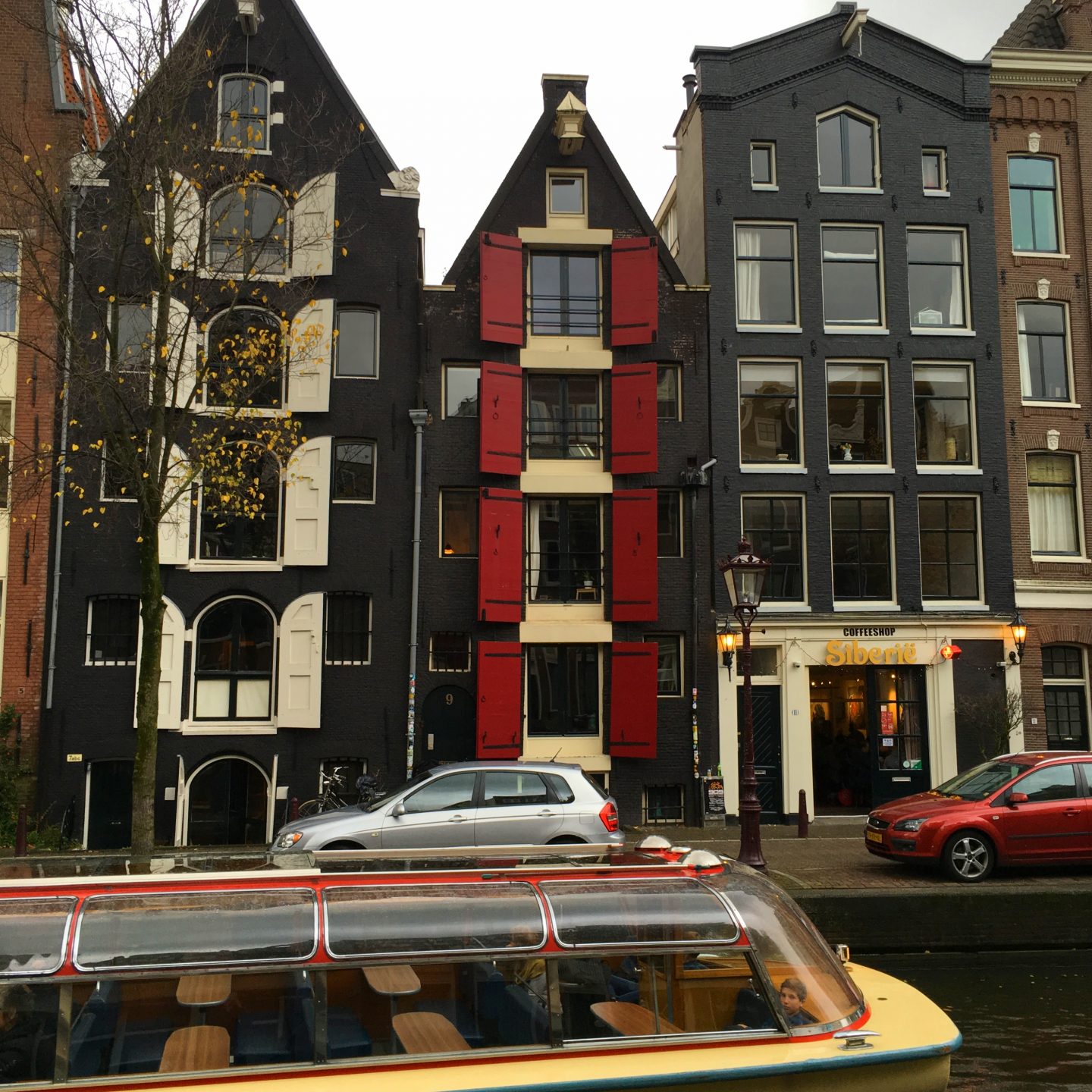 For dinner we found a jacket potato restaurant called Jacketz. Now, obviously that doesn't sound particularly exciting… but you'd be surprised by the level of gourmet a jacket potato can reach! They were very affordable, wonderfully aesthetic, multiple in options and the perfect pre-night-out food.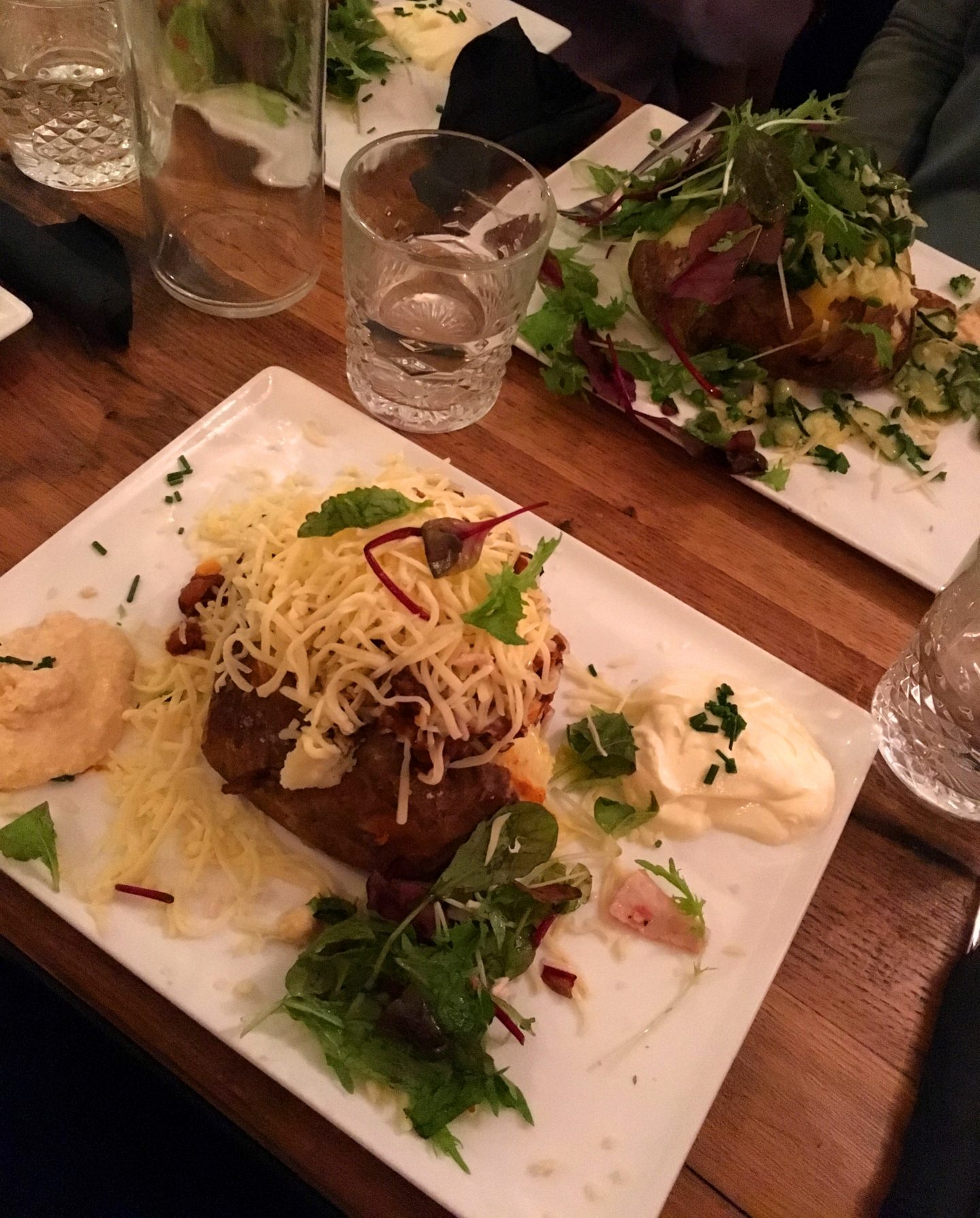 Amsterdam has some incredible architecture, the station and palace especially. And we took our time taking in the city's treasures.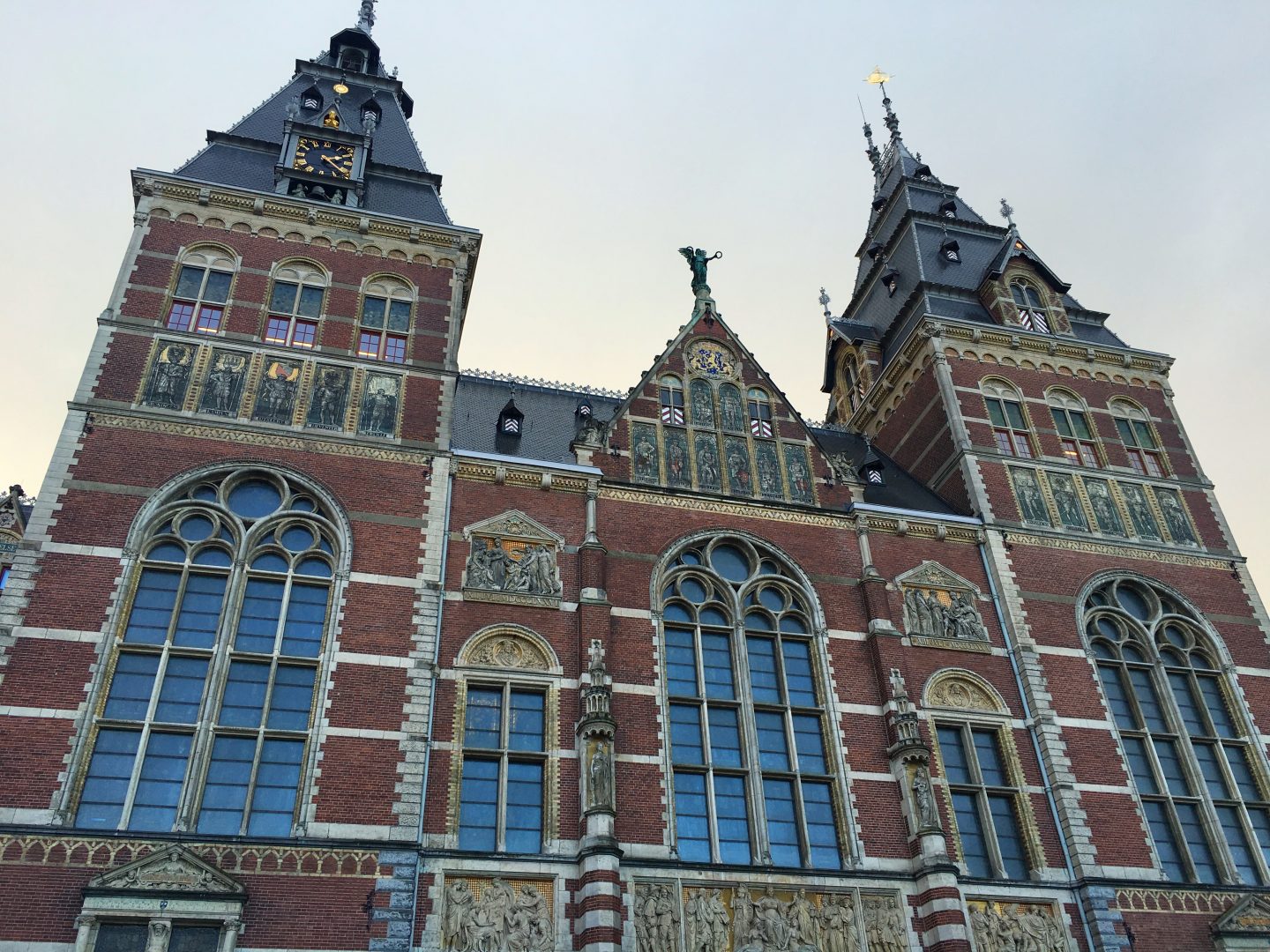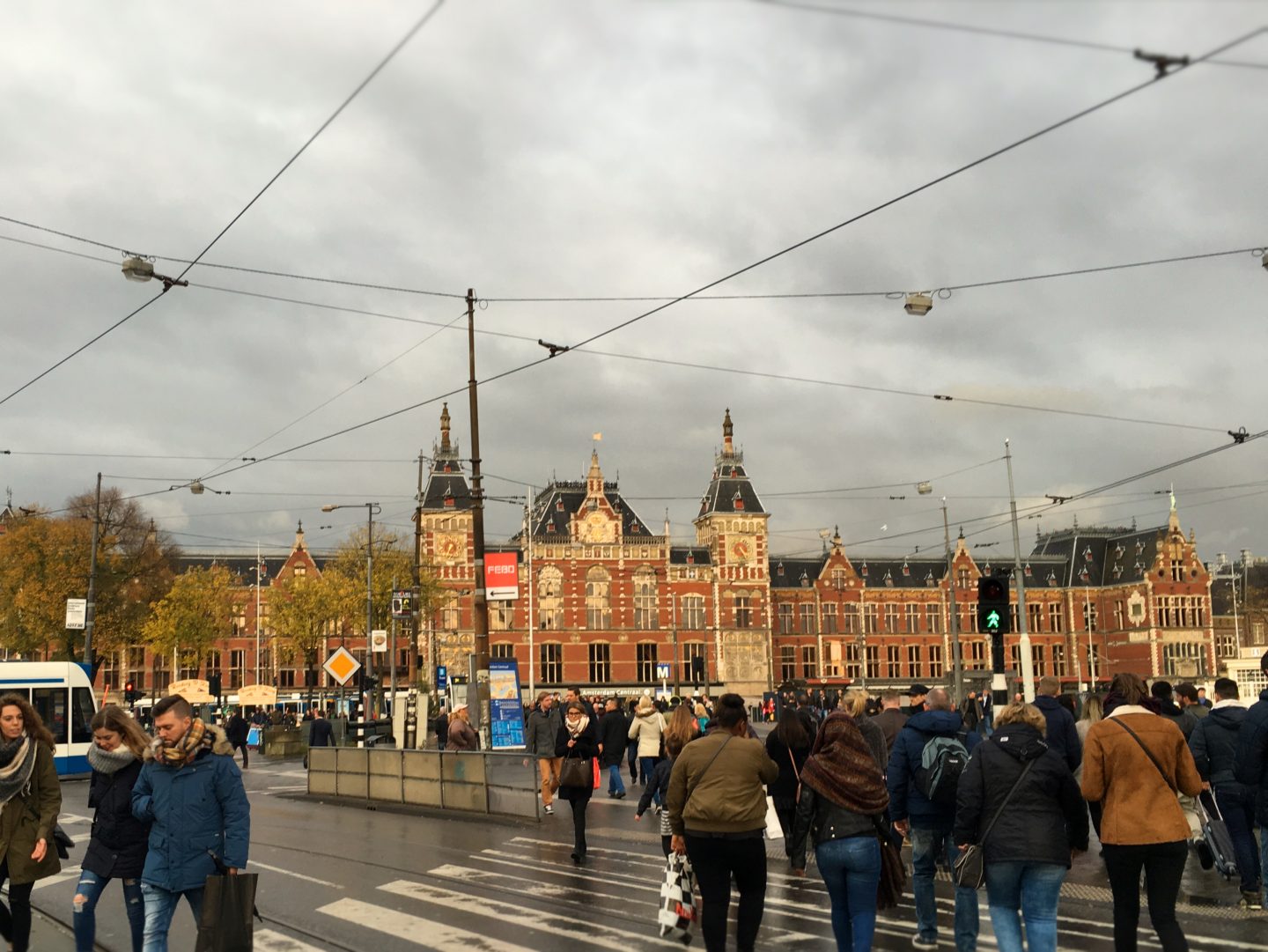 Some of the spectacular gems were slightly smaller and quainter, like this adorable little flower shop.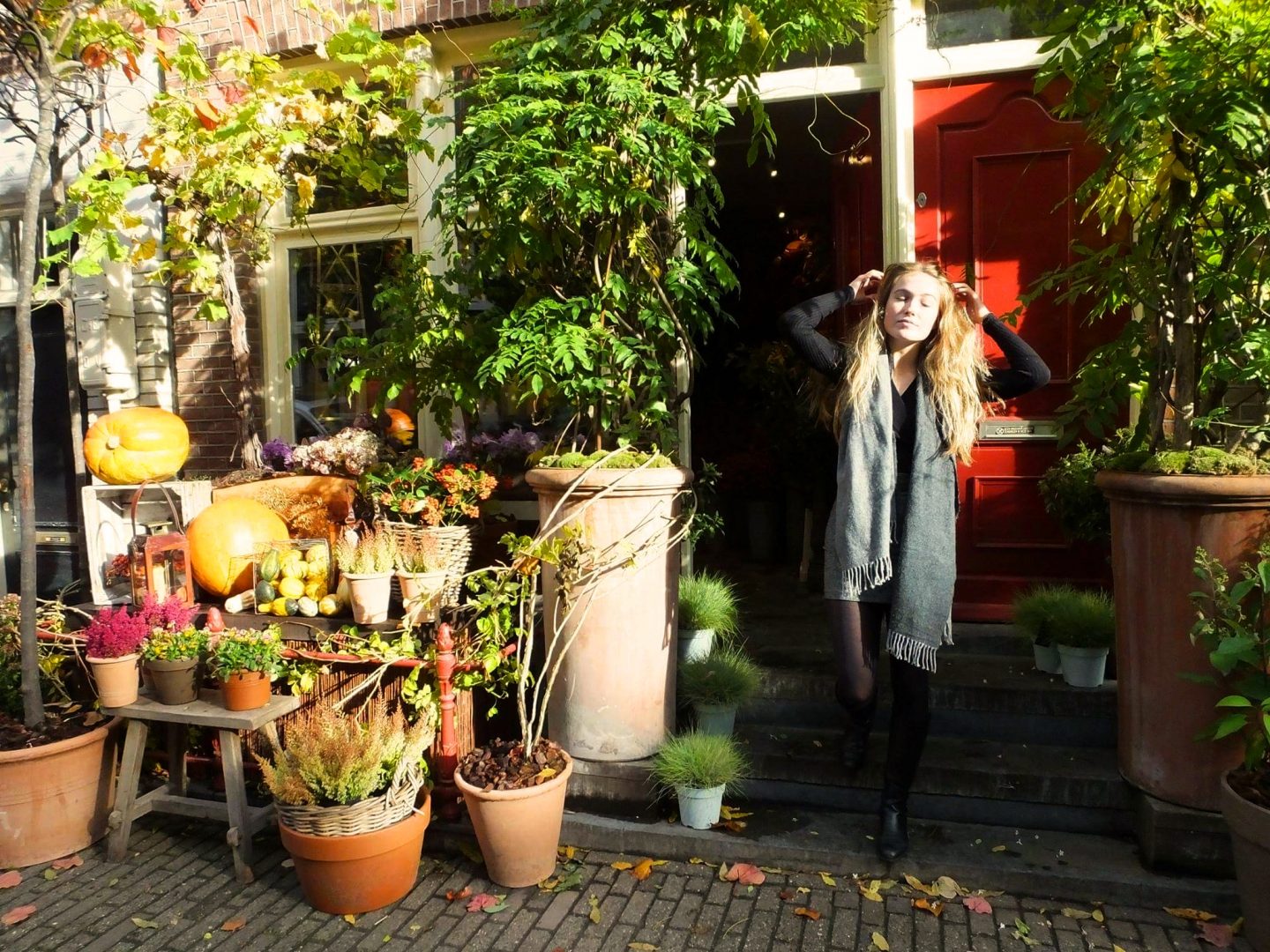 And the sun came out to warm any wintry sullenness away.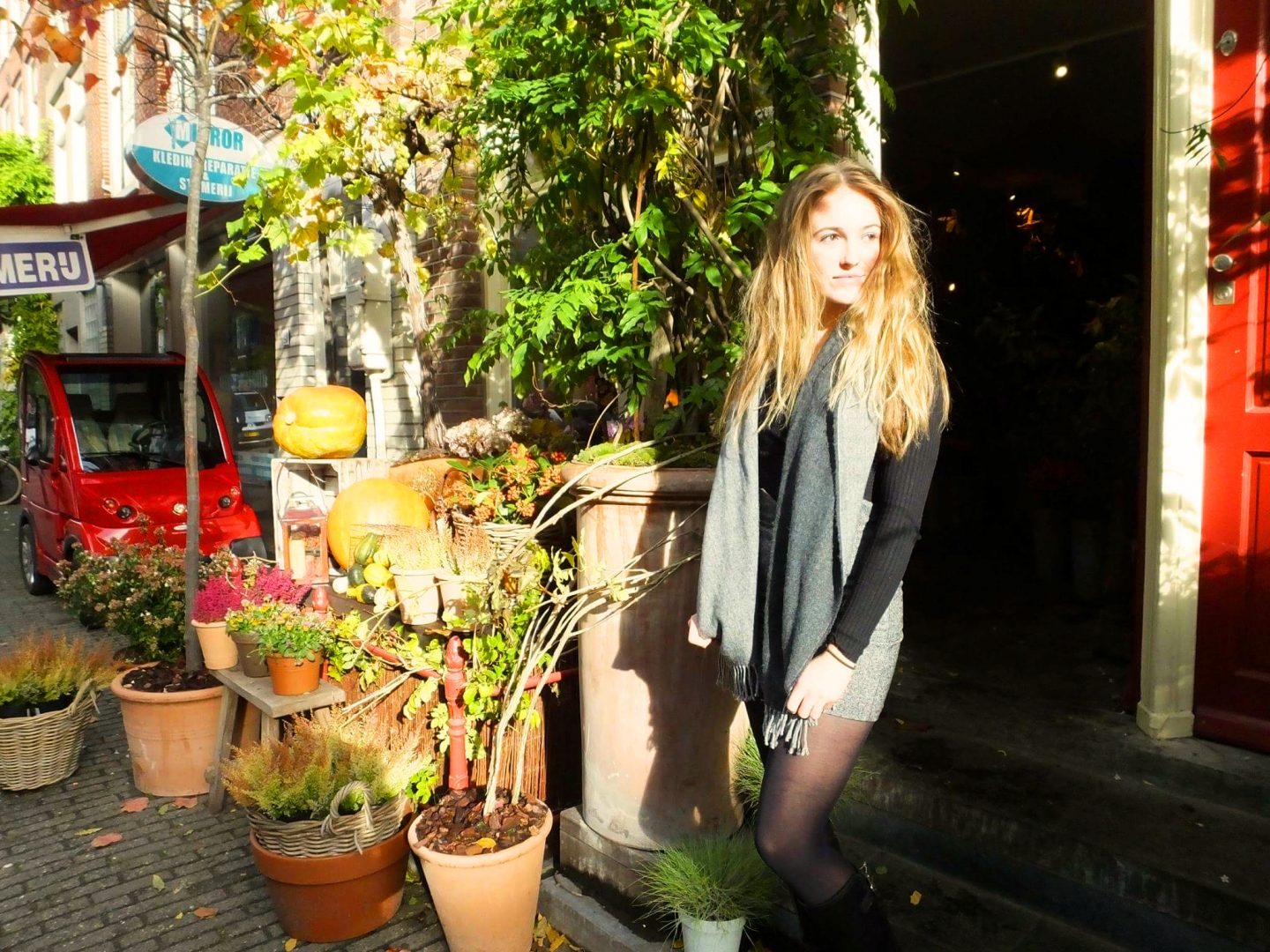 Talking of flower shops, we also took a little trip to the flower market, though being Autumn it wasn't quite as spectacular as I have no doubt it is in the summer. Still, I fell in love with the bright colourfulness of the famous wooden tulips on display.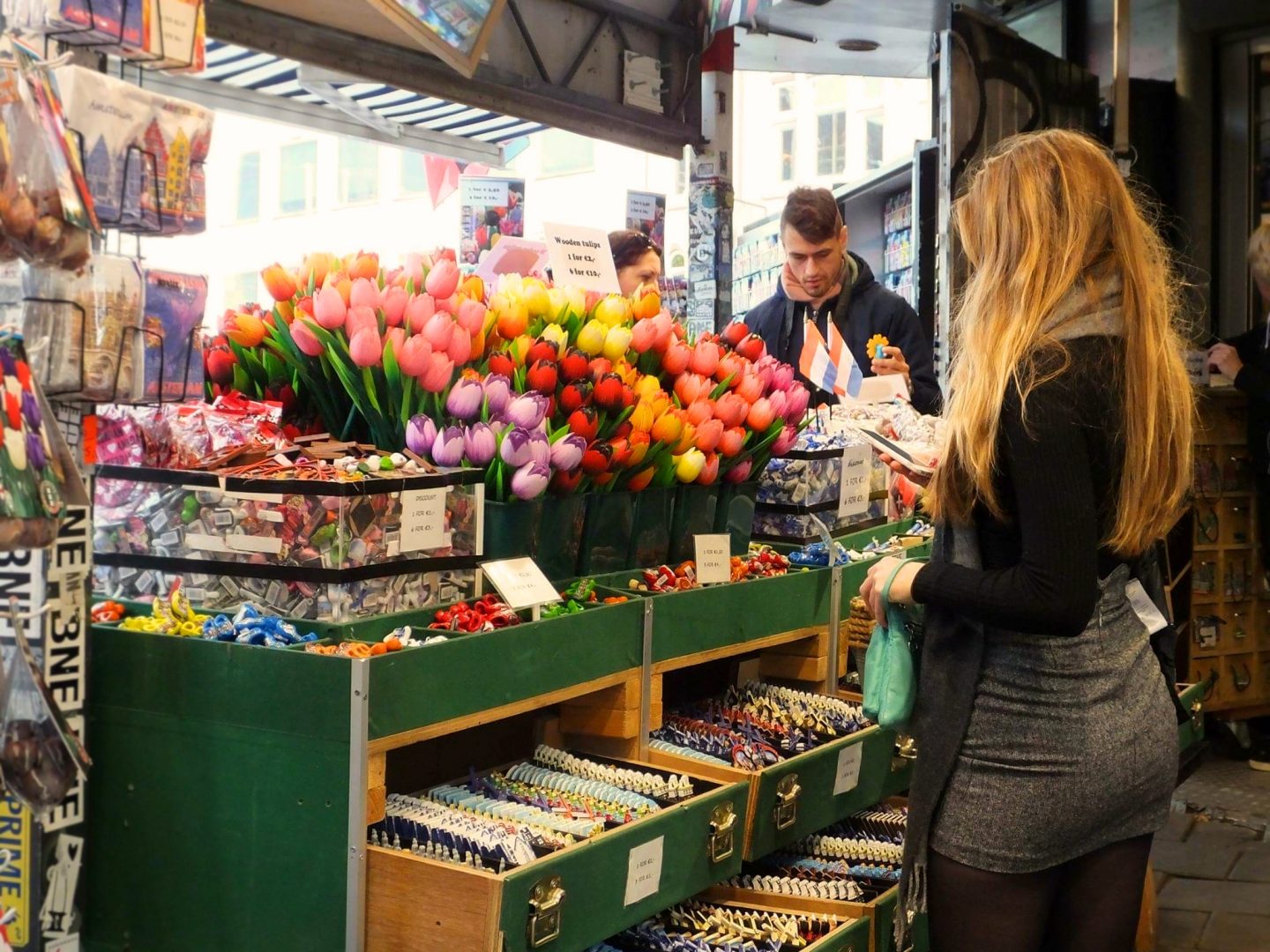 When gathered together they brightened up the rainy weather.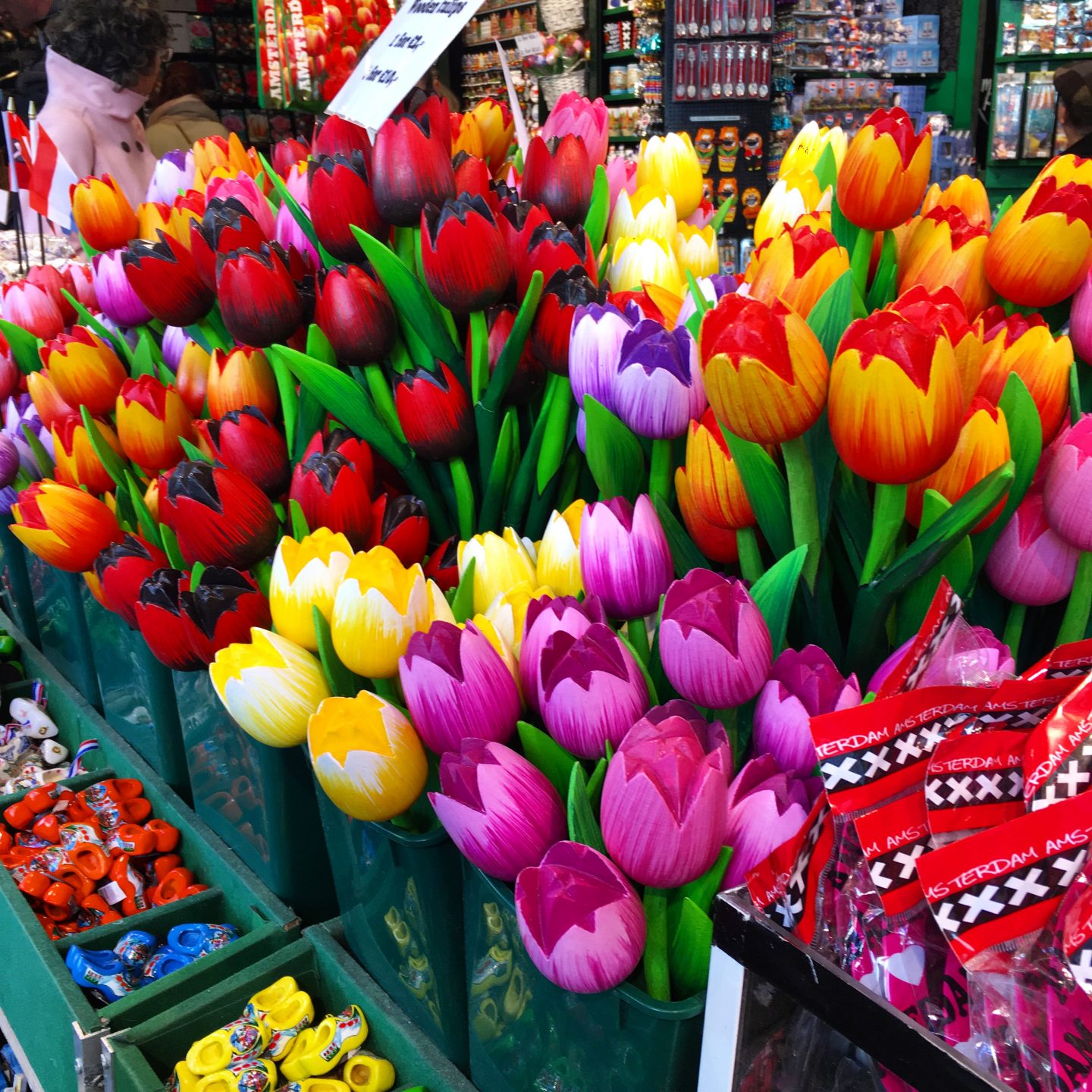 Amsterdam was an eye-opening, exciting and lovely experience. I feel as though there really can't be another place in the world that could compare to this extraordinary city. It has beautiful architecture, emotional history, crazy culture, delicious food and pancakes… enough said. We had a fabulous time, so thank you Amsterdam!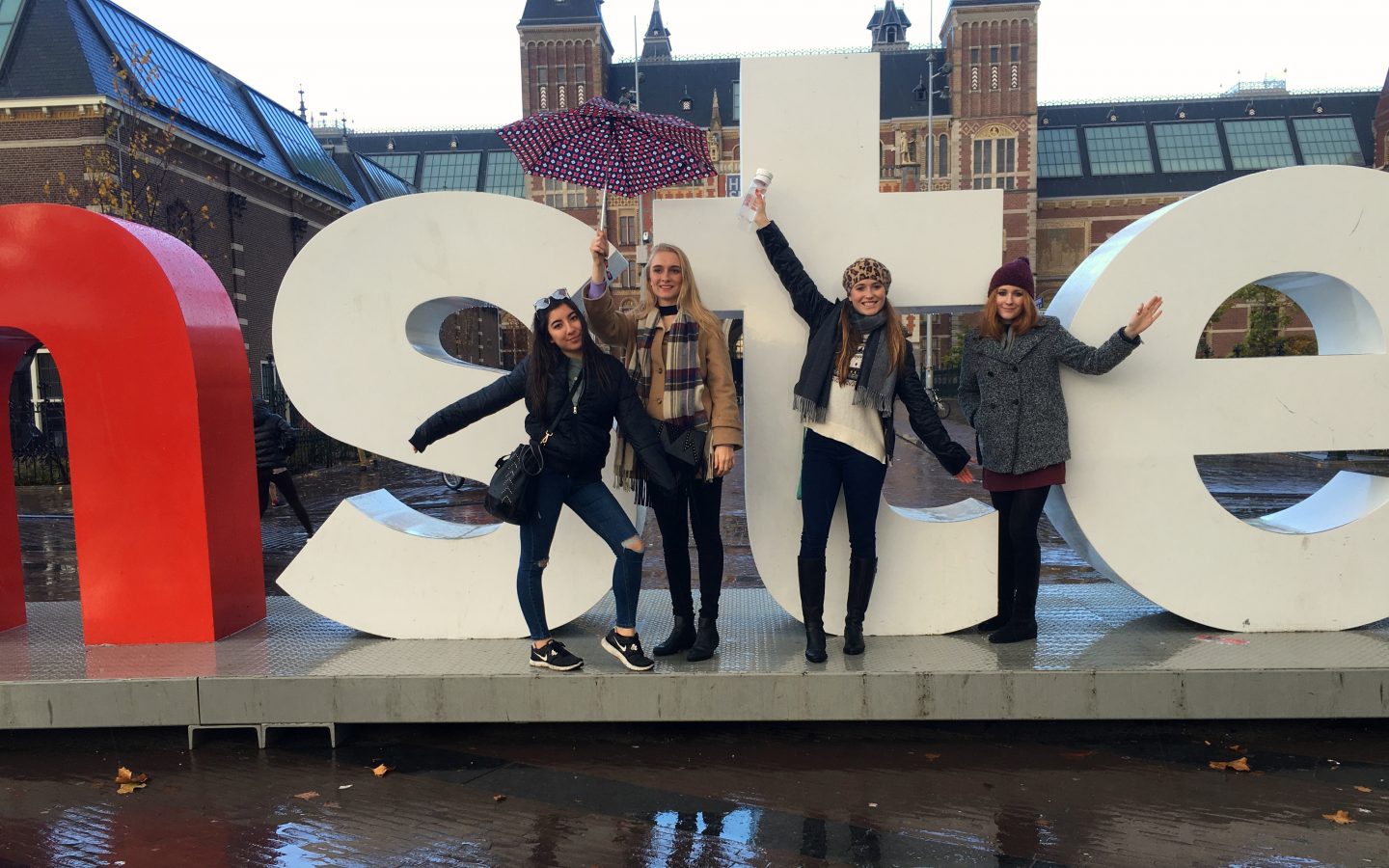 P.S. If you fancy a little bit more visual stuff, make sure you give Petite Elise's video a look!