Reading Time:
6
minutes
First and foremost, a huge apology for being silent for so long… I went away (what this post is about,) and now I am finally at Freshers week and life is seriously hectic!
Anyway, two weeks ago I headed out on an adventure I knew very very little about. Despite my name being similar to that of a particular icy princess, and the fact that I was a little girl myself once, Disney does not appeal to me in the same magic way as it does for so many. So here I was, sat on a plane next to my best friend (who is Disney obsessed) with no idea what to expect other than sun, food and lots of excited children.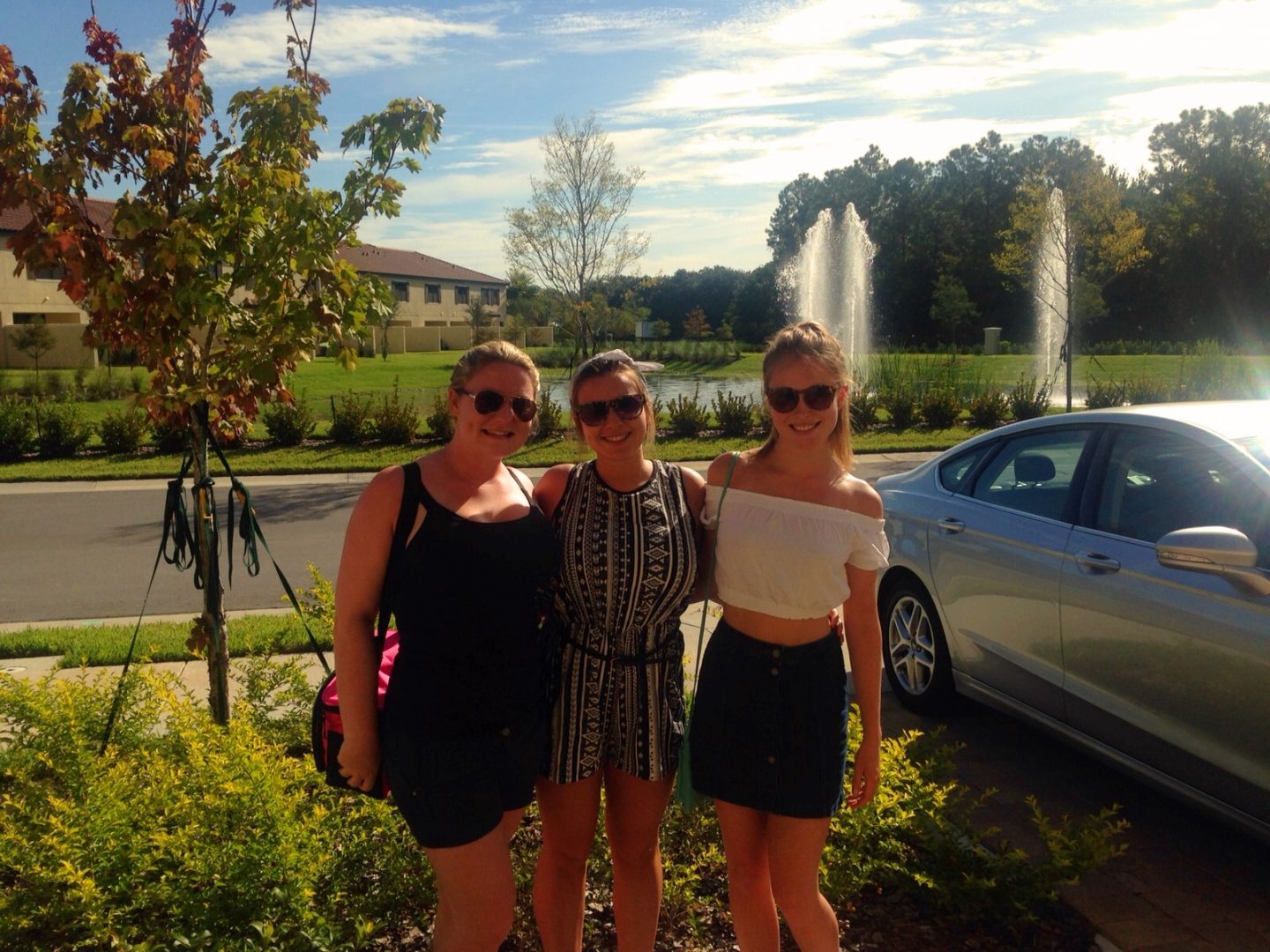 Meet the girls: Laura, Coral and myself.
While such expectations were fair, Disney World actually turned out to be a lot more, even for a girl with relatively (to her best friend) little interest in the company, I had a truly wonderful time! From the water parks which do well to resemble a beach with the sound of rolling waves and the heat of blistering sunshine, to the various theme parks offering culture, theatre and exhilaration, the fun was not limited to little children!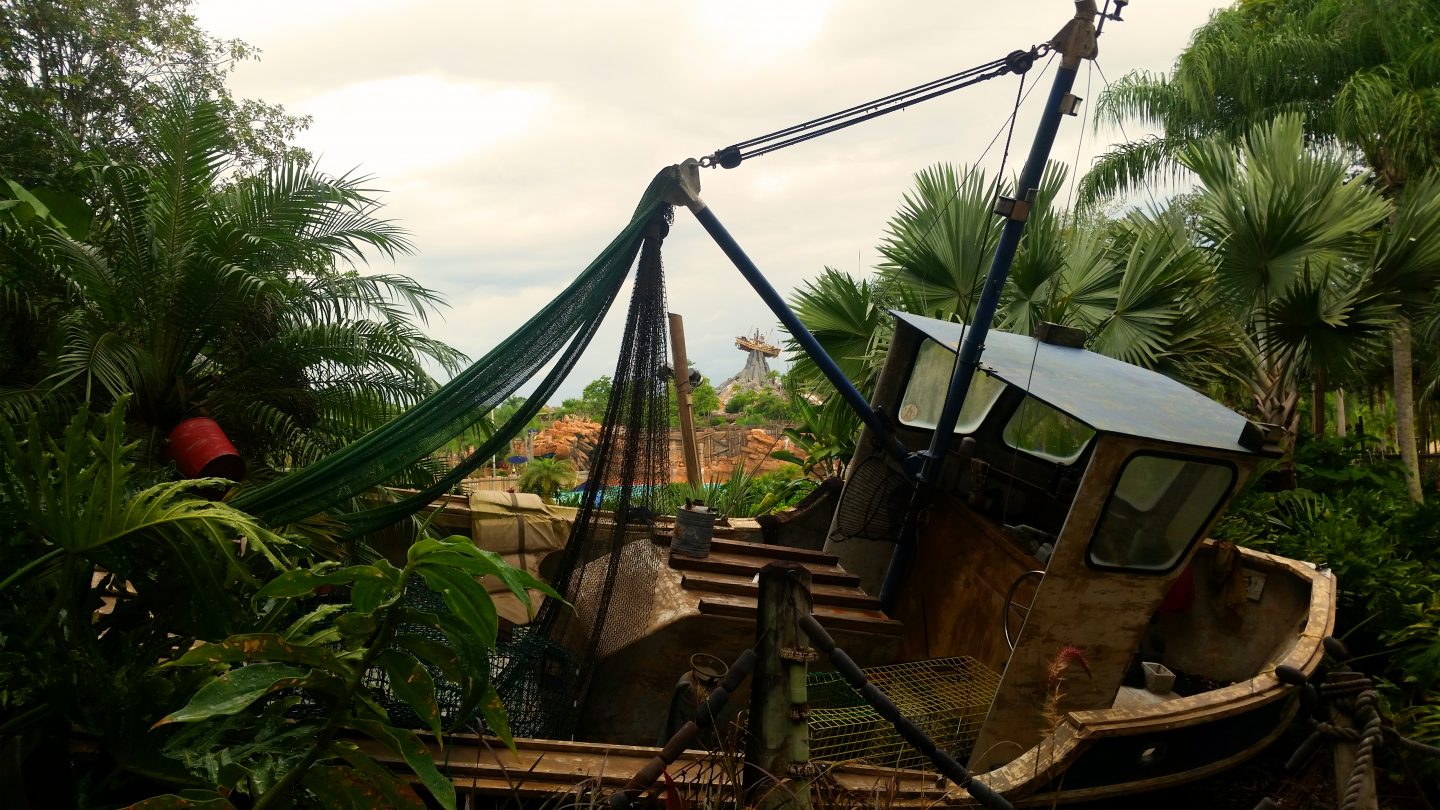 Disney World may not have been so child-focussed as I imagined, but it was even more fantastically bizarre! Despite the highs of 40°C temperatures, Blizzard Beach, the water park, was blasting Christmas songs and yodels whilst families had their photographs taken with the snowy sledges and snowmen! Indeed, the whole experience was bizarre in its own right, the Hollywood Studios park is home to an interactive history of Walt Disney himself, providing a more cultural and perhaps intriguing side to the park.
Disneyland Park in California was the first of Walt Disney's parks to open, and did so in the 1950s, the melancholy side to this being that Disney himself never lived to see the opening which was eventually carried out and completed by his brother Roy Disney. The concept was to have a magical resort, accommodating children, parents and grandparents alike, the park would be one huge theatre with every building or stand, a part of the scenery and every employee, a 'cast member.' The magic of this notion is still palpable today. In particular, wandering the international pavilions of the Epcot park in Florida, I felt as though my surroundings were transporting me to the various nations, just as live theatre delivers one to another world or time.
While Disneyworld was our destination everyday, my adventure did not solely surround it. I cannot possibly write this post without mentioning the Monday and Tuesday evenings, during which we danced the night away with La Calleband!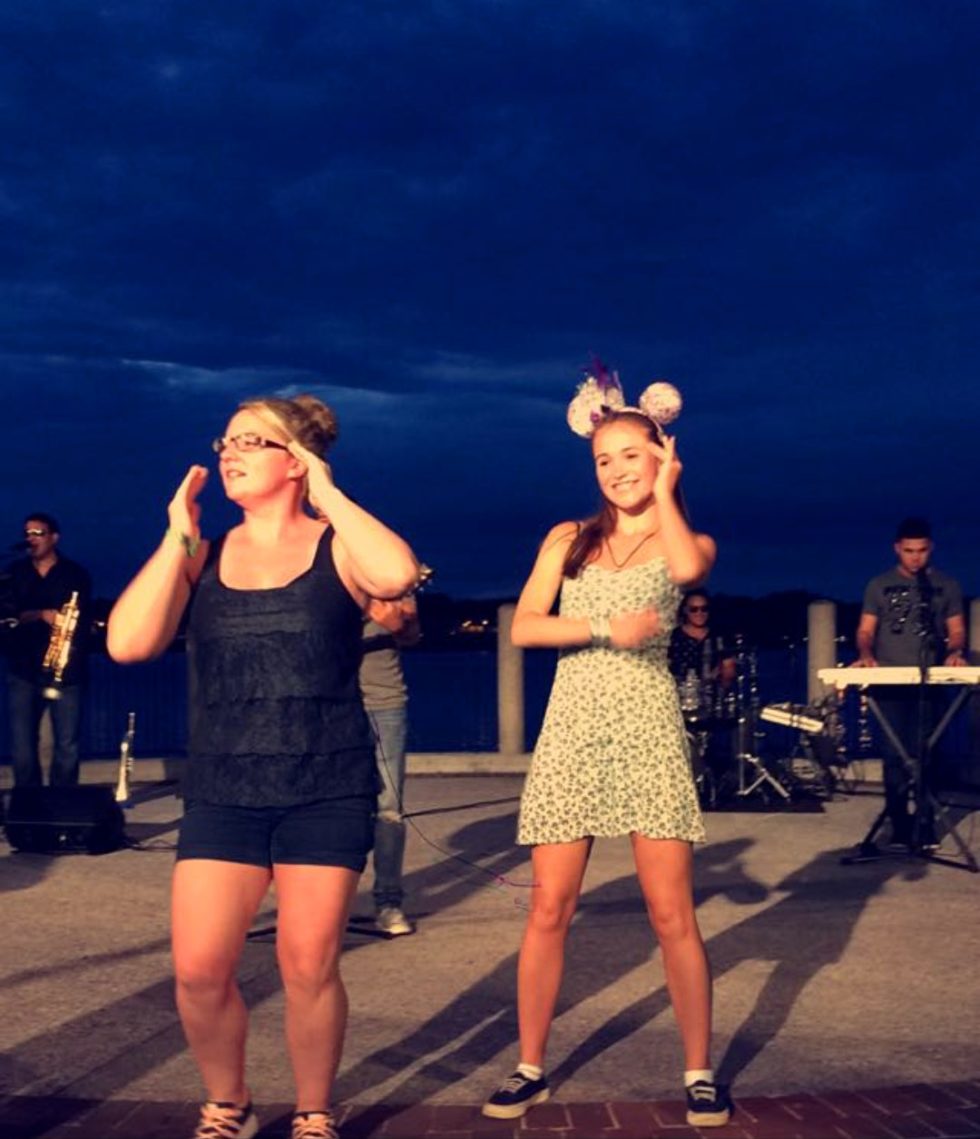 These boys are a Latino band, playing and transforming well known songs into music that makes you want to dance and dance! Neither sweaty, sticky, exhausting evening was particularly glamorous, but were far more entertaining than anything more glamorous might have been!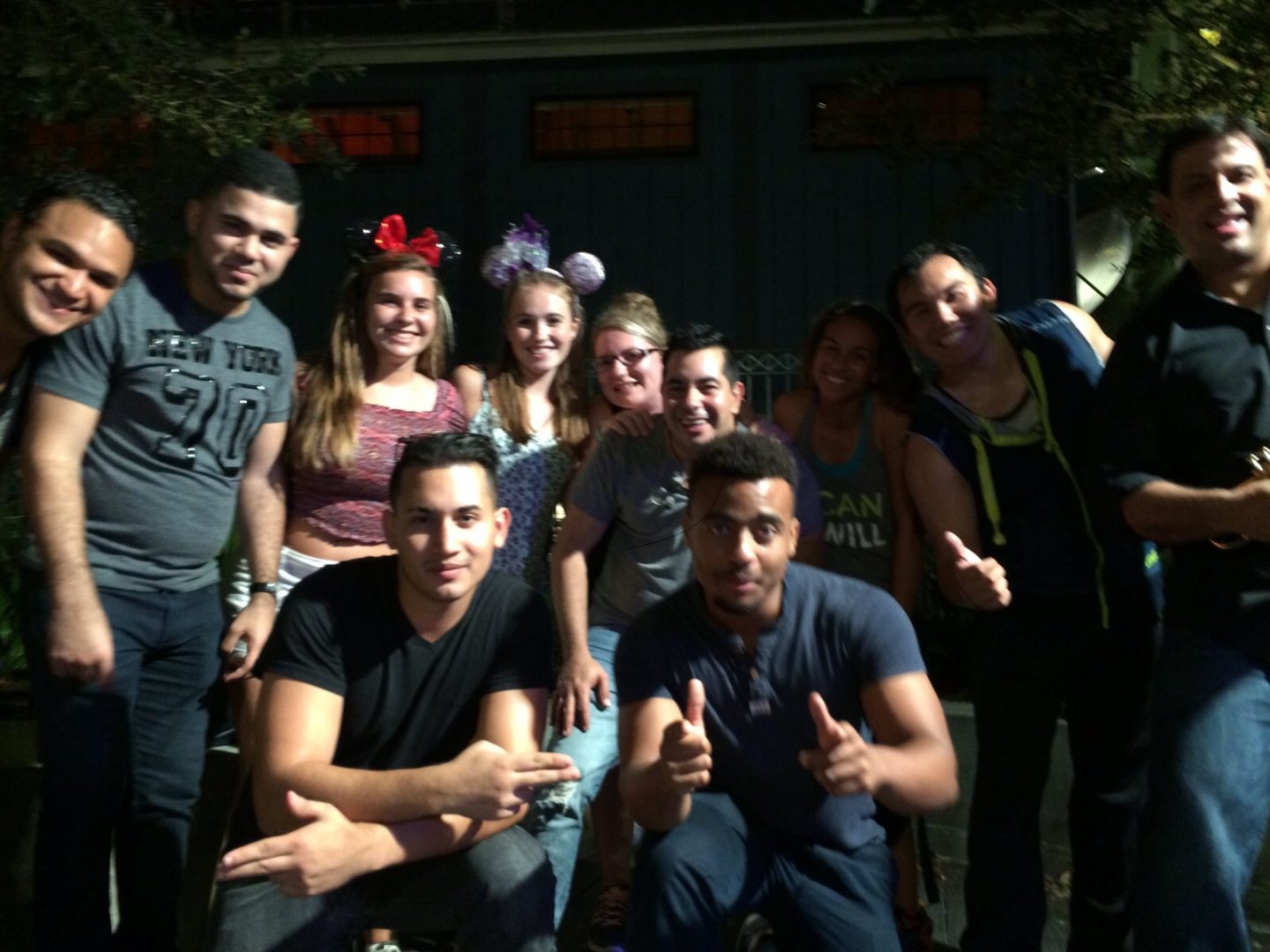 These were truly beautiful evenings, complete with Florida's incredible sunsets.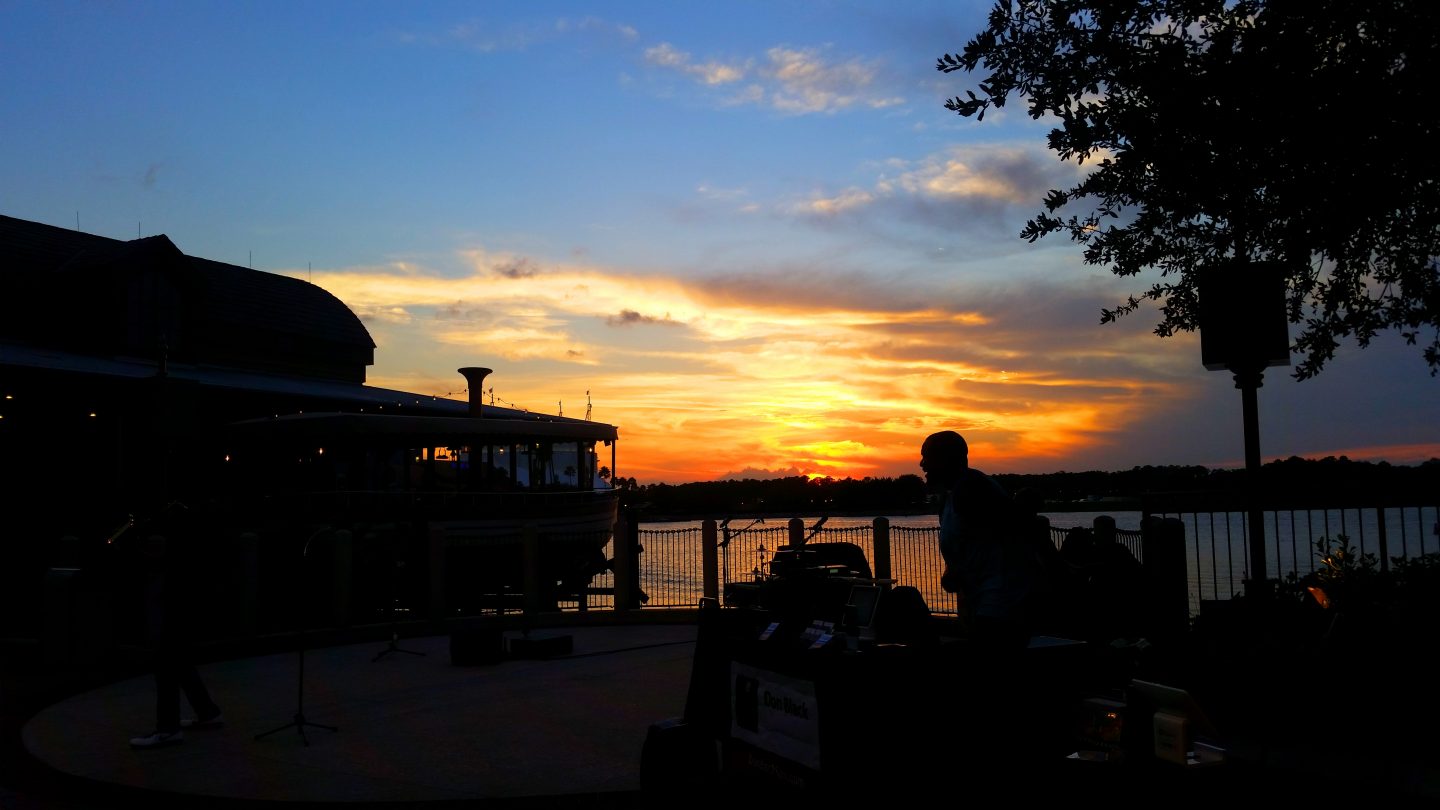 I could not have visited Florida without a classic American breakfast of stacked pancakes, accompanied by a glass of freshly squeezed Floridian orange juice.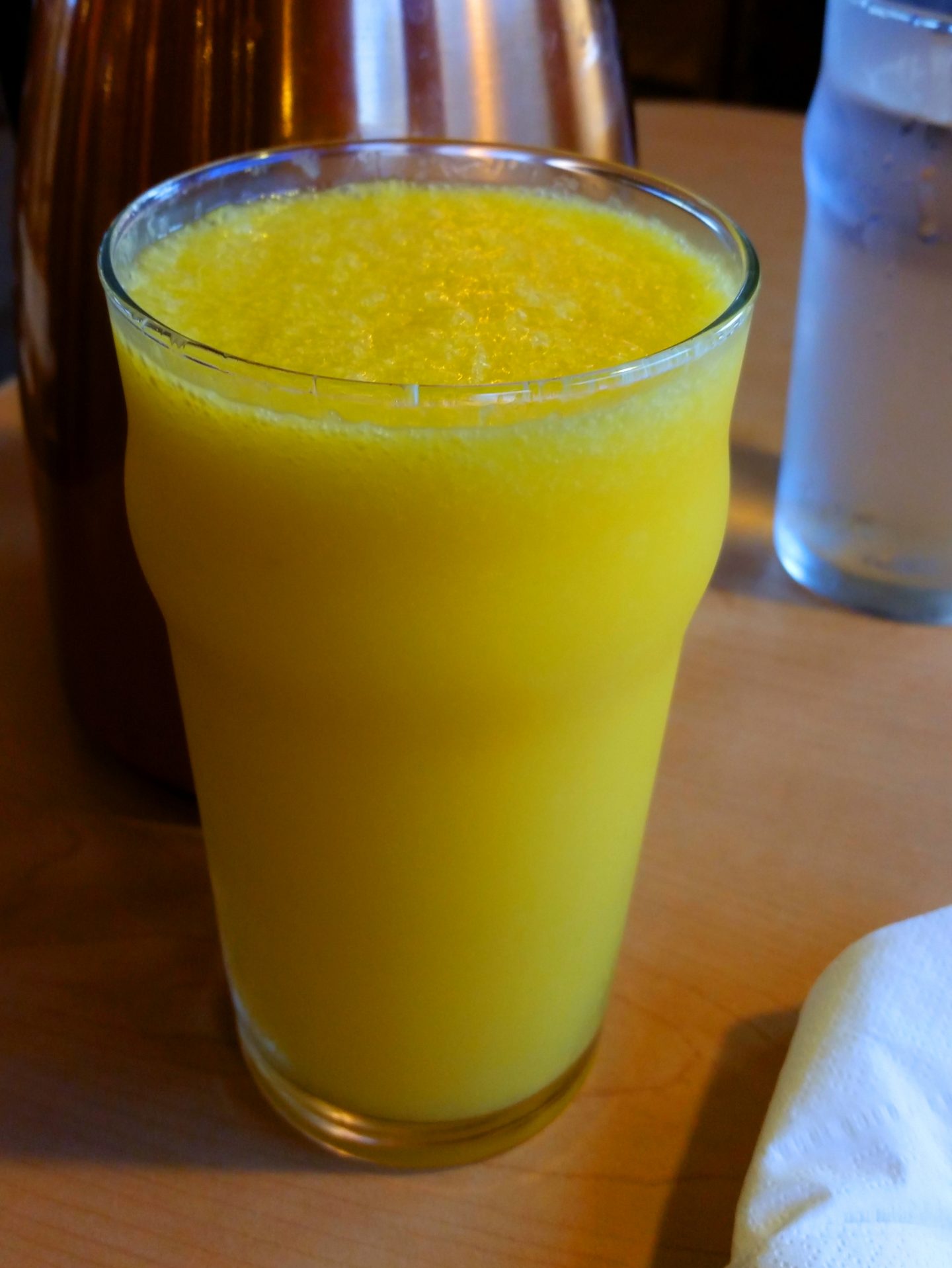 It was fair to say that I was not disappointed by the morning show put on by the International House of Pancakes! Possibly the most unhealthy and sugary breakfast ever, but so so worth the indulgence. I selected the white chocolate chip pancakes with rasberries and sauce, topped with whipped cream… calories, calories, calories, worth it.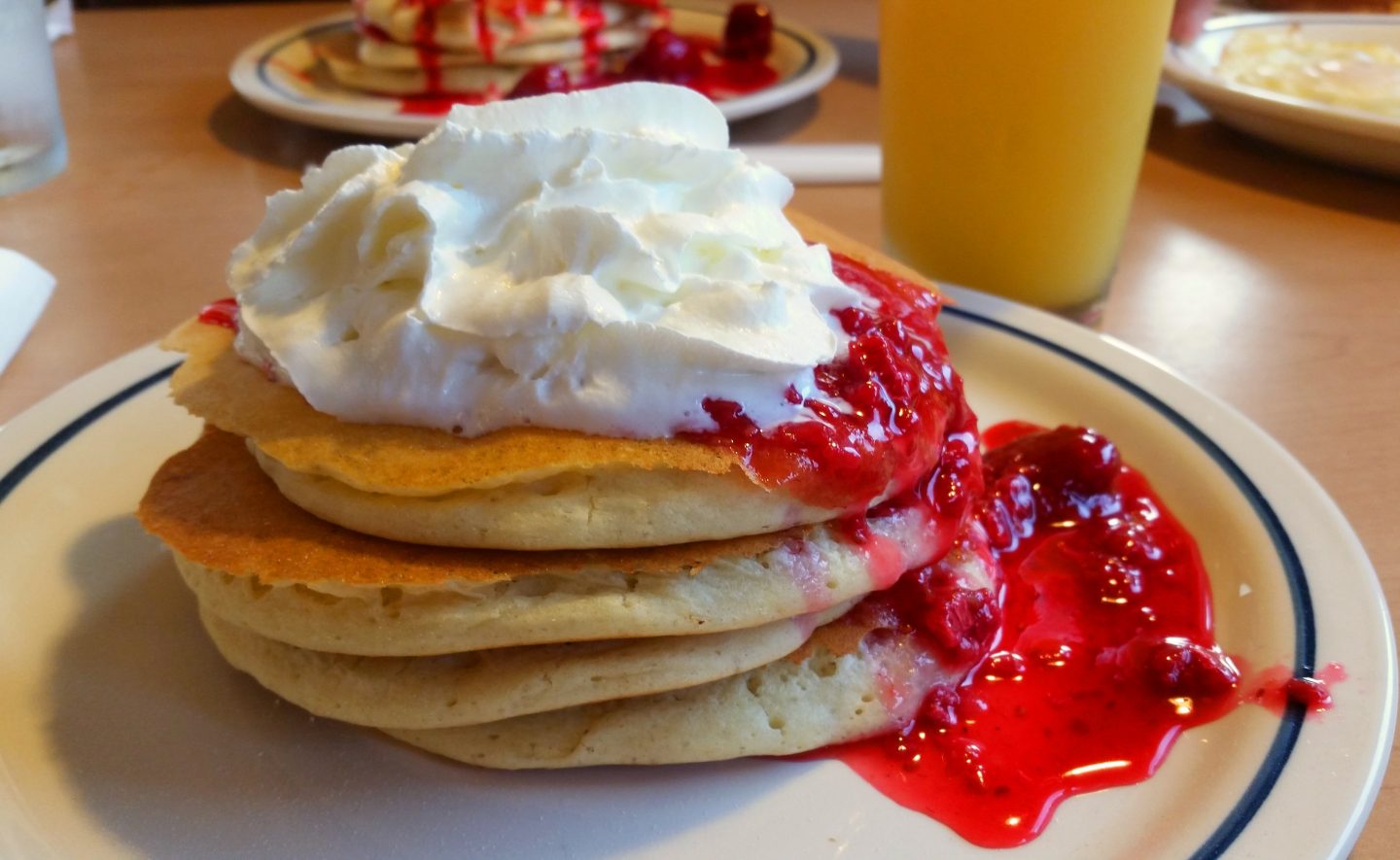 Speaking of food, eating was my main worry prior to the trip. I am a bit of a health and fitness freak so warnings of gigantic portions and greasy food were some what scary. But this was not an issue. True enough the portions were colossal, and for extremely good value too! But at every restaurant, from the Cheesecake Factory (I know, omg) to the Mexican Chilis, and along to The Earl Of Sandwich, leftovers are expected and take-home boxes provided.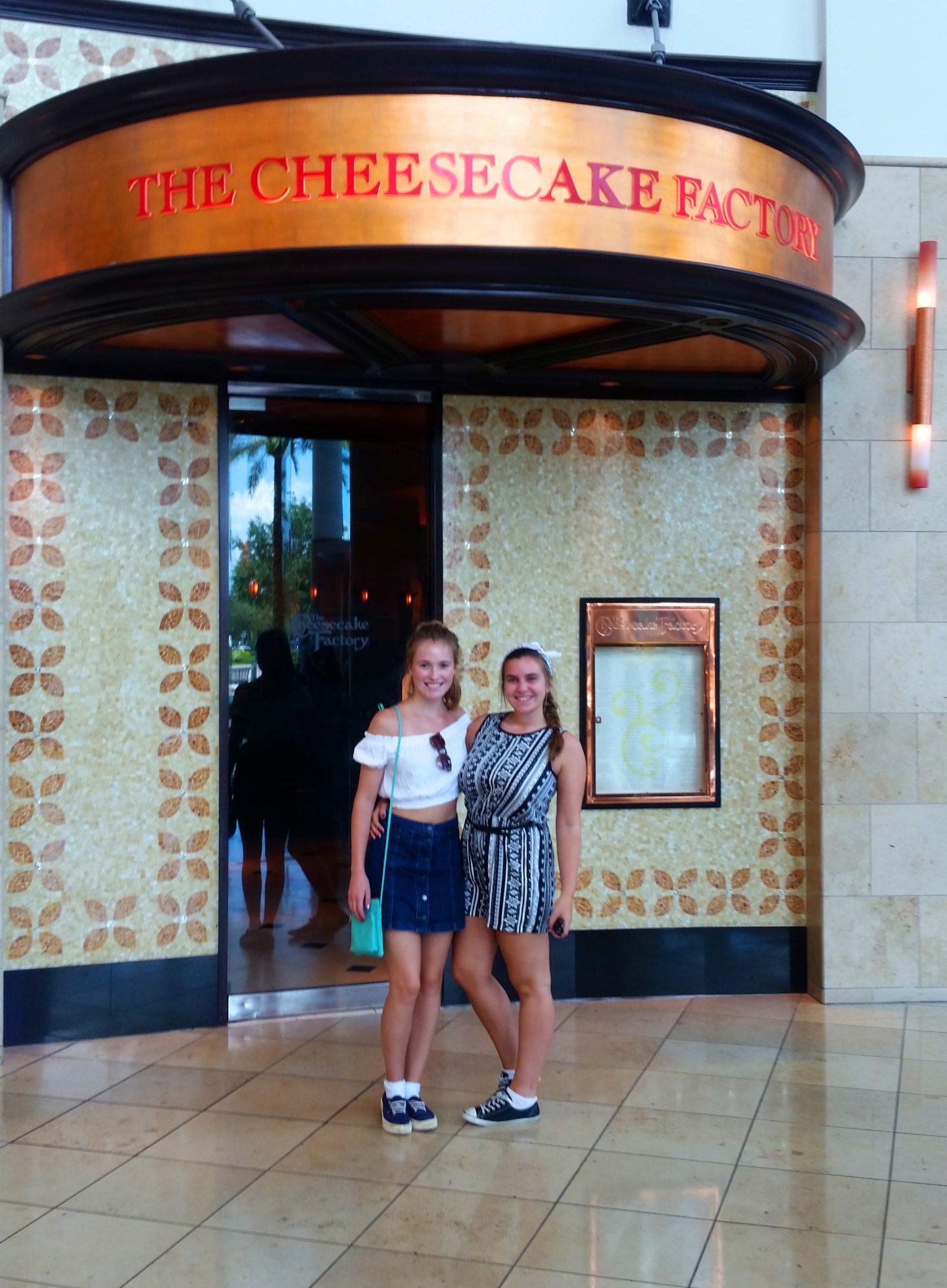 A further relief for me was found in the clubhouse gym and swimming pool on the housing complex we were living on. With its cleanliness, sophistication and ease of access, I managed to work out every morning so any weight gain I may have feared was kept fairly at bay!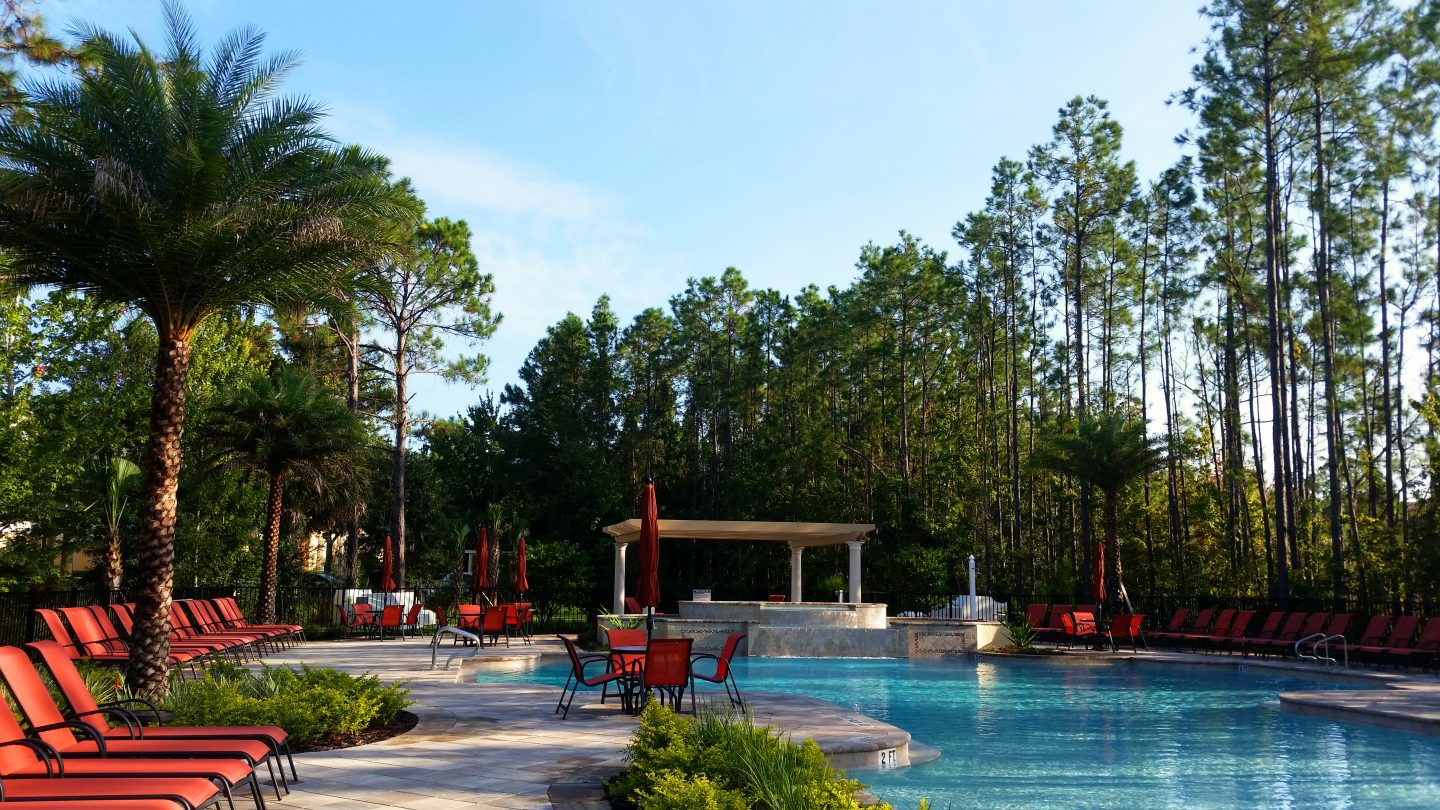 So all in all, my first American experience was far from disappointing… it was eye-opening, fun and delicious! I have already decided that on my next trip to the USA, I will experience the LA lifestyle… I imagine, completely different to that of Florida! But now that I am a poor student, this will not come into fruition for a fair while, cry.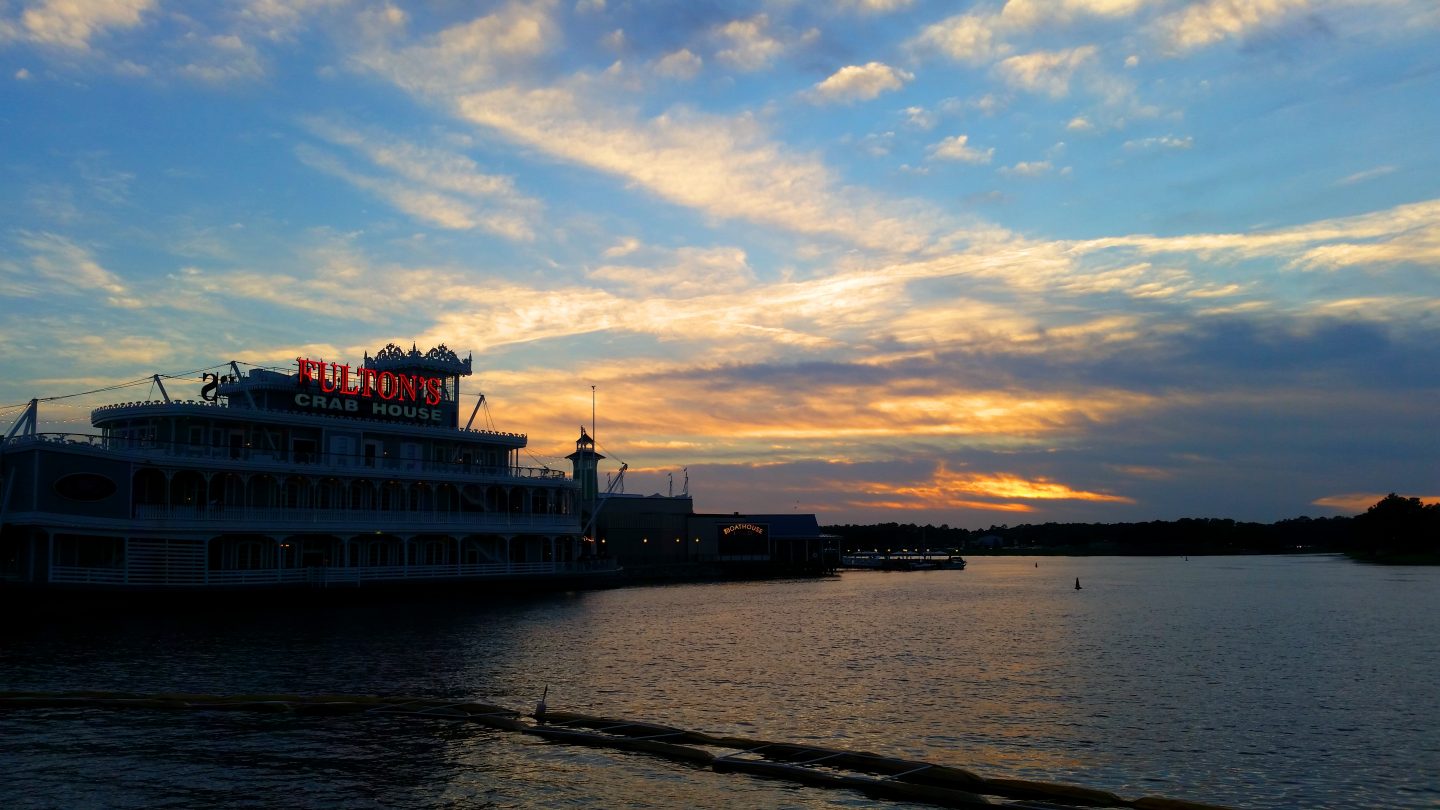 Holiday snaps: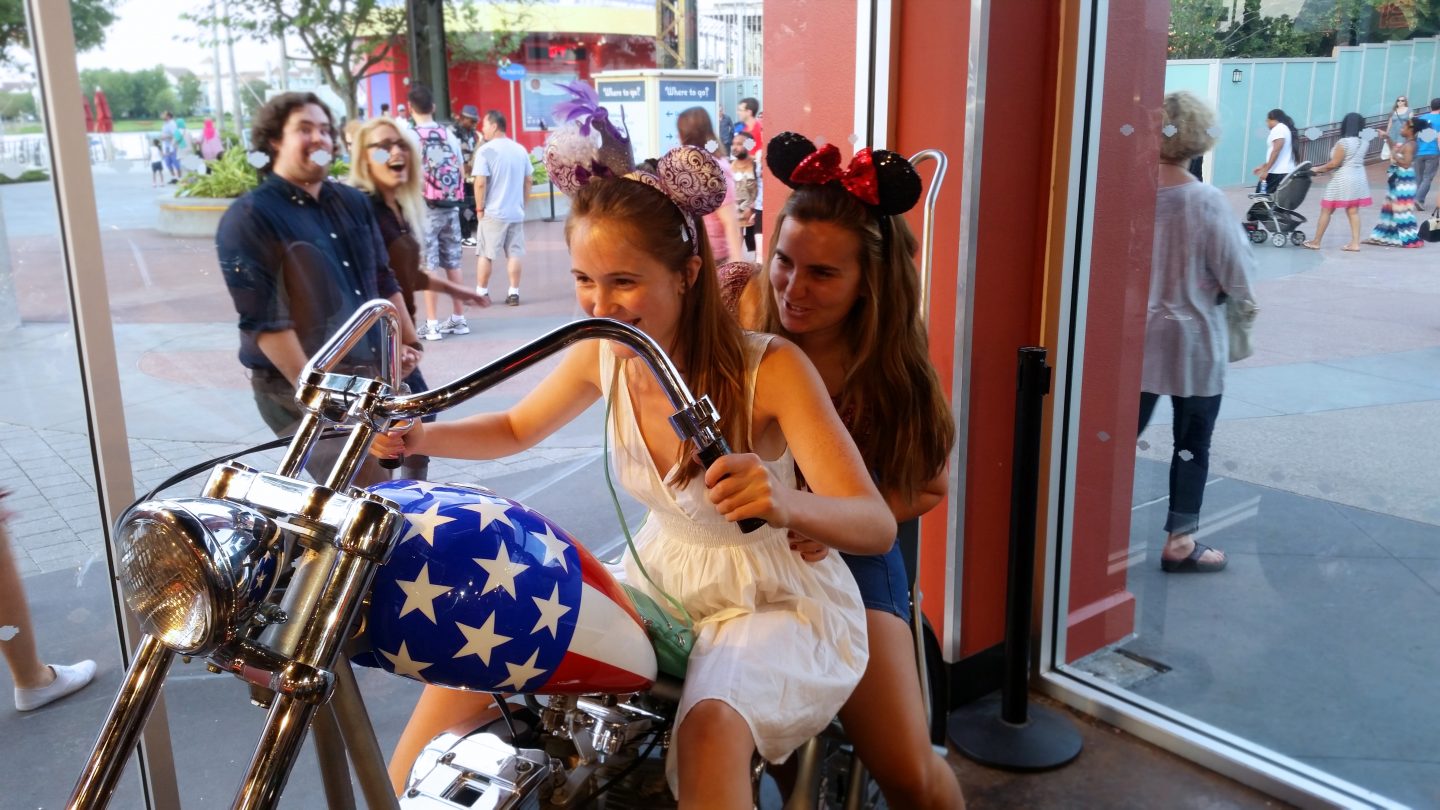 Playing on the Harley. Coral made me wear my ears everyday… they kind of became a part of me!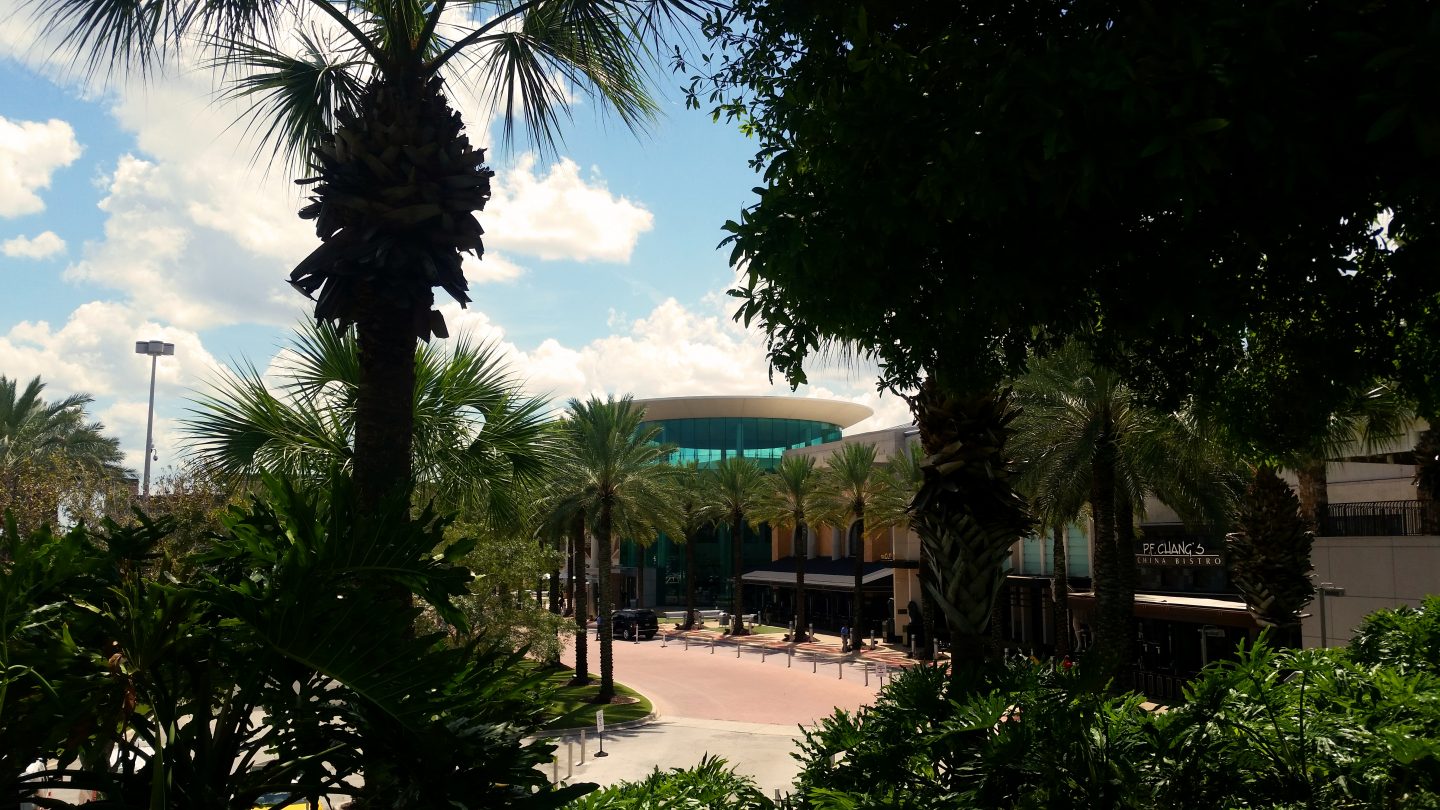 This was the most amazing shopping mall, I spent far far too much money… But its allowed because everything is cheaper in America!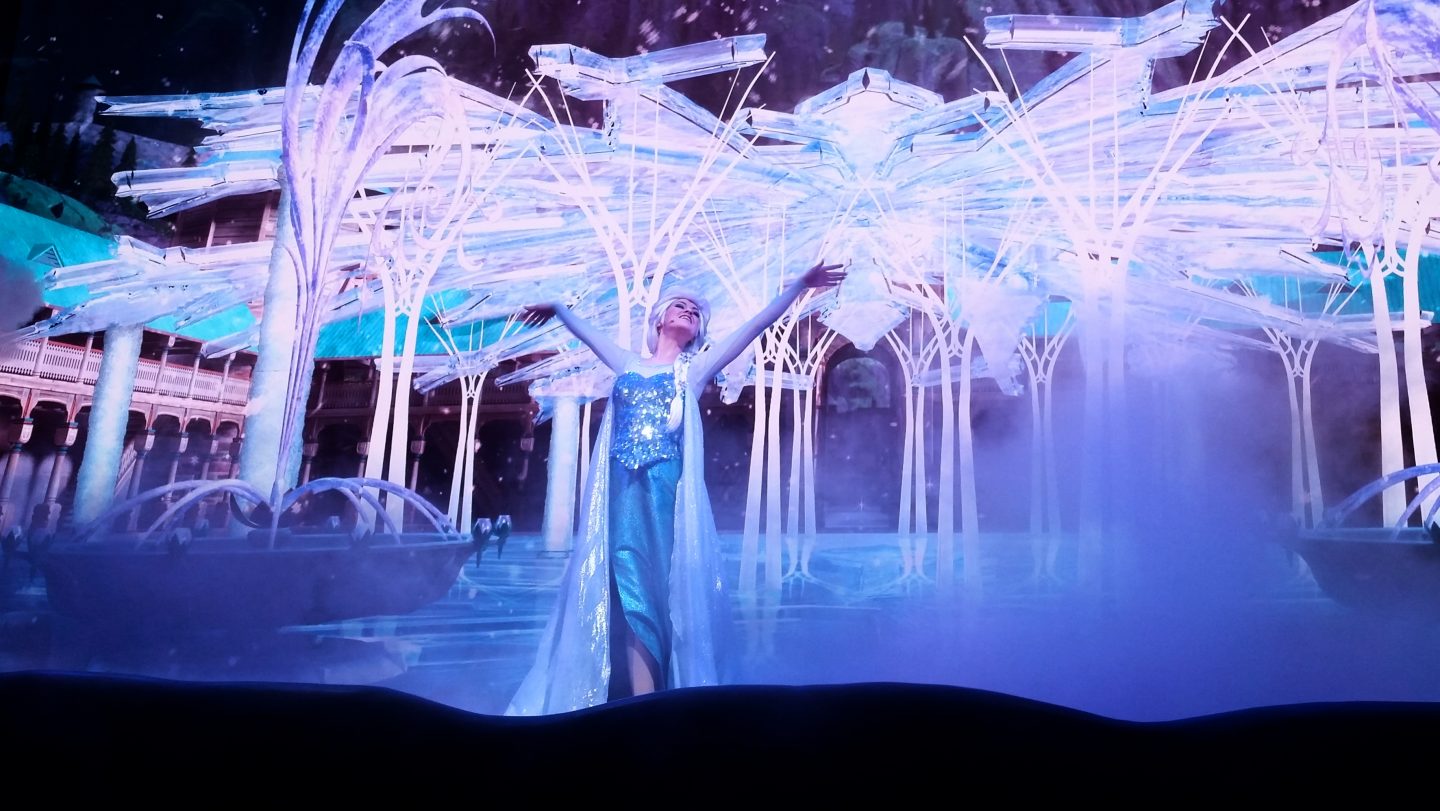 We went to a sing-along-show of Frozen… possibly the oldest in the audience, but it had to be done! Also got to see Disney me in real life.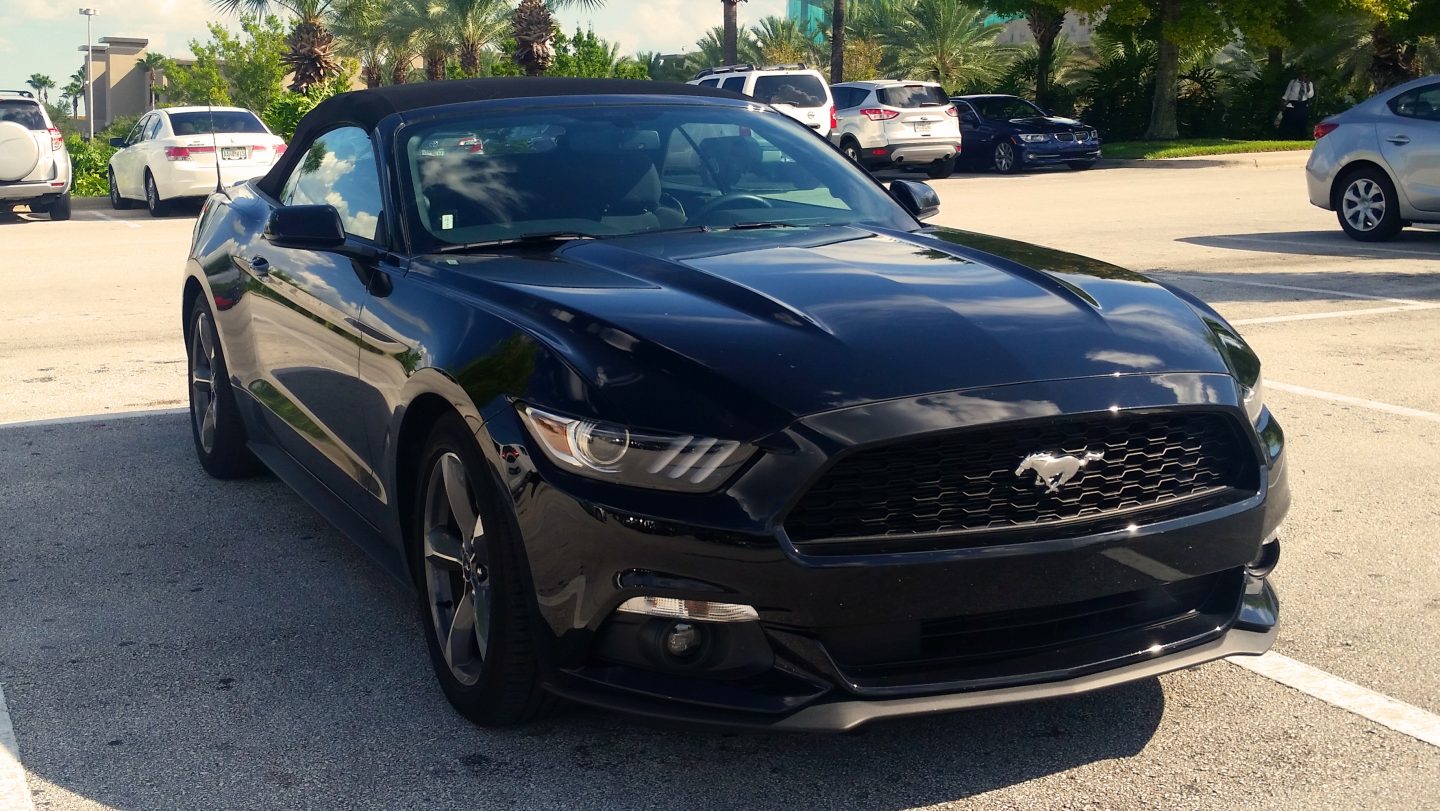 I have fallen for American Mustangs, they were everywhere and caught my eye every time…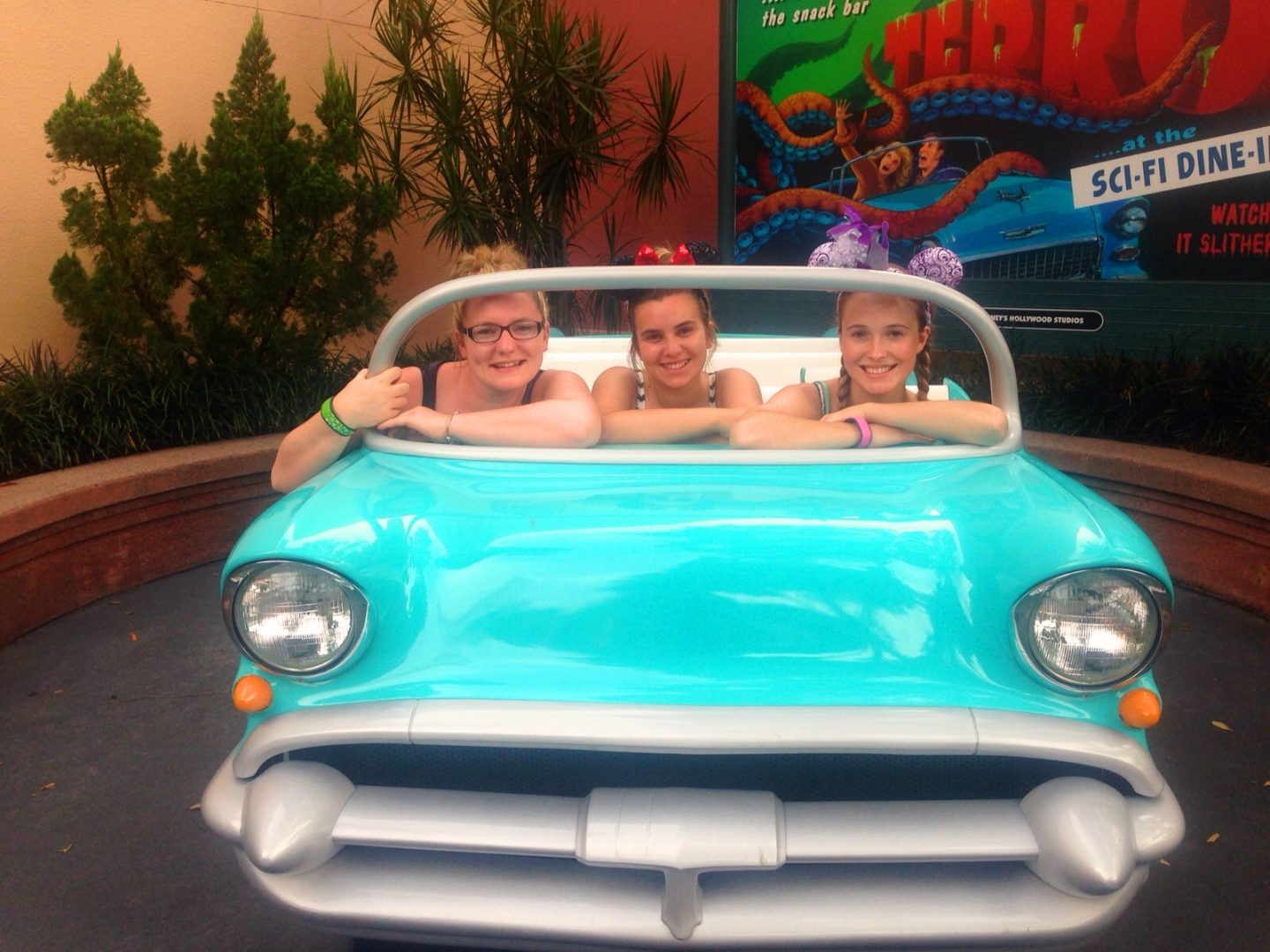 …unfortunately, this was the only car we could get our hands on.
So, food played a major part in the experience, as the following illustrates: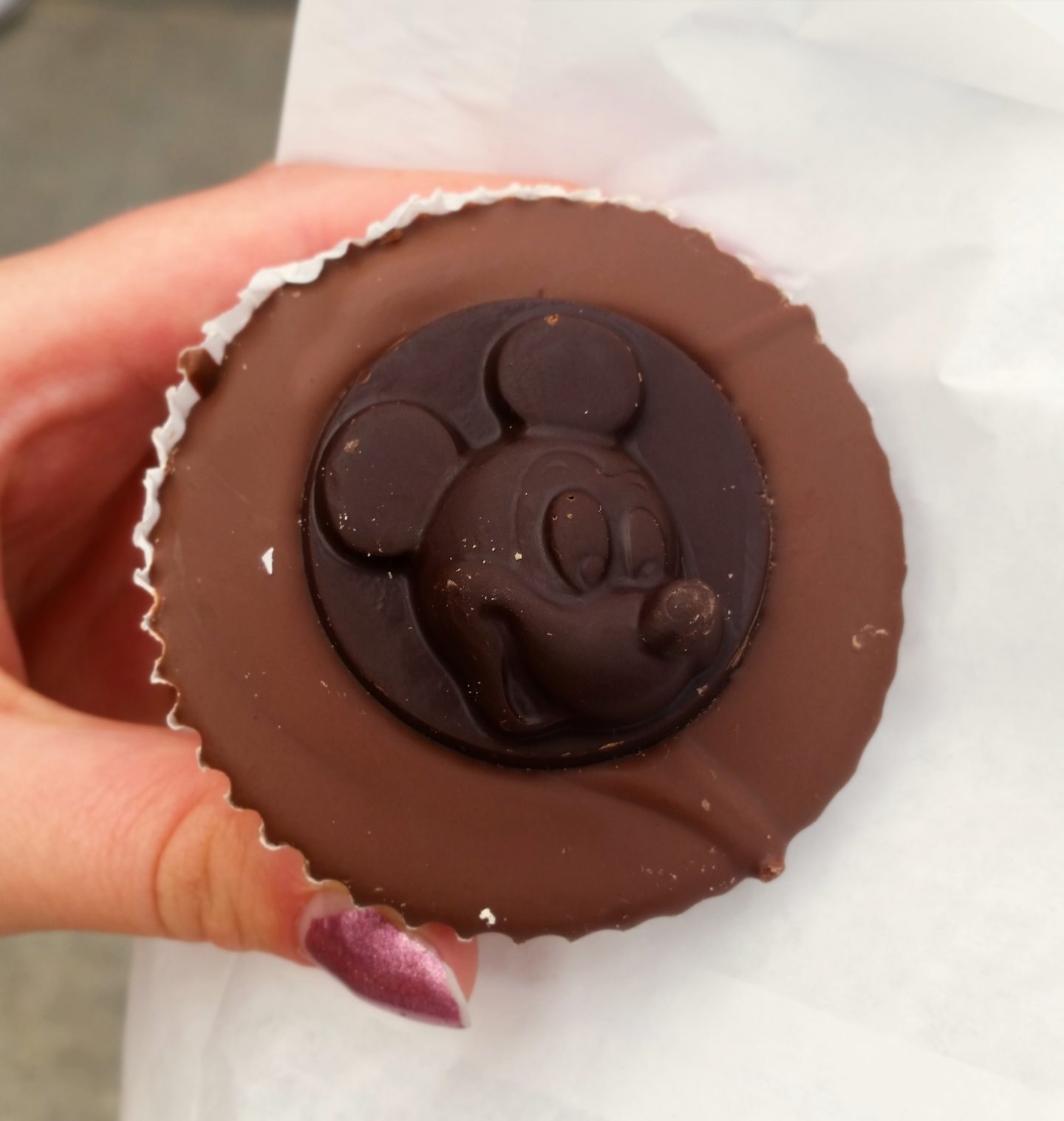 The biggest peanut butter cup I have ever had the delightful challenge of devouring.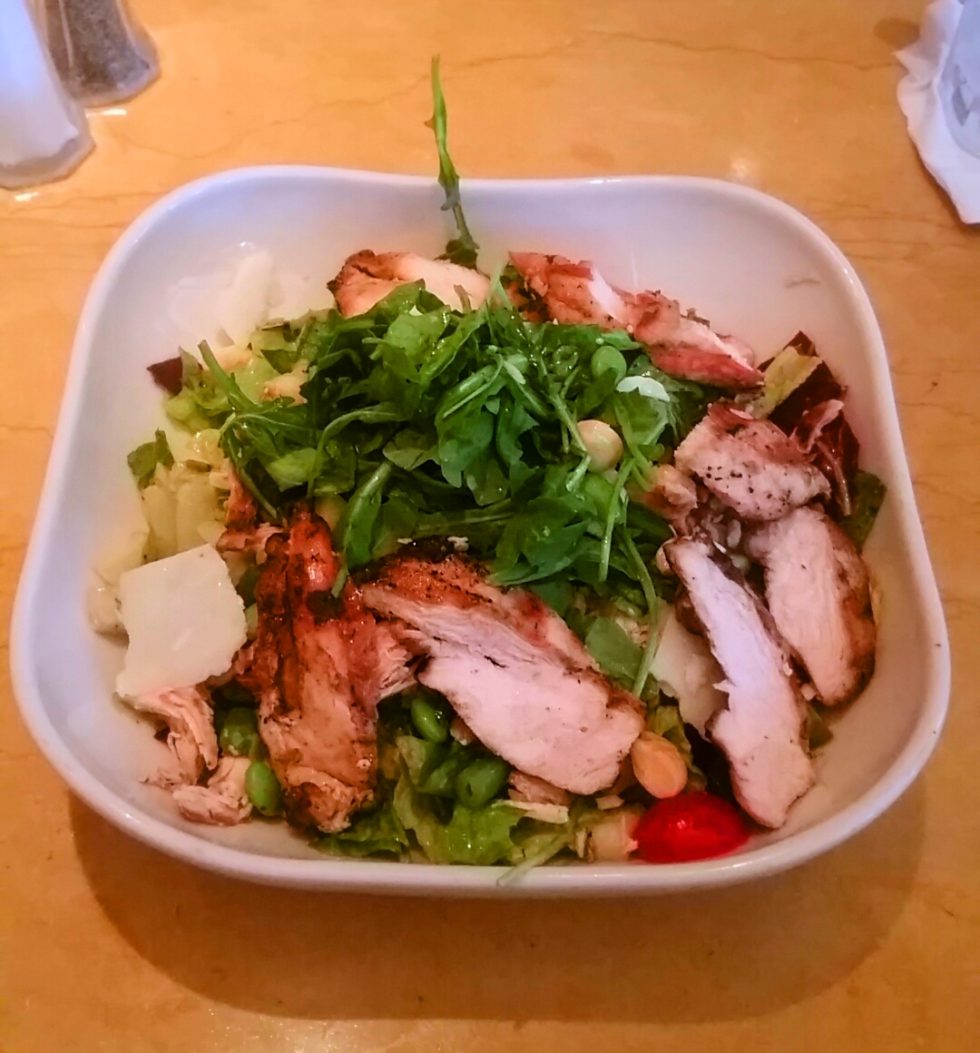 In all fairness, I ate a lot of salad, so my eating habits could have been a lot worse. However, this was an 'appetizer' sized salad at the Cheesecake factory and it served me for two meals!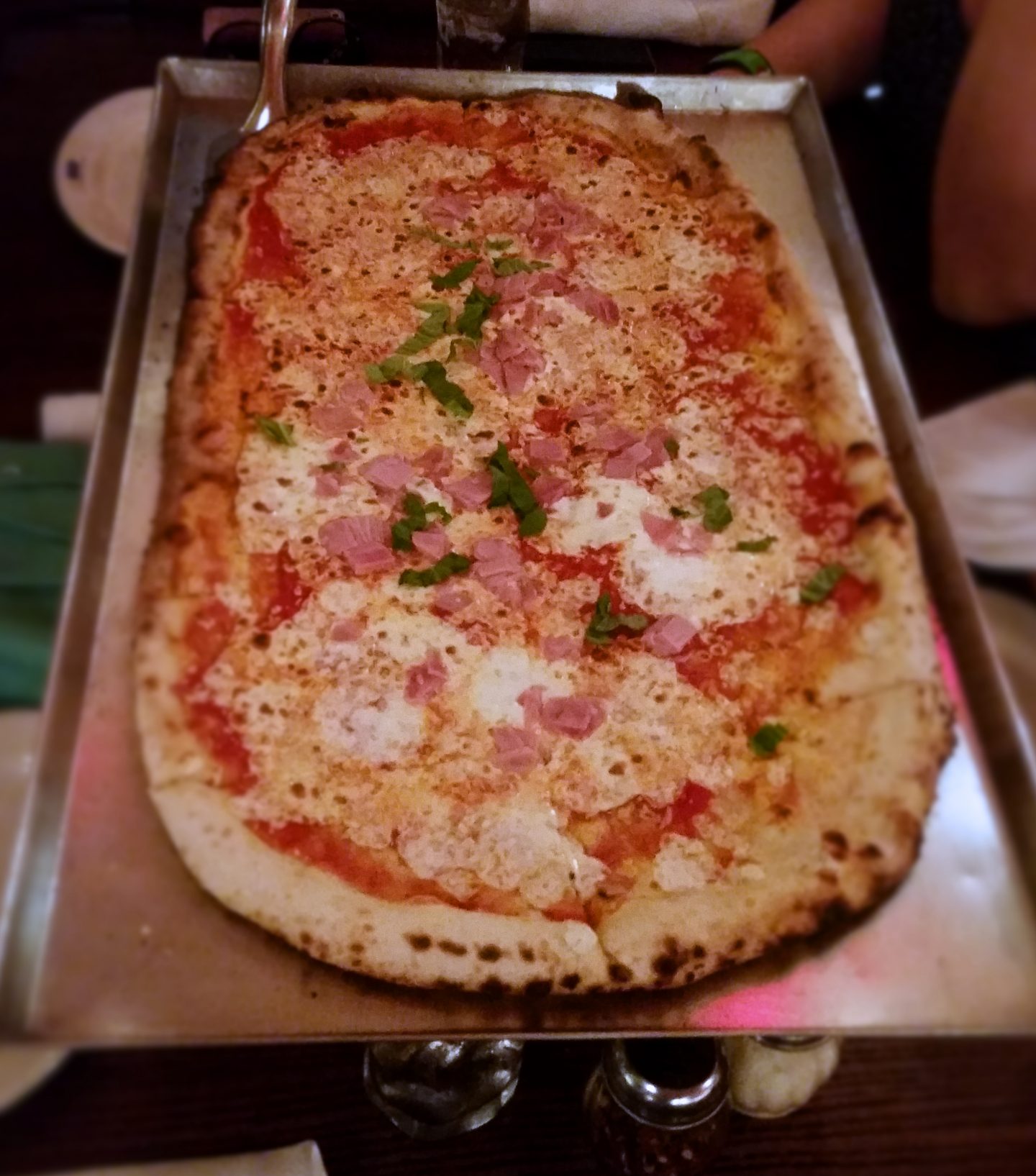 Stone-baked pizza the size of our table.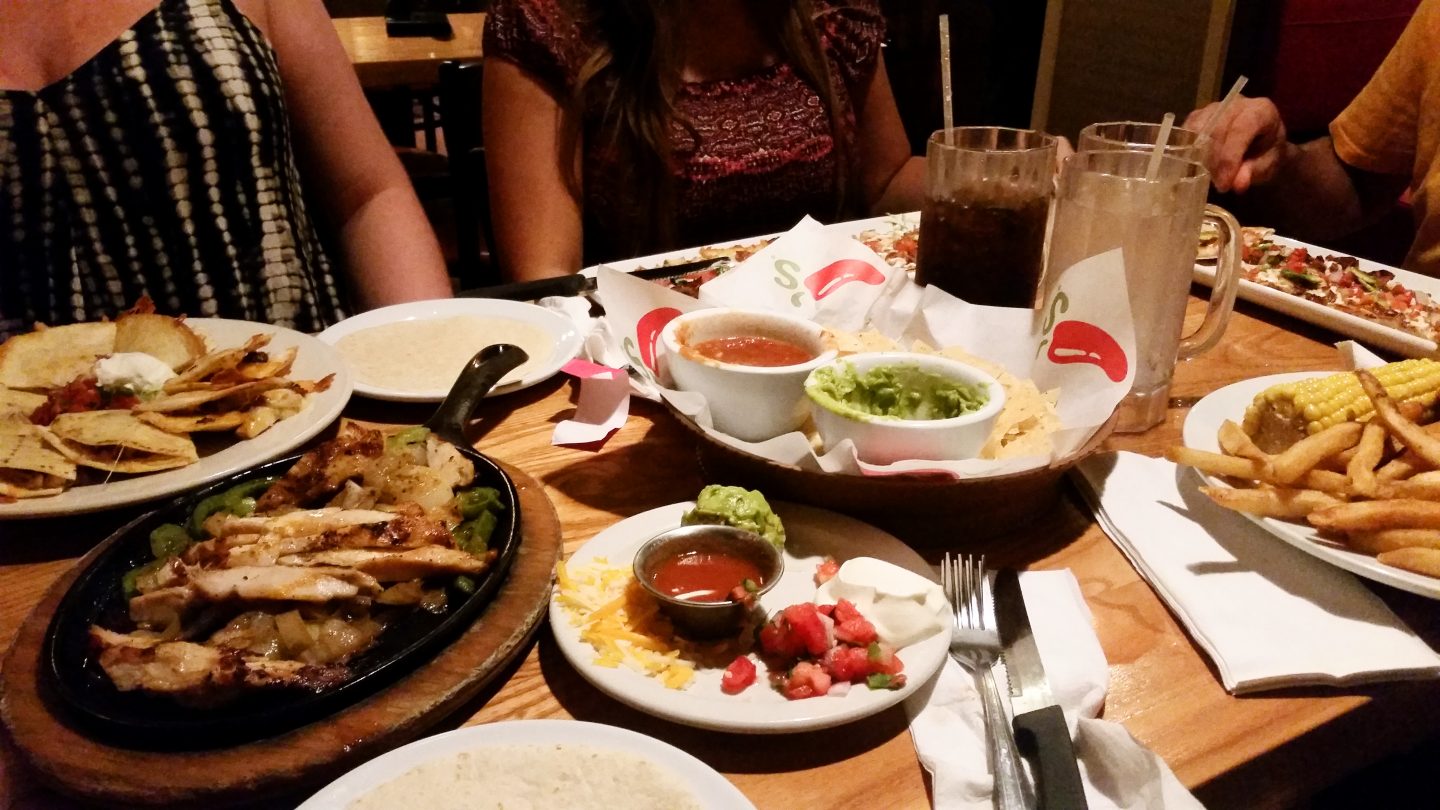 A Mexican feast from Chilis. (p.s. this is not a spelling mistake, its just its name.)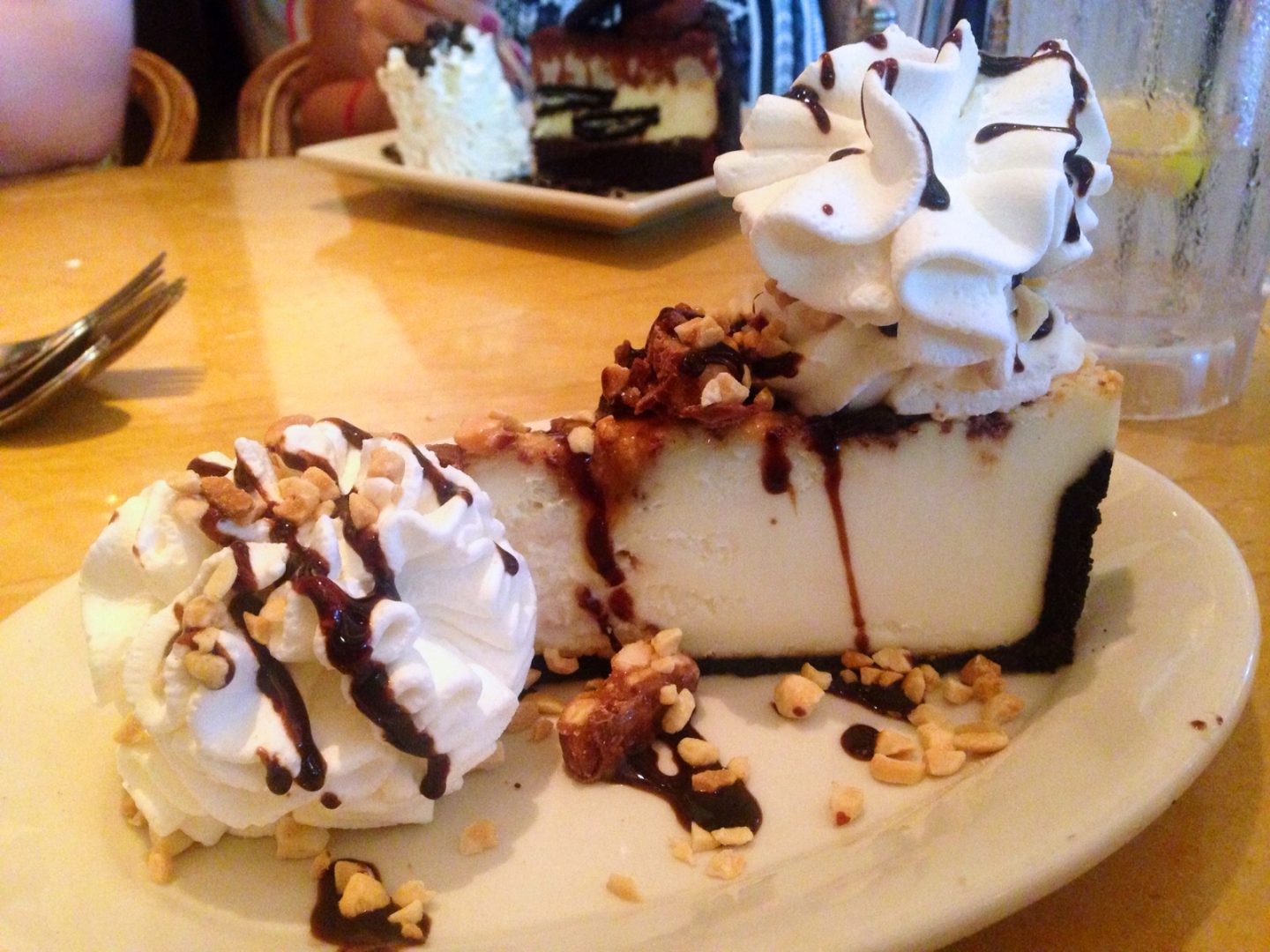 My snickers cheesecake, straight from the factory.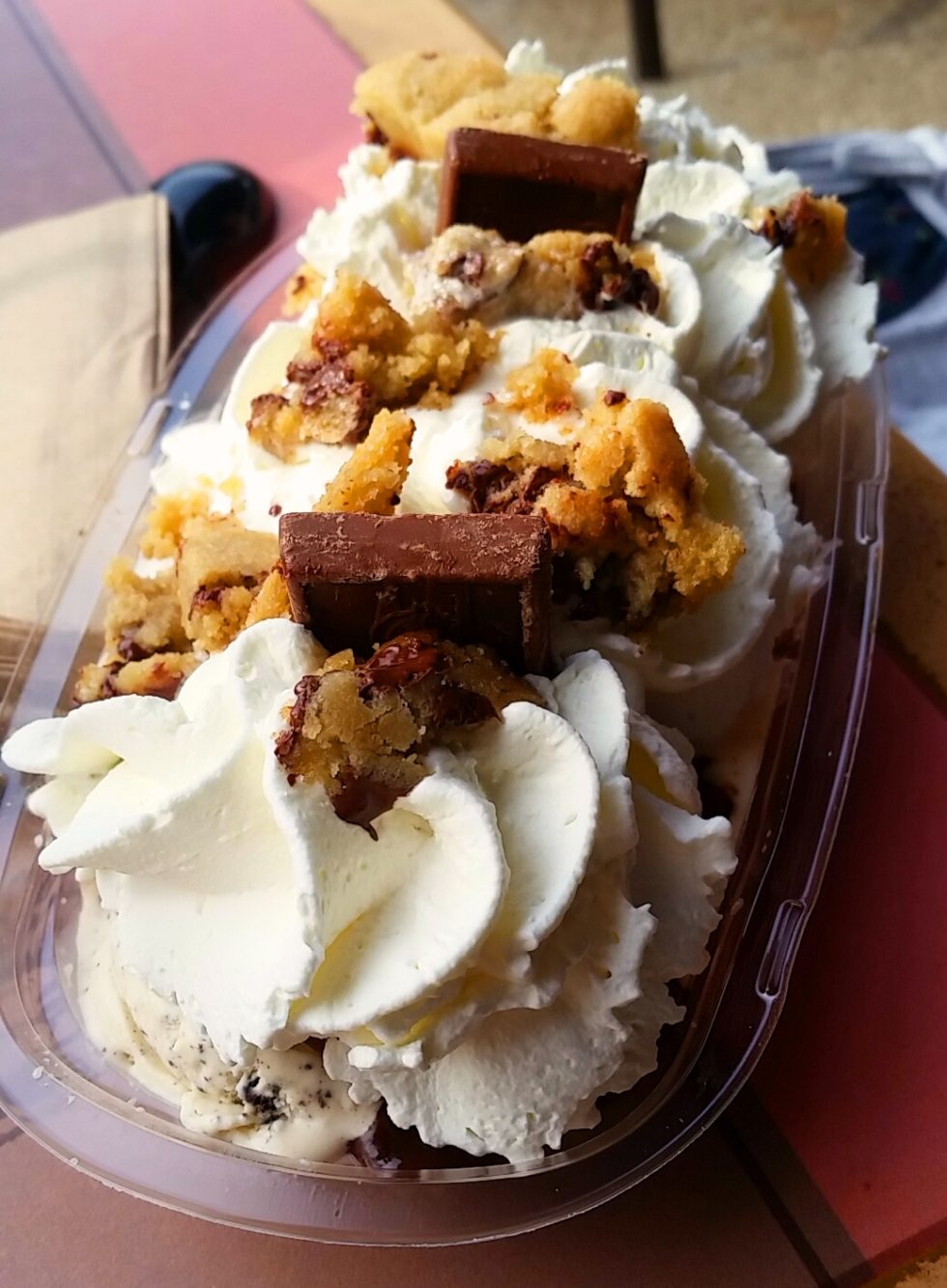 The Ghiradelli chocolate shop served as my heaven! This is a cookie dough pudding…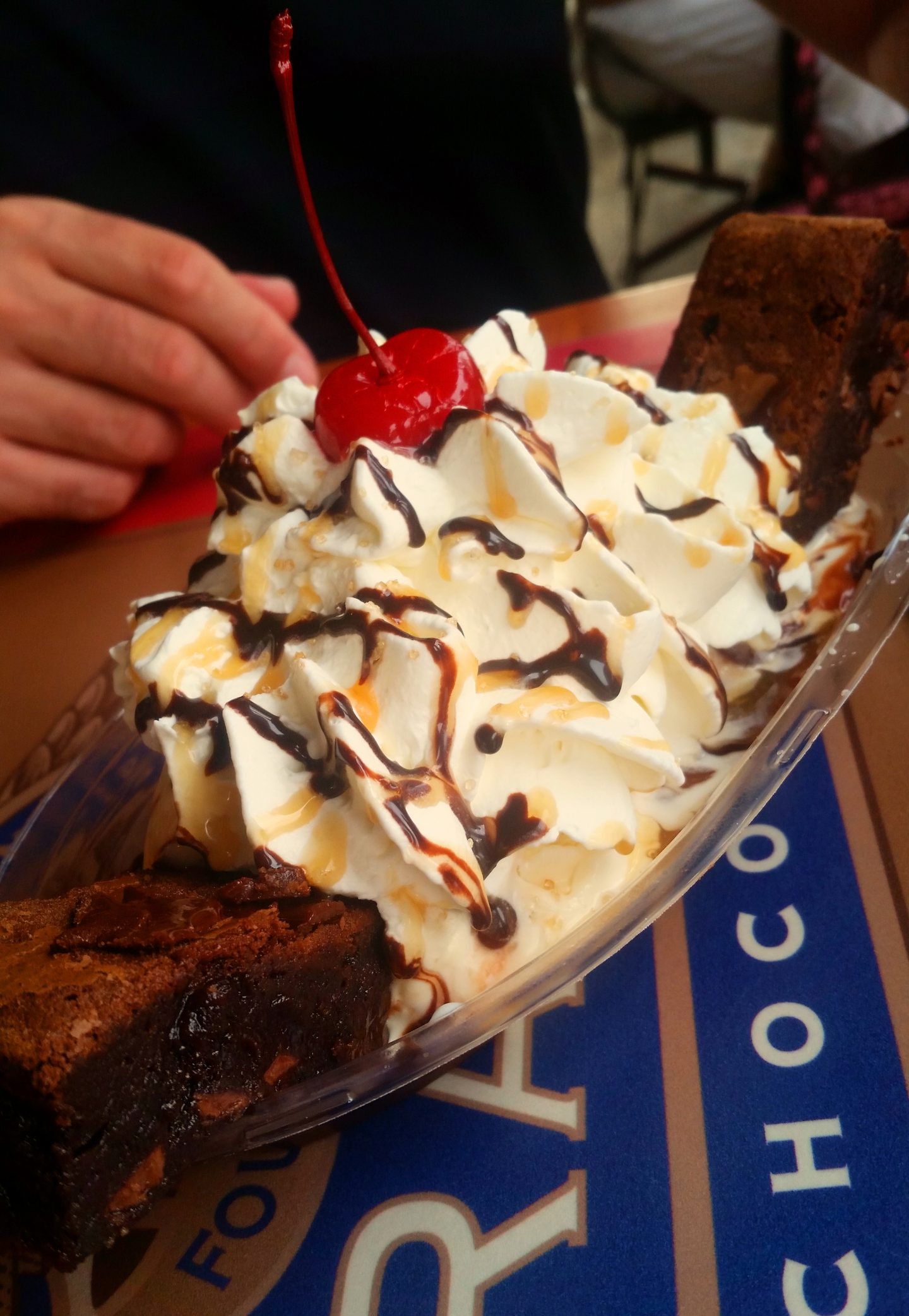 …and this is a brownie one.
The complex we were living on was lovely: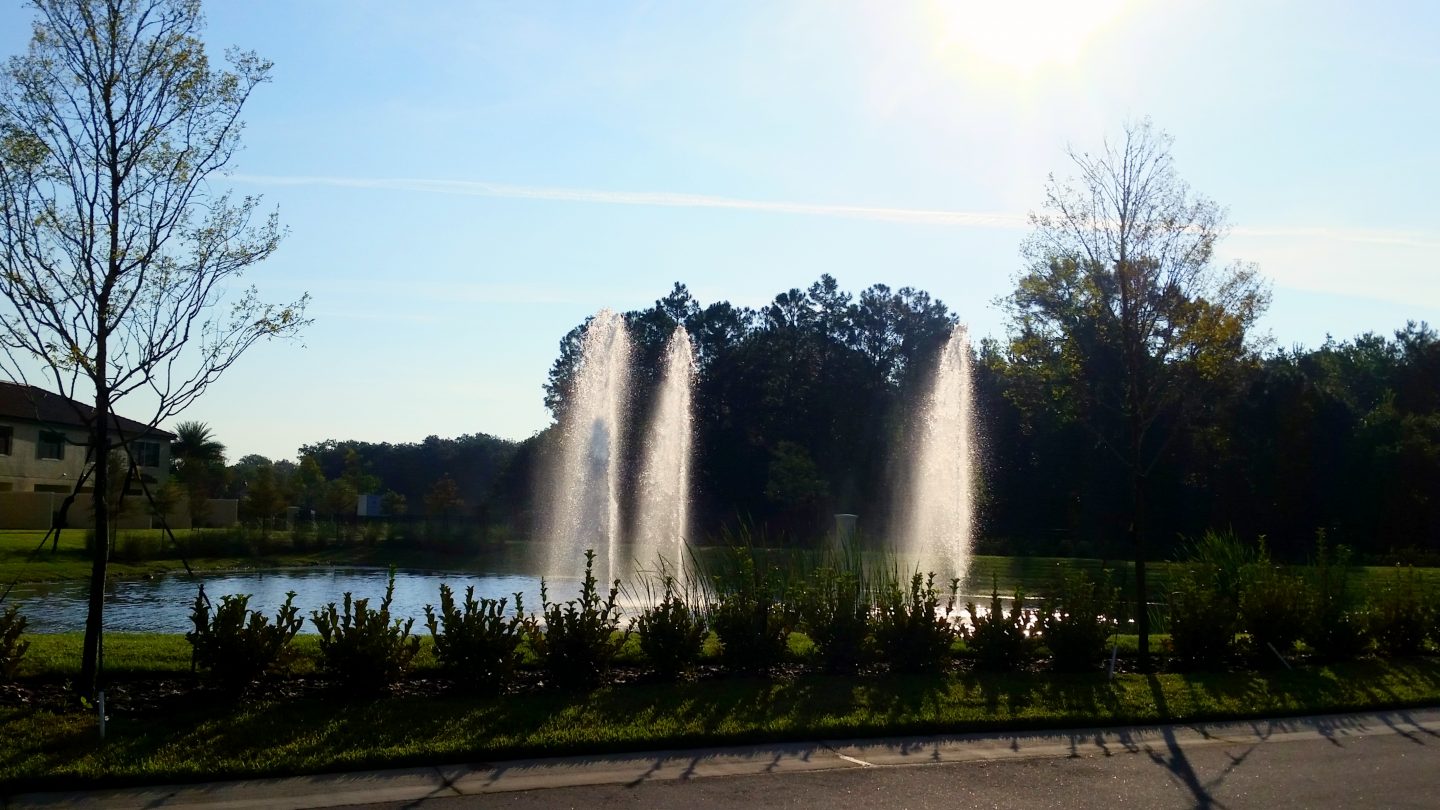 This pretty waterfall and lake was home to a small alligator we saw basking in the sun!